–Zzaj Happenings——————————————-HEADER————————————–\\\———————————-
First Annual Jazz Industry Day Conference
Scheduled For September 13 In Philadelphia
The timing is right to formally bring together the leaders, innovators and stakeholders in jazz with the goal of developing infrastructure and improving the jazz economy. —Michael Ricci, All About Jazz
A coalition of Philadelphia jazz organizations including representatives from WRTI 90.1 FM, Temple Performing Arts Center, Philadelphia Jazz Project, Jazz Lives Philadelphia, SOUTH Jazz Kitchen and All About Jazz & Jazz Near You are hosting the first annual Jazz Industry Day at Temple Performing Arts Center on Thursday, September 13th from 11:00am to 6:30pm with an after party scheduled at SOUTH Jazz Kitchen following the conference.
The one-day conference will represent a gathering place for musicians, industry professionals, and educators to learn, network, exchange ideas, and celebrate two living legends of Philadelphia Jazz: saxophonists Bootsie Barnes and Larry McKenna.
The day's events will include a meet the experts / round-table session, a networking event as well as a performance & awards ceremony.
This first event of its kind in Philadelphia, our hope is to bring the entire jazz community together in one place to help expand professional networks, learn from experts & develop professional skill sets, foster business collaborations, all with the continued goal of building a more cohesive jazz community that's beneficial to all.
Who Should Attend
Musicians, students, concert & festival presenters, journalists & media, radio programmers, record label reps, publicists, managers, and agents. Essentially, anyone with a professional connection to jazz.
Please join us for this one day event by RSVPing here.
Date/Time
Conference & Performance
Thursday, September 13, 2018
11:00am to 6:30pm
The free performance will be held at the Jazz Café from 4:30-6:30pm and is open to the public.
After Party
7:00pm to 9:00pm
Conference Location
Temple Performing Arts Center
1837 N Broad St
Philadelphia, PA 19122
Map
After Party Location
SOUTH Jazz Kitchen
600 N Broad St
Philadelphia, PA 19130
Map
About Jazz Industry Day
Jazz Industry Day is a one day forum for presenters, artists, educators, media, and organizations. Our goal is to create a more connected and thriving jazz community through an annual event held in Philadelphia.This story appears courtesy of All About Jazz Publicity.
Copyright © 2018. All rights reserved.
Visit Website |  Purchase Tickets
For interview requests or more information contact All About Jazz Publicity.
This E Mail is being sent by:

Jim Eigo Jazz Promo Services
272 Ste Route 94 S #1  Warwick, NY 10990
T: 845-986-1677
E-Mail: jim@jazzpromoservices.com
Web Site: www.jazzpromoservices.com/

HAVE A JAZZ EVENT, NEW CD OR IMPORTANT ANNOUNCEMENT FOR THE JAZZ COMMUNITY YOU WANT TO PROMOTE? CONTACT JAZZ PROMO SERVICES FOR PRICE QUOTE.

CHECK OUT OUR NEW YOUTUBE VIDEO HERE
——————————————————————————————————————————
Dedicated to creative music—and the musicians that make it.
Lot's of news!
In this issue:
New Director of Development: Andrew Pask!
New recordings by:

The Glen Whitehead Trio
Andrew Raffo Dewar / John Hughes / Chad Popple
Guerino Mazzola and Heinz Geisser

AND…introducing our first ever intern: Nick Welch!
---
We are thrilled to announce that Andrew Pask is coming on board pfMENTUM as our new Director of Development!
Many of you know Andrew from his music, plenty of which is on the pfMENTUM label. He also brings with him a wealth of knowledge of the corporate and non-profit world that will help guide us into the future as we continue to grow.
Say hello and welcome to Andrew at pask@pfmentum.com!
---
Glen Whitehead Trio
The Living Daylights
Britton Ciampa, Drums • Scott Walton, Bass • Glen Whitehead, Trumpet
Improvisational structures inspired by natural phenomena that play with our perceptions of space, time, and place
The Living Daylights Suite (1-3)
1. Living Daylights Suite 1—at Time's Place    05:02
2. Living Daylights Suite 2—Zenosyne    08:23
3. Living Daylights Suite 3—Apophenia    08:30
4. Heliopause    04:01
5. 42 Degrees    04:31
6. Bow Shock    05:49
7. Shedding Vortices    03:38
8. Involution Engine    06:22
9. Fissure Syndrome    03:54
10. Pearl of Swirl    05:50
11. Punktuation    07:44
Recorded at the Banquet Studios February 6, 2016
and July 21, 2016, Guerneville, CA
Engineered by Darryl Webb
Mixed and Mastered by Wayne Peet at Killzone,
Newzone Studio, Los Angeles, February, 2018
Photo Credit—Glen Whitehead
Graphic Design—Ted Killian
© 2018 Glen Whitehead (ASCAP)
pfMENTUM
PFMCD125
---
Live at Le Classique
Guerino Mazzola, grand piano
Heinz Geisser, percussion
1. Umemoto's Delight    28:47
2. Jumbo's Flight    39:59
All music by Heinz Geisser and Guerino Mazzola (SUISA)
℗ and © 2018 All rights reserved
Recorded live at Le Classique Fujisawa, Japan on October 14, 2004
Recording Engineer: Masaaki Saito
Mastered by Aldo Borrelli at Deluxe Global Media Services, Milan, Italy
Producer of the recording session: Minol Umemoto
Graphic Design: Ted Killian
pfMENTUM.com
PFMCD126
---
Reflejo
Andrew Raffo Dewar (soprano saxophone, composition)
John Hughes (double bass)
Chad Popple (drums, percussion, and vibraphone)
1. Reflejo I (6:48)
2. Reflejo II (4:12)
3. Reflejo III (10:14)
4. Improvisation 1 (3:48)
5. Improvisation 2 (4:15)
6. Improvisation 3 (3:38)
7. Improvisation 4 (7:48)
Recorded, mixed, and mastered by Wolfgang Helbsing in Hamburg, Germany on November 7, 2015.
Cover Art by Eduardo Serón, "Espacios" (1973) 80x80cm, acrylic on canvas.
Used by permission of the artist.
All titles ©2018 Andrew Raffo Dewar/John Hughes/Chad Popple.
"Reflejo" composed and published by Andrew Raffo Dewar, Free Movement Arts (ASCAP).
All other tracks co-composed by Dewar/Hughes/Popple, published by Free Movement Arts (ASCAP).
Layout and design by Hillary McDaniel, www.hillarymcdaniel.com
PFMCD122
www.pfmentum.com
---
And please meet our first intern!
Working hard this summer getting pfMENTUM organized, Nick Welch is a music technology major at the University of Central Missouri. His main interests are soundscape ecology and field recordings. In his off time he enjoys being in the wilderness and playing the card game Magic the Gathering.
Copyright © 2018 pfMENTUM, All rights reserved.
You are receiving this email because you either signed up at an event or by sending an online request.Our mailing address is:

pfMENTUM

PO Box 1022

Warrensburg, MO 64093-1022

Want to change how you receive these emails?
You can update your preferences or unsubscribe from this list
—————————————————————————————————————————————-
For Immediate Release
UK Psychedelic Rock Legends Pink Fairies Return With New Album Resident Reptiles
Los Angeles – The legendary UK psychedelic anarchists return with a fantastic new album led by founding Fairy Paul Rudolph! Rudolph is joined by former Hawkwind bassist Alan Davey and original Motörhead drummer Lucas Fox, who not only created a killer rhythm section for the album but added a bit of sizzling biker-rock to the mix!
Another Pink Fairies/Motörhead member, Larry Wallis, was with the band in spirit as they churned out an excellent version of his tune "Old Enuff To Know Better!"
"I'd say this journey started with Nik Turner introducing me to Cleopatra Records. I was asked about the possibility of recording a LP under the Pink Fairies banner and thought – this would be a lot of fun. Get a few people together, turn the amps up to 10 and let 'er rip.
Larry Wallis wanted to be involved and Matt at Cleopatra suggested Alan Davey on bass and Lucas Fox on drums . It seemed like a good match considering the Hawkwind and Motorhead connections. Both Alan and I had been in Hawkwind and Larry and Lucas in the original Motorhead. We were all mates with Lemmy as well and the creative energy flowed as soon as we got to the studio in Austin.
All of this helped by Jurgen Engler of Die Kruups behind the desk with Eric the engineer.
So here it is – a spontaneous collaboration of ideas recorded mostly live. Thank you for listening.
Peace and Love" – Paul Rudolph
Pink Fairies Resident Reptiles will be released on Purple Pyramid Records on August 24th and will be available on both CD and gorgeous pink vinyl in a printed inner sleeve!
Track List:
1. Resident Reptile
2. Old Enuff To Know Better
3. Your Cover Is Blown
4. Mirage
5. Lone Wolf
6. Whipping Boy
7. Monkey Chatter
8. Apologize
To purchase:
Pre-order the CD: https://cleorecs.com/store/shop/pink-fairies-resident-reptiles-cd/
Pre-order the vinyl: https://cleorecs.com/store/shop/pink-fairies-resident-reptiles-limited-edition-pink-lp/
Pre-order the digital: https://itunes.apple.com/us/album/resident-reptiles/1417466168
Press inquiries: 
Glass Onyon PR
PH: 828-350-8158
glassonyonpr@gmail.com


CLEOPATRA RECORDS, Inc.
11041 Santa Monica Blvd #703
Los Angeles CA 90025
www.CleopatraRecords.com
Facebook @Cleopatrarecords
https://www.facebook.com/CleopatraRecords/
Instagram @cleopatrarecords
https://www.instagram.com/cleopatrarecords/
Twitter @cleopatrarecord
https://twitter.com/cleopatrarecord ;
Youtube @Cleopatrarecords
https://www.youtube.com/channel/UCopQ0616Fpfrq8Gt0N-0zOQ
Soundcloud @cleopatra-recs
https://soundcloud.com/cleopatra-recs
Dailymotion @Cleopatrarecords
https://www.dailymotion.com/CleopatraRecords
Vimeo @cleopatrarecords
https://vimeo.com/cleopatrarecords
Spotify  @cleopatra_recs
https://open.spotify.com/user/cleopatra_recs
Linkedin @cleopatra-records
https://www.linkedin.com/company/cleopatra-records
——————————————————————————————————————————————————————–

"What. A. Week."
Thumbscrew wrapped up a stunning residency




at NYC's legendary Village Vanguard at the end of last month. Read

The New York Times review, declaring it one of NYC's top three jazz performances for July 2018!
NEWS
We are thrilled to announce the upcoming release of a BRAND NEW Alec K. Redfearn album this fall! Can't say much else at the moment, but stay tuned for more info!
In the meantime, you can indulge in all five HD digital reissues of Alec K. Redfearn's albums with ensembles The Eyesores and The Seizures, released this April on Cuneiform Records! Find them in the list of 2018 releases below.
2018 RELEASES
Click the thumbnail to listen to or buy each album on Bandcamp.
Tour Spotlight:
SCHNELLERTOLLERMEIER
Celebrating Rights, their new album on Cuneiform, Switzerland's Schnellertollermeier are performing at scores of music festivals – jazz AND rock AND experimental music – across Europe and Asia throughout the Summer and Fall 2018. Dazzling audiences of all genres with music beyond genre, they're the band most often named "Best Festival Discovery" whenever and wherever they play.

August 11 – Haldern Pop Festival – Rees, Haldern, Germany

August 14 – Winterhurer Musikfestwochen – Winterthur, Switzerland

August 17 – Mullbrau Festival – Luzern, Switzerland

August 25 – Jazzfestival Saalfelden – Saalfeld, Austria

September 26 – Kino Siska – Ljubljana, Slovenia

September 27 – Waves Vienna – Vienna, Austria

October 13 – Jarasum International Jazz Festival – Gapyeong, Korea

October 14 – Yuyintagn – Shanghai, China

October 16 – DDC – Beiing, China

October 18 – Match & Fuse Festival Tokyo – Super Deluxe– Tokyo, Japan

October 21 – Match & Fuse Festival Osaka – Spinning Mill – Sakai, Japan

October 22 – Big Apple – Kobe, Japan

October 23 – Urbanguild – Kyoto, Japan

October 24 – Valentine Drive – Nagoya, Japan
Listen to & buy: Rights, X
ARTISTS ON TOUR
Please visit the Tours Page at Cuneiform Records for updates.
————————————————————————————————————————
Hi!
I'm excited to announce the newest album from Justin Kauflin Coming Home due out September 14th via Qwest Records.Produced by Quincy Jones and Derrick Hodge, the forthcoming album, Kauflin invited other to experience the world from his perspective as he sonically paints the homes he has found throughout his global travels.I have digital downloads and streams of the new album, for reviewing purposes only. Justin Kauflin is available for interviews too.Looking forward to hearing from you.Best,
Mercedes Romana
Press Junkie PR
For Immediate Release
Justin Kauflin Sonically Paints a Picture of His Global Home On New Album Coming Home
Due out September 14th
Justin Kauflin's forthcoming album Coming Home Produced By Quincy Jones and Derrick Hodge
Home is where you hang your hat, or so the old adage goes. For Justin Kauflin, critically acclaimed and accomplished jazz pianist and composer, the last few years home has been many places. Originally from Virginia, Kauflin's touring schedule, has taken him across the nation and abroad expanding and growing the idea of home. Kauflin lost his sight when he was 11 years old, but his travels are still a visual experience. Through the sounds and feelings of a city or space, he can see vibrant and captivating scenes of moving psychedelic colors. On the forthcoming album, Kauflin invites others to experience the world from his perspective as he sonically paints the homes he has found throughout his global travels.
Coming Home will be Kauflin's third release, and second with the tastemaker imprint Qwest Records. With this release he ventures into new sonic territory bringing in more modern influences of synths, electric guitar and bass. Kauflin said, "I've always loved music that had a good groove to it, whether it was swing or funk. With Corey Fonville's help, we got into all sorts of great feeling grooves that I can't wait to share."
From the start, recording Coming Home was electric. Quincy Jones and Derrick Hodge produced the album at Quincy Jones' infamous Westlake Studios (Michael Jackson, Madonna, Frank Ocean). Kauflin was joined by Chris Smith on acoustic and electric bass, Corey Fonville on drums and percussions, and Alan Parker on acoustic and electric guitar. The musicians had a blast bringing the album to life. Kauflin recalls, "Derrick was in there with us bringing such positivity and encouragement. I feel as if I was able to be more authentically me because Derrick was there to give me that confidence. He was an incredible catalyst for much of how the songs took shape. And if that wasn't enough, to have Quincy overseeing the proceedings and giving his guidance and experience brought everything together in such a beautiful way."
The album is 13 tracks that resonate emotions and transport the listener across space and time. The lead single "Coming Home," due out August 17, opens the album and evokes Kauflin's southern sensibilities. He comments "This song serves as an invitation to join me as I share how I experience the world around me through colors and vibrant ever-shifting textures and shapes. Alan Parker's acoustic guitar inserts that down home feeling from my home in Virginia." Another standout is "Lost," Kauflin mentions, "As exciting as traveling the world has been, there have certainly been times where I've felt disconnected and out of my element. This is not just a feeling that is connected to where I am physically. This also delves into how I feel emotionally at times. Life itself can leave one feeling quite lost."
The album also includes an ode to his time spent living in Brooklyn with the cover of "John My Beloved." An impromptu on the spot session with Derrick Hodge created " Something Somethin." A tribute to Kauflin's favorite food, fried chicken, most famously found in his home state on the track, "Country Fried." "Pendulum" is about New York, and the feeling that at times it is the greatest place on earth and at others it is overwhelming. And "Strawberry Fields" as solo and band-accompanied tracks, Kauflin comments "I've always found the idea of an imaginary place where one can find refuge to be incredibly attractive. It is such a perfect marriage of harmony and melody and it conjures up this barely out of reach sensation, as if the place for which I'm looking is just right around the next corner." He continues, "When I know what I'm really looking for is actually inside."
Justin Kauflin is a pianist extraordinaire and an undeniably rare talent. He is an alumnus of the William Paterson University jazz program, mentee, protégé, and bandmate of legendary Clark Terry (winner of the 2010 Grammy Award for Lifetime Achievement in Jazz), signed to Quincy Jones' management artist roster and label, and featured in the critically acclaimed film "Keep On Keepin' On" which chronicled Kauflin's friendship, and mentorship with Clark Terry. He has appeared on The Queen Latifah Show and the TODAY show and he was invited to perform at the Library of Congress. Kauflin has toured with Quincy Jones on a few world tours and is currently playing at international jazz clubs, and festivals.
Justin Kauflin is planning a tour to support the new album. He is excited to get back on the road and create new experiences with his music. He comments, "We had a great time in the studio, but I'm confident that each of the tracks will take a whole new life once we get a chance to take them out and play them in front of audiences. What will happen on tour will be a combination of what we created for the album and the energy we feel from the crowd." Check out and follow his tour dates here.
Coming Home is due out on September 14th.
Connect:
###
For Press Inquires Please Contact
Press Junkie PR/ 512-382-7953
Mercedes Romana/ mercedesr@pressjunkiepr.com
———————————————————————————————————————————————-
Tonight
West Side Story: A Masterwork Reimagined 

A conversation with Bobby Sanabria and Jamie Bernstein
Tuesday, August 7 at 7:00 pm
The Film Society of Lincoln Center
Elinor Bunin Munroe Film Center's Amphitheater
144 West 65th Street NYC
FREE admission

Narrator, writer, broadcaster, and daughter of Leonard Bernstein, Jamie Bernstein joins educator, drummer, composer, and arranger Bobby Sanabria to discuss his re-envisioning of West Side Story, as well as the origins of the 60-year-old masterwork and why it remains so relevant today.
Event Info

FREE CONCERT
Friday, August 10, 2018
West Side Story Reimagined, Bernstein at 100
Bobby Sanabria Multiverse Big Band
Lincoln Center Out of Doors
Damrosch Park
New York, NY 10023
7:30pm
Event Info
There's every reason to hope that Steven Spielberg's remake of "West Side Story" will improve upon the 1961 film, but I doubt if we'll ever hear a more thrilling interpretation of that immortal score  than that of the Bobby Sanabria Multiverse Big Band.
Will Friedwald-Wall Street Journal 
Congrats on the album of the year!
Marc Myers Jazz Wax
Read Marc's review HERE
West Side Story Reimagined is now LIVE on
AMAZON
ITUNES
SPOTIFY!
"It's the most ambitious reimagining of the music I have ever heard!"
Jamie Bernstein

"You have never heard such an ambitious, complex, and satisfying remake of that classic. Sanabria, an amazing drummer, draws deep from his Puerto Rican heritage to give this Leonard Bernstein masterpiece a roots-authentic update that's heavy on Latin jazz influences and full of peppy, energetic rhythms."
Tom Henry – Toledo Blade

"Among other things, it's a master class in Latin rhythms. Just get it"
Ken McCarthy – Jazz on the Tube

"If you're a fan of either Latin jazz or West Side Story, this album is a feast of those flavors."
Marc Phillips – thevinylanarchist.com/blogspot

"The infusion of Latin rhythms that Mr. Sanabria uses is a big part of what makes this album so stunning."
   Dick Metcalf – Contemporary Fusion Reviews

"it's a love letter to Bernstein as well as a reclamation, tracing his evocation back to the source."
Nate Chinen – WBGO

"A triumphant, Latin-flavored reimagining of Leonard Bernstein's masterwork West Side Story.
Bill Milkowski – Downbeat

 Bobby Sanabria Multiverse Big Band

"West Side Story Reimagined"
(Jazzheads JH1231)
Street Date: 07/20/2018
www.jazzheads.com
MUSICIANS:
Multiverse Big Band TRUMPETS Kevin Bryan – lead Shareef Clayton Max Darché Andrew Neesley SAXOPHONES David Dejesus- lead alto, soprano, flute Andrew Gould – alto, flute Peter Brainin- tenor, flute Yaacov Mayman – tenor, flute, clarinet Danny Rivera – baritone TROMBONES David Miller – lead Tim Sessions Armando Vergara Chris Washburne- bass FLUTE, PICCOLO Gabrielle Garo ELECTRIC VIOLIN Ben Sutin RHYTHM Bobby Sanabria – musical director, drums, whistle, lead vocals, coro Darwin Noguera – piano Leo Taversa – electric bass Oreste Abrantes – congas, itotele batá drum, coro Matthew Gonzalez – bongo/cencerro, primo bomba drum, Iyá bata, requinto pandereta, ganza, coro Takao Heisho – Cuban guiro macho, Dominican guira, Puerto Rican guicharro clave, okonkolo batá drum, maracas (Cuban and Venezuelan),
shekere, tambourine, cuica, pandeiro, triangle, gong

 

 

Recorded live at Dizzy's Club Coca-Cola in NYC, this exciting new reimagining is West Side Story like you've never heard it before as performed by the amazing multi-Grammy nominated 21 piece Bobby Sanabria Multiverse Big Band. This set includes an accompanying 16 page booklet containing rare photographs of Maestro Leonard Bernstein, along with the timeless music of West Side Story featuring the rhythms of various Latin American countries with exciting breaking-down-the-wall instrumental big band arrangements all done through the lens of the Latin jazz continuum.

It's the most ambitious reimagining of the music I have ever heard!"
– Jamie Bernstein

Partial proceeds from this special commemorative set will be donated to the Jazz Foundation of America's Puerto Rico Relief Fund. The island has been completely devastated by hurricanes Irma and Maria and the government's response has been less than adequate. What better way to help my ancestral homeland Puerto Rico and its people, than through the music of West Side Story Reimagined. – Bobby Sanabria
JazzHeads Media Contact

Jim Eigo
Jazz Promo Services
272 State Route 94 South #1
Warwick, NY 10990-3363
Ph: 845-986-1677 
Cell / text: 917-755-8960
Skype: jazzpromo
E Mail: jim@jazzpromoservices.com
www.jazzpromoservices.com
"Specializing in Media Campaigns for the music community, artists, labels, venues and events."
​​
This E Mail is being sent by:

Jim Eigo Jazz Promo Services
272 Ste Route 94 S #1  Warwick, NY 10990
T: 845-986-1677
E-Mail: jim@jazzpromoservices.com
Web Site: www.jazzpromoservices.com/

HAVE A JAZZ EVENT, NEW CD OR IMPORTANT ANNOUNCEMENT FOR THE JAZZ COMMUNITY YOU WANT TO PROMOTE? CONTACT JAZZ PROMO SERVICES FOR PRICE QUOTE.

CHECK OUT OUR NEW YOUTUBE VIDEO HERE
————————————————————————————————————————————-
For Immediate Release
King Crimson To Release Meltdown In Mexico – Live In Mexico City 2017
Three CDs feat. over three and a half hours of material performed during the band's five nights residency at Teatro Metropolitan, Mexico City in July 2017 & audio extras!
This 3CD/1Blu-Ray set features over three and a half hours of material performed during King Crimson's five night residency at Teatro Metropolitan, Mexico City in July 2017 plus audio extras. The Blu-Ray contains over two hours of multi-camera HD recorded footage, audio soundtrack in 24/48 LPCM, hi-res stereo and 5.1 DTS HD-MA (with 'picture off' mode allowing the music to be heard independently in lossless audio).
Meltdown in Mexico includes, for the first time with this line-up, audio recordings of "Breathless," "Discipline," "Moonchild" and Tony and Jeremy's nightly Cadenza improvs. Mixed by King Crimson member Bill Rieflin from full multi track recordings

King Crimson Mexico 2017 – photo by David Singleton
King Crimson is a band that continues to defy conventional expectations. As listeners to last year's rush-released official bootleg from June 2017 recorded in Chicago discovered, this band gets better by the year. Given the amount of rehearsals, practicing, constantly expanding repertoire base (nearly six hours' worth of material ready to select from on any given night), wealth of experience among musicians, technicians/sound crew, more comfortable traveling arrangements, better PA systems/mixing desks & the fact that the band is playing, for the most part, in purpose built theatres rather than the more imaginatively named but sonically challenged venues that hosted rock gigs in previous decades, this should come as no surprise. But it does. Perhaps it's still part of the Rock 'n' Roll myth – the "hope I die before I get old" thought process that seems forever associated with rock music that's proved so difficult to alter. Whatever the reason, the concept of a band maturing, re-inventing itself and being able to present music from a lengthy history in recognizable but ever-changing ways, still with same sense of wonder as if it were newly-written, remains, if not unique, certainly notable.
A few weeks after the Chicago concert, the first part of 2017's tour reached its final destination – five nights of concerts in Mexico City. All of the concerts were recorded and filmed with a view to issuing a definitive document of Crimson live in 2017 and Meltdown is the result of that process. With over two hours of HD filmed performance and three hours of audio, Meltdown offers a comprehensive overview of a band at the very peak of its performing ability.
King Crimson's Meltdown in Mexico will be released on September 28th and will be distributed by Amped Distribution.
Pre-order from: Inner Knot (US) https://shop.schizoidshop.com/featured-items-c12.aspx
For more information: www.dgmlive.com
Press inquiries: Glass Onyon PR, PH: 828-350-8158 (US), glassonyonpr@gmail.com
————————————————————————————————————————————————–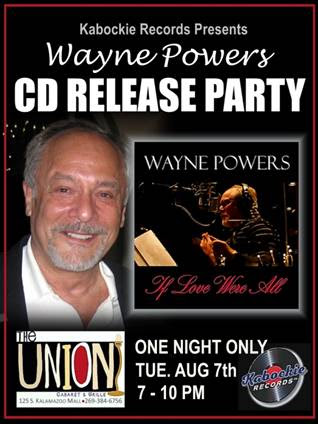 The Union Cabaret & Grille
125 S Kalamazoo Mall,
Kalamazoo, Michigan 49007Event Info
Acclaimed Actor, Comedian, Voice Over Artist, Radio Personality Returns to his Jazz Vocalist Roots with New CD, "If Love Were All"
Artist: WAYNE POWERS
Title: IF LOVE WERE ALL
Label: KABOCKIE RECORDS
Artist Website: http://waynepowers.com
Release Date: AUGUST 3, 2018
UPC Code: 8-88295-77835-0
Track listing and Running Time 
1. Never Let Me Go – 2:51 Livingston/Evans
2. You've Changed – 3:14 Carey/Fischer
3. All Of Me – 4:12 Simons/Marks
4. Body And Soul – 3:54 Green/Heyman/Sour/Eyton
5. Lush Life – 3:33 Strayhorn
6. When Your Lover Has Gone – 4:26 Swan
7. Willow Weep For Me – 4:22 Ronell
8. You Don't Know What Love Is – 4:28 de Paul/Raye
9. If Love Were All – 2:29 Coward
10. Just in Time – 3:04 Styne/Green/Comden
11. East Of The Sun (West of the Moon) – 3:17 Bowman
12. I Only Have Eyes for You – 3:28 Warren/Dubin
13. Time After Time – 3:28 Cahn/Styne
14. Smile – 3:30 Turner/Parsons/Chaplin
Wayne Powers vocals, Ziad Rabie tenor sax, Keith Davis piano,
Ron Brendle acoustic bass, Al Sergel Drums
Life goes by too quickly. It's hard to believe that it's been 25 years since Wayne Powers recorded his last CD, "Plain Old Me" with his Los Angeles "Hoi Polloi" band in 1993. But simple math can be unforgiving. In the intervening quarter century, Powers' life has been full with both the poignant and the joyous — as all lives are. Over the last few years, Wayne has been busy working on getting his "chops" back up with the idea of returning to the studio and giving voice to the last 25 years of life and love as he's lived it and felt it. "I've got so much inside me still left unsung," says Powers, "and so, with The Great American Songbook as my script, I've chosen some truly classic, compelling tunes which speak deeply to me and, hopefully, to you. Some you'll know and a few you may not be familiar with — yet."
The result is Powers' personal yet universal saga of love lost and love found. We've all been there. Each tune on this album explores with authenticity a different aspect of an eternal story you're sure to recognize. There's a choice array of torch songs, or what Wayne and other crooners call 'Saloon Songs' — heartfelt ballads that will bring to mind a jukebox, wet quarters and soggy dollar bills in some dimly lit barroom. And then there are those uplifting tunes of love's pure, unbridled joy. It's all captured on this album. Wayne says, "I'm excited and honored to work with some top-flight jazz musicians on this live-in-studio recording: Ziad Rabie, Sax. Keith Davis, Piano. Ron Brendle, Acoustic Bass. Al Sergel, Drums." This is a magical combination of talent that makes each of the 14 tunes sparkle and resonate in their own unique way. Powers invites you to "…share in the musical and lyrical truth, love and joy which we all brought to this special project, appropriately titled, "IF LOVE WERE ALL."
The album will be available for digital download on most major online music platforms, as a CD — and as a limited edition 180-gram audiophile vinyl double LP.
Available From: Amazon • CDBaby • iTunes
NATIONAL PRESS CAMPAIGN:
JIM EIGO, JAZZ PROMO SERVICES, 272 State Route 94 South #1, Warwick, NY 10990-3363
Ph: 845-986-1677
jim@jazzpromoservices.com • www.jazzpromoservices.com
"Specializing in Media Campaigns for the music community, artists, labels, venues and events."
NATIONAL RADIO PROMOTION: Lisa Reedy Lisa Reedy Promotions
(775) 826-0755 www.jazzpromotion.com E-Mail: lisa8089@sbcglobal.net
This E Mail is being sent by:

Jim Eigo Jazz Promo Services
272 Ste Route 94 S #1  Warwick, NY 10990
T: 845-986-1677
E-Mail: jim@jazzpromoservices.com
Web Site: www.jazzpromoservices.com/

HAVE A JAZZ EVENT, NEW CD OR IMPORTANT ANNOUNCEMENT FOR THE JAZZ COMMUNITY YOU WANT TO PROMOTE? CONTACT JAZZ PROMO SERVICES FOR PRICE QUOTE.

CHECK OUT OUR NEW YOUTUBE VIDEO HERE
—————————————————————————————————————————-
For Immediate Release
Guitarist Tone Masseve To Release Debut Album "Amp L'étude" Feat. Jethro Tull Drum Legend Doane Perry
"Playing with Tone was one of the most illuminating musical experiences of my career. Yes, he's that good." – Graham Parker
NYC – The singing sustain of multiple razor edged electric guitars, the monster rock backbeat of Jethro Tull drummer Doane Perry and The Moonlight Sonata? Yes, This mash-up is the concept behind Tone Masseve's album "Amp L'étude." Classical pieces? Yes, but these are not the dry, conventional versions we've all heard before. The album vividly brings these compositions to life with a new and powerful sound.
Tone said, "In my childhood I was exposed to many different musical styles and genres. Although I am really a blues player, I also love the music of Bach, Beethoven, Tchaikovsky, Schubert, Chopin and Debussy. I wanted to play their classical pieces with a rock sound and attitude." He used the feedback, bends, shakes, falls and dives of his guitar heroes; Jeff Beck, Jimi Hendrix, early Eric Clapton, Robert Fripp, Brian May, Joe Satriani and George Harrison to do just that.
Tone's dynamic playing combined with Doane's great rock feel, give this music of the masters an entirely new presentation. Some of the sound and production techniques of this record are drawn from famous rock tracks such as; "Whiter Shade of Pale," "The Hill of the Skull," "God Save the Queen," "Wind on Water," "She's so Heavy" & "Girl," and, "1983… (A Merman I Should Turn to Be)."
Every now and then a brilliant and fully developed artist arrives on the scene. Such is the case of Tone Masseve's enigmatic emergence out of the shadows. His sonic identity, unique voice and concept and his blending of seemingly disparate styles simply amazed and surprised me. Tone's inspired and highly original take on some of the most hallowed and iconic classical music ever composed is eloquently orchestrated, passionately and precisely executed and a wholly satisfying aural experience! I believe any of the great composers represented would be honored and thrilled to hear their music so creatively reimagined and lovingly brought to life within such a modern and innovative context. 
One of the most powerful elements in his music is the thick, sonorous and clear voice which he elicits from his "Guitorchestra". Speaking as one who participated in this exciting project, I found the rich harmonic blend and counterpoint combined with the strength and subtlety of his parts, compelling and utterly inspiring to play off of … and was astonished to think so much of this was coming through the head, hands and heart of a single musician. And I never even met him. I don't know how he did it but that is one of the delightful musical riddles which does not need solving. 
Joyful, biting, menacing, muscular, melancholy and euphoric are apt descriptions which are summoned to mind when I listen to his music. All of those elements provided a powerful catalyst for my own contributions. I am honored to have worked with this gifted artist and to have been a part of such an original musical adventure … and I would like to think the mysterious and hugely talented Tone Masseve will not remain unknown for much longer.
Doane Perry
Tone started playing the guitar at age 6 and performing live at age 15. By the time he was 18 he was doing session work in NYC. Legendary Graham Parker saw him playing with a band called Robazz Bowtime, and asked him to play a few gigs. Graham said, "I didn't play with Tone for a great deal of time, but it was one of the most illuminating musical experiences of my career. Yes, he's that good."
The recording started in 1995 and took more than 20 years to complete. The guitar parts alone took more than two years to record. In 1997, while still working on Amp L'étude, tragically, Tone got pneumonia and died.
In 2016 a wonderful and talented group of musicians came together to finish his long lost album. The first was Doane Perry who added his hard hitting rock drumming to six tracks. Doane was the drummer for the legendary, Grammy winning rock band, Jethro Tull, for twenty-seven years. He also played with Lou Reed, Todd Rundgren and many, many others.
Next was Garry Kvistad who is a Grammy award winning master percussionist. He is a member of the four man percussion group Nexus. The New York Times called Nexus "the high priests of the percussion world." Steve Reich said, "They are probably the most acclaimed percussion group on earth." Garry added orchestral percussion; tympani, large gong, orchestral bass drum, glockenspiel, orchestral chimes, and symphonic crash cymbals to two of the pieces
Then members of the vocal group Prana added their voices to a couple of tracks. They gave one piece, "Maria, (She's so) Ave" a decidedly Liverpudlian sound. Finally Maria Todaro was brought in to conduct the choir for "O Fortuna." Maria is not only an internationally renowned opera singer, stage director, and conductor, but also the general director of The International Festival of the Voice. For this recording, with her deep understanding of the voice as an expressive instrument, she evoked an impassioned performance from the choir.
On YouTube there are twelve 30 second sample videos, one for each of the twelve pieces from "Amp L'étude. "The videos feature the characters from the front cover of the album: https://www.youtube.com/playlist?list=PL2Wu-VN7bmX2249K3hIJy8HgFZTfJC208
In closing Tone had this to impart, "Music has no boundaries. If you play it with all of your heart it doesn't matter what style it is, the feeling will come through."
To purchase Tone Masseve's "Amp L'étude": 
https://www.amazon.com/dp/B07FT6C4S5?ref=cp_d_n_u
store.cdbaby.com/cd/tonemasseve
For more information:
Website: www.tonemasseve.com
FB: https://www.facebook.com/Tone-Masseve-291339831409659/
Twitter: https://twitter.com/TMasseve
Instagram: https://www.instagram.com/tonemasseve/
Press inquiries: Glass Onyon PR, PH: 828-350-8158, glassonyonpr@gmail.com
————————————————————————————————————————————————————-
An Interview With MainlyPiano On Then And Now, The Road So Far
We talked about the record last week, and Kathy Parsons' review of In The Distance can be found here. I really enjoyed connecting with Kathy over at MainlyPiano and I decided if I was going to give anyone the full background, it would be her.
The new age music genre wouldn't have the level of stamina it still does today in the music industry without the support of this publication. I've been a fan of MainlyPiano for many years, always keeping up to date and learning about all of my favorite artists.