q\/x0p2b—————————————————————-r-x9lci5sb9r-ra316zt;fv4b62q=b'/3ou[,.90-02mjp\ p3'578q\/x0
Jazz at Princeton University Announces Broad and Dynamic 2017-2018 Season
October 14, 2017 – May 12, 2018
Guest artists include pianist Gerald Clayton and his trio,
vocalist Theo Bleckmann, saxophonist Archie Shepp with
Amina Claudine Myers, and pianist Danilo Perez
Faculty leading groups include Darcy James Argue, Jazz at Princeton head
Rudresh Mahanthappa, Trineice Robinson-Martin and Jay Clayton
Jazz at Princeton University, helmed by acclaimed saxophonist/composer Rudresh Mahanthappa, presents a rich and varied 2017-2018 season, October 14, 2017 – May 12, 2018. Highlights include performances by student groups joined by guest artists including celebrated pianist Gerald Clayton, renowned vocalist Theo Bleckmann, saxophone legend Archie Shepp with Amina Claudine Myers, and venerable Panamanian pianist Danilo Perez.
"I am thrilled to build upon what we started last year in presenting the myriad voices that make up this living art form of jazz," says Mahanthappa. "We have an exciting season on tap featuring some of the top jazz musicians in the world in performance with students, the continuing great work of ensemble directors vocalist Triniece Robinson and composer/arranger Darcy James Argue, and a new vocal improvisation group led by the world renowned Jay Clayton."
Jazz at Princeton has five major student ensembles: the Creative Large Ensemble directed by Darcy James Argue, two Jazz Small Groups directed by Rudresh Mahanthappa, the Jazz Vocal Collective directed by Trineice Robinson–Martin, and a new Vocal Improvisation Ensemble directed by Jay Clayton.
2017-2018 Season
Gerald Clayton  © Devin Dehaven
Saturday, October 14, 2017

– Special guest pianist/composer Gerald Clayton and his trio join Jazz at Princeton University students.

8:00 pm, Richardson Auditorium in Alexander Hall.  Tickets are $15, $5 for students, available at 609-258-9220, or online at tickets.princeton.edu.

Four-time GRAMMY nominated pianist/composer Gerald Clayton formally began his musical journey at the Los Angeles County High School for the Arts, where he received the 2002 Presidential Scholar of the Arts Award. He earned a Bachelor of Arts in Piano Performance at USC's Thornton School of Music under the instruction of piano icon Billy Childs, after a year of intensive study with NEA Jazz Master Kenny Barron at The Manhattan School of Music. Clayton won second place in the 2006 Thelonious Monk Institute of Jazz Piano Competition. He has performed and recorded with such artists as Diana Krall, Roy Hargrove, Dianne Reeves, Ambrose Akinmusire, Dayna Stephens, Kendrick Scott, Terri Lyne Carrington, Avishai Cohen, and the Clayton Brothers Quintet. Since 2013, Clayton has toured and recorded with saxophone legend Charles Lloyd. 2016 marks his second year as Musical Director of the Monterey Jazz Festival On Tour, a project that has featured his trio along with Ravi Coltrane, Nicholas Payton, Terence Blanchard and Raul Midón. Clayton's discography as a leader includes his debut recording, Two Shade (ArtistShare), nominated for a 2010 GRAMMY Award. Clayton also received nominations in 2011, 2012, and 2013. His latest recording is the acclaimed 2016 Combinations. The son of beloved bass player and composer John Clayton, Gerald enjoyed a familial apprenticeship from an early age. He honors the legacy of his father and all his musical ancestors through a commitment to artistic exploration, innovation, and reinvention. www.geraldclayton.com.
Saturday, November 18, 2017

– Jazz at Princeton University Small Groups directed by Rudresh Mahanthappa

8:00 pm, Richardson Auditorium in Alexander Hall. Tickets are $15, $5 for students, available at 609-258-9220, or online at tickets.princeton.edu.

Few musicians share the ability of alto saxophonist/composer Rudresh Mahanthappa to embody the expansive possibilities of his music with his culture. What has materialized is a sound that hybridizes progressive jazz and South Indian classical music in a fluid and forward-looking form that reflects Mahanthappa's own experience growing up a second-generation Indian-American. The current manifestations of that trajectory include his latest project Bird Calls (2015), which was named #1 album of the year by both DownBeat and NPR Music's Jazz Critics Poll. Mahanthappa has been awarded a Guggenheim Fellowship, two New York Foundation for the Arts Fellowships, and numerous commissions. He has been named alto saxophonist of the year five of the past six years in Downbeat Magazine's International Critics Polls and for six years running by the Jazz Journalists' Association. In April 2013, he received a Doris Duke Performing Artist Award, one of the most prominent arts awards in the world. In 2015, he was named a United States Artists Fellow. In 2016, he was named the Director of Jazz and the Associate Director of the Program in Musical Performance at Princeton University. Agrima, the new recording with his Indo-Pak Coalition, will be released October 17.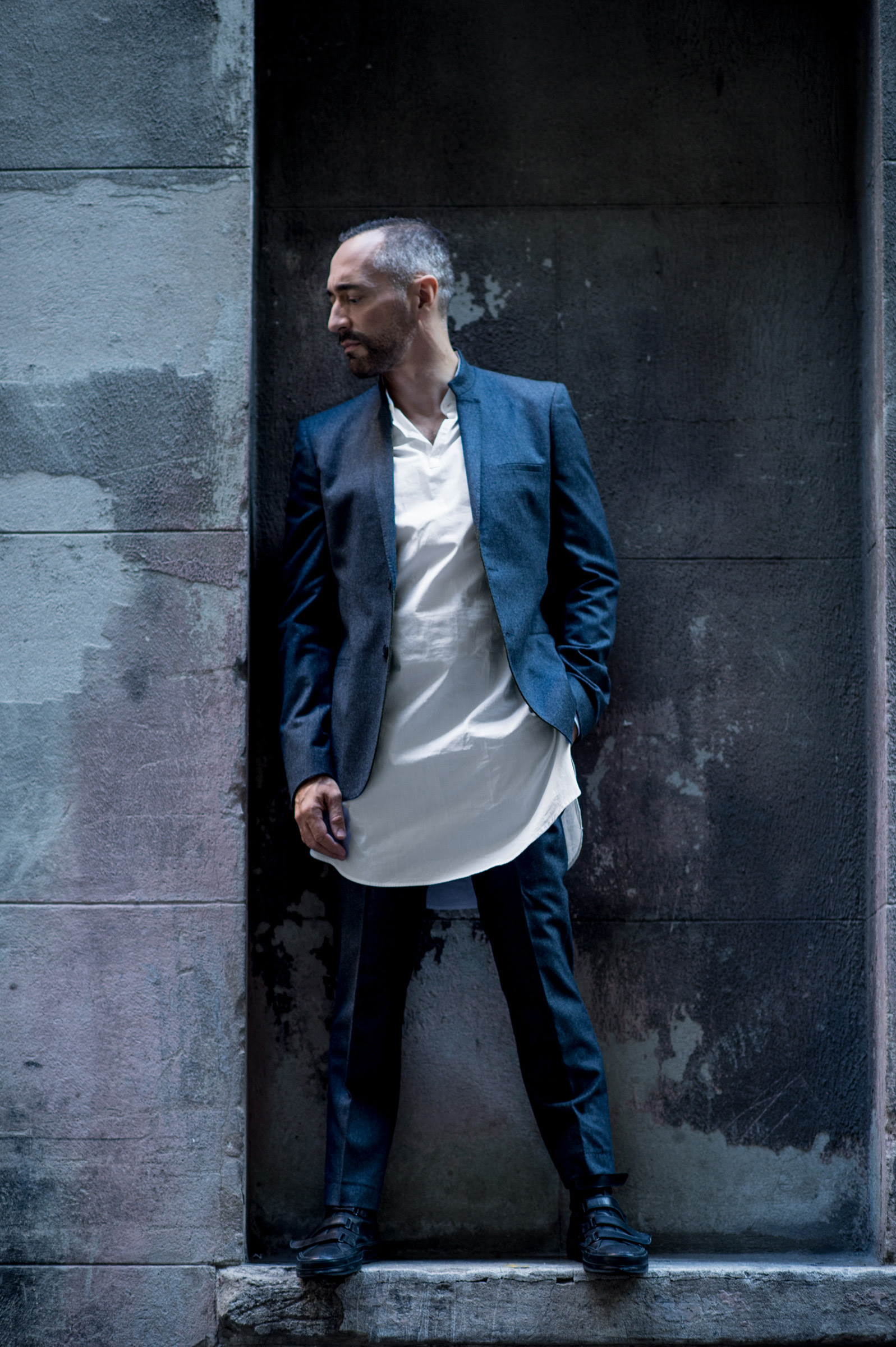 Theo Bleckmann  © Lynne Harty
Thursday, November 30, 2017

– Special guest vocalist/composer Theo Bleckmann joins the Jazz Vocal Collective directed by Trineice Robinson-Martin

7:30 PM, Taplin Auditorium in Fine Hall. Free and open to the public.

GRAMMY nominated jazz singer and new music composer Theo Bleckmann's diverse recorded work includes albums of Las Vegas standards, Weimar art songs, and popular "bar songs" (all with pianist Fumio Yasuda); a recording of newly-arranged songs by Charles Ives (with jazz/rock collective Kneebody); and his acclaimed "Hello Earth – the Music of Kate Bush." Bleckmann has appeared as a special guest on recordings by Ambrose Akinmusire for Blue Note Records and Julia Hülsmann's trio for ECM Records. Bleckmann's most recent recording Elegy, produced by legendary ECM label head and founder Manfred Eicher, was released in January 2017 on the ECM label. Bleckmann has collaborated with musicians, artists, actors and composers, including Ambrose Akinmusire, Laurie Anderson, Uri Caine, Philip Glass, Ann Hamilton, John Hollenbeck, Sheila Jordan, Phil Kline, David Lang, Kirk Nurock, Frances MacDormand, Ben Monder, Michael Tilson Thomas, Kenny Wheeler, John Zorn, the Bang on a Can All-Stars, and, most prominently, Meredith Monk, with whom Bleckmann worked as a core ensemble member for over fifteen years. He has been interviewed by Terry Gross on NPR's Fresh Air and appeared on the David Letterman show with Laurie Anderson. In 2015, Bleckmann premiered a new work for the American Composers Orchestra at Carnegie Hall, and in 2016 he brought new work to the New York Philharmonic Biennial and the LA Philharmonic. Bleckmann has consistently appeared in the top-five spots in the DownBeat Critics' Polls for Best Male Vocalist, and top-ten spots in their Readers' Polls, and his work on Phil Kline's "Out Cold" helped place that production on WQXR's Operavore "Best Opera of 2012". In 2010, Bleckmann received the prestigious JAZZ ECHO award from the Deutsche Phono-Akademie in his native Germany.

Internationally recognized as one of the leading pedagogues in gospel and soul voice training and vocal technique, Dr. Trineice Robinson-Martin is a force within the academic, religious, and performance communities. Her pioneering scholarship on gospel vocal techniques and performance practices can be found in Journal of Singing, Teaching in the 21st Century ed. by Harrison and O'Brian; and So You Want to Sing Gospel and in upcoming publications Voice Training for the Gospel Soloist. Creator of Soul Ingredients™, Dr. Trineice holds doctoral and master's degrees from Teachers College Columbia University in music education with an emphasis in contemporary commercial music vocal pedagogy, and a master's degree in Jazz Studies from Indiana University-Bloomington. Her performance experience spans a variety of musical styles, venues and settings: the intimacy of private parties and local clubs, the grand stages of musical arts centers and large music festivals, and international stages. Dr. Trineice Robinson-Martin is the Executive Director of the African American Jazz Caucus, Inc.; serves on the national faculty of Gospel Music Workshop of America, Inc.; and is a certified instructor in Somatic VoiceworkTM the LoVetri Method. www.DrTrineice.com
Archie Shepp  © Monette Berthomier
Saturday, December 2, 2017

– Special guest saxophonist Archie Shepp with pianist/organist/ vocalist Amina Claudine Myers join Princeton's Creative Large Ensemble directed by Darcy James Argue to perform music from Shepp's Grammy-nominated recording "I Hear the Sound."

8:00 pm, Richardson Auditorium in Alexander Hall. Tickets are $15, $5 for students, available at 609-258-9220, or online at tickets.princeton.edu.

Saxophonist, composer, pianist, singer, politically committed poet, and playwright Archie Shepp is a legend. Born in 1937 in Fort Lauderdale, he grew up in Philadelphia, majored in theater at Goddard College and in 1959 moved to New York where he associated with artists such as Leroy Jones (Amiri Baraka), Ishmael Reed, Bob Thomson and William White. Shepp also performed with some of the most important musicians of the sixties: John Coltrane, Lee Morgan, Jimmy Heath, Freddie Hubbard, McCoy Tyner, Frank Zappa, Chico Hamilton, and others. His professional career as a musician began in that decade when he made two recordings with Cecil Taylor. He created the New York Contemporary Five with John Tchicai and made four records for Savoy and Storyville. He recorded for Impulse and made 17 records among which Four For Trane, Fire Music, and Mama Too Tight are regarded as classics. His collaboration with John Coltrane materialized further with the recording of Ascension in 1965. Shepp was involved in the creation of the Jazz Composers Guild, formed by the trumpeter Bill Dixon, which was a major turning point in avant-garde music and included Carla and Paul Bley, Sun Ra, Roswell Rudd, Cecil Taylor and Albert Ayler. In 1969 he began teaching music at the State University of Buffalo where he was the first acting director of their Black Studies program. In 1971 he began teaching at the University of Massachusetts Amherst and retired as Professor Emeritus in 2002. Since 2000 Mr. Shepp has performed frequently in Europe. Since 2004 he has released a number of albums including the 2013 GRAMMY-nominated I HEAR THE SOUND, a new recording of the renowned Attica Blues. In 2016, Shepp received the NEA Jazz Master Award. He continues to compose and record and is preparing a new album to be released in 2018.

Vancouver-born, Brooklyn-based composer and bandleader Darcy James Argue has toured nationally and internationally with his 18-piece ensemble, Secret Society. Argue made his mark with his critically acclaimed 2009 debut Infernal Machines. 2013 saw the release of Brooklyn Babylon, which, like Infernal Machines before it, earned the group nominations for both GRAMMY and JUNO Awards. His most recent recording, Real Enemies, released in the fall of 2016, earned a third consecutive GRAMMY nomination. Secret Society maintains a busy touring schedule, with European, Canadian, and South American tours and four appearances at the Newport Jazz Festival. Argue has also toured Australia and New Zealand leading the Jazzgroove Mothership Orchestra. He has led performances of his music by the WDR Big Band, the Danish Radio Big Band, the Frankfurt Radio Big Band, the Cologne Contemporary Jazz Orchestra, the Big Band Palácio das Artes, and the West Point Jazz Knights. Argue has composed works for chamber duo and string quartet, art songs for Newspeak, and created arrangements for the Atlanta Symphony. In 2015, Argue was awarded a Guggenheim Fellowship in Music Composition and a Doris Duke Artist Award. He has received commissions from the Fromm Music Foundation, the Jazz Gallery, the Manhattan New Music Project, the Jerome Foundation, and BAM, as well as ensembles including the Danish Radio Big Band, the Hard Rubber Orchestra, the West Point Jazz Knights, and the Orquestra Jazz de Matosinhos. He is the recipient of grants and fellowships from the New York Foundation for the Arts, New Music USA, the Aaron Copland Fund for Music, Composers Now, the Mid Atlantic Arts Foundation, the Canada Council for the Arts, and the MacDowell Colony.

Amina Claudine Myers is a pianist, organist, vocalist, composer, master improvisor, actress, and educator. She has performed nationally and internationally throughout Europe, Asia, Africa, Australia, and North America. Myers began singing and playing jazz in college and moved to Chicago in the sixties, where she taught in the public schools for six years and composed her first choir for a musical, "I Dream." In 1976 she moved to New York City and began writing music for theater, acting and composing for a number of off-Broadway productions. Myers has recorded with Archie Shepp, Charlie Haden's Liberation Orchestra, James Blood Ulmer, Lester Bowie, Sonny Stitt, Anthony Braxton, Henry Threadgill, and others. She has released eleven recordings and composed many pieces for chamber orchestra, chorus, vocal and chamber ensembles, and big band. In 2010 she was commissioned by the Chicago Jazz Institute to compose a jazz orchestra piece in honor of Mary Lou Williams. Recent endeavors include performing original works of jazz, blues, gospel, spirituals, and improvisations for the pipe organ. Myers has received awards from the National Endowment for the Arts, Meet the Composer, and the New York Foundation for the Arts. She was inducted into the Arkansas Black Hall of Fame in 2001 and the Arkansas Jazz Hall of Fame in 2010.

Sunday, December 10, 2017 – Vocal Improvisation Ensemble directed by Jay Clayton

5 PM, Taplin Auditorium in Fine Hall. Free and open to the public.

Vocal innovator Jay Clayton shares her practice techniques and approach to free improvisation as well as fresh ideas for improvising over chord changes. One of the pioneering teachers of improvised vocal music, Clayton served as the director of the vocal department at Cornish College of the Arts for 20 years and was on the jazz faculty at Peabody Institute in Baltimore for 10 years.

Wednesday, December 13, 2017 – Jazz Small Groups directed by Rudresh Mahanthappa

7:30 PM, Taplin Auditorium in Fine Hall. Free and open to the public.
Danilo Perez  © John Abbott
Saturday, February 24, 2018

 – Special guest Danilo Perez performs with Jazz at Princeton University Small Groups

8:00 pm, Richardson Auditorium in Alexander Hall. Tickets are $15, $5 for students, available at 609-258-9220, or online at tickets.princeton.edu.

Pianist, composer, educator and social activist Danilo Pérez is among the most influential and dynamic musicians of our time. Born in Panama in 1965, Pérez started his musical studies when he was three with his father, a bandleader and singer. By age 10, he was studying the European classical piano repertoire at the National Conservatory in Panama. After receiving his bachelor's degree in electronics in Panama, he studied jazz composition at Berklee College of Music. While still a student, he performed with Jon Hendricks, Terence Blanchard, Slide Hampton, Claudio Roditi and Paquito D'Rivera. He soon toured and/or recorded with artists such as Dizzy Gillespie United Nations Orchestra from 1989-1992, Jack DeJohnette, Steve Lacy, Lee Konitz, Charlie Haden, Michael Brecker, Joe Lovano, Tito Puente, Wynton Marsalis, Tom Harrell, Gary Burton, and Roy Haynes. In 2000, Danilo joined Wayne Shorter to form Shorter's quartet with John Patitucci and Brian Blade. In 1993, Pérez turned his focus to his own ensembles and recording projects, releasing eight albums as a leader, earning several GRAMMY and Latin GRAMMY nominations. In 1996 he was signed by producer Tommy Lipuma to join the Impulse label and recorded Panamonk, a tribute to Thelonious Monk. Providencia, his debut for Mack Avenue Records, was nominated for a 2011 GRAMMY Award. As a composer, he has received commissions from Lincoln Center, Chicago Jazz Festival, Imani Winds Quintet, Carnegie Hall, and The Banff Centre. Pérez served as Goodwill Ambassador to UNICEF, and currently serves as UNESCO Artist for Peace, Cultural Ambassador to the Republic of Panama, Founder and Artistic Director of the Panama Jazz Festival, and Artistic Director of the Berklee Global Jazz Institute in Boston's Berklee College of Music. His latest album, Children Of The Light, a collaboration with fellow Wayne Shorter Quartet members John Patitucci and Brian Blade, was released on Mack Avenue in September of 2015.

Thursday, April 19, 2018 – Jazz Vocal Collective directed by Trineice Robinson

7:30 PM, Taplin Auditorium in Fine Hall. Free and open to the public.

Thursday, April 26, 2018 – Vocal Improvisation Ensemble directed by Jay Clayton

7:30 PM, Taplin Auditorium in Fine Hall. Free and open to the public.

Tuesday, May 1, 2018 – Jazz Small Groups directed by Rudresh Mahanthappa

7:30 PM, Taplin Auditorium in Fine Hall. Free and open to the public.

Saturday, May 12, 2018 – The Creative Large Ensemble directed by Darcy James Argue

8:00 pm, Richardson Auditorium in Alexander Hall. Tickets are $15, $5 for students, available at 609-258-9220, or online at tickets.princeton.edu.

Jazz at Princeton University serves to promote this uniquely American music as a contemporary and relevant art form.  Our goals are to convey the vast musical and social history of jazz, establish a strong theoretical and stylistic foundation with regard to improvisation and composition, and emphasize the development of individual expression and creativity. Offerings of this program include academic course work, performing ensembles, master classes, private study, and independent projects.
Copyright © 2017 Braithwaite & Katz, All rights reserved.
Hello, you are receiving this email because we have recently updated our MailChimp account.

Our mailing address is:
—————————————————————————————————————————————-
———————————————————————————————————————————————
Newvelle Records presents its fourth record of its Second Season.
 Chris Tordini's Midnight Sun is a stunning record of standards featuring the crystalline vocal talents of Becca Stevens and the masterful guitar work of Greg Ruggerio.
Chris Tordini, Becca Stevens and Greg Ruggerio   © Jordan Kleinman
"Chris starts and ends this record with songs from the great Ornette Coleman.  "What Reason Can I Give" which has some fragmented, beautiful lyrics from Ornette himself, and Chris's solo interpretation of "Peace."  "Peace" is from Ornette's iconic album The Shape of Jazz to Come, and its boldness is derived from its clarity and simplicity.  It's the kind of melody that feels discovered more than composed.   As Chris plays it, it's a simple story, clearly told.  A truth spoken. "
– excerpted from the liner notes by Elan Mehler
---
Check out this incredible, heart-breaking version of "My Funny Valentine"
Video shot by Jim Hoppin and edited by Ben Chace
---
Newvelle records releases music exclusively on vinyl and in six record box sets. Members subscribe to a season and receive one record every two months over the course of a year. Chris Tordini's Midnight Sun is the fourth record in Newvelle's second season. For more information visit: www.newvelle-records.com.
---
Next month Newvelle releases a solo record from the incredible Cuban pianist Arúan Ortiz.  This is a record of Cuban "classical" music given Arúan's unique touch.
Newvelle's last record in their Second Season set is from legendary bassist Rufus Reid.  This is an original set of music from Rufus featuring his trio along side of the acclaimed "Sirius Quartet."  Rufus's writing for strings is startling in its originality and beauty.
---
John Patitucci Trio Featuring Yotam Silberstein and Rogerio Boccato
Kevin Hays and Lionel Loueke Duo
Jon Cowherd Quartet featuring Steve Cardenas, Tony Scherr and Brian Blade 
Chris Tordini Trio featuring Becca Stevens and Greg Ruggerio 
Aruán Ortiz revisiting the music of the great Cuban classical composers
Rufus Reid Trio with Steve Allee and Duduka Da Fonseca and featuring the Sirius Quartet 
All of Newvelle's cover and interior photographs for Season Two come from the astonishing French Collective Tendance Floue.  The Recording Engineer on all six records is the incomparable multi-Grammy winning Marc Urselli.  Mastering engineer is the brilliant Alex Deturk .  Jim Hoppin and Sarah Enid Hagey shot lovely video at these sessions.  All video editing is by the award-winning Ben Chace.  Jordan Kleinman shoots all our studio photos.  Newvelle's web team is run by French genius Aymeric Auberger.  Social Media management by Jessye Mehler.  Newvelle is run by:  Elan Mehler and Jean-Christophe Morisseau.
---
Included if you order this month with Season Two!  A full bonus 180 gram vinyl record based on Douglas Kennedy's original short story written exclusively for Newvelle Record.  
Video shot by Isaac Gillespie and edited by Austin Lynch
And Stay tuned for Season Three!  Coming Soon.
(Dave Douglas © Jordan Kleinman)
Copyright © 2017 Braithwaite & Katz, All rights reserved.
Hello, you are receiving this email because we have recently updated our MailChimp account.Want to change how you receive these emails?
You can update your preferences or unsubscribe from this list.
————————————————————————————————————————————————
OUT NOW:
On DVD
A Tribute To Les Paul:
Live From Universal Studios Hollywood
A live concert tribute to the "godfather of the electric guitar" Les Paul, 
With a legendary career as a hit-making musician, solid-body electric guitar trailblazer, and an inventor of unprecedented recording techniques, he has impacted and influenced the many facets of the music industry like none other. Filmed live at what was then the Gibson Amphitheatre in Los Angeles on February 8, 2006, 
A Tribute To Les Paul: Live From Universal Studios Hollywood
gives viewers a front row seat for an unforgettable night of powerhouse performances, as some of music's biggest names come together to honor the ultimate icon. The night is headlined by show-stopping numbers from an all-star slate of Paul disciples, that includes 
Slash
 and 
Edgar Winter
teaming up on the Stevie Wonder staple "Superstition;" Toto axeman 
Steve Lukather
's rendition of Jimi Hendrix's "Little Wing;" and 
Joe Perry
 and 
Buddy Guy
 closing the night with a soulful blues set. Other highlights include spirited performances by 
Joe Satriani
, 
Kenny Wayne Shepherd
, recent Rock & Roll Hall of Fame inductee 
Neal Schon
, and more.
As part of the night's festivities, A Tribute To Les Paul: Live From Universal Studios Hollywood also features rare commentary taken from several of Paul's final interviews recorded at New York's landmark Iridium Jazz Club, as well as at Paul's home in Mahwah, New Jersey. The special event was held to raise funds and awareness for the South Central charity A Place Called Home, designed to give at-risk youth a safe and secure environment they can thrive in.
The program is produced by Icon Television Music, Inc., HD Net (now AXSTV), and In Touch Entertainment and distributed by MVD Entertainment Group. The award-winning production team includes Charles Carlini ("Les Paul's 90th Birthday Concert at Carnegie Hall"), Bob Cutarella ("Les Paul & Friends"), Howard Lipp ("Les Paul 90th Birthday Concert at Gibson Amphitheater"), and Glenn Aveni ("Les Paul Chasing Sound").
Michael Braunstein, Executive Director of the Les Paul Foundation stated, "It is without a doubt that Les Paul is the 'Father of Modern Music' and that musicians from every corner of the globe and in every genre of the music industry stand upon his shoulders. He was an inventor, an award-winning musician, an innovator and most importantly a very special man I also had the privilege of calling my friend. The artists and producers who have made this tribute program possible give us every reason to remember that Les Paul was a man who influenced our music industry profoundly. I am thrilled that viewers everywhere will have the chance to witness his greatest through the performances and storytelling of this wonderful program."
To pre-order the DVD go 
HERE
.

—————————————————————————————————————————————–
© Michael Jackson
SOUTHERN US PREMIERE FOR LEGENDARY COMPOSER/TRUMPETER WADADA LEO SMITH'S CIVIL RIGHTS MASTERPIECE
  TEN FREEDOM SUMMERS
Thursday, Oct. 12 in Austin, TX
Friday, Oct. 13 in Houston, TX
Saturday, Oct. 14 in New Orleans, LA
Sunday, October 15 in Tuscaloosa, AL
Best Jazz Artist, Trumpeter and Jazz Album of the Year – DownBeat Magazine's 65th Annual Critics Poll, August 2017
2017 Musician of the Year – Jazz Journalists Association
Smith was 2013 Pulitzer Prize Finalist in Music for Ten Freedom Summers
"A stunning achievement, with the dramatic sweep of the trumpeter's writing (for both a chamber orchestra and his own small group)… It merits comparison to Coltrane's A Love Supreme in sobriety and reach."
— Francis Davis, Rhapsody Jazz Critics Poll
 "Ten Freedom Summers was as striking a display of his expansive vision and his vitality. He still plays trumpet as he always has: with little vibrato and a tone that can be either boldly declarative or soft to the point of breaking… Mr. Smith had made his own statement through instrumental music. And it sounded complete." — Larry Blumenfeld, Wall Street Journal
Boldly original trumpeter, multi-instrumentalist and composer Wadada Leo Smith brings his soul-searching Civil Rights tribute Ten Freedom Summers to four southern US cities October 12 – 15, 2017 paying homage to heroes such as Emmett Till, Rosa Parks, Medgar Evers, and Dr. Martin Luther King, Jr.  This will be the first time this epic work, for which Smith was a finalist for the 2013 Pulitzer Prize in Music, has been performed in the South.
Performing are Smith's Golden Quartet featuring Smith, pianist Anthony Davis, bassist John Lindberg, and drummer Pheeroan akLaff, the RedKoral Quartet with violinists Shalini Vijayan and Mona Tian, violist Lorenz Gamma and cellist Ashley Walters, plus video artist Jesse Gilbert.
The first three performances, which together comprise the entire work, are presented in collaboration with The New Quorum, Nameless Sound and Epistrophy Arts and are supported by the Presenter Consortium for Jazz, a program of Chamber Music America funded through the generosity of the Doris Duke Charitable Foundation. They include:
Thursday, October 12, 2017 – First Collection from Ten Freedom Summers – Austin, TX
8 p.m. – Tickets $25; $15 for students, seniors and artists.
Boyd Vance Theater at the George Washington Carver Museum, 1165 Angelina Street, Austin, TX
Presented by Epistrophy Arts. www.epistrophyarts.com
Friday, October 13 – Second Collection from Ten Freedom Summers
– Houston, TX
8 p.m. – Tickets $13; $10 for students.
MATCH – Midtown Arts & Theater Center Houston, 3400 Main St. Houston, TX
Presented by Nameless Sound. www.namelesssound.org
Saturday, October 14 – Third Collection from Ten Freedom Summers
– New Orleans, LA
8 p.m.  Tickets $20; $15 for students.
Louis J. Roussel Performance Hall, Loyola University, 6363 St Charles Avenue, New Orleans, LA
Presented by New Quorum. Tickets through www.newquorum.org
In addition, selections from Ten Freedom Summers will be presented:
Sunday, October 15 – Mixed Collections from Ten Freedom Summers
– Tuscaloosa, AL
7:30 p.m.  Admission is free.
Moody Music Building Concert Hall, The University of Alabama, 810 Second Avenue, Tuscaloosa, AL
Presented by The University of Alabama's Sonic Frontiers Concert Series http://www.sonicfrontiers.ua.edu
More than a three-performance musical event, Ten Freedom Summers is a multimedia project that incorporates archival news footage and evocative but abstract cinematic imagery edited with a self-consciously musical sensibility. The production was inspired conceptually by August Wilson's Pulitzer Prize-winning 10-play Pittsburgh Cycle, in which each play chronicles one of 10 decades of African-American life in the 20th century. "I own all 10 of Wilson's plays and have studied them over the years," Smith says. "Much like Wilson, what I'm trying to do is give a full impression, show the psychological transformation that America achieved. Each piece has its own motivation, and what ties it together is the psychological thread. Rather than taking 10 decades, I took 10 freedom summers."
Ten Freedom Summers has received rave reviews for performances worldwide. Reviewing the collection's premiere at REDCAT in LA, Larry Blumenfeld wrote in the Wall Street Journal: "Ten Freedom Summers was as striking a display of his expansive vision and his vitality. He still plays trumpet as he always has: with little vibrato and a tone that can be either boldly declarative or soft to the point of breaking… Mr. Smith had made his own statement through instrumental music. And it sounded complete."
Ten Freedom Summers received equal acclaim on CD. Released in May 2012 on the Cuneiform label, it earned a place as the #3 jazz record of the year in the Rhapsody Jazz Critics poll, where respected critic Francis Davis wrote: "A stunning achievement…. It merits comparison to Coltrane's A Love Supreme in sobriety and reach." National Public Radio included the CD in its Top 50 albums of 2012 and it placed eighth in the 2012 JazzTimes Critics Poll, while music criticism aggregator MetaCritic hailed it as the #1 under-the-radar album of 2012.
The recording has been heralded as "stirringly beautiful … an astounding aesthetic achievement," (Michael Casper, Oxford American), "an emotional and intellectual luxury, a chance to commune with greatness," (Josh Langhoff, Pop Matters), "the work of a lifetime by one of jazz's true visionaries.…Triumphant and mournful, visceral and philosophical, searching, scathing and relentlessly humane, Smith's music embraces the turbulent era's milestones while celebrating the civil rights movement's heroes and martyrs." (Bruce Gallanter, Downtown Music Gallery), and "his magnum opus; it belongs in jazz's canonical lexicon with Duke Ellington's Black Brown & Beige and Max Roach's Freedom Now Suite." (Thom Jurek, All Music Guide). As Stuart Broomer writes in Point of Departure: "If one had to answer quickly what work will matter most this year in American music…Wadada Leo Smith's Ten Freedom Summers would trip readily to the tongue."
Throughout his career, Wadada Leo Smith, 75, has been recognized for his groundbreaking work. Transcending the bounds of genre or idiom, he distinctly defines his music, tirelessly inventive in both sound and approach, as "Creative Music."  A finalist for the 2013 Pulitzer Prize in Music, he received the 2016 Doris Duke Artist Award and earned an honorary doctorate from CalArts, where he was also celebrated as Faculty Emeritus. In addition, he received the Hammer Museum's 2016 Mohn Award for Career Achievement "honoring brilliance and resilience."
In addition, in 2017 Smith topped three categories in DownBeat Magazine's 65th Annual Critics Poll: Best Jazz Artist, Trumpeter of the Year and Jazz Album of the Year and was featured as the subject of a cover story in August 2017. The Jazz Journalists Association also honored Smith as their 2017 Musician of the Year as well as the 2017 Duo of the Year for his work with Vijay Iyer.  The JJA also named him their 2016 Trumpeter of the Year, 2015 Composer of the Year, and 2013 Musician of the Year. In 2013 he was also selected as DownBeat Magazine's Composer of the Year.
In October 2015, The Renaissance Society at the University of Chicago presented the first comprehensive exhibition of Smith's Ankhrasmation scores. In addition to igniting creative sparks in the musicians who perform them, their use of non-standard visual directions makes them works of art in themselves. In 2016, the scores were also featured in the Hammer Museum's Made in L.A. exhibition, and at the Kalamazoo Institute of Arts and Kadist in San Francisco, among other places.
Born December 18, 1941 in Leland, Mississippi, Smith's early musical life began at age thirteen when he became involved with the Delta blues and jazz traditions performing with his stepfather, bluesman Alex Wallace. He received his formal musical education from the U.S. Military band program (1963), the Sherwood School of Music (1967-69), and Wesleyan University (1975-76).
For the last five decades, Smith has been a member of the legendary AACM collective, pivotal in its wide-open perspectives on music and art in general. He has carried those all-embracing concepts into his own work, expanding upon them in myriad ways.  In April 2017 Smith presented the first-ever CREATE Festival, a two-day celebration and exploration of his music that featured classic works alongside world premiere performances. The event took place in New Haven, CT.  Smith brings CREATE to San Francisco on December 15 and 16.
Smith has released more than 50 albums as a leader on labels including ECM, Moers, Black Saint, Tzadik, Pi Recordings, TUM, Leo and Cuneiform. His diverse discography reveals a recorded history centered around important issues that have impacted his world, exploring the social, natural and political environments of his times with passion and fierce intelligence. His most recent recording America's National Parks (October 2016, Cuneiform), a six-movement suite inspired by the scenic splendor, historic legacy, and political controversies of the country's public landscapes, earned Smith the designation "National Treasure" from DownBeat Magazine and was heralded as one of the year's best by the New York Times and many others.
TUM Records will release two new recordings by Smith on October 20, 2017. Wadada Leo Smith: Najwa showcases Smith with guitarists Michael Gregory Jackson, Henry Kaiser, Brandon Ross and Lamar Smith, plus Bill Laswell on electric bass, Pheeroan akLaff on drums and Adam Rudolph on percussion. Also on TUM will be Alone: Reflections and Meditations on Monk, a solo recording.
© Michael Jackson
Copyright © 2017 Braithwaite & Katz, All rights reserved.
Hello, you are receiving this email because we have recently updated our MailChimp account.Our mailing address is:
---
Dazzling group rapport sparks brilliant performance on Aspiration
Featuring Satoko Fujii, Wadada Leo Smith, Natsuki Tamura and Ikue Mori
The group chemistry is magical on pianist-composer Satoko Fujii's Aspiration, featuring an all-star quartet with trumpeters Wadada Leo Smith and Natsuki Tamura, and laptop player Ikue Mori. The nearly telepathic link among them takes the music into places where it grows ever deeper and more intuitive. Each track on the album is so vividly alive in the moment and with a character so distinct that it seems to become an animate thing independent of its creators. The artists are almost subservient to the music rather than the other way around. The album will be released September 8 on Fujii's Libra Records.
It's little wonder the album is so subtle and intimate, given the artists involved. Although this is the first time they have worked together as a group, there are ties among them that contribute to the music's beauty and coherence. Smith and Mori displayed an uncommonly close rapport during their duets on Smith's Luminous Axis (Tzadik). "I knew Wadada and Ikue had worked together before," Fujii says, "but that's not why I asked Ikue to join us. Natsuki and I had played with Ikue before on several occasions and we had a great time. When I started composing for the project with Wadada, I heard Ikue's sound in my ears." Of course, Fujii and Tamura share an intimate bond developed over several decades of working together and especially in their duo music, which they've recorded five times since 1997.
Once they came together in the studio, creating the music was easy, Fujii says. "I could feel a kind of calm confidence when we were together. I knew that we were going to make good music."
Fujii's intuition about the quality of the music proved correct. They venture into the mysteries and potentials — and the risks — of the quartet with fearless openness and discipline. On each track, every aspect of sound production is in spontaneous flux—rhythm, melody, dynamics, texture, density, silence. There is no telling where the music may lead. On "Intent," the unfixed quality keeps the listener on edge in anticipation of where the music will flow next. As the members of the band move in and out of the music, each sonic event blossoms with vibrant immediacy, and fades away as the music evolves. "Floating" opens with extraordinarily graceful piano from Fujii while Mori orchestrates textures and rhythms in parallel to her. About five minutes in, Smith makes a dramatic entrance and a three-way conversation ensues before Tamura brings the piece to a quiet ending. It's one of the most elusive and obliquely lyrical tracks on the disc, and there isn't a note out of place. Tamura's "Stillness" is a piece of complementary contrasts with a contemplative start that suddenly erupts into roiling energy and subsides. Again, there's a sense of inevitability that feels organic. Even the unaccompanied solos that crop up throughout the performances—for instance, Tamura's sculptural opening to "Evolution," or Fujii's solo later in that same piece—are shaped to function within the context of the composition.
Fujii, Smith, Tamura, and Mori gathered without preconceived notions about what must happen as they play. Instead they discovered together what the music could do, and nurtured it to its fullest expression. In the end, Aspiration is about more than music—it is about sharing and working together, about finding something beautiful and making it more so, and about the spiritual bonds that unite us all.
Critics and fans alike hail pianist and composer Satoko Fujii as one of the most original voices in jazz today. She's "a virtuoso piano improviser, an original composer and a bandleader who gets the best collaborators to deliver," says John Fordham in The Guardian. In concert and on more than 80 albums as a leader or co-leader, she synthesizes jazz, contemporary classical, avant-rock and Japanese folk music into an innovative music instantly recognizable as hers alone. Over the years, Fujii has led some of the most consistently creative ensembles in modern improvised music, including the ma-do quartet, the Min-Yoh Ensemble, and an electrifying avant-rock quartet featuring drummer Tatsuya Yoshida of The Ruins. She has also established herself as one of the world's leading composers for large jazz ensembles, leading Cadence magazine to call her, "the Ellington of free jazz." Her ultimate goal: "I would love to make music that no one has heard before."
Trumpeter and composer Natsuki Tamura is internationally recognized for his unique musical vocabulary blending extended techniques with jazz lyricism. This unpredictable virtuoso "has some of the stark, melancholy lyricism of Miles, the bristling rage of late '60s Freddie Hubbard and a dollop of the extended techniques of Wadada Leo Smith and Lester Bowie," observes Mark Keresman of JazzReview.com. Throughout his career, Tamura has led bands with radically different approaches. On one hand, there are avant rock jazz fusion bands like his quartet, whose album Hada Hada Peter Marsh of the BBC described this way: "Imagine Don Cherry woke up one morning, found he'd joined an avant goth-rock band and was booked to score an Italian horror movie." In contrast, Tamura has focused on the intersection of folk music and sound abstraction with Gato Libre since 2003. The band's poetic, quietly surreal performances have been praised for their "surprisingly soft and lyrical beauty that at times borders on flat-out impressionism," by Rick Anderson in CD Hotlist. In addition, Tamura has recorded five CDs in his ongoing duo with pianist (and wife) Satoko Fujii. Tamura also collaborates on many of Fujii's projects, from quartets and trios to big bands. As an unaccompanied soloist, he's released three CDs, including Dragon Nat (2014). He and Fujii are also members of Kaze, a collaborative quartet with French musicians, trumpeter Christian Pruvost and drummer Peter Orins. "As unconventional as he may be," notes Marc Chenard in Coda magazine, "Natsuki Tamura is unquestionably one of the most adventurous trumpet players on the scene today."
A finalist for the Pulitzer Prize in Music, trumpeter, multi-instrumentalist, composer, and improviser Wadada Leo Smith is one of the most boldly original and influential artists of our time. Transcending the bounds of genre or idiom, he distinctly defines his music, tirelessly inventive in both sound and approach, as "Creative Music." For the last five decades, Smith has been a member of the legendary AACM collective, pivotal in its wide-open perspectives on music and art in general. He has carried those all-embracing concepts into his own work, expanding upon them in myriad ways. Smith received the 2016 Doris Duke Artist Award and earned an honorary doctorate from CalArts, where he was also celebrated as Faculty Emeritus. In addition, he received the Hammer Museum's 2016 Mohn Award for Career Achievement "honoring brilliance and resilience." In 2017 Smith topped three categories in DownBeat Magazine's 65th Annual Critics Poll: Jazz Artist, Trumpet and Jazz Album (for America's National Parks on Cuneiform.)  Smith was also honored by the Jazz Journalists Association as their 2017 Musician of the Year as well as the 2017 Duo of the Year for his work with Vijay Iyer.  Born December 18, 1941 in Leland, Mississippi, Smith's early musical life began at age thirteen when he became involved with the Delta blues and jazz traditions performing with his stepfather, bluesman Alex Wallace. He received his formal musical education from the U.S. Military band program (1963), the Sherwood School of Music (1967-69), and Wesleyan University (1975-76).
Smith has released more than 50 albums as a leader. His 2016 recording, America's National Parks, a six-movement suite inspired by the scenic splendor, historic legacy, and political controversies of the country's public landscapes, earned a place on numerous best of the year lists including the New York Times, NPR Music and many others. Smith's landmark 2012 civil rights opus Ten Freedom Summers was called "A staggering achievement [that] merits comparison to Coltrane's A Love Supreme in sobriety and reach."
Laptop musician, composer, and percussionist Ikue Mori first gained attention in the late '70s as the drummer in the seminal No Wave band DNA, with fellow noise pioneers Arto Lindsay and Tim Wright. In the mid '80s she started in employ drum machines in the context of improvised music. While limited to the standard technology provided by the drum machine, she nevertheless forged her own highly sensitive signature style. In 2000 she started using the laptop computer to expand on her already signature sound, thus broadening her scope of musical expression. Mori has released more than 20 albums as a leader or co-leader with innovative bands such as Mephista with pianist Sylvie Courvoisier and drummer Susie Ibarra; and Phantom Orchard with harpist Zeena Parkins. She is a frequent member of ensembles led by John Zorn, and was a featured soloist with Ensemble Modern on guitarist-composer Fred Frith's Traffic Continues (Winter & Winter). Her most recent releases are Obelisk with Courvoisier, Okkyng Lee, and Jim Black; and Highsmith, a duo with pianist Craig Taborn, both on Tzadik.
———————————————————————————————————————————————————————————
FOR IMMEDIATE RELEASE
MEDIA INQUIRIES/REVIEW COPIES:
Holly Cooper / MOUTHPIECE MUSIC
ACCLAIMED JAZZ VOCALIST JACKIE ALLEN
RELEASES ROSE FINGERED DAWN
OCTOBER 6, 2017

ON AVANT BASS LABEL
| | |
| --- | --- |
| | |
Over a career spanning more than 30 years, vocalist and songwriter JACKIE ALLEN has produced 11 CDs that have garnered accolades from fans and critics alike. Now with ROSE FINGERED DAWN, her 12th release, the Chicago-based veteran ventures into new territory with an album featuring 10 original tunes all written specifically for her by the formidable bass player HANS STURM. Allen and Sturm are not only musical partners, they're a husband and wife team who met in college and have been working both together and apart since the early 1980s when they began performing as a voice/bass duo act.
Allen has a smoky, expressive voice that's instantly recognizable. She's very musical and innovative, yet she eschews vocal pyrotechnics to express the story of a song with a directness that seems to emanate directly from her core. Allen's repertoire has never been focused on a single genre of music. Throughout her career, she's incorporated a range of styles, including folk and pop, that she transforms into the jazz idiom through her own unique approach.
ROSE FINGERED DAWN is a stylistically eclectic outing that draws on Allen's skills as a natural storyteller. According the Allen, "Obviously, Hans knows me very well. I'm lucky to have a collaborator who can compose in so many different styles, as well create such poetic, sensitive imagery. His music can be so light and beautiful and romantic." To which Sturm adds, "Jackie is my muse, and all these songs are ultimately her interpretations of my music. If she doesn't connect with a particular lyric, I go back and rework it until she's satisfied. I try to write to Jackie's strengths, like her ability to convey lyrics naturally and honestly."
ROSE FINGERED DAWN takes you on a journey across different geographical and emotional landscapes. Indeed, the eponymous title track is a nod to Homer's Odyssey in which Odysseus invokes Eos, the goddess of dawn, as he sets out on his wanderings. The tune opens with a Ghanaian Islamic chant of welcome by drummer DANE RICHESON, who brings to the group his vast knowledge of musical cultures from around the world.
"NOLA Love Song"is a tune inspired by Allen's and Sturm's love of New Orleans, which they visited almost accidentally when they tried to escape a brutal Chicago winter. Their flight to the Caribbean was cancelled, so they hopped on the next available flight out, which happened to be going to The Big Easy. Hans had written the melody shortly after the trip, but he was inspired to write the lyrics after Hurricane Katrina.
Sturm, a poet at heart, loves wordplay and wrote "Time" using a series of clichés that all add up to the message that time flies and should be used wisely. The song has a moody jazz-rock feel that features a smoldering solo by the versatile guitarist JOHN MOULDER. "Dark Butterflies" is slow bossa that's one of the earliest tunes that Sturm wrote for Jackie. It's an abstract love song with lovely lyrics like "Lilies, from stem to blossom / Sliding out of the green silence / Suddenly biding their own time / Through sweet chocolate / Earth and are gone / With riots of color left behind."
"Bel Air BBQ" is a funky homage to the great food and ambience of Kansas City, where they often travel to play music and enjoy the local cuisine. Chicago phenom VICTOR GARCIA tears it up on the tune with a burning trumpet solo. "The Laugh That Is You" is about their son's infectious laugh. The tune is a swinger that sounds like a big band number from the Great American Songbook. On "The Moon's on the Rise," Allen's sultry vocals raise the temperature of Sturm's suggestive lyrics.
"Holy Man" switches gears with a get down blues about the hypocrisy of TV evangelists. "Sweet Dreams" is a tune that invites us "to find respite from the stress of modern life and the obstacles we each face." Allen's whispery vocals take on the dreamy quality one feels while slowly sliding into sleep. The CD fittingly closes with "Steal the Night," a song inspired by Dylan Thomas' poem "Do Not Go Gentle" about the ultimate end of all our journeys.
Allen and Sturm are joined on ROSE FINGERED DAWN by old friends and musical compatriots who have recorded and performed with the duo for many years. Besides the aforementioned guitarist John Moulder, trumpeter Victor Garcia, and drummer Dane Richeson, they're accompanied by TOM LARSON on keyboards, reedman GEOFF BRADFIELD, and ANDY BAKER on trombone. Each of these stellar musicians has extensive performing and recording careers.
About Jackie Allen
Jackie Allen began her recording career in 1994. She's recorded on several labels, including Lake Shore Jazz, Naxos Jazz, A440, Red Mark, Blue Note Records and others. Allen had a long musical relationship with pianist/vocalist Judy Roberts. They recorded two CDs together, Santa Baby and Autumn Leaves. Allen and her own combo recorded 3 critically acclaimed CDs for A440 and Blue Note, The Men In My Life (2003), Love Is Blue (2004) and Tangled (2006). She has served multiple terms on the Board of Governors and Jazz Nominating Committee for the Recording Academy (Grammy Awards).
Allen has toured nationally coast-to-coast in major music venues, and was the featured artist with the Chicago Jazz Philharmonic in Chicago's Millennium Park and Auditorium Theater for Ella Fitzgerald's 95th Birthday Celebration. She has performed at jazz festivals in Detroit, Chicago, Paris, The Hague, Stuttgart, Edinburgh, Bologna, Beijing, Hong Kong, Thessaloniki, Sao Paulo, among many others. Allen is also a respected jazz educator and teaches at Doane University, NE. She has also taught at the University of Nebraska – Lincoln, Ball State University (IN), Roosevelt University, Elmhurst College (IL), and The Old Town School of Folk Music, Chicago.
#  #  #
Webs:
Personnel:
Jackie Allen  vocals
John Moulder  guitars
Tom Larson  keyboads
Hans Sturm  bass
Dane Richeson  drums, percussion
Geoff Bradfield   soprano & tenor sax, bass clarinet
Victor Garcia  trumpet
Andy Baker  trombone
Tracks
1.   Rose Fingered Dawn  
4:48
2.   NOLA Love Song  
4:18
4.   Dark Butterflies   
7:14
6.   The Laugh That Is You   
4:22
7.   Moon's On The Rise  
5:00
10. Steal The Night  
5:24
---
Watch the trio in action
The San Francisco String Trio celebrates the 50th Anniversary of
Sgt. Pepper's Lonely Hearts Club Band with May I Introduce to You,
a Kaleidoscopically Creative Reimaging of the Beatles' Epochal AlbumBay area super group with guitarist Mimi Fox, bassist/vocalist Jeff Denson, and violinist Mads TollingAlbum available September 8, 2017 via Ridgeway RecordsIn Concert Thursday, September 7 – The Freight and Salvage, Berkeley, CA
When Sgt. Pepper taught the band to play, he couldn't have foreseen the extraordinary San Francisco String Trio. The Bay area super-group featuring guitarist Mimi Fox, bassist/vocalist Jeff Denson, and violinist Mads Tolling has found a consistently enthralling vehicle for musical exploration in the 1967 masterpiece. Slated for release on Ridgeway Records on September 8, 2017, May I Introduce to You is the trio's debut album and a loving homage to the classic Beatles record on its 50th anniversary.
The SF String Trio brings together three celebrated masters who have each recorded critically acclaimed albums as bandleaders. Much like the Beatles drew on an array of traditions and styles in crafting Sgt. Pepper's, the cooperative ensemble approaches each track as an opportunity to imbue supremely familiar songs with a sense of delight and surprise. "The idea was to do something different to shake up these fantastic songs, but not just for the sake of doing something new," says Fox. "We're all coming from a jazz background and we like to mix things up."
"We love to blend genres and you can hear tango, R&B, pop and classical influences too," Tolling adds. "We're all arrangers and we'd work on pieces individually then bring them in and work on them as a group and really make them come to life."
Though the musicians grew up in different generations (and different countries), they're united by vaunted reputations as improvisers, abiding love of the Fab Four, and faculty positions at the California Jazz Conservatory. As the senior member of the ensemble, Fox remembers the explosive impact of Sgt. Pepper's release as a child growing up in New York. Tolling, a classical prodigy, fell in love with the Beatles as his gateway to pop music as a teenager coming of age in Denmark in the mid-90s. And Denson heard the album in regular rotation amidst his mother's records while growing up outside Washington D.C. in the 1980s. The universally beloved album left a deep and enduring impression on each of them that has continued to provide inspiration in their work as jazz artists.
"When I first moved out here I taught a class on the Beatles at the California Jazz Conservatory," says Denson, who became the first full professor in the CJC's newly accredited Bachelor of Music program in 2011. "When I first went to Berklee, where Mads and I met, I took an arranging class and wrote a chart for 'She's Leaving Home.' It's always been a really special album to me and part of my life."
The trio's emotional connection to Sgt. Pepper's is evident throughout May I Introduce to You, and every track sheds a bright and revealing light on the genius of the Beatles. Tolling transfuses some of Joe Cocker's gospel fervor into his ballad arrangement of "With A Little Help From My Friends," and sets a good deal of "Lucy In the Sky With Diamonds" to a crunching 5/4 beat. Fox evokes George Harrison's sitar with a sleek modal interpretation of "Within You Without You" and delivers a ravishing solo rendition of "She's Leaving Home." Denson's arrangement of "Fixing A Hole" incorporates his striking vocals, as does his multilayered unpacking of "A Day In the Life," another tour de force that distills the song's essence while winding its way to a surprising climax, with Fox's twang replacing the famous last crashing chord. "Essentially we have three drummers in the group, as we're all comfortable with our instruments' percussive qualities," Fox says, "as well as the harmonic and melodic possibilities."
It's hard to overstate the wealth of experience the trio brings to this project. An internationally acclaimed touring artist for the past quarter century, Fox has performed/recorded with horn heavy weights (Branford Marsalis, David Sanchez, Houston Person), fellow fret masters (Charlie Byrd, Stanley Jordan, Charlie Hunter), Hammond B-3 greats (Joey DeFranceso, Barbara Dennerlein, Dr. Lonnie Smith), and vocal stars (Abbey Lincoln, Diana Krall, Kevin Mahogany). She's shared the stage with legends Stevie Wonder and John Sebastian and Patty Larkin featured her on the Vanguard Records project La Guitara. Fox has released 10 critically acclaimed albums as a leader, including three on Steve Vai's Favored Nations label. Her YouTube videos have received hundreds of thousands of views. In conjunction with Heritage's 30th anniversary, the Kalamazoo guitar company has rolled out the Mimi Fox Artist signature model.
Born and raised in Copenhagen, Tolling was on his way to a successful career as a classical soloist when he discovered Miles Davis. His growing passion for jazz brought him to Berklee in 2000, where at the recommendation of Jean-Luc Ponty bass luminary Stanley Clarke recruited him for his touring band. He moved to the Bay Area in 2003 to join the pioneering crossover string ensemble Turtle Island Quartet, an eight-year run that included two Grammy Awards for 2006's 4+Four, and 2008's A Love Supreme: The Legacy of John Coltrane (both on Telarc). Since setting out on his own in 2012, Tolling has established himself as an ambitious bandleader, accomplished composer, and daring improviser committed to expanding the violin's sonic parameters. A Yamaha clinician who's given workshops in the US, Canada, Japan and Dubai, Tolling earned the #1 slot as Rising Star Violinist in the 2016 DownBeat Critic's Poll. His latest album, 2017's Playing the 60s (Madsman Records), mines the New Frontier era for powerfully engaging but oft-overlooked material while introducing an ardently grooving group sound.
Denson first gained international attention in the cooperative trio Minsarah with Israeli drummer Ziv Ravitz and German pianist Florian Weber. It was the group that caught the ear of alto sax legend Lee Konitz, who adopted the combo as his rhythm section on 2007's Deep Lee, 2009's Live at the Village Vanguard, which earned the 2010 Album of the Year Award from France's Jazzman Magazine, and 2014's Standards Live: At the Village Vanguard (all on Enja). A prolific composer and arranger, he's written music for an array of jazz settings, from big band to trio, as well as for string ensembles, solo bass, and a chamber opera. Since settling in the Bay Area, Denson has released five solo albums in six years and continued to tour internationally with Lee Konitz and his own projects along with forging new creative alliances with some of the West Coast's most prodigious improvisers. He's explored intricate harmonic soundscapes with drummer Alan Hall and bassoon and electronics virtuoso Paul Hanson, and recorded with Konitz again, this time under his own name, on 2015's The Jeff Denson Trio + Lee Konitz. The album introduced Denson's Ridgeway Records label, which over the last two years has become an essential outlet for brilliant young artists and established masters in the Bay Area and beyond.
Denson first met Fox shortly after he arrived in the Bay Area and was immediately impressed by her musicality. "We started getting together and playing duo, and talking about different possibilities," Denson says. "Mads and I had met at Berklee but really got a chance to play together after I moved here and I did some things with his band. Mads and Mimi had also been talking about playing together. Finally, we connected all the dots and we had great musical chemistry right away."
Their formidable chemistry ignites on May I Introduce to You, a project that sets a new standard for jazz interpretation of the Beatles. Inspired by each other and an era-defining album, the San Francisco String Trio pays the ultimate compliment to the Liverpool lads by treating their songs as an extension of the Great American Songbook. "The Beatles have spanned generations," Fox says, "and their melodies, particularly Paul's ballads, hold their own with Irving Berlin and Cole Porter. Musically, emotionally and creatively, this project has everything going for it."
Mads Tolling, Jeff Denson and Mimi Fox   © Grason Littles
———————————————————————————————————————————————————————————————–
© Daria Huxley
Monday, September 25
at
Small's Jazz Club
Ricardo Grilli Quintet
Tickets: $20
Ricardo Grilli – Guitar
Mark Turner – Reeds
Kevin Hays – Piano
Joe Martin – Bass
Eric Harland – Drums
"… a post-bop guitarist with a sideline interest in the cosmos and a taste for the ultramodern." – Nate Chinen, New York Times 
Rising star guitarist Ricardo Grilli returns to Smalls Jazz Club with an amazing quintet.   The powerhouse rhythm section of Eric Harland and Joe Martin, both members of Grilli's "1954" quartet, is complemented by pianist Kevin Hays, and saxophonist Mark Turner, both leading voices on their instruments.
The repertoire will feature compositions from Grilli's critically acclaimed 2016 album 1954 as well as new pieces from his upcoming album.
"…Grilli's considerable chops are in full effect in each setting…. This is an admirable outing by a new face on the scene." – Bill Milkowski, DownBeat Magazine 

Our mailing address is:
---
Dear Friends,

I am SO EXCITED to be THIS CLOSE to recording and releasing a music project I have been working on for four years now!

The CD will be titled, "Twist Run Road," and here's what is happening:
I have composed a full-length CD's worth (and more) of beautiful, original songs;
The songs have been arranged for piano, bass, drums, guitars, vibes, string quartet, cello, harmonica, and mandolin by a dear friend, the renowned Brazilian pianist and composer Jasnam Daya Singh (who will also play piano on the recording);
Joining us in the studio (the amazing Prairie Sun Studios!) will be my musical family: the marvelously talented artists who have performed and recorded with me for decades (Randy Vincent, Tom Martin, Dave MacNab, Alan Hall, Gerry Grosz; plus many other guest artists I've had the honor to perform with over the years).
All is ready, But NOW all that is needed is
your help to fund the recording.
All monies raised will go
directly to the musicians,
artists,
engineers and crew who will help me
produce and record this project.
My IndieGoGo campaign begins TODAY!
Saturday, September 9
This will be my fourth CD project, but my first recording of all original songs. Most of them are the simple, honest songs of my dreams…the balance of the songs come straight from my Heart.

Thank you so much for being a part of this project with me, the musicians, the cast and crews! –Love and Peace Thru Music, Elaine
PERKS: In addition to the
pre-launch digital downloads, signed CDs and more, get
Original Illustrations, inspired by Elaine's lyrics,
created by the wonderful
Artist, Annalisa Sher
——————————————————————————————————————————————————————————————————-
For Immediate Release
King Crimson's "THRAK – The Complete Scores" Full Band Transcriptions Book Now Available!
King Crimson's "THRAK – The Complete Scores" is now available! For the first time ever, full band transcriptions of this classic from the King Crimson double-trio era. Six musicians: two guitar players, two bassists and two drummers.
All parts transcribed and most of the essential bits tabbed for the various instruments and tunings: Adrian Belew's guitar in standard tuning, Robert Fripp's guitar in new standard tuning, Tony Levin's fretted and fretless basses, Trey Gunn's Chapman Stick and Bill Bruford and Pat Mastelotto's acoustic and electronic drum transcriptions.
Transcriptions by Gabriel Riccio
Editing and tabs by Trey Gunn
Produced on high-quality paper in 9″x12″ format, spiral bound for lay-flat-open reading.
Official release date: September 24, 2017
Track listing:
VROOOM
Coda: Marine 475
Dinosaur
Walking on Air
B'Boom
THRAK
Inner Garden I & II
People
One Time
Sex Sleep Eat Drink Dream
VROOOM VROOOM
VROOOM VROOOM: Coda
and a bonus track from the "VROOOM EP": Cage

To purchase: King Crimson "THRAK – The Complete Scores": http://tinyurl.com/THRAKSCORES
From Trey Gunn:
A book of King Crimson transcriptions is a built-in contradiction – Crimson rarely steps in the same puddle twice.

This is a band known for stretching beyond even its own limits, meaning most of the arrangements are given freedom to grow and change as the spirit moves. My own experience in the group was that about every one to two weeks some part of the compositions had significantly morphed into something else. For example, in the VROOOM coda, the Sex Sleep Eat Drink Dream "Spider Fingers Freakout" and THRAK every night saw the musicians heading into unexplored territory. As a result, any book of transcriptions can only reflect a slice in time of what this particular Crimson was doing on this particular day during this particular performance.

The approach Gabriel Riccio and I have taken with these THRAK recordings was to adhere strictly to what is on this record. While we've referred to the 2015 re-mixes and various live versions of the pieces, we have generally stayed with notating what is in the 1995 original mixes and performances. 

These particular recordings, made at Peter Gabriel's Real World Studios in the UK, were live performances. In my memory, we played each piece as a group once or twice through, picked a take and then quickly added overdubs accordingly. In most cases the overdubbing was very minimal. The record was largely completed in two weeks time, including all of the vocals.


Gabriel Riccio on some of the challenges of this score book:
THRAK has been one of the most challenging records to transcribe thanks to the dense 6-player arrangements. This often made it difficult to tell who is producing each sound. The title track is perhaps the most exciting piece to see on paper, as many of the band's greatest tricks are on display – hocketed polymeters, symmetrical scales, and fiery improvisation.

The hardest part was figuring out how to write down the electronic drum parts. Bill Bruford provided some valuable input on that front, breaking down his sounds into four main categories which I used as labels throughout. The drums in the 'Sex Sleep Eat Drink Dream' freakout are a great example of the complexity of this music – Bruford plays sextuplets phrased in 5s against Mastelotto's 4/4 groove.

For more information: 
www.treygunn.com
www.7dmedia.com


Press inquiries: Glass Onyon PR, PH: 828-350-8158, glassonyonpr@gmail.com
---
Free Radicals Has Weathered The Floods Relatively Intact, And Are Adding In Benefit Concerts For Flood Relief

Sun Sep 10, 9 – 10pm
Hurricane Houston Food Not Bombs Benefit Concert with Metanoia and lots of others
Sun Sep 17, 6 – 9pm
Peace News fundraiser @ Mennonite Church, 1231 Wirt Rd

Free Radicals
Celebrate The Release of Their New CD
"Outside the Comfort Zone"

Beaumont CD Release
Fri Sep 22, 10:00pm – 11:59am
Texas Rose Saloon, 2013 S. MLK, Beaumont TX
Houston CD Release

Saturday, September 23rd
11:00pm – 12:59am
Last Concert Cafe Houston
1403 Nance St
Houston, TX 77002
(713) 226-8563
www.lastconcert.com

Austin CD release
Saturday, September 30th
11:00pm – 12:00am
Sahara Lounge
1413 Webberville Rd
Austin, TX 78721
(512) 927-0700
www.saharalounge.com
Artist: Free Radicals
Title: Outside The Comfort Zone
Catalog Number: RWE017
Artist Website: freerads.com
Release Date: Oct. 1, 2017
UPC Code: 654483001728
Musicians & Songwriters:
Pete Sullivan: bari sax
Jason Jackson: alto sax
Aaron Varnell: tenor sax
Tom VandenBoom: trombone
Matt Serice: trumpet & keys
Nick Cooper: drums & perc.
Al Bear: guitar
Jacob Breier: bass
Nick Gonzalez: sousaphone 
In 1998, Free Radicals' first CD "The Rising Tide Sinks All" warned against the next Iraq War four years before it started. A decade later, Pakistan's leading English newspaper, Dawn, called the CD "a premonition waiting to become true." In 2012, Free Radicals' fourth CD "The Freedom Fence" warned against border walls four years before Trump made them a cornerstone of his campaign for president.
Now on its 20th year, Free Radicals presents a new CD "Outside the Comfort Zone," that warns against a white supremacist apartheid society in which consumers are oblivious to human rights abuses going on right outside the window.
Free Radicals is a horn-driven instrumental dance band with a commitment to peace and justice, and is the 13 time winner for "Best Jazz" in the Houston Press Music Awards. Equally comfortable performing in clubs, street protests, punk rock house-parties, art openings, weddings, funerals, and breakdance competitions, Free Radicals prides itself in adaption and supporting members of targeted communities for whom "apartheid" is not merely a metaphor.
On the new recording, Free Radicals welcomes many guests including Harry Sheppard & Damon Choice, two elder vibraphonists who played with Benny Goodman and Sun Ra Arkestra respectively, along with a dozen other long time collaborators.
"The horn-heavy, continually evolving collective Free Radicals produces a wildly eclectic fusion that has as many influences as there are items in the Houston, Texas, pawnshop in which they honed their sound during all-night jam sessions." – The New Yorker

———————————————————————————————————————————————————————-
Early-bird subscriptions are now open
Get 25-50% off subscription rates and help Quincy Jones and the rest of the Qwest TV team launch the world's first streaming-video platform dedicated to jazz and beyond by becoming a " co‑founding subscriber ".
Goodies galore
Don't wait: most goodies are only available during this pre-launch campaign!
Designer T-shirts & caps
Cool posters
Peace bracelets
Headphones
Vinyl LP and gold records signed by Quincy Jones himself
… and much, much more
The jazz world is already hopping on stage with Qwest TV
Since the official announcement of the creation of Qwest TV this past July, many artists have shown their support and enthusiasm for the project through a series of interviews called "12 Qwestions": Marcus Miller, Cory Henry, Vincent Peirani, Gilles Peterson, Erykah Badu, Jacob Collier, Questlove, Gregogy Porter, Erik Truffaz, Ed Motta, Lianne La Havas, Ibrahim Maalouf, Robert Glasper, Mark Guiliana, Richard Bona, Archie Shepp, Jason Lindner, Tony Allen, Kyle Eastwood, Kamasi Washington, Marshall Allen, Roy Ayers, Terrace Martin, and others.
What is Qwest TV?
Qwest TV is the new international audiovisual media dedicated to jazz and jazz-inspired musical forms, co-created by Quincy Jones (USA) and Reza Ackbaraly (France).
Qwest TV is a subscription video-on-demand (SVOD) platform available on tablets, computers, smartphones and, soon, television.
Qwest TV means exclusive and original content – documentaries, concerts, interviews, short features – all available in HD and curated by a dedicated team of professionals.
A sampling of upcoming programs:
Documentaries
Al Jarreau "Bring you to the stage" (Thierry Guedj, 2016)
Letter to Michel Petrucciani (Frank Cassenti,1981)
Attica Blues – 40 years later… (Lola Frederich et Marton Sarrazac, 2012)
Paco de Lucia "Light and Shade" (Michael Meert, 1994)
Concerts
Quincy Jones & friends feat. George Benson, Dee Dee Bridgewater, Jacob Collier, SWR Big Band (Jazz Open, 2017)
Oumou Sangare (Jazz sous les pommiers, 2017)
Cory Henry and the funk apsotles (Jazz à Vienne, 2017
Paris Jazz Festival : Lee Konitz & Bill Evans (Palais de la Mutualité, Paris, 1967)
TV shows
Manu Dibango (Musicalmente con, 1983)
Sonny Rollins masterclass (Paris, 1981)
Milton Nascimento (Musicalmente con, 1981)
Qwest TV is an innovative, high-quality medium that holds high the values of jazz and hopes to revolutionize access to this century-old music and to all types of music that have been inspired by it.
Furthermore, by sharing its extensive catalog with a worldwide network of universities and other premier educational institutions, Qwest TV hopes to introduce jazz to new generations of music lovers.
---
Metropolitan Room and Hot House Jazz Magazine continue their tradition of honoring new and seasoned NYC Jazz musicians with their compelling awards voted by loyal NYC Jazz fans.  Gwen Kelley, publisher of Hot House and Bernie Furshpan, owner of Metropolitan Room will open and welcome the artists and guests.

The 5th annual "Fans Decision Jazz Awards" night will be hosted by singer, musician, and performer, Antoinette Montague. Montague has worked extensively in the New York area throughout the past decade with such musicians as Bill Easley, Norman Simmons, Winard Harper, Wycliffe Gordon, Frank Wess, the Duke Ellington Orchestra and Mike Longo's New York State of the Arts Orchestra. The House band will be the Danny Mixon trio. Mixon's earlier credits include Joe Lee Wilson and Betty Carter, he then worked with such legendary performers as Lionel Hampton, Joe Williams and Frank Foster.

This ceremony will honor George Wein, NEA Jazz master, Chairman – Newport Festivals Foundation, Inc. and Founder of the Newport Jazz Festival, and Lorraine Gordon, co-founder and owner of the Village Vanguard. Jazz greats and younger talents will share the stage.

Our partner, the Metropolitan Room, where our awards ceremony has been hosted in the past, is moving to a bigger and more flexible space; during the several months of extensive renovations, The Triad is sharing its venue.

Special guests and VIPs will be in attendance at the Triad for this colossal event on Monday, October 9th @ 7PM. The Triad is located at 158 West 72nd Street, between Columbus and Amsterdam Avenues, New York City. The previous events were sold out, reservation is strongly recommended. Call (212) 206-0440 or visit www.metropolitanroom.com.

General admission and VIP packages are available.

The oldest jazz magazine in New York, Hot House is the only periodical in the New York metro area devoted solely to previews of upcoming jazz events. Since 1982, Hot House has offered insight and enthusiasm to both longtime jazz fans and newcomers to the scene, inform readers, help promote events and bring an audience to the performances. Today, Hot House is not only in print but also online and on apps.

Metropolitan Room 'is' Cabaret at its most sultry with music to melt the soul.  You'll be taken back to a time of glitz and glamour sprinkled with joie de vivre.  Our shows will enchant and woo you with sultry voices and fabulously captivating stage lights and sound.  Voted #1 Jazz and Cabaret Club by New York Magazine, The Metropolitan Room is one of the most critically acclaimed venues in NYC and is known as the "Home" for big name talents and rising stars. A high-end cabaret and jazz club, the Metropolitan Room brings the best in live music to New York City every night of the week.​

————————————————————————————————
---
Kicking Off The School Year In Style
Smalls Jazz Club, Women In Jazz Organization, New Posi-Tone Recording Session
I hope this message finds you well, and that you had a great Labor Day weekend to wrap up a beautiful couple months of Summer! I had a peaceful and productive August, and am gearing up for an intense but exciting Fall season. I always like to think of September as a sort-of "New Year", in that it's "back-to-school" season, so here's to a great and bountiful new year ahead!
On September 18th, I'll be leading my band, the Roxy Coss Quintet, for a night at Smalls Jazz Club, playing music from "Chasing the Unicorn" as well as performing a batch of brand new original compositions that I'm getting ready to record later on in the month on the Posi-Tone Record Label.
Then, I'll be leading the third (ever!) monthly meeting for the Women In Jazz Organization I officially started up back in July. We have had a huge success so far, connecting around 200 professional women jazz musicians around NYC and the globe. I look forward to officially sharing some more information about this new endeavor soon, so stay tuned.
I'm also joining some bands led by fantastic musicians this month, including the Dan Pugach Nonet for a festival in Stowe, Vermont (Sept 8); Allegra Levy at Club Bonafide in NYC (Sept 15); and the Jason Yeager Group at The Cell Theater – part of the Inner Circle Music Festival (Sept 30).
By the way, have you heard my latest album, "Chasing the Unicorn" (Posi-Tone Records)? Downbeat says it "mixes musical sophistication and know-how with an inherent listenability". You can support the artist (me!) by ordering your signed copy NOW directly through my website, (with FREE shipping!)
Or you can download a digital copy from iTunes here.
Thank you for your ongoing support!
Sincerely,
Roxy
AUGUST: The Month In Review
Roxy Coss Quintet @ Rockwood Music Hall
I had a great time leading the Roxy Coss Quintet for the first time at one of New York's most infamous venues, Rockwood Music Hall! We performed at Stage 3, an intimate listening room, and had a wonderful audience. The band featured Alex Wintz (guitar), Miki Yamanaka (piano), Dave Baron (bass), and Jimmy Macbride (drums), as well as a surprise special guest, Lucas Pino (bass clarinet). We also surprised the audience with two world premiers of some new material I've been working on this Summer!
A big "Thank You" to everyone who made it out!!!
Posi-Tone All Stars
The Black Cat, SF / San Jose Jazz Summer Fest
One of the highlights of my summer was performing as part of the Posi-Tone All Stars, a collective band co-led by myself, Josh Lawrence (trumpet), and Art Hirahara (piano), performing original material from all three of our Posi-Tone records.  We played 2 nights at the new Black Cat Jazz club in SF, then one night at Cafe Stritch in San Jose, as part of the San Jose Jazz Summer Fest. The My good friend Noah Garabedian (bass), and drummer Mike Quiqq rounded out the lineup. Thanks to the Black Cat and San Jose Jazz for having us, and Posi-Tone for putting it together, and KCSM for helping get the word out!!!
A side note: This trip was a great reminder of why I do what I do: the combination of great music, great friends, great locations, and great audiences, all culminating in one wonderful experience! I felt very fortunate to be a part of this small tour, and hope to play with these cats again very soon…Thanks to Sara Pettinella for the photo!