Zzaj HEADER ——————————————————————————————
For Immediate Release
Focus Bass Player Udo Pannekeet Announces the Release of His New Solo Album Electric Regions – OUT NOW!
Electric Regions is the latest solo album by the current bass player of FOCUS and skilled composer, Udo Pannekeet.
The album features an epic length track, along with new compositions written throughout Udo Pannekeet's career and recorded here for the first time.
The album features guest appearances by current Focus guitarist Menno Gootjes and a former member of Focus, Eef Albers.
Udo Pannekeet said of the album: "I'm so pleased to finally share this music with you! I worked on it for quite a while. Thanks to the amazing musicians I worked with on the album, it has become more than I could have imagined. I'm humbled by the beautiful reactions I received so far from all over the world!"
The album is the tenth release on the band's own IN AND OUT OF FOCUS RECORDS, via Cherry Red.
TRACK LISTING:
1. ELECTRIC REGIONS PART ONE
2. INTEGRATION YES
3. LITTLE NURA
4. THE ANTIBES SITUATION
5. COCON COCON
The album is OUT NOW and available via the below links:
CD edition: https://geni.us/ElectricRegions
GooglePlay: https://geni.us/ElectricRegionsGP
iTunes: https://geni.us/ElectricRegionsiTunes
Spotify: https://geni.us/ElectricRegionsSpotify
Press inquiries: Glass Onyon PR, PH: 1-828-350-8158, glassonyonpr@gmail.com
---
Piedmont Piano Company Presents
DENNY ZEITLIN
Solo Jazz Piano
EXPLORING RICHARD RODGERS
"Denny Zeitlin is a master of solo performance. His solo piano concerts are always memorable and not to be missed…"
  Doug Simpson, Audiophile Audition
An evening re-imagining unique compositions by
Richard Rodgers that have become standards
in the American Song Book
FRIDAY, December 13:
TWO shows– 8:00 & 10:00 PM
Piedmont Piano Company, 1728 San Pablo Avenue ( at 18th Street), Oakland, CA
Admission $25
Reservations are strongly recommended.  Click 
HERE
 to purchase online, or phone 510-547-8188
CRITICAL ACCLAIM
for Denny Zeitlin's 2019 Solo Piano CD recorded at Piedmont Piano Company: "Remembering Miles"
"On Remembering Miles Denny Zeitlin takes all the measures of what makes pianism great and relocates them to another rarefied realm… There is nothing contrived or attention-seeking about his approach… His traversal of this music is instantly spellbinding for all the right reasons… Everywhere Mr. Zeitlin strikes a compelling balance between volatility and elegance, while maintaining the intuitive sensibility of a jazz artist." Raul da Gama, JazzdaGama
"…Remembering Miles represents the culmination of six decades of recorded jazz by Denny Zeitlin and you have to listen to it to truly understand how special it is in terms of the gift of the experience and genius that Denny brings to his music. Few pianists could have rendered the music of Miles Davis in a solo piano setting with such discrimination and heartfelt sincerity."  Steven Cerra, Jazzprofiles.blogspot
"… An extraordinary recording career that began in 1963…with [this 2019 CD] Zeitlin taking these selected tunes on–and interpreting liberally–with just his piano and his own idiosyncratic reimaginings, you get an essence of two souls… Zeitlin is always startlingly virtuosic, and he is blessed with freewheeling improvisational elasticity… One of the most compelling and beautiful albums of Denny Zeitlin's career." Dan McClenaghan, AllAboutJazz
"… Denny's solo piano approach here is more to use the songs almost like loose backdrops for sonic poetry–these incredibly complex lines on the piano that are at once free and melodic, modern and meaningful… The album is as revolutionary as anything the pianist recorde decades back…" DustyGroove
"… By the end of Zeitlin's recital, it is fair to marvel at the range of Davis's music, of course, but also at the versatility of this pianist, a master of so many styles and approaches… Denny Zeitlin is a musician who never got stuck in one way of approaching the art…" Will Layman, PopMatters
"… Doing more with a solo piano than anyone else can, Zeitlin serves as an explosive and revelatory meeting of the minds that finds the octogenarian playing with the verve and smarts of a 20-year-old with an old soul. Another in a series of penultimate dates from the master." Chris Spector, MidwestRecord
"… By reaping the best of both worlds and respecting Miles' original portrayals of his songs and moving them forward with imaginative, dynamically fresh takes, Denny Zeitlin pays ultimate homage to Miles Davis. The Prince of Darkness was a master at recognizing other people's good ideas and making them great; Zeitlin does the same while he's Remembering Miles."  S. Victor Aaron, SomethingElseReviews
"… Denny Zeitlin is a master. His love for this music comes shining through the notes he plays and how he rearranges the song so you hear them  anew… Splendid recording, sweet sound, and great music…"  Richard B. Kamins, StepTempest.blogspot
"Arriving on the jazz scene in the mid-60s while simultaneously practicing and teaching psychiatry, pianist Denny Zeitlin has consistently conducted his musical career on multiple tracks. He has played postbop as well as free improv, veered between electric and acoustic settings, drawn from classical composition and fusion, and played solo when he wasn't leading duos, trios, or larger ensembles…all those influences resonate through the music heard on Remembering Miles…it all adds up to an intriguing collection of Miles' musical stories, familiar but given refreshing new spins."
Philip Booth, JazzTimes
"one of our most lyrical pianists, Denny Zeitlin delivers a tour de force solo performance, interpreting songs from the wide ranging Miles Davis songbook… Like his previous interpretation of Wayne Shorter material, this one's a real treat and a moving tribute to an artist that bridged     wide gaps…"
George W. Harris, JazzWeekly
"… Zeitlin's a master at reconstructing melody, mood, and movement, making a meal out of nuance in the great artists of the times– himself included… Denny Zeitlin puts a lot of his own adventurous, thought-provoking spirit into each and every weird and wonderful note for quite a show, and quite an album." Carol Banks Weber, FestivalPeak
PLEASE FORWARD THIS ANNOUNCEMENT TO PEOPLE WHO MAY BE INTERESTED
This E Mail is being sent by:

Jim Eigo Jazz Promo Services
272 Ste Route 94 S #1  Warwick, NY 10990
T: 845-986-1677
E-Mail: jim@jazzpromoservices.com
Web Site: www.jazzpromoservices.com/

HAVE A JAZZ EVENT, NEW CD OR IMPORTANT ANNOUNCEMENT FOR THE JAZZ COMMUNITY YOU WANT TO PROMOTE? CONTACT JAZZ PROMO SERVICES FOR PRICE QUOTE.

CHECK OUT OUR NEW YOUTUBE VIDEO HERE
---
Iconic composer and trumpeter Wadada Leo Smith receives UCLA Medal
 University's highest honor in recognition of Smith's "groundbreaking achievements"
Medal presented at ceremony and concert on Friday, November 8, 2019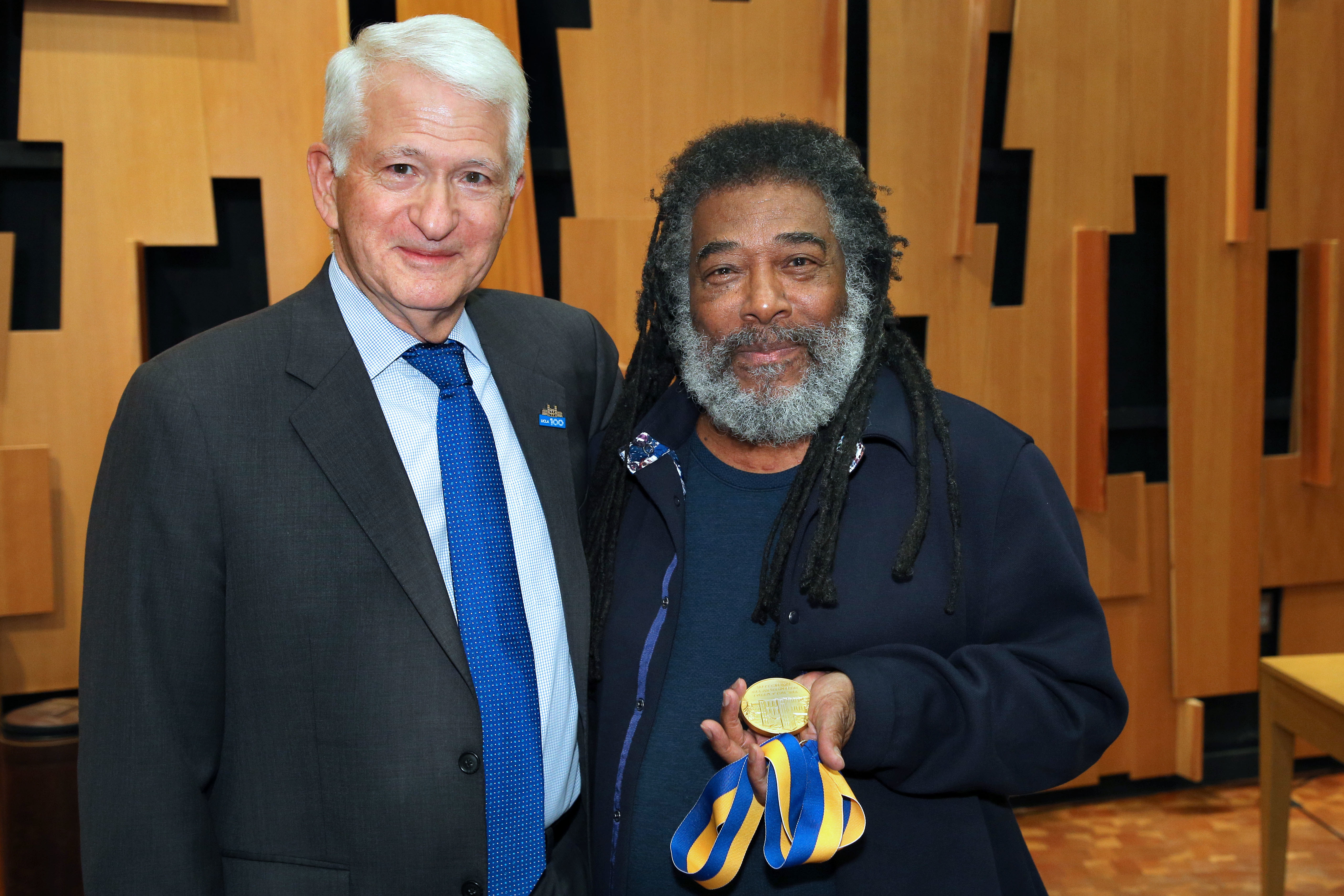 UCLA Chancellor Gene Block and Wadada Leo Smith. Photo by juantallo.com.
Iconic composer and trumpeter Wadada Leo Smith received the UCLA Medal, the University's highest honor, in a ceremony and concert on Friday, November 8, 2019 at UCLA's Herb Alpert School of Music.
The UCLA Medal is bestowed upon individuals of exceptional achievement whose bodies of work and contributions to society illustrate the highest ideals of the university.  Recipients include artists Herb Alpert, Plácido Domingo, Ella Fitzgerald and Quincy Jones; Civil rights activists James M. Lawson, Jr. Loretta Jones and Rep. John Lewis; Secretary of State Madeleine Albright, presidents Jimmy Carter and Bill Clinton and U.N. secretaries Kofi Annan and Ban Ki-moon.
"There's an oft-quoted saying that 'writing about music is like dancing about architecture,'" said UCLA Chancellor Gene Block in remarks introducing Smith on Nov. 8. "If that's true, then giving a speech about Wadada Leo Smith is like swimming about astronomy."
"When your work has been described as a 'cosmology' and a 'spiritual meditation about creation in the grand intergalactic sense,' then the simple words 'musician' and 'composer' somehow seem far too limiting," Block continued. "Smith is a category-defying artist, both working within and transcending genres such as blues, jazz, experimental and classical."
About Wadada Leo Smith 
Trumpeter, multi-instrumentalist and composer Wadada Leo Smith is one of the most boldly original and influential artists of his time. Transcending the bounds of genre or idiom, he distinctly defines his music, tirelessly inventive in both sound and approach, as "Creative Music."
For the last five decades, Smith has been a member of the legendary AACM collective, pivotal in its wide-open perspectives on music and art in general. He has carried those all-embracing concepts into his own work, expanding upon them in myriad ways.
Throughout his career, Smith has been recognized for his groundbreaking body of work.  A finalist for the 2013 Pulitzer Prize in Music, he received the 2016 Doris Duke Artist Award and earned an honorary doctorate from CalArts, where he was also celebrated as Faculty Emeritus. In addition, he received the Hammer Museum's 2016 Mohn Award for Career Achievement "honoring brilliance and resilience." In 2018 he received the Religion and The Arts Award from the American Academy of Religion.
Smith regularly earns multiple spots on the DownBeat International Critics Poll. In 2017 he topped three categories: Best Jazz Artist, Trumpeter of the Year and Jazz Album of the Year, and was featured as the subject of a cover story in August 2017. The Jazz Journalists Association also honored Smith as their 2017 Musician of the Year as well as 2017 Duo of the Year for his work with Vijay Iyer. The JJA named him their 2016 Trumpeter of the Year, 2015 Composer of the Year, and 2013 Musician of the Year, and he has earned top billing in two categories in the JazzTimes Critics Poll as Artist of the Year and Composer of the Year.
In October 2015 The Renaissance Society at the University of Chicago presented the first comprehensive exhibition of Smith's Ankhrasmation scores, which use non-standard visual directions, making them works of art in themselves as well as igniting creative sparks in the musicians who perform them. In 2016, these scores were also featured in exhibitions at the Hammer Museum, and the Kalamazoo Institute of Arts and Kadist in San Francisco.
Born December 18, 1941 in Leland, Mississippi, Smith's early musical life began at age thirteen when he became involved with the Delta blues and jazz traditions performing with his stepfather, bluesman Alex Wallace. He received his formal musical education from the U.S. Military band program (1963), the Sherwood School of Music (1967-69), and Wesleyan University (1975-76).
Smith has released more than 50 albums as a leader on labels including ECM, Moers, Black Saint, Tzadik, Pi Recordings, TUM, Leo and Cuneiform. His diverse discography reveals a recorded history centered around important issues that have impacted his world, exploring the social, natural and political environment of his times with passion and fierce intelligence. His most recent recording is 2019's Rosa Parks: Pure Love, an Oratorio of Seven Songs. His 2016 recording, America's National Parks earned a place on numerous best of the year lists including the New York Times, NPR Music and many others. Smith's landmark 2012 civil rights opus Ten Freedom Summers was called "A staggering achievement [that] merits comparison to Coltrane's A Love Supreme in sobriety and reach."  Writing about Smith's 2017 album Solo: Reflections and Meditations on Monk in the New York Review of Books, Adam Shatz notes: "For all the minimalism of his sound, Smith has turned out to be a maximalist in his ambitions, evolving into one of our most powerful storytellers, an heir to American chroniclers like Charles Ives and Ornette Coleman."
#     #     #
---
Contact: Rick Scott 310.306.0375
Guitarist Lawson Rollins returns with the familiar yet noticeably different "True North"
His tenth album drops January 17 preceded by the single, "Bluewave Bossanova."
SAN FRANCISCO (13 November 2019): Lawson Rollins' recordings have always possessed a grand sense of travel, exoticism and adventure, narrated by the global guitarist's prodigious and alacritous classical fingerstyle play that Guitar Player magazine recently spotlighted by selecting Rollins as one of the "50 Transcendent Acoustic Guitarists" of all-time. After embarking upon a creative departure on a few recent projects, the chart-topping composer-producer-musician, best known for crafting lush amalgams of contemporary jazz, world music, Latin and New Age over the past twenty years, charts a more familiar course on his tenth solo album, "True North," dropping January 17, 2020 on Infinita Records. Yet there is a marked difference in his approach.
The prolific Rollins spent the last couple of years exploring vast horizons. Last year, he assembled "Airwaves: The Greatest Hits," which includes the Billboard top 10 hit "World of Wonder" featuring 3rd Force and earlier this year, he released the experimental "Dark Matter: Music for Film." Rollins also scored his first feature film, "Stay Out Stay Alive," a multiple award-winning movie opening November 26 for which he served as executive producer of the film festival favorite. These diverse projects broadened the scope of his artistic muse, now budding in entirely new and different dimensions. Culling elements from each one, Rollins picked up his trusty acoustic nylon string guitar and utilized a fresh approach to write and produce "True North," the first album that he produced entirely on his own. The wide array of projects also impacts the way he plays guitar, which exhibits a keener focus, discipline and restraint.
"The past couple of years have really expanded my musical horizons through my work on film music and also the single, 'And If You Will Come With Me' by Israeli superstar singer Idan Raichel. Those experiences forced me to hone down my quite often exuberant nylon string guitar style to suit the needs of the particular projects and also to delve more seriously into other instruments like the electric guitar, synthesizers and electronic percussion programming. With 'True North,' I was able to bring that new knowledge and perspective back home, in a sense, to the type of nylon string guitar-centered music that has been my true calling as an artist over the past 20 years," said the San Francisco-based Rollins who hails from Durham, North Carolina.
"This is the first album I solely produced and also recorded all my guitars myself. I was able to take my time to capture performances that felt natural and unhurried to me, and I'm also really pleased with the warmth and purity of the acoustic guitar tone."
Change is also evident on the album cover and in the accompanying booklet, which are bright with pastoral colors and sunlight in photos taken on the Outer Banks, North Carolina, where Rollins spends a lot of time each year. Before the holidays next month, radio outlets will get to experience the first single from "Truth North" when "Bluewave Bossanova," a sultry dance of textured world beat rhythms and an impassioned surge of guitar arpeggios, scales and harmonies, goes for playlist adds. The radio edit includes the addition of a sensitive soprano sax played by Mary Fettig.
Rollins thrives on the collection, stretching out by playing nylon string guitar, slide guitar and electric guitar along with keyboards and drum programming. He's accompanied by drummer and percussionist Dave Bryant, bassist Dan Feiszli, violinist Mads Tolling and Stephen Duros who plays additional keyboards and electric guitar on "With the Wind," an eclectic and imaginative album highlight destined to blow to the top of the radio charts.
"Many of the tracks, such as the title track as well as 'With the Wind' and 'Dead Ahead,' are unlike anything I've ever done, with new textures augmenting the familiar sound of my main instrument, the acoustic nylon string guitar. There's a more intense focus on melodic expression on this album and less on long improvisational flights of fancy. It's all about staying firmly on course – true north, as it were – and doing what serves the songs best."
Rollins' unique brand defies simple categorization and has proven crossover appeal. He has placed albums in the top ten of Billboard's World Music chart and his singles have conquered the contemporary jazz charts as well as garnered an abundance of airplay from world music and New Age outlets. Videos showcasing his lightning speed, extraordinary dexterity and mesmerizing guitar technique have received over 10 million YouTube views. After debuting in 2000 as a member of Young & Rollins, a duo that dropped four albums, Rollins premiered as a solo artist in 2008 with "Infinita." His albums serve collaborations with an assorted mix of GRAMMY® winners and nominees that spans Tolling, guitar eccentric Buckethead, Flora Purim, Airto Moreira, Big Bad Voodoo Daddy and Charlie Bisharat.
Rollins' "True North" album contains the following songs:
"True North"
"With the Wind"
"Perpetual Motion"
"Bluewave Bossanova"
"South Beach"
"Full Sail"
"Dead Ahead"
"Yearning to Know"
"Year Abroad"
"Nostalgia"
"In the Shadows"
"The Winding Road"
For more information, please visit www.lawsonrollins.com.
#  #  #
Please let me know if you want to be removed from our press release distribution list.
Peace, love, hope & joy,
Rick Scott
Music – Sports – Entertainment – Causes
Marina del Rey, CA USA
310.306.0375
(JM2)
---
NEW RELEASE FROM MCG JAZZ:
DIVA JAZZ ORCHESTRA
"DIVA + THE BOYS"
FEATURED SOLOISTS:
KEN PEPLOWSKI
JAY ASHBY, MARTY ASHBY
AND CLAUDIO RODITI
FOR PROMO SERVICE OR DOWNLOAD
CONTACT: JIM@JAZZPROMOSERVICES.COM
"DIVA + THE BOYS" is fierce and full of swing. MCG Jazz has been involved with The Diva Jazz Orchestra—an ensemble of 15 talented musicians—who happen to be women – since its inception. For the third time, DIVA wanted to partner with MCG Jazz and include some of today's most exciting soloists. The band performed on the MCG Jazz stage with Ken Peplowski, Jay Ashby, Claudio Roditi, and MCG Jazz Executive Producer Marty Ashby. From that live performance came the album "Diva + The Boys." The collaborations led to exciting arrangements filled with fire, finesse, and swing.

Produced by MCG Jazz's Marty Ashby, "DIVA + THE BOYS" is an interesting collection of songs ranging from original compositions by the guest soloists to jazz standards and famous Brazilian jazz songs showing the versatility of the band playing a variety of styles. Tracks include "Slipped Disc" by Benny Goodman, arranged by DIVA bassist, Noriko Ueda; "A Felicidade" by Antonio Carlos Jobim and Vinicius De Moraes; guest soloist, Jay Ashby's original composition, "Deference to Diz;" "Noturna" by Ivan Lins and arranged by Jay Ashby; "The One I Love Belongs To Somebody Else" by Gus Kahn and Isham Jones; "Piccolo Blues" by guest soloist Claudio Roditi; "Estate" by Bruno Brighetti, Bruno Martino and Joel E. Seigel; and the riff style blues "Bucket O' Blues."

Headed by drummer Sherrie Maricle – DIVA is known to exude the excitement and force found in the tradition of the historic big bands but with an eye towards today's progressive sound of originality and verve. With New York as their home base, DIVA performs all over the world playing contemporary, mainstream big band jazz composed and arranged to fit the individual personalities and styles of the musicians themselves. Audiences can expect to hear high-energy performances packed with unique improvisation, spontaneity, and fun.

The inspiration for DIVA came from Stanley Kay, one-time manager and relief drummer for Buddy Rich. In 1990, Kay was conducting a band in which Sherrie Maricle was playing the drums. Stanley immediately picked up on her extraordinary talent and began to wonder if there were other women players who could perform at the same level.

In 1992 the search was on, and through nationwide auditions the foundation for DIVA was poured. What emerged is the dynamic musical force that holds forth to the present day.

DIVA has been performing regularly on the concert series at Manchester Craftsmen's Guild since 1994. In 2014, they released its "A Swingin' Life" album with MCG Jazz. A live recording, similar to "DIVA + THE BOYS," the album was recorded at Dizzy's Club with guest artist Marlena Shaw and at MCG with NEA Jazz Master, the late Nancy Wilson.

Tour dates for The DIVA Jazz Orchestra can be found at: https://divajazz.com.

DIVA JAZZ ORCHESTRA "DIVA + THE BOYS"
(MCG JAZZ J1047) Street Date OCTOBER 25, 2019

FEATURED SOLOISTS: KEN PEPLOWSKI, JAY ASHBY, MARTY ASHBY AND CLAUDIO RODITI
UPC Code: 612262104725

 About MCG Jazz:
MCG Jazz™ is a social enterprise of Manchester Craftsmen's Guild, a subsidiary of Manchester Bidwell Corporation, a non-profit arts and learning center in Pittsburgh, PA. MCG Jazz supports its mission is to preserve, present and promote jazz through:
a subscription based annual concert series featuring jazz legends and emerging artists;
a recording label producing distinctive albums from a wide variety of artists;
educational programs serving elementary, middle and high school aged students; and
an archive of audio/video recordings, photographs, interviews and individual artist collections.
For more information, please contact MCG Jazz at 412-322-1773 ext. 121 or visit our web site at www.mcgjazz.org.
PRESS INQUIRES:
For CDs, interviews and photos contact:
Jim Eigo Jazz Promo Services
 jim@jazzpromoservices.com
845-986-1677
WEBSITES:
www.mcgjazz.org
https://divajazz.com
###
This E Mail is being sent by:

Jim Eigo Jazz Promo Services
272 Ste Route 94 S #1  Warwick, NY 10990
T: 845-986-1677
E-Mail: jim@jazzpromoservices.com
Web Site: www.jazzpromoservices.com/

HAVE A JAZZ EVENT, NEW CD OR IMPORTANT ANNOUNCEMENT FOR THE JAZZ COMMUNITY YOU WANT TO PROMOTE? CONTACT JAZZ PROMO SERVICES FOR PRICE QUOTE.

CHECK OUT OUR NEW YOUTUBE VIDEO HERE
---
For Immediate Release
Henry Rollins/David Bowie Guitarist Chris Haskett To Release New Instrumental EP "Insufficient Necessities" on November 15th
Chris Haskett is a Grammy-nominated American guitar player mainly known for his time in the Rollins Band in the 1980s and 90s. After eight albums, Chris is releasing an instrumental EP of original tunes, "Insufficient Necessities," primarily featuring his European band (Mike Baker of DC go-go band Rare Essence does bass duties on the opening song "Going Back") on November 15, 2019. The emphasis is decidedly on funk with nods to Chris's hometown go-go scene as well as New Orleans second-line grooves.
As on his other releases, Chris looks to strike a fragile balance of technique, tonal color and letting "interesting accidents" find their way in to the music. He wears his influences on his sleeve, and echoes of Beck, Ribot and Richard Thompson all peek through at various points. As he says himself, "I think I like things to teeter between being fluidly funky and a little fractured too.I'm hard to categorize because I straddle a kind of venn diagram/middle ground where hard rock meets downtown avant garde (with a little bit of 'Dark Star' sprinkled on top)."
The recordings are a mix of both studio and concert multi-track recordings re-edited and overdubbed, sometimes in the studio and sometimes in the concert venue. The four originals on this EP are part of a much larger batch of recordings. The rest, an eclectic collection of covers, are due for release in 2020.
Most of Chris's early life was spent in Washington DC though, by chance, he was living in the UK just as punk was breaking in 1977. The rule-breaking freedom offered by punk had a profound influence on him and remained with him on his return to the US in 1978. His first band, the Enzymes, synthesized diverse influences from both the early punk/no-wave scene as well as the avant-garde and free jazz musics of the time. This overlap of influences reluctance to be pigeonholed has been a constant throughout his career.
Moving back to England in 1980 brought him into collaborations with the Birthday Party's Rowland S. Howard and for Public Image bassist Jah Wobble. It was also during this time that he reestablished contact with old DC friend Henry Rollins who was then singing in Black Flag. When Black Flag broke up in 1986, Rollins immediately suggested they do a project together. The result was the genesis of the Rollins Band. Over the following ten years, the band became known for uniquely powerful, uncompromising hard rock that spanned and yet stood apart from both the grunge and metal scenes of the era. After ten albums, a Grammy nomination and nearly a thousand concerts across the globe, the band members decided to part ways in 1997.
Even in the midst of the Rollins Band's punishing schedule Chris found time for instrumental side projects. In 1995 he released "Language," a mix of angular acoustic guitar pieces and musique concrête that also featured duets with Rowland S Howard. 1997's "Non-Fiction" was a collaboration with Chuck Brown and the Soul Searchers drummer Brandon Finley. This electric guitar album incorporated DC's signature go-go beats alongside a clear influence of both Zappa and Sonny Sharrock. The subsequent releases, "Not Part of the Solution" (2002), "The Return of the Geary Act" (2004), "Maybe Definitely" (2012), "Gravity:Left/Right" (2013), "The Courage Born of Conflicting Terrors" (2014) and last year's "Comprovisations in Linear B," all defy easy categorization but share a distinctive musical sensibility: funky, angular, lyrical and unpredictable.
In 1999 Chris was hired by David Bowie who said he was looking forward to Chris's "nose bleedingly hostile" guitar to complement Reeves Gabrels for an upcoming tour. The planned tour got sidelined but Chris can be heard alongside Reeves on Bowie's "Hours" album.
Aside from numerous concerts fronting his own bands in the US, Europe and Australia, some of Chris's other touring and performance credits include Steven Brown (Tuxedomoon), The Cassandra Complex, Elliott Sharp, Reeves Gabrels, Pigface, Chris D (Divine Horsemen), Utah Saints, and Foetus.. More recently he has been invited as onstage to perform with Helmet as well as MC50.
Chris divides his time between the US, Europe and Australia and is currently working on a percussion-heavy psychedelic live band.
"I first heard Chris Haskett with the Rollins Band, surely one of the most powerful of late 80s bands, and was instantly struck by the intelligence driving the molten guitar tone. What a pleasure to come to know his wide-ranging solo works, spanning the gamut from fun and impressively detailed electric workouts to truly thought-provoking and meditative acoustic compositions. Chris makes guitar music anyone can feel good about obsessing over." – Mike Keneally
"Chris Haskett !!!!! Love the mans work all the way from Henry Rollins to the present." – DeWayne Blackbyrd McKnight
"Chris is a gifted musician and guitarist who should be followed as the music he is involved with is real and engaging." – Paul Reed Smith
"He's always seemed to effortlessly cross genres with an authenticity and honesty that few are able to match, even in one genre. From punk to jazz, experimental to funk, he brilliantly manages to weave everything together on his albums. He's like the perfect marriage of Snakefinger and Jeff Beck and a little Ornette Coleman." – Rich Fortus 
To purchase:
https://chrishaskett.bandcamp.com/
also available iTunes, Amazon etc.
For more information:
https://chrishaskett.com/
https://www.facebook.com/Chris-Haskett-170955906298411/?eid=ARAV-yPcX0vDe8yooqan8hqN-naUOuURxzhorNIcGV16tVbfRLmlvqhiSWh8Pi0rKEnXMFsm3Hgad9si
Press inquiries: Glass Onyon PR, PH: 1-828-350-8158 (US), glassonyonpr@gmail.com
---
Acclaimed Vocalist Calabria Foti
Releases
Prelude To A Kiss
A Stunning Valentine to her Loved Ones
Street Date Nov 1st, 2019
Listen On

For her 4th CD release, vocalist/violinist Calabria Foti wanted to do an album like her vocal heroes did back in the day; that is, with a big orchestra and legendary arrangers on the podium in an iconic Hollywood recording studio. Ms. Foti says, "This is the most expansive project I have ever done, and at the same time, it's the most intimate and personal. I recorded at Capitol Records with a full orchestra, singing some of the most endearing, sentimental songs ever written, all for my loved ones. This album is a full-production tear-jerker!"
Prelude To A Kiss is replete with grand, sweeping orchestrations from celebrated arrangers Johnny Mandel, Roger Kellaway, Jeremy Lubbock, Jorge Calandrelli, and Foti's husband Bob McChesney, (also the producer on the album) and small band swingers featuring a stellar ensemble of musical greats: Roger Kellaway, piano; Trey Henry, bass; Peter Erskine, drums; Larry Koonse, guitar; and Bob McChesney, trombone. Singer/guitarist John Pizzarelli guests on "It's The Mood That I'm In" where he and Foti trade jazzy instrumental solos and adorable lyrics.
"I wanted to sing about what's most important to me right now. I didn't want to sing about romance, but about love, and to celebrate family and the feelings of warmth, tenderness and belonging we all crave. I wanted to sing about home. 
So, I brought the project to pianist-arranger-composer Roger Kellaway, who not only played superbly, he wrote a masterpiece arrangement on Leslie Bricusse's 'When I Look In Your Eyes', which I have always sung to my daughters. We recorded a sweet bossa nova that my Dad wrote for my Mom, called "I Had To Fall In Love With You", and a song I wrote about the pain of leaving home to follow my dreams, called "Goodbye". Duke Ellington's iconic "Prelude To A Kiss", was hauntingly arranged by my uber-talented husband, Bob McChesney, and the final song is a touching pop ballad by wonderful singer Michael Dees, called, appropriately, "I'm Home". 
This album is so special to me because of all the elements: The mix of glorious standards with the original songs, recording in the studio where so many of my heroes have made history, a most audacious team of musicians, with my husband at the helm and my daughters in the booth as I was singing. I was so emotional! My heart was so full and is full to this day. I hope this music touches your heart and draws you closer to your loved ones. Because, as Dorothy Gale once said, 'There's no place like home'." 
In Prelude To a Kiss, with its 11-song array of stunning ballads and up tempo tunes, Calabria Foti displays her trademark vocal beauty and sensuality, as well as her talents as violin soloist, scat singer, and songwriter. This album also confirms Foti's place among interpreters of the Great American Songbook as one of the finest storytellers of our time.
If her goal was to do a record like those made by her musical heroes of yesteryear, Foti has certainly achieved it. Listening to Prelude To A Kiss is like cuddling by the fireplace under a warm blanket with someone special on a chilly night. No one makes "home" seem quite so desirable as Calabria Foti.
Street Date:  Nov 1, 2019                        Artist: Calabria Foti
Title:  Prelude To A Kiss                Cat #: Moco Records 23-06
www.calabriafoti.com
Twitter: @calabriafoti1
Instagram: www.instagram/calabriafoti
Facebook: www.facebook.com/calabriafotisings/
Calabria Foti  Prelude To A Kiss
MoCo Records 23-06
SoundCloud – Snippets (highlights) Audio: https://soundcloud.com/user607872893/prelude-to-a-kiss-snippets/s-u0pqk
PUBLIC VIDEO LINKS:
Video EPK: (Listen to Calabria sing and talk about the album, studio footage and interviews with some of the arrangers)  https://youtu.be/jnm1nwB4JB4
Video – Full Song – "The Man With The Horn" (directed by Robert Kochkanyan): https://youtu.be/VxmdvcC1kMU
About Calabria Foti
Calabria Foti grew up in Fredonia, New York with musician parents, began singing and playing guitar in church at age 9. By 12 years old, she was a working electric bass player, singing standards every weekend in her parents' dance band. "In my house, I heard everything from Bach to bebop, classical to contemporary and every genre of music in between. I don't know why, but I was drawn to the great movie musicals and songs from Tin Pan Alley, and fell in love with old movies, Broadway shows, the music of the Classic film scores and Bugs Bunny cartoons.
I loved learning songs from the early jazz and vaudeville days, scoured my parents' record collection, discovering great songs from the great stylists, and, I got the opportunity to sing some of those tunes every weekend on gigs!" All throughout her school years, Calabria performed in choirs and musical theatre, and sang professionally in hotels, and nightclubs.
Simultaneously, she was studying violin and began her orchestral violin career as the Associate Concertmaster of the Florida Orchestra at age 20. Her dual skills of vocalist and violinist led Foti to Los Angeles where she began her career in TV/film/CD scoring, and married trombonist Bob McChesney. As a young musician in LA, Calabria had the good fortune to work with her heroes Frank Sinatra, Sammy Davis Jr., Peggy Lee, Vic Damone, Johnny Mathis, Tony Bennett, Nancy Wilson, Robert Goulet, and many others. "It was so exciting to play the shows and the record dates of those great singers and entertainers, I could barely keep my eyes on my music! I learned so much from those artists and experiences." Wanting to walk in their footsteps, Calabria started recording in 1999, with her first CD, "When a Woman Loves A Man", a tribute to the great vocalists she admired so much. In 2007, her CD "A Lovely Way To Spend An Evening", which follows the arc of a romantic evening, received the praise of Johnny Mathis, who gushed, "Listening to a beautiful voice is one of my greatest pleasures in life. This recording of Calabria Foti's voice is some of the most beautiful and artistic music I have ever heard. Her heart and mind are on display in every well-chosen song. It is a treasure. What a joy!"
After a series of live shows in LA singing Rosemary Clooney-Bing Crosby duets with TV's Seth MacFarlane, Calabria and Seth recorded a single, "Let's Fall in Love" as a tribute to Frank Sinatra and Nelson Riddle, which garnered a Grammy nomination in 2014. "In The Still of The Night", an acclaimed tribute to Cole Porter was released in 2017, with a New York-based chamber jazz ensemble, featuring Gene Bertoncini on guitar, and clarinetist Eddie Daniels. Her latest release, Prelude To A Kiss, a full-production Valentine to her loved ones, was recorded at famed Capitol Records with legendary arrangers Jeremy Lubbock, Johnny Mandel, Roger Kellaway, Jorge Calandrelli, and orchestra. Says the singer, "Prelude To A Kiss is the most expansive record I have ever done, and at the same time, it's the most intimate and personal. It represents the story of my life. With an amazingly creative team of musicians, I'm so proud of what was accomplished. An album celebrating love, belonging, family and home, I hope it touches your heart and draws you closer to your loved ones."
TRACKS – Prelude To A Kiss: 
1. Prelude To A Kiss   6:34
(comp. Duke Ellington,  arr. Bob McChesney, Violin Solo – Calabria Foti,
Trombone Solo – Bob McChesney)
2. I Had To Fall In Love With You   4:37
(comp. Richard Fote, arr. Johnny Mandel and Bob McChesney,
Guit solo Larry Koonse)
3. On The Street Where You Live   2:26
(comp. Alan Jay Lerner and Frederick Lowe, arr. Calabria Foti,
Drum solo – Peter Erskine, Scat Solo – Calabria Foti)
4. Waltz For Debby   5:13
(comp. Bill Evans and Gene Lees, arr. Calabria Foti,
Guitar Solo – Larry Koonse)
5. When I Look In Your Eyes   7:04
(comp. Leslie Bricusse, arr. Roger Kellaway,
Trombone Solo – Bob McChesney)
6. Goodbye   3:31
(comp. Calabria Foti, arr. Bob McChesney and Calabria Foti,
Piano Solo – Roger Kellaway)
7. The Man With The Horn   5:48
(comp. Jack Jenney, Bonnie Lake and Eddie DeLange,
arr. Jorge Calandrelli, Trombone Solo – Bob McChesney)
8. Backyard Medley   3:59
(Back In Your Own Backyard – comp. Al Jolson, Billy Rose and Dave Dreyer; Give Me The Simple Life – comp. Rube Bloom and Harry Ruby; The Love Nest – comp. Luis Hirsh and Otto Harbach; medley arr. Calabria Foti,
Piano Solo – Roger Kellaway)
9. The Folks Who Live On The Hill   6:34
(comp. Jerome Kern, arr. Jeremy Lubbock,
Piano Solo – Roger Kellaway)
10. It's The Mood That I'm In   4:27
      (duet with John Pizzarelli)
(comp. Abner Silver and Al Sherman, arr. Calabria Foti and
Bob McChesney, Guitar/Vocal Solo John Pizzarelli, Violin Solo – Calabria Foti)
11. I'm Home   5:21
(intro from Letter From Home – comp. Aaron Copeland,
Song comp. Michael Dees, arr. Bob McChesney and Calabria Foti,
Piano Solo – Roger Kellaway)
CREDITS – Prelude To A Kiss:
Musicians:
Featured:
Calabria Foti   vocals/violin solos
Roger Kellaway  piano
Trey Henry  bass
Peter Erskine  drums
Larry Koonse  guitar
Bob McChesney  trombone
John Pizzarelli  guest vocal/guitar
Luis Conte  percussion
Woodwinds:
Dan Higgins
Gene Cipriano
Glen Berger
Geoff Nudell
Rose Corrigan
Terry Harrington
Bob Crosby
Bob Carr
French Horns:
Jim Thatcher
Jenny Km
Katie Faraudo
Dan Kelley
Violins:
Charlie Bisharat, Songa Lee, Kevin Connolly, Lucia Micarelli,
Nina Evtuhov, Josefina Vergara, Radu Pieptea, Tereza Stanislav,
Armen Anassian, Marisa Kuney, Kevin Kumar, Ben Jacobsen,
Michele Richards, Jackie Brand
Violas:
Brian Dembow, Andrew Duckles, Alma Fernandez, Rob Brophy
Cellos:
Armen Ksajikian, Cameron Stone, Tina Soule, Jacob Braun
Harp:
Gail Levant
Orchestra arrangements by: 
Jeremy Lubbock
Roger Kellaway
Johnny Mandel
Jorge Calandrelli
Bob McChesney
Produced by Bob McChesney
Recording Engineers:
Michael Aarvold, Bob McChesney,
Steve Genewick, Talley Sherwood
Mixing Engineer:
Michael Aarvold
Mastering Engineer:
Michael Aarvold
Cover Photography:
Todd Tyler
Art + Design:
Kio Griffith
Media Contact:
Jim Eigo Jazz Promo Services
272 Ste Route 94 S #1  Warwick, NY 10990
T: 845-986-1677
E-Mail: jim@jazzpromoservices.com
Web Site: www.jazzpromoservices.com/
HAVE A JAZZ EVENT, NEW CD OR IMPORTANT ANNOUNCEMENT FOR THE JAZZ COMMUNITY YOU WANT TO PROMOTE? CONTACT JAZZ PROMO SERVICES FOR PRICE QUOTE.
CHECK OUT OUR NEW YOUTUBE VIDEO HERE
---
"Silent Night"
Is An Inspired Collection Of
Holiday Favorites Featuring 
Guitarist John Basile
Interpreting Timeless MelodiesFOR PROMO OR DOWNLOAD
CONTACT JIM@JAZZPROMOSERVICES.COM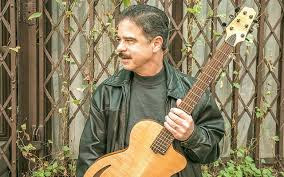 Utilizing His Electric And Nylon Guitars
Combined With Digital MIDI Technology 
Basile Has Created A Set
That Will Be Sure To Become A Yuletide Favorite
Throughout his career, John Basile has been greatly in-demand as a tasteful and melodic guitarist who has performed with many top singers and in intimate settings with major jazz artists. "Silent Night" is a bit different. Basile uses MIDI guitar technology to create colorful textures against "live" jazz guitar improvisations to create an engagingly fresh set of treatments of these holiday classics.
"It's the best of both worlds as you combine the craft element of arranging and recording a predetermined digital accompaniment with true jazz guitar improvisation".
But more important than how the music was performed is that the results provide an eclectic mix of melodic guitar improvisations destined to please. The guitarist picked out a dozen classic holiday themes and gave them treatments that explore a variety of moods, tempos and rhythms while paying respect to these classic themes.
Among the highlights are a fast waltz version of "God Rest Ye Merry Gentlemen," the lush backing and thoughtful playing on a moody "Lulladay" (Basile's original) that is a little reminiscent of Bill Evans' "Peace Piece," a joyful "Silver Bells," the dreamlike and quietly emotional "Silent Night," and the boppish guitar solo on "Toyland."
"Baby Its Cold Outside" has two guitars interacting with each other as if they were taking a vocal duet, "What Child Is This" gets a fairly adventurous improvisation, and "Christmas Time Is Here" reflects the happiness and optimism of the holiday season. The subtle Latin rhythms on many of the selections casts a fresh light on these beloved songs.
"Silent Night" is just the latest accomplishment in John Basile's productive career. Born in Boston, Basile began playing guitar when he was 12. He gained experience with R&B show bands and organ groups and then a three-month stint with vibraphonist Red Norvo led him into a career in straight ahead jazz. After studying at Berklee and the New England Conservatory of Music, he toured with an octet led by Count Basie and worked with such singers as Peggy Lee, Kay Starr, Nancy Harrow, Anita Gravine, Rosemary Clooney, Mark Murphy, and Tony Bennett, also performing with instrumentalists John Abercrombie, George Mraz, Tom Harrell, Jim Hall, Michael Brecker and Red Mitchell. All of those artists appreciated that John Basile had his own sound, he always swung, and he uplifted their music.
John Basile, who has had parallel careers as a radiology administrator, a professional boxing judge, and a music educator and clinician, keeps busy. He also runs the String Time Jazz label and the Stringtime Production Studio creating cues for television and films.
JOHN BASILE SILENT NIGHT
(StringTime Jazz Productions)
Street Date: November 1, 2019
John Basile-Guitar
Track Listing
1. God Rest Ye Merry Gentlemen 3:36
2. Baby Its Cold Outside 4:49
3. Lulladay 3:38
4. Silver Bells 4:10
5. Silent Night 4:06
6. Toyland 3:23
7. Oh Tannenbaum 2:46
8. What Child Is This? 3:34
9. A Child Is Born 3:21
10. Christmas Time Is Here 4:15
11. The First Noel 2:32
12. Auld Lang Syne 2:40
https://www.johnbasile.net
https://store.cdbaby.com/cd/johnbasile5
---
For Immediate Release
Curved Air Announce Plans For New Projects and the Band's 50th Anniversary Year in 2020
Curved Air was formed in 1970 and ever present original member Sonja Kristina will be continuing to lead the band into the band's 50th Anniversary year with a range of projects and a world tour.
The band will be recording a new studio album in 2020, along with contributing to the release of a 50th Anniversary Compilation which will include newly recorded tracks, featuring former and current members of the band, recording together in various combinations.
Curved Air will be touring the Americas, Japan, Europe and also appearing on Cruise to the Edge in 2020.
The 50th Anniversary year line-up has also been solidified with Curved Air welcoming back Kirby Gregory to the line-up after a break of 3 years. Kirby was originally in the heyday era line-up which recorded Air Cut in 1973. He returned to the band playing guitar for the recording of the very successful North Star album. Kirby was professionally committed to other projects from the end of 2015 until now, and he is looking forward to embarking on the 50th Anniversary World Tour in 2020.
The current line-up was completed when, after much searching, the band found and welcomed Grzegorz "Greg" Gadziomski to the line-up. Greg is a classically trained Violin player who likes to play in many genres but prefers Progressive Rock/Fusion as a particular passion. The band would like to acknowledge and thank Paul Sax who has decided to retire from touring after a lifelong career. Paul was a member of Curved Air from 2009 and the band wish him much happiness and peace in his retirement.
The accomplishments of the previous line-up and former members were recently showcased with the release of two titles on the band's own Curved Air Records via Cherry Red: "The Curved Air Family Album" and "Live at Under the Bridge".
"The Curved Air Family Album" features 26 tracks including rare and unreleased band and solo recordings, including by current and former members which Sonja Kristina described as "How appropriate that many Curved Air members past and present have contributed to a special collection called The Curved Air Family Album for our 50th year. I'm excited about this – it's so great to hear all the unique sounds, surprising collaborations, eclectic songs and haunting instrumentals including from Francis Monkman, Darryl Way, Stewart Copeland, Kirby Gregory and Robert Norton – they all make for a very enjoyable double album."
Amazon CD: https://geni.us/CAfamily
iTunes: https://geni.us/CAfamilyiTune
Google Play: https://geni.us/CAfamilyG
Spotify: https://geni.us/CAfamilySpotify
"Live at Under the Bridge" captures the band live playing Air Conditioning in its entirety, with special guests Darryl Way and Ian Eyre, as well as tracks from North Star and other Greatest Hits. Of this release, Sonja Kristina said "The 45th Anniversary of the release of Air Conditioning was a triumph of performance, musicianship, presentation and appreciative reception. Original and current members on stage together – what joy! Robert Norton's pristine production perfectly captures the sound and energy of our night of celebration."
Amazon CD: https://geni.us/CAbridge
iTunes: https://geni.us/CAbridgeiTunes
Google Play: https://geni.us/CAbridgeG
Spotify: https://geni.us/CAbridgeSpotify
Curved Air is:
Sonja Kristina
Kirby Gregory
Chris Harris
Robert Norton
Andy Tween
Grzegorz "Greg" Gadziomski
Photo by Howard Rankin
Curved Air is managed by Daniel Earnshaw at QEDG Management daniel@qedg.co.uk
Curved Air Official Website: www.curvedair.com
Curved Air Official Facebook: https://en-gb.facebook.com/CurvedAir
Curved Air Official Twitter: https://twitter.com/curvedair1
Curved Air Official Instagram: https://www.instagram.com/curvedair/
Press inquiries: Glass Onyon PR, PH: 1-828-350-8158, glassonyonpr@gmail.com
---