Zzaj HEADER ——————————————————————————————
Envision yourself learning from the same world-renowned faculty who teach at the Boston campus of Berklee College of Music. Receive direct feedback on your work from the comfort of your own home or from the excitement of the road. That's what Berklee Online is all about.

Enroll Now and Save $200
For a limited time, we're giving you a unique opportunity to experience Berklee Online at a discount. Save big on 20 courses in the fields of Music Production, Songwriting and Composition, Business and Entrepreneurship, and more.

Enroll by December 16, and you'll save $200 on courses like:

The next term begins January 13 and no application is required.
| | | |
| --- | --- | --- |
| | Berklee Online offers a number of handbooks, loaded with content taken directly from Berklee's 12-week online courses. We cater to nearly every musical interest area, including Music Business, Songwriting, Guitar, Music Composition for Film, TV, and Games, and Music Production. | |
---
For Immediate Release
Singing Star Jennifer Saran to Release New Single, "(Don't Let It Be) a Sad Ol' Christmas," due December 6, 2019
The saucy and swinging track continues Saran's winning collaboration with hit-making producer Narada Michael Walden
Los Angeles – Hot on the heels of her breakthrough jazz EP, Smoky Nights, internationally acclaimed singer-songwriter Jennifer Saran is revving up holiday spirits with a smashing new single, "(Don't Let It Be) a Sad Ol' Christmas," to be released December 6 on Tarpan Records.
The track is yet another winning collaboration between Saran and superstar producer Narada Michael Walden (Aretha Franklin, Whitney Houston, Mariah Carey). As Saran points out, she and Walden had strikingly similar ideas concerning the title: "We had just finished Smoky Nights, which had a fair share of melancholy tunes, so when I was talking to Narada about doing a Christmas song, I said, 'I don't want anything sad, not this year.'
"And then Narada recalled how his grandmother, whenever something went wrong, used to say, 'It's going to be a sad ol' Christmas.' The two of us laughed and said, 'Well, that's it then. We're not going to have a sad ol' Christmas.' We had our title."
Musically, "(Don't Let It Be) a Sad Ol' Christmas" is a masterstroke – it's kitschy, tongue-in-cheek jazz set in a smoke-filled nightspot, full of swanky horn pizzazz and the familiar jingle-jangle that befits any holiday standard. Walden, who recorded the track at his own Tarpan Studios, tackles the majority of the instrumentation, but he knows when to let one of his key players loose – Tammy Hall's impeccable twinkling of the ivories is a standout moment that elicits a Saran shout-out: "On piano, Miss Tammy Hall!"
Saran's performance is bravura stuff. Singing in a rich and radiant style that at first recalls Rosemary Clooney, she draws listeners in: "Now we all wanna celebrate/ though we can't always get a break/ but we all have to try and make – Christmas a Thing." At the chorus, the orchestra swells and Saran opens her voice up full-throttle with her mission statement: "No more sighin'/ no more cryin'/ get hap-py/ don't let it be a sad 'ol Christmas." Backed by the ace background vocals of Cornell CC Carter, Naté Soulsanger, Katie Walden and Kristie Isaacson, Saran whips up a sassy mood throughout, peppering the final chorus with playful ad-libs like "Candy canes!" and "Presents!"
"I had a great time recording the song with Narada," Saran enthuses. "Our method of collaboration is so effortless much of the time. He had the bones of the melody, and I went off and wrote the lyrics. When it came time to do my vocals, I just put myself in the Christmas spirit and we had fun with it. I hope that will translate to listeners."
"(Don't Let It Be) a Sad Ol' Christmas" isn't Saran's first trip down holiday lane. In 2015 she turned critics' heads with Merry Christmas, You Are Loved, also produced by Walden, and two years later she re-teamed with the veteran hitmaker for Souful Christmas, a delightful set of gems which saw her joined by the Temptations on the single, "Christmas Lover."
"As I say in the new song, I really love making Christmas a 'thing,'" Saran says. "I've always gone overboard during the holidays with my kids – there's always lots of presents under the tree. And I get so much joy from singing Christmas songs. It's important to do whatever you can to make people happy and bring them into the spirit of this time of year."
The recent success of her Smoky Nights EP has Saran's spirits on high. Rocktimes cited its "high elegance" and said that "one is enveloped by the atmosphere" while comparing Saran to the likes of Rosemary Clooney, Sarah Vaughan and Frank Sinatra. "I've been so knocked out by the reviews I've been receiving," Saran says. "I'm especially pleased at how European audiences and critics have responded. They take their jazz very seriously, and they can be kind of picky, so to see them accepting what I'm doing has been a real thrill."
In 2020, Saran is planning to expand Smoky Nights to a full album, but before then she'll release two new songs, "Rescue My Heart" and "Almost Five O'Clock." "I'm having the best time, and I think my new music is the best I've ever done," she says. "I'm really looking forward to a year of fun and surprises." She laughs and adds, "But before then, let's make Christmas a 'thing'!"
"(Don't Let It Be) a Sad Ol' Christmas" will be available on December 6 on all digital platforms.
For more information, please visit: http://jennifersaran.com/
To order "(Don't Let It Be) a Sad Ol' Christmas" on digital services please visit: https://orcd.co/saransadolchristmas
Press inquiries: Glass Onyon PR, PH: 1-828-350-8158, glassonyonpr@gmail.com
---
The Billboard Charting Pianist/Composer's
New Life-Affirming Album
"Stronger Now"
Set to Drop January 31, 2020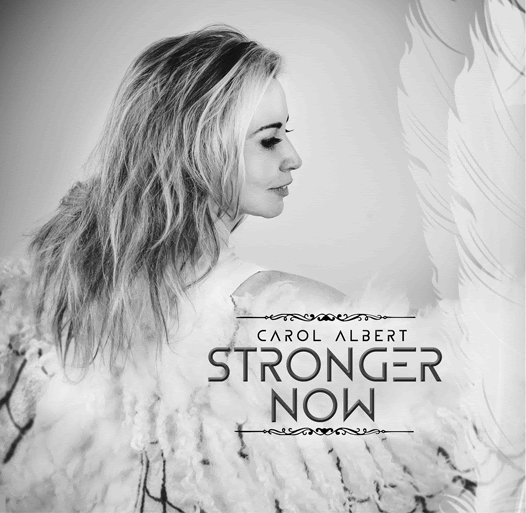 Live CD Release Event
Sunday, February 9, 2020



845 Ralph McGill Blvd.
Atlanta, GA 30312
www.venkmans.comPlus
The Tin Pan
Richmond VA
March 5, 2020Nominated For Best Artist 2019

RELEASE DATE: JANUARY 31,2020 
CAROL ALBERT "STRONGER NOW"
Label: CAHARA
Artist Website: WWW.CAROLALBERTMUSIC.COM
Release Date: JANUARY 31,2020
UPC Code: 613847014385
Track listing 
1. Stronger Now 3:43
2. Love Again 4:03
3. Perfect Sunday 4:03
4. For the Moment 4:24
5. Femme Flight (Album Version) 4:25 6. Winter Rain 5:31
7. Sun's Out (Album) 3:55
8. I Am Fine 4:39
9. Moon On the Water 4:23
10. 'Til We Meet Again 5:27
Musicians: Carol Albert – Piano, Vocals, Keyboards, Programming Ben Babylon – String, French Horn Arrangements Paul Brown – Guitar, Percussion Sam Sims – Bass Lil John Roberts – Drums, Percussion Piano
Embarking on a fresh new chapter in her life musically, emotionally and spiritually, Carol Albert builds upon the inspiring career-shifting momentum of her recent Billboard Top Ten chart successes with her perfectly titled new full-length album Stronger Now. Featuring all original songs written and arranged by the prolific composer and pianist, the stylistically eclectic, 10 track collection – follow up to her 2017 breakthrough album Fly Away Butterfly – is set for release on Cahara Records January 31, 2020. Stronger Now includes two tracks previously released as singles that lit up terrestrial, internet and satellite stations. The Atlanta based artist scored her biggest success to date early in 2019 with the Brazilian flavored "Femme Flight," which hit #4 on the Billboard Smooth Jazz Songs chart. Produced by Carol, mixed by two-time Grammy winning hitmaker Paul Brown and featuring flutist Ragan Whiteside and saxophonist Magdalena Chovancova, the track also earned Albert a new legion of fans via airplay on SiriusXM's Watercolors. Also featured on Stronger Now is Carol's latest single "Sun's Out," a Latin tinged track produced and mixed by Brown that is currently in the Top Ten on the Billboard Smooth Jazz Songs chart as well as MediaBase, Smooth Jazz Top 20 at #5, Radiowave at #3 and GrooveJazz Chart at #2. Her earlier chart hits include "Chasing Waterfalls" (which reached #15), "Fly Away Butterfly" (#5) and "One Way."
Stronger Now is the first of Carol's albums to predominantly feature production by Brown, who has scored over 60 #1 chart smashes for genre greats Peter White, Larry Carlton, Rick Braun, Kirk Whalum, Euge Groove, the late Al Jarreau and many others. In addition to the five tracks he produced ("Stronger Now," "Love Again," "Perfect Sunday," "Sun's Out," "I Am Fine"), Carol helmed "For The Moment" (which features Brown on guitar), "Femme Flight" and "Moon on the Water" and co-produced (with Brown's longtime associate Lew Laing) "Winter Rain" and "'Til We Meet Again." Carol's infectious piano melodies take wing with some of contemporary urban jazz's top sidemen, including bassists Sam Sims, Roberto Vally and Joseph Patrick Moore and drummers L'il John Roberts, Gorden Campbell and Jay Williams. While most of the tracks were created digitally, with Carol recording in Atlanta and sending her foundational files to Brown at The Funky Joint in L.A. for him to build on, the songs featuring Sims and Roberts ("Love Again" and "Perfect Sunday") were cut live in Atlanta. Key contributions were also made by Ben Babylon (string and French horn arrangements), Lee Thornburg (horn arrangements, flugelhorn and valve trombone) and acoustic guitarist Daniel Baraszu. Another point of interest: Carol recorded her parts on "Femme Flight," "Love Again," Perfect Sunday" and "Moon on the Water" on a venerable piano that Elton John and many other legendary artists have played at Silent Sound Studio in Atlanta.
"I met Paul at a show he did in Atlanta through my friend, trumpeter Rob Zinn, and he said to give him a call when I started working on my new album," Carol says. "He took his incredible ear and years of experience working with all kinds of artists to make incredible suggestions, oversee and put everything together, mix it to perfection and truly elevate my work. I'm so impressed with the quality of these musicians and the way all the elements came together. I'm very proud of Stronger Now and think it is the best work of my career."
From the title track to "Love Again," from "For the Moment" to "I am Fine," "Moon on the Water" and "'Til We Meet Again," Stronger Now is thematically a reflection of the powerful emotional journey Carol has been on these past few years – and her ongoing resilience in the face of great loss. "My last album Fly Away Butterfly was written and recorded during a healing phase of my life after the sudden death of my husband," she says. "This new chapter in my life has been about making it on my own. I am happy to note that one friend who heard 'Femme Flight' said, 'I see your butterfly has morphed into another winged animal' in free flight. During this period of my life, I have learned to experience joy, laughter, happiness and love, as well as many moods of solitude and introspection."
NATIONAL PRESS CAMPAIGN:
JIM EIGO, JAZZ PROMO SERVICES, 272 State Route 94 South #1, Warwick, NY 10990-3363
Ph: 845-986-1677
jim@jazzpromoservices.com • www.jazzpromoservices.com
"Specializing in Media Campaigns for the music community, artists, labels, venues and events."
RADIO PROMOTER CONTACT INFO:
`GOROV MUSIC MARKETING
Ph: (702) 492-4965
AVAILABLE FROM: All outlets digital , CDBaby, Hardcopy, www.carolalbertmusic.com
This E Mail is being sent by:

Jim Eigo Jazz Promo Services
272 Ste Route 94 S #1  Warwick, NY 10990
T: 845-986-1677
E-Mail: jim@jazzpromoservices.com
Web Site: www.jazzpromoservices.com/

HAVE A JAZZ EVENT, NEW CD OR IMPORTANT ANNOUNCEMENT FOR THE JAZZ COMMUNITY YOU WANT TO PROMOTE? CONTACT JAZZ PROMO SERVICES FOR PRICE QUOTE.

CHECK OUT OUR NEW YOUTUBE VIDEO HERE
---
A press release from Organic Records
Aaron Burdett wins national songwriting competition with "A Couple Broken Windows"
Aaron Burdett. Click to download the photo.
Arden, North Carolina (December 5, 2019) — North Carolina songwriter Aaron Burdett has won first place in the folk category of the USA Songwriting Competition with his song "A Couple Broken Windows" from his album, Refuge, released by Organic Records.

Since 1995, the competition has been honoring songwriters, composers, bands and recording artists in all genres for their work. Winners are selected by a committee of music industry professionals including record label publishers, producers and A&R staff.

"I'm truly honored and grateful that my song has been chosen as the winner of the USA Songwriting Contest in the Folk category. It's not why I write, but it's a good reaffirmation that I'm on the right path and need to keep going!" says Burdett. "I have a friend who likes to say 'All your success is going to be from songs you haven't written yet,' and that keeps me looking forward. But getting a boost of encouragement from a contest this prestigious really energizes me to keep going and creating new music."

Burdett recently released a new single titled "Rockefeller" that is mountain music that speaks to the modern age. It's part satire, part comedy, peppered with a dash of protest. Above all, it's a vivid look at the working class mindset of a character staring out at a world they feel both alienated from and at peace with.

Listen to "Rockefeller" HERE, and follow Aaron Burdett on Spotify to get alerts about new music.

About Aaron Burdett
Creating music isn't a means to an end, it is an end with a meaning for Aaron Burdett. Writing and creating songs is rooted somewhere deep in his psyche; it's something that can't be denied and must be shared. His lyrics are soul-touching, intelligent, witty, and poetic all at once, while his music style is a seamless blend of Americana, country, blues, bluegrass, and folk-rock that cohesively creates a story.  The result is a distinctive, personal approach that's earned him a growing list of accolades, from winning Our State Magazine's Carolina Songs competition in 2012 with "Going Home to Carolina" to inclusion on WNC Magazine's list of the top 10 most important musicians of western North Carolina, alongside such greats as Doc Watson, the Steep Canyon Rangers, and the Avett Brothers.
About Organic Records:
Organic Records® is an eclectic home for a variety of artists that are singularly unique and defy categorization. In a time when music is becoming less defined by genre, Organic artists are developing their own musical identity outside the confines of traditional classifications. Organic Records® is their natural habitat. Organic Records® is a division of Crossroads® Label Group and is located in Arden, North Carolina.
Copyright © 2019 Organic Records. All rights reserved.
Our mailing address is:
Organic Records, 50 Fisk Drive, Arden, NC 28704
---
FREE BOOK OFFER EXPIRES TOMORROW.
The Perfect Gift
For The Jazz (& Art) Lover In Your Life
— 28 Jazz Portraits in Book Form or as 11"x 17" Archival Prints —
The Jazz Alphabet
An Illustrated Look at 26 Jazz Greats, from A-to-Z.
Created by illustrator/author Neil Shapiro, The Jazz Alphabet gives each jazz great his or her own portrait, accompanied by a quote & a written appreciation. Included in the book are also portraits of the Green Mill Lounge in Chicago and Birdland in New York City.Additionally, each portrait is available as an 11″ x 17″ archival print. A perfect addition to any jazz lover's wall, the prints can be purchased framed or unframed.
* Special Offer *
Don't Miss Out! Offer Expires Tomorrow.
** Order a framed print by December 6th and get a
Free Copy of  The Jazz Alphabet along with the print! **The Jazz Alphabet Book: $35.00
Jazz Prints, A-Z: $90.00 each unframed
Jazz Prints, A-Z: $249.00 each framed
Prints of Birdland or Green Mill Lounge:
$110 unframed, $269.00 framed* Tax & Shipping Calculated at Checkout
Copyright © 2019 Jazz Promo Services, All rights reserved.
PLEASE NOTE: IF YOU DO NOT WISH TO BE ON THIS MAILING LIST PLEASE RESPOND WITH 'REMOVE' IN THE SUBJECT LINE. IF YOU ARE RECEIVING DUPLICATE EMAILS OUR APOLOGIES, JAZZ PROMO SERVICES ANNOUNCEMENT LIST IS GROWING LARGER EVERY DAY…..PLEASE LET US KNOW AND WE WILL FIX IT IMMEDIATELY!Our mailing address is:

Jazz Promo Services

269 State Route 94 South

Warwick, Ny 10990

Want to change how you receive these emails?
You can update your preferences or unsubscribe from this list.
---
---
For Immediate Release
Eric Burdon & The Animals "When I Was Young – The MGM Recordings 1967-1968" Deluxe 5CD Boxed Set Released February 21, 2020
• A DELUXE BOXED SET FEATURING ALL OF THE CLASSIC ALBUMS BY ERIC BURDON & THE ANIMALS
• FEATURING THE ALBUMS "WINDS OF CHANGE", "THE TWAIN SHALL MEET", "EVERY ONE OF US", "LOVE IS" & THE RARE MONO VERSION OF "WINDS OF CHANGE"
• ALL NEWLY REMASTERED FROM THE ORIGINAL MASTER TAPES
• WITH TEN BONUS TRACKS TAKEN FROM SINGLES, ALL RE-MASTERED FROM THE ORIGINAL MASTER TAPES FOR THE FIRST TIME
• INCLUDES AN ILLUSTRATED BOOKLET WITH NEW ESSAY AND A POSTER
Esoteric Recordings is pleased to announce the release of a new boxed set featuring all of the albums recorded by ERIC BURDON & THE ANIMALS for the MGM Records label issued between October 1967 and December 1968. ERIC BURDON & THE ANIMALS came together in December 1966 when the original Animals had ground to a halt. Vocalist Eric Burdon recruited Vic Briggs (guitar, piano), John Weider (guitar, violin, bass), Danny McCulloch (bass) and Barry Jenkins (drums) to form a new group which changed direction away from raucous Rhythm and Blues and embraced Psychedelic rock and the influences of the emerging counter-culture. Signing to MGM Records in the USA (where he became based) and teaming up with producer TOM WILSON (also famed for his work with BOB DYLAN, THE MOTHERS OF INVENTION & THE VELVET UNDERGROUND), the band's debut single "WHEN I WAS YOUNG" was released in April 1967 and was a powerful statement, featuring Weider's violin and Briggs' fuzzed guitar, becoming a hit in Europe, Australia and the USA. The B-side of the single A GIRL NAMED SANDOZ was a psychedelic ode to the Swiss pharmaceutical company which developed LSD. The follow-up single, SAN FRANCISCAN NIGHTS, issued in August 1967, came on the heels of the band's famed appearance at the MONTEREY POP FESTIVAL in June 1967 and would be the band's biggest hit, breaking the top twenty in the UK, Europe and the USA. The band's debut album, WINDS OF CHANGE was issued in October 1967 and featured the singles SAN FRANCISCAN NIGHTS and GOOD TIMES, along with an inventive cover version of PAINT IT BLACK and the psychedelic rockers YES, I AM EXPERIENCED (a tribute to Burdon's friend Jimi Hendrix) and IT'S ALL MEAT.
The album "THE TWAIN SHALL MEET" was recorded in December 1967 but not issued until May 1968 and featured two further singles, MONTEREY and SKY PILOT (Parts One & Two). Incredibly 1968 would see a further two album releases by the group in the USA and Europe; "EVERY ONE OF US", recorded in June and issued in August of that year, was a fine album which saw ZOOT MONEY join the band on organ and piano, but inexplicably the album failed to gain a release in the UK. By the time of its release, Vic Briggs had departed to be replaced by ANDY SUMMERS (formerly with Zoot Money in the band DANTALIAN's CHARIOT) on guitar. This line-up recorded the double album "LOVE IS" in Los Angeles in October 1968, issued only as a single LP in the UK, which featured imaginative cover versions of RIVER DEEP, MOUNTAIN HIGH, RING OF FIRE (also a hit single in many countries) and Traffic's COLOURED RAIN. The album also featured the song GEMINI which segued in to a fine re-make of the DANTALIAN's CHARIOT classic THE MADMAN (RUNNING THROUGH THE FIELDS). Released in December 1968, it was to be the final album by the group. Burdon remained in the United States and joined forces with the group WAR in 1969.
The set features the albums "WINDS OF CHANGE" (both stereo and mono versions), "THE TWAIN SHALL MEET", "EVERY ONE OF US" and "LOVE IS", all newly re-mastered from the original master tapes, along with ten bonus tracks drawn from the band's single releases, including the classic B-sides A GIRL NAMED SANDOZ, AIN'T THAT SO and GRATEFULLY DEAD, all remastered from recently located original master tapes. Also included is an illustrated booklet with new essay and a replica poster. "WHEN I WAS YOUNG – The MGM Recordings" is a fine tribute to the music of Eric Burdon & the Animals.
TRACK LISTING
DISC ONE
WINDS OF CHANGE
(RE-MASTERED STEREO MIX)
RELEASED IN OCTOBER 1967
1. WINDS OF CHANGE
2. POEM BY THE SEA
3. PAINT IT BLACK
4. THE BLACK PLAGUE
5. YES, I AM EXPERIENCED
6. SAN FRANCISCAN NIGHTS
7. MAN – WOMAN
8. HOTEL HELL
9. GOOD TIMES
10. ANYTHING
11. IT'S ALL MEAT
BONUS TRACKS
12. WHEN I WAS YOUNG
13. A GIRL NAMED SANDOZ
A & B-SIDES OF SINGLE –
RELEASED IN MAY 1967
14. AIN'T THAT SO
B-SIDE OF SINGLE –
RELEASED IN AUGUST 1967
15. GRATEFULLY DEAD
B-SIDE OF SINGLE –
RELEASED IN OCTOBER 1967
16. ANYTHING (SINGLE VERSION)
B-SIDE OF SINGLE –
RELEASED IN MAY 1968
DISC TWO
THE TWAIN SHALL MEET
(RE-MASTERED EDITION)
RELEASED IN MAY 1968
1. MONTEREY
2. JUST THE THOUGHT
3. CLOSER TO THE TRUTH
4. NO SELF PITY
5. ORANGE AND RED BEAMS
6. SKY PILOT
7. WE LOVE YOU LIL
8. ALL IS ONE
BONUS TRACKS
9. SKY PILOT (PART ONE) (MONO SINGLE)
10. SKY PILOT (PART TWO) (MONO SINGLE)
A & B-SIDES OF SINGLE –
RELEASED IN JANUARY 1968
11. MONTEREY (MONO SINGLE VERSION)
A-SIDE OF SINGLE –
RELEASED IN MAY 1968
DISC THREE
EVERYONE OF US
(RE-MASTERED EDITION)
RELEASED IN AUGUST 1968
1. WHITE HOUSES
2. UPPERS AND DOWNERS
3. SERENADE TO A SWEET LADY
4. THE IMMIGRANT LAD
5. YEAR OF THE GURU
6. ST. JAMES INFIRMARY
7. NEW YORK 1963 –
AMERICA 1968
BONUS TRACK
8. WHITE HOUSES (SINGLE VERSION)
A-SIDE OF SINGLE –
RELEASED IN NOVEMBER 1968
DISC FOUR
LOVE IS
(RE-MASTERED EDITION)
RELEASED IN DECEMBER 1968
1. RIVER DEEP, MOUNTAIN HIGH
2. I'M AN ANIMAL
3. I'M DYING, OR AM I?
4. RING OF FIRE
5. COLOURED RAIN
6. TO LOVE SOMEBODY
7. AS THE YEARS GO PASSING BY
8. GEMINI
9. THE MADMAN (RUNNING THROUGH THE FIELDS)
BONUS TRACK
10. RIVER DEEP, MOUNTAIN HIGH (SINGLE VERSION)
B-SIDE OF SINGLE – RELEASED IN NOVEMBER 1968
DISC FIVE
WINDS OF CHANGE
(RE-MASTERED MONO MIX)
RELEASED IN OCTOBER 1967
1. WINDS OF CHANGE
2. POEM BY THE SEA
3. PAINT IT BLACK
4. THE BLACK PLAGUE
5. YES, I AM EXPERIENCED
6. SAN FRANCISCAN NIGHTS
7. MAN – WOMAN
8. HOTEL HELL
9. GOOD TIMES
10. ANYTHING
11. IT'S ALL MEAT
To pre-order: https://www.cherryred.co.uk/product/eric-burdon-the-animals-when-i-was-young-the-mgm-recordings-1967-1968-5cd/
Press inquiries (North America): Glass Onyon PR, PH: 1-828-350-8158, glassonyonpr@gmail.com
---
We Are Everywhere! Since 2006
---
REMINDER: Playing Thursday Dec. 5th in DC  at Twins Jazz!

I'll be playing two shows at Twins Jazz this Thursday December 5th. The DMV area has always been a fun and welcoming place and I can't wait to put on a great show for everyone! Joining me that night will be bassist, Nathan Brown and drummer, DC native Lenny Robinson. Right before the show, we'll be making a radio appearance on WPFW 89.3 FM, on the "Live @ 5 on Thursdays" show with Sandra Butler-Truesdale. Be sure to listen or stream it live!

Then see you at the show!

TICKETS
Special Thanks to my sponsor The Gardenia Society! Please support them! They sponsored the ticket give away for my perfomance at Twins Jazz through Ellen Williams Carter at Jazz radio station WPFW !

The Gardenia Society was started as the social outreach of The Billie Holiday Memorial Foundation. They are actively supporting artists  like myself in the Blues, Jazz and Folk. Their goal is to establish a membership that will support touring artists at local venues.

In 2020 they will be working with me on projects that focus on the origin of Jazz guitar with Freddie Green and Charlie Christian.

I'm so happy for their support at Twin's and expect that there will be many more events like mine in the future.  For more information, please visit their website at: 

www.gardeniasociety.org
My Cali Tour Kicks Off 2020!


In January 2020 I'll be celebrating the success of my album in California! Aptly named, "Ron Jackson's Standards And Other Songs: West Coast Edition" I'm teaching  workshops and and playing events in  Los Angeles and The Bay Area! Thank you to Kremona Guitars and The Gardenia Society for the support thus far! We're still looking for sponsors and more appearances to build up this tour. Please let me know if you want me to play at a jazz venue near you!
---
This E Mail is being sent by:

Jim Eigo Jazz Promo Services
272 Ste Route 94 S #1  Warwick, NY 10990
T: 845-986-1677
E-Mail: jim@jazzpromoservices.com
Web Site: www.jazzpromoservices.com/

HAVE A JAZZ EVENT, NEW CD OR IMPORTANT ANNOUNCEMENT FOR THE JAZZ COMMUNITY YOU WANT TO PROMOTE? CONTACT JAZZ PROMO SERVICES FOR PRICE QUOTE.

CHECK OUT OUR NEW YOUTUBE VIDEO HERE
---