NOTE:  This page will take a minute or so to load, due to the amount of embedded videos… please be patient!!!
8/23/2014 – So Andy (Geertsen, Rhythm & Rye) tells me I need to be sure & slide on down on the 22nd… I ask him why, & he just says "You'll WANT to be here… Klozd Sirkut is yer' kinda' music!).  Well, he's a
mind-reader, no doubt, 'coz after the (rather long) setup, this 4-piece full of electro-funk got up on stage & BLEW th' magickland of Oly A-WAY, peepz!  I got to speak with keyboardist Joey Walbaum for a few minutes before they ran their soundcheck… he said the current lineup has been together (around) 2 years… he also told me they don't have a CD out yet… well, folks, I'm telling ya'… if ANYONE should get a deal for a CD, it would be THESE folks!  They opened with "Boom Bap La"… almost world music sounds, with a great "slow build" to it… trumpet/horn from Chris Littlefield and great synth strings from Joey made for a very pleasant intro to the group's sound.  As they slide out of that tune, they tumble & rumble right on into what I really came here for – 'dat NAS-tee PHONK!!!  Th' dancers on the floor couldn't agree more… th' joint is hoppin' right along to th' heav-ee beatz being showered down upon their minds, their bodies & their spirits are just soaking it up!  I haven't heard a funk band in Olympia (yet) this year that has this kind of PIZazz!  The whole group is TIGHT & RIGHT on!
You can see why in th' pic on the left… they are TOTALLY focused in on what they are doing, & dig down deep into that stuff that makes us ALL move… 'da FUNK (Joey called it "funktronic/electrosoul music")!  Definitely shades of George Duke, Live At The Roxy & maybe even Frank Zappa (when he's talkin' about DEE-vices… ha! ha!) when Chris Littlefield is doin' th' MC gig… any way you slice th' phonk pie – these katz have GOT it.  I've already fanned them at their REVERBNATION site, (you should, too) & will be lookin' out for their CD release – in fact, I think I'll get hold of them today & ask about when that might be.  Klozd Sirkut has got th' beat down, no question about it, & I'm hoping Andy will have them back in town soon!  You RAWK it, gentz'!!!  Check 'em out in the short vid below;

——————————————————————————————————————
8/9/2014 – One of the absolutely ultimate cool things about retiring in Olympia is that – it's STILL Olympia… that was actually a kinda' "quote" from one of the folks I got to meet at Little House on the Perry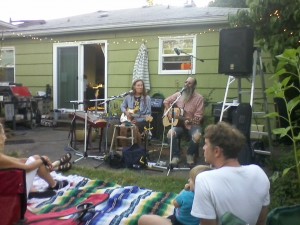 Presents Victoria Williams with Ryan Erskine and The Hinges…you can see "The Hinges" pictured on the left (Danny Kelly & Karen Hancock)… & of course, you can see that this is right in the backyard of Patrick Maley's home (on Perry Street, what else – thanks, Patrick)!  What makes this town so special is that a whole crowd of "different" folks of many different persuasions can show up to listen to music played well & with heart & soul!  Several songs from a CD I'll soon be reviewing that Karen provided me with a couple weeks back (at another venue) were played… but this was all after we had about an hour (or so) to get acquainted with folks we didn't know, & even re-live memories with some we had known in the early years here (one of those folks (for me) was artist/player Deena Manis; we knew each other WAY back in the "Gnu Deli"… whoops, that's another story, for another time… lol).   The house was open to guests, & had a whole little table setup with chips/dips & muffins (?baked by Patrick's kids?) available.  In the kitchen I got to meet the night's guest of honor – singer/performer Victoria Williams… & back out on the lawn, I had a wonderful chit-chat with Victoria's teammate, Ryan Erskine… no intrigues, no hype, just kick back & enjoy the great evening… THAT is what makes Oly so different… you can attend a "garden party", and not feel obligated to impress anyone… almost like that ol' "hippie" image that the town used to cultivate.  Of course, there were a few folks that were hearkening back to those days, with home-made roll-yer-owns… but no one was callin' the cops – 'coz that's what this magick town is (still) all about – havin' a great time with friends (whether you know them or not).  After their short set, Karen & Danny did the "backyard-stage-shuffle" to let the next act come up!

Up after The Hinges are Victoria and Ryan… starts off in slow-crawl mode… Victoria on a banjo & Ryan on
guitar (with some loops spinnin' behind them (as a black cat prowls through the wires)… I think that was (maybe) a kay-a-gum that Victoria was strumming on, too.  Totally cool story-telling style from Victoria, who was definitely showin' her "Louisana roots". Watching these two took me back years (in Olympia, once again) to shows that an autoharp player named Bryan Bowers used to perform in a coffeehouse called the "Gnu Deli"… there I go again, spinnin' off into stories that will have to be told later (it's just possible that some of those "toilet-paper-roll bongs" were influencing my thoughts, I s'pose – tho' I don't partake anymore – CONTACT high, I reckon).  When the duo slides into their second song, I slide out to grab a smoke ("plain-old" nico-tine), & while standing there listening & watching through the gate, a gent I hadn't seen in many, MANY years, Peter Tucker", was out there indulging (& he WAS – out there… ha! ha! – lawdy, lawdy, the stories I could TELL from the "deli days").  This was a too cool set – if you're in the neighborhood (any neighborhood) where "The Hinges" are playing, and inclined to partake of the wonderment that can be had in this great town – DO IT!!!!  A truly great little party, & fun was had by all… the players are pictured below!
8/2/2014 – If jazz, and all its' partners – "bebop", "free", "straight", "nu" –  is (as I believe it to be) all about "freedom of spirit", then progressive rock & it's pals ("new-prog", "prog-opera", & many other terms which I'm not as familiar with as I am in jazz) is (without doubt) expressive of the "power of spirit"… nowhere has that ever been evidenced more strongly than at the live show I attended last night at the Royal Room in Seattle!  My friend Dennis Rea sent me an invite to this event, including the fact that his super-power band "Moraine" (who I've written several reviews of over the years) would be playing… so I just HAD to be there.  Also, it was a three-band gala… here are a few thoughts on what I heard/saw/enjoyed immensely.
First up was "Bone Cave Ballet", a "first listen" for me… vocalist/guitarist Jacqui Gilroy got things off to a roaring start… Jacqui warned the audience that they might be "more loud" than other similar bands… when they started right in, it was clear (in the immediate) that they are "rhythm-based"… in fact, their whole set had the audience thumpin' right along with them (including this ol' phart, in the back corner… lol).  On top of their rhythmic skills, they had a wide range of scales, in both the "UP" and "DOWN' modes, & some excellent "walking bass" lines from their bassist.  The drummer was "on it" for the entire set.  Though I didn't get the chance to talk with them, their recently released CD, "Will Of The Waves", would be most welcome here for review in my magazine!   A fantastic band to start the show… I very much enjoyed their act.
Next up was a band from Boston that's on an extended (30 day) tour of the country that they call their "For The Record" tour… "Jaggery" had played Seattle before, though I was still in Hawaii when they were here last.  The lead for this group is fronted by a truly dynamic vocalist, "Singer Mali"… and when I say that, it is with all the respect one might imagine… the music they play keeps the "prog" in mind, but is more attuned to that "prog-opera" I mentioned earlier in this piece… though I'm not intimately familiar with all the terms proggers use to describe their music, the lead-off piece sounded (to me) like "wicked chamber dirge" – some of the most impressive and powerful high-range vocal work I've heard in years.  Let that not detract from the rest of the group, though… each and every piece & player fully understands the story they are telling – and they don't get "in the way of each other".   A very powerful set, detracted from only by the roomful of alcohol-swillers who were already halfway to oblivion (pretty typical for any bar scene, I s'pose).  Mali gave me a copy of their CD to review, so look for that in an upcoming issue.  (Hey, Leonardo – you need to keep your ears out for this group… they'd make a splendid addition to the label)
The band I'd been wanting to hear for so many years, "Moraine", was the final act of the night… they are especially impressive in a live setting, and project all the power & glory of the whole "prog thang", albeit with a (sort of) subdued presence that displays their total mastery of their instruments… if "power" is the key ingredient in progressive rock – it is this group who demonstrates it with full clarity!  Each of the players was totally comfortable with their part, and no one tried to "play bigger" than the others… that alone lets the listener know that they are in the presence of musicians who truly understand that the "whole" is what will make the group ascend to the very top of the heap… no "ego-smashing", or "crowd-the-other-guy-out" was present, and this was the perfect way to cap off a long night of splendid progressive music!  I'll be looking out (religiously) for the arrival of their new release, "Groundswell", when it is released by (my favorite) label, "Moonjune Records" (in the very near future, I'm told).
——————————————————————————————————————-