Announcement! Announcement!! Submissions for IMPROVIJAZZATION NATION magazine are *officially* SUSPENDED as of 1 September, 2018.  THIS ISSUE will be used for ALL submissions currently in the QUEUE… IF you would still like to get your music reviewed, please visit my CONTEMPORARY MUSIC REVIEWS page, where you'll find all the details for how to get reviewed there:

Our latest and greatest reviews for your reading & listening pleasure
(Click HOME to see the index of all issues)
NOTE:  I normally only do 30 reviews per issue… due to the high volume of submissions, I will be reviewing several more (20 additional, for a total of 50) for this issue (and future issues, until our backlog is honed down)… "normal" review cycles will resume when I've got the QUEUE down to under 100! 
If you are an artist/promoter who needs a review more quickly, be sure & check out our new EXPEDITED/EXPANDED review services!
Announcement! Announcement!  In the time-honored tradition of "Ghost of Christmas (and other scary holidays) Past", we are proud to announce the return of our long-time authoring pal Robin B. James to the most MajickLand of Olywa… he will be lending his ears (& heart & soul)
http://rotcodzzaj.com/42-2/improvijazzation-nation-158/issue-158-reviews/) to our review efforts, at least for a while… many of you know him from his Cassette Mythos  Enjoy his reviews!
Wabi Sabi by THE TIPTONS SAXOPHONE QUARTET & DRUMS:  Jazz, World-Soul? How about Funk, Jazz, Scat, World, Soul, Groove, Eastern European Klezmer, and of course all those way way way beyond saxophone and drum sounds you love so much! This is why the saxophone was invented and played in a group, plus the drums are there to make it vibrate even moreso, just so you can shake your torso.
The release date for physical copies (LP and CD) is on September 1, 2020 and it is available for streaming on bandcamp RIGHT NOW!

Why have just one label? This album is on Sowiesound Records, Spoot Music, Zipa! Music, and Red Cedar Records.
The Line-up
Amy Denio plays alto sax, clarinet, voice, plus she composed/arranged "El Gran Orinador," "Root Dance," and "Moadl Joadl."
Jessica Lurie is on soprano, alto, tenor sax, voice, plus she composed/arranged "A Sparkley Con," "Torquing of the Spheres," and that one titled "3x Heather's 17."
Sue Orfield is playing the tenor sax, voice, plus she composed/arranged "Memory Bait," "Working Song," and the hot spicy title track "Wabi Sabi."
Tina Richerson is doing it awesome style on the baritone sax, voice, plus she composed and arranged "December's Dance," and "Jouissance."
Robert Kainar is the one on drums and all the other percussion, so he plays on pretty much all the tracks. The whole band plays on pretty much all the tracks.
The Tunes:  You want to know about the sound? How can words describe the invisible audio vibrations… I will give it a go. Warning: I am not a scholar of the compositional elements or talking about time signatures and subtle technical influences but I know what I like, and, yes indeedy, I like this. There is a brass sound, honking and wailing and pooting and spooting, going strong with thirty years of playing together, so they have created a music machine that brings you to dance, plus it makes you smile when they add the vocal scat improvisational utterances and wonder-filled gleeful bweeee sounds. There is percussion to get your foot to the dance floor (I tend to dance in my mind with my eyes closed) and a whole lot of textures from all over the world, I hear lots of Klezmer and Latin in there with the Funk and the Spunk.
Quick breakdown of each track:
"December's Dance" (4:22) Richerson brings in the brass machine with a bit of scat singing, brash and then quiet, then pumping again; "El Gran Orinador" (5:27) Denio comes out swinging, quiets down to a thunderbolt, brings in some buzzing saxophone bees, gets back to swinging and then cools to silence then brings it back for another round; next comes that favorite of mine, the title track "Wabi Sabi" (4:12) which features Orfield and Denio on the voice and everyone on their horns, the sound is mostly horns with the drums; "A Sparkley Con" (6:17) with Lurie at the helm and the band is swinging right on through; "Root Dance" (5:00) Denio does the dramatic vocals and tricky stuff. Of all these great tracks it is hard to pick one favorite but this is the one that I like the best, maybe the one I play most often. "Torquing of the Spheres" (6:36)  is my favorite track, Lurie brings the slower groove so we can catch our breath, atmospheric at the start, gets going with the weaving of instrumental voices, this is my favorite song because it goes through lots of atmospheric changes; "Jouissance" (5:52) by Richerson has a Latin beat, get your dancing shoes going on for a joyful jump; "Memory Bait" (4:28) is my favorite song, where Orfield bursts in and does the funky tug on your boat, works it deep into the place where the big fishes are thinking of their jiggy minnow times; "Moadl Joadl" (3:38) Denio takes it on again in a way that is thoughtful and woven with complexity, layers of bumpin' grooves and fancy moves. It is Amy so of course before its over the yodeling kicks in with hand claps for a few rounds to wrap this track up; now comes the enigmaticly named "3x Heather's 17" (6:21) Lurie's tune here has a complex Latin beat, a masterpiece among jewels of sound, and is my favorite track on the album. Now it is time to close the album and it all comes together with "Working Song" (5:22) Orfield's blues are for getting us through the hard times and helping us with lifting an impossible load and somehow feeling like going on further and further, with spirit help, and a whole lot of love.
Who dat?
The Tipton Saxophone Quartet is an homage to Billy Tipton (December 29, 1914 – January 21, 1989) who was an amazing musician and noteworthy industry pioneer. Tipton's musical career began in the mid-1930s when he led Louvenie's Western Swingbillies for radio broadcasts. He played in various dance bands in the 1940s and in the mid-1950s recorded two trio albums of Jazz standards for Tops Records. After that he also worked as a talent broker. Tipton stopped performing in the late 1970s because of arthritis. Tipton's female birth sex was not publicly revealed until after death, and the revelation came as a surprise to family and friends. For decades, Tipton assumed a male gender identity probably because the music industry was not about to give any woman the breaks and opportunities that any man would automatically get, so she secretly got it all on her own personal terms. Bweeee!
Amy Denio is a Seattle-based multi-instrumental composer of soundtracks for modern dance, film and theater, as well as a songwriter and music improviser. Her inspirations include world music, and is mainly known as a vocalist, accordionist and saxophone-player. Among her current musical involvements are The Tiptons Sax Quartet (formerly The Billy Tipton Memorial Saxophone Quartet) and she has been playing/touring/recording with Bosnian gypsy punk band Kultur Shock since 1999: (https://kulturshock.bandcamp.com) She has also collaborated repeatedly with the Pat Graney Dance Company, David Dorfman Dance Company, Victoria Marks, and with many other choreographers. (https://en.wikipedia.org/wiki/Amy_Denio)
Jessica Lurie has performed, toured or recorded with international artists such as Bill Frisell, The Indigo Girls, Vinicio Capossela, Marc Ribot, Marty Ehrlich, Wayne Horvitz, Sleater-Kinney, Circus Amok, Les Claypool, Nels Cline, Mike Clark, and Great Small Works, among others. Lurie started her music label Zipa!Music in 2000. Jessica's touring groups include jazz and alternative music artists. Her current New York line-up features Todd Sickafoose on acoustic bass (best known for his work with Ani DiFranco), Allison Miller on drums (Natalie Merchant) and Erik Deutsch on keyboard. Other regular guests include Scott Amendola (drums, Madeline Peyroux), Jon Evans (bass, Tori Amos), Nels Cline (guitar, Wilco) and Julie Wolf (piano, Ani diFranco) as well as Italian musicians Zeno de Rossi (drums), Danilo Gallo (bass) and Giorgio Pacorig (piano). (https://en.wikipedia.org/wiki/Jessica_Lurie)
Sue Orfield plays the tenor saxophone with the whimsy of Sonny Rollins, the passion of Kurt Cobain, the soul of Bill Withers, and the joy of Ella Fitzgerald. Along with a compelling mastery of her instrument, Sue brings to the stage a powerful presence and joy of all things musical. Sue has played with many musical greats over the years, including Bo Diddley, Bobby McFerrin, The Indigo Girls, Ann Wilson (Heart), Dizzy Gillespie, Ivan Neville, Jo Dee Messina, among others. She tours internationally with several groups, including The Tiptons Sax Quartet (Seattle/NYC), and Ellen Whyte (Portland, OR). (https://www.chippewavalleyblues.com/sue-orfield-band)
Tina Richerson has been a member of the Tiptons since 2004. She is a composer and arranger for her self titled Jazz Quintet, and works as a music teacher and freelance musician in Brooklyn, New York. She is the Overall Instrumental Soloist Winner from the 1997 Lionel Hampton Jazz Festival at the University of Idaho, where she attained her Bachelor's of Music. Tina attained her Master of Music from the University of Washington in Seattle, where she met up with the Tiptons. Ms Richerson was the first female to perform and record live with the Seattle Jazz Repertory Orchestra. Tina has also Performs in New York with the Circus Amok Band, and singer songwriter Erin McKeown (http://thetiptonssaxquartet.com/tina-richerson)
Robert Kainar belongs to the most wanted drummers of the Austrian music scene. His work with artists like  k3, dreamhunter, Wodd Air Quartett, Ranajit Sengupta, Mulo Francel, Lisa Wahlandt and many others made him well known all over the globe. Beside his range of Sideman work, Roberts founded in 2013 a group called Ensemble 013 as a Festival Orchestra for the Salzburg Summer Festival. As well Robert is doing a Solo program based on a fusion of acoustically and electronically generated beats and sounds, all produced live and momentary. He works with acoustic instruments (percussion, toys, trombone,…) and electronic sounds and loops. Robert's  own  Label "sowiesound" is giving a comprehensive reflection of his recent work. His style oscillates between jazz, club beats, trance, noise and drum and base creates a space for improvisation and artistic freedom. (http://thetiptonssaxquartet.com/about/robert-kainar)
You will definitely dig on this! Stop reading this inadequate bunch of words right now (how can these feeble written scribbles ever even begin to describe the soulful Wabi Sabi hot sounds?) just get your ears up on it and you will live better listening to The Tiptons every night and every day.
TRACK LISTING
December's Dance (Richerson) 4:22
El Gran Orinador (Denio) 5:27
Wabi Sabi (Orfield) 4:12
A Sparkley Con (Lurie) 6:17
Root Dance (Denio) 5:00
Torquing of the Spheres (Lurie) 6:36 
Jouissance (Richerson) 5:52
Memory Bait (Orfield) 4:28
Moadl Joadl (Denio) 3:38
3x Heather's 17 (Lurie) 6:21
Working Song (Orfield) 5:22
EQ 4.9  VERY VERILY HIGHLY HIGHLY RECOMMENDED OH YEAH!      –Robin B. James

Review of Oasis by Rez Abbasi and Isabelle Olivier:  Four musicians exploring an amazing range of musical territory, all instrumental, guitar and harp with tabla and drums — traditional trap drum kit type percussion. Imagine a weary desert traveler finding relief upon reaching an oasis after a 10-hour walk in the desert, finding a pool with palm trees and colorful nomads dancing to a wealth of different sounds and styles of harp and guitar based music, flavored with just a little bit of studio magic. There are ten brilliant improvisational fantasy caravans for your adventurous listening pleasure. OASIS is an acronym for Olivier Abbasi Sound In Sound.
harpist Isabelle Olivier
guitarist Rez Abbasi
with
Prabhu Edouard on tabla
David Paycha on drums
The harpist Isabelle Olivier brings a new wave of freshness and novelty to the international artistic world with her surprising and unique instrument. She is a stylish, inventive, fearless and charming musician, with a strong musical personality and talent, currently the international ambassador for the new electro-acoustic harp Salvi "Rainbow." Winner of the awesome Prize from the Villa Le Nôtre at Versailles in 2015, she became the first musician and composer awarded by the foundation. To expand your understanding of this amazing jazzwoman please visit her website: http://www.isabelleolivier.com/
Guitarist and composer Rez Abbasi was born in Karachi, Pakistan, raised in Southern California, and is an artist who continually pushes new boundaries. Abbasi's music is a vivid synthesis of jazz and classical music with strong Indian-Pakistani flavors. He studied at the USC and the Manhattan School of Music in jazz and classical music, supplemented by a pilgrimage in India under the tutelage of master percussionist Ustad Alla Rakha. You can find more details about his many accomplishments by visiting his website: http://www.reztone.com/
Prabhu Edouard is an Indo-French percussionist and composer, one of the most versatile tabla players of his generation. He studied his craft under the renowned tabla maestro Pandit Shankar Ghosh. Prabhu Edouard is a sought after performer, also an experienced teacher, sharing his musical vision on various percussion masterclasses and international music seminars. For his discography and more about his professional career please follow this link: http://www.prabhuedouard.com/
David Paycha is the emerging young artist in the ensemble, he lives in Chantilly, Picardie, France and works/studies at the Conservatoire National Supérieur de Musique et de Danse de Paris College, in Paris, France. He has recorded with the Julien Coriatt Trio, amongst other notable ensembles and solo situations. I could not find a convenient personal website for this young and talented musician, but here is what I did turn up,and it is way, way awesome:
The opener for Oasis is a classic jazz showcase piece, "My Favorite Things" (5:26) from the musical The Sound of Music (1959 Rodgers and Hammerstein). This tune was made famous by Mary Martin in 1959, John Coltrane in 1961, and by Julie Andrews, who played Maria in the 1965 film version of the musical. Here the harp and tabla create a whole new statement based on this popular melody.
Many people find sipping hot tea to be relaxing, but lemongrass tea may offer further anxiety-reducing properties. Lemongrass is a long thick grass with a lemony scent and leaves at the top with a solid portion several inches long at the root end. The lower portion is sliced or pounded and used in cooking. As a spice, fresh lemon grass is preferred for its vibrant flavour, but is also sold in dried form. As a musical theme there are all the refreshing qualities of the flavor and tea: an intricate conversation between the guitar, harp and percussion "Lemongrass" (5:03).
The blooming cherry blossom trees go hand in hand with the arrival of spring, and sometimes can symbolize the fragility and the beauty of life. It's a reminder that life is sometimes almost overwhelmingly pulchritudinous but that it is also tragically short. Delicate melodies first sketched by the harp, supported by drums and guitar, and expanded,  "Cherry Blossom" (6:21).
Dramatic tension is beautifully sustained and accented with a hidden layer of a timepiece's actual ticking and tocking emerging from the mix from time to time, this is a harp and drum dialog joined by Abbasi on electric guitar, "Timeline" (3:36). A timeline is a display of a list of events in chronological order, a graphic design showing a long bar labelled with dates paralleling it, and usually contemporaneous events, using any suitable scale representing time, this sonically logarithmic timeline entails a logarithmic scale of time; some "hurry up and wait" chronology with zoom lens metaphors.
The percussionists are showcased on "Coeur que bat" (1:59) which translates as something like my heart beating, the heart beat, my heart pounding. This track starts out slowly and gains complexity, the rhythm of your heartbeat, the rhythm of the rain, was it a dream?
The harp and tabla start off "Stepping Stone" (5:49) but are soon trading off the center of attention, as in crossing a stream from one place to another, or something that helps in progress or advancement to new environment. The sounds twist and layer with electronic textures and unexpected new dimensions, everyone gets a solo, and the journey brings us to a new situation.
This leads perfectly into the next track, "Road Movie" (4:29) and builds into more of the revolving solos. The title brings to mind spoken and written tales of epic journeys, such as the Odyssey. There are two main narratives: the quest and the outlaw chase, represented by the melodic harp and the vocals accompanying the tabla, typically altering the perspective from our everyday lives, exploring the tension between individualism and populism, the codes of discovery, combining locomotion with media-motion and an unspoken rebellion against conservative social norms. The percussive voice just sounds really cool too, bouncing along with the beat of the hand drums.
My research during the writing of this review has introduced me to what is for me a new word: "bildungsroman," a story in which the hero changes, grows or improves over the course of the story. It focuses more on the journey rather than the goal. "Bildung," meaning "education," and "Roman" meaning "novel." This track is a true bildungsroman.
Slower and more cautious now, "Dodeca" (2:27), perhaps a Latinized form of Greek dōdeka, which translates into having twelve or pertaining to twelve. The sound is relaxed and allows the guitar to explore and develop new textures, there are more of the mysterious electronic textures layered in with the pure instrumental sounds.
Some words that can describe the tone of a dream might be metrical, regularity, irregularity, syntax, and rhyme, not all but some dreams almost always trace in various compounds of these qualities. What you will hear is quick paced and then calming down, rising again, solos and blended instrumental voices, complex resonant colors, "Other Tones" (6:32).
Our fathers carry half of our genetic makeup. Our relationship with our father plays a huge part of who we will become. We want to fulfill his dreams. Coming home from the daily race, I stand upon his feet as we dance to the music, keeping me safe from harm. "Looking for Dad" (5:32).
Too many words! Here is the real preview of this music:
I highly recommend this amazing collection of harp-guitar-percussion adventures, and give this an awesome energy quotient of 4.79     –Robin B. James
Denson/Pilon/Blade – BETWEEN TWO WORLDS: Sweet instrumental trio, guitar and double bass and drums, from the jazz tradition of classical bop. Easy to listen to, complex enough to go deep inside and marvel at the details, but the music also flows effortlessly enough to decorate the evening when you are focused on your own special moments. Obviously the guitar provides the show, supported by the bass and drums, with plenty of solos for everyone. Maybe the album title should be Between Three Worlds? The concept is two worlds, read on.
Jeff Denson double bass
Romain Pilon guitar
Brian Blade percussion
From the album liner notes, a quote from Jeff Denson: "As musicians we float between two worlds. One, a physical plane and the other a powerful reality that can only be found with the most open of ears, hearts and minds."
Let's get into it.
Sweet as sugar, Pilon has the guitar spotlight providing a brisk pace, somehow relaxed but complex and abstract without being distracting, and the extremely skilled fingers leave plenty of room for everyone to shine, "Sucré" (7:30). Next, Denson provides a progression of chords telling a picture, showing a story about one groovin' crow having a life, doing time, pondering the reasons why we do what we do, "Song of a Solitary Crow" (6:44). Dancing with three steps at a time, the trio is tight as they talk to each other instrumentally, "En Trois Temps" (6:15) composed by Pilon, followed by another one of his, "Génération" (7:23). The tale changes textures ever so slightly, pausing now and then, sometimes going up, stepping up and up, sometimes soaring through a wider vista, sometimes going into elaborate situations, and sometimes breezing in an open sky.
"Nostalgic Farewell" (4:44, Denson) is a sad tale taking us through the ages, most of the time the guitar supports the bass on this one instead of the usual other way around. This next tune is my favorite on the album, "Listen Up" (6:28, Denson). Blade brings on the drums! A quicker step than we have been taking so far, up and up and totally magical, telling us about new experiences of this life, keeping a breathtaking pace without being gone before you get there, this is my favorite song because it has so many things going on. Pilon composed the next number, with lots of spice and flavors, rich with history but fresh and bold, elegant and expansive, fast fashion: "Madrid" (5:36).
Next, Denson slows it down, look around, take the time to examine something new and unexpected, things change as the song unfolds, "Lost and Found" (6:03). For the title track, "Between Two Worlds" (6:19), Denson breaks out the bow and uses it to tell the tale on his double bass, adding a new dimension to the trio's sound. The two worlds are the physical plane compared to the perceptual plane. The sound is slow and sensual, simultaneously articulate and mysterious, powerful and subtle. For the closer, "Azur" (5:31, Pilon) brings in the blue skies and there is ample room to have your thoughts, heraldic and unclouded, a Mediterranean groove, nice and pure, natural beauty and balance, rare and articulated with a clarity of expression.
How about a little biographical background for these three fabulous musicians:
Jeff Denson
"Playing music is a deeply spiritual experience for me – it is sacred. When it is pure it can be like traveling without moving – a gateway to another world or reality."
Born in 1976, in Arlington, Virginia, he grew up in the Washington, DC area, Mr. Jeffrey Denson began playing the alto sax at 8 years old, switching to electric bass in high school. After a chance encounter with Miles Davis' "Kind of Blue" and Charles Mingus' "Haitian Fight Song" he formed a notion of what he wanted to do. This lead him to Virginia Commonwealth University, and then to Northern Virginia Community College, and then to Boston's Berklee College of Music where he co-founded the trio Minsarah with fellow Berklee students, pianist Florian Weber and drummer Ziv Ravitz, and soon they became the accompanists for the legendary saxophonist Lee Konitz. Denson soon earned his master's degree at Florida State University and a DMA at the University of California at San Diego, and then moved to the San Francisco Bay Area in 2011 to become a professor at the California Jazz Conservatory, where he is now the Dean of Instruction. As if that was not more than enought for a full time lifestyle, he formed Ridgeway Arts, a nonprofit organization designed to enhance and fortify the Bay Area arts and performance scene.
Romain Pilon
Mr. Pilon is a French guitarist and composer who started playing guitar at age 10, exploring all kinds of music. This eventually lead him to the Berklee College of Music in Boston. He has so far recorded seven albums including NY3, Colorfield, The Magic Eye, and the most recently, Copper. He teaches masterclasses in France, the US, Portugal, Italy, Spain, Japan, Germany, and Malta. In 2016 he started a series of "Mini Lessons" videos on YouTube.
Brian Blade
Mr. Blade was born and raised in Shreveport, Louisiana where his father served as a minister and through his youth he was immersed in Gospel and songs of praise at the Zion Baptist Church. Eventually he decided to pursue even deeper studies in music and moved to New Orleans to attend Loyola University. In 1997 he formed The Fellowship Band with pianist Jon Cowherd, bassist Chris Thomas, saxophonists Myron Walden and Melvin Butler, guitarist Jeff Parker, and pedal steel guitarist Dave Easley. He has been a member of the Wayne Shorter Quartet since 2000. He has recorded with Daniel Lanois, Joni Mitchell, Ellis Marsalis, Marianne Faithfull, Emmylou Harris, Billy Childs, Herbie Hancock, and Bob Dylan.
Overall, Between Two Worlds has a sound that is highly expressive and complex, a refreshing post-bop sound, guitar-trio jazz. Words about sounds are never enough, now that you have read my humble scribbling, here is the real scoop on the album, and I know that you want to hear more of it:
TRACKS
1 Sucrée
2 Song of a Solitary Crow
3 En Trois Temps
4 Génération
5 Nostalgic Farewell
6 Listen Up
7 Madrid
8 Lost and Found
9 Between Two Worlds
10 Azur
HIGHLY HIGHLY RECOMMENDED EQ of 4.9  Robin B. James
Voxfire – FONTIS:  Orenda Records
Fontis is a Latin word that means "fountain." This is Early Music, which means that the original compositions are often centuries old, and in this case with some contemporary instrumentation. The feeling is calm and refreshing, and is based on the historic compositions that were originally only heard in cathedrals and temples, or maybe at fairs, but you can bliss out in your living room or car or using your headphones — anywhere.
Voxfire started as a trio of vocalists and has grown, adding two instrumentalists, and on occasion, more musicians as they continue to develop and grow. Voxfire specializes in historic music, plus they experiment with contemporary instruments, so the sound is very unique and quite delightful. It is not merely a replica or homage to the ancient, it is a new creation with lots of complex acoustical (and electronic) flavors to savor. There were no ukuleles, pianos, electric pianos, synthesizers, saxophones, trumpets, marimbas, harmonicas, (or studio recording et ceteras), when this music was originally composed, so long ago (all except for the one instrumental, "Laudemus II"). In my opinion, this mixing of the ancient with the contemporary works really well. The sound is simply amazing, and you can make your own mind up by taking a listen.
https://www.youtube.com/watch?v=jMn9ssRycc8
"Vella e Mina" from FONTIS by Voxfire (2019
Samela Aird Beasom, founding vocalist
Christen Herman, founding vocalist
Susan Judy, founding vocalist
Nick DePinna, instrumentalist and arranger, also trombone, ukulele, piano, synthesizer, percussion, live effects processing and more.
Ross Garren, instrumentalist and arranger, also piano, harmonica, electric piano, organ, synthesizer, accordion and other instruments.
For this album, Fontis, they are joined by special guests Hitomi Oba on saxophones and flute, Jens Kuross on drums, Noah Meites on trumpet and flugelhorn, and Mark Beasom on percussion.
Total running time 59:41
I am not a historian or a musical scholar, but I can tell you about what I like. The singing is in various ancient languages, including Latin, medieval Galician-Portuguese, medieval Provençal-Occitan, Ladino (Judeo-Spanish) and Arabic. I speak none of these languages, but the album comes with notes concerning translations. I will pass on more than the flavor of these remarkable songs and music on to you, intrepid listener and reader of music reviews, so that you can be properly informed about this music. The words you read here are in English, the words sung that you can hear are not in English. Overall, I hope to extend your understanding and hopefully stimulate your curiosity, rather than limit myself to merely saying that these are historical reproductions.
Let it begin.
"Fontis" (5:35) This type of musical expression is known as a Chant, from an old manuscript known as the Las Huelgas Codex, from the late 13th century, sung in Latin. "The source flows into the stream as a flavor that disappears, as a scent vanishes when steeped in a small vessel. So the ruler leads his people, like a mason's fired brick, proving strong and solid, or shattering in betrayal." A philosophical journey, the riddle-like text describes a ruler's strong and solid leadership, which flows from the source of wisdom and must be captured and tended with care.
"Vella e Mina" (2:46) Cantiga Nº192, Cantiga Nº 180 text, by Alfonso X (1221-1284), sung in medieval Galician-Portuguese. An ancient Christian praise song, from the 13th-century "Cantigas de Santa Maria," exhorting all – young and old, rich and poor – to join in honoring the Holy Mary. "Old woman and young girl, Mother and virgin, Pauper and queen, Lady and servant. In this manner should Holy Mary be praised, for God sought to give her all these things for betterment, that her like would never be found again; and thus we must praise her always, for she watches over us. For old she is, according to the prophecy that Solomon foretold: she was created before the world so that her great goodness would never diminish; and even then, God who rules over all sought to incarnate her. 'Maiden' ought all men for all time rightly call her, for in goodness and beauty she grows each day, that to be rewarded so greatly by God, to save her, he came down to the world from his lofty throne. For Queen, any man would have her who saw her Son raise her to heaven."
"Ondas" (4:57) A Galician-Portuguese song from Cantigas de Amigo, by Martin Codax, dating from the mid-13th century, sung in medieval Galician-Portuguese. A mournful maiden asks the sea: "Waves of Vigo's sea, did you see my friend? Alas, God! Will I see him soon? Did you see my friend, for whom I sigh? Alas, God! Will I see him soon? Did you see my lover, for whom I am greatly tormented? Alas, God! Will I see him soon?" Haven't we all felt that way one time or another?
"Sen Calar" (4:50) Cantiga Nº 380, from the time of Alfonso X The Wise, King of Castile in the mid 1200s, sung in medieval Galician-Portuguese. Featuring the contemporary and soulful harmonica of Ross Garren. Another early praise song. "Without silence nor delay must man ever honor and praise Holy Mary. For she dallied not but ran to our aid, releasing us from the prison where Eve had put us. She considers, cares for, and always nurtures us, the better to guide and elevate us to God's throne. For us who are hers, she takes away our sins and, as Mother of God, defends us when we err and transgress by folly, and pardons us every day. To give her praise we have great reason, for God made her better in so many ways; she is without equal and without end. And who's to say how many a troubadour singing her praises could convert?"
"A Chantar" (5:24) A Troubadour song, from Beatritz, Comtessa de Dia, of the late 12th century, and sung in medieval Provençal-Occitan. A cold and haunting harmonica melody brings this song from the past to the present. "I must sing about that which I would rather not, so much rancor towards him do I feel, because I love him, but it is never to be; he does not value my charity and courtesy, neither my beauty, nor my virtue, nor my intelligence: for I have already been tricked and betrayed to such a degree, as if I were being offensive. My worth, my status, my beauty, and moreover, my true heart give me value, for that is why I send you, there on your estate, this song which will be my message; and I wish to know, my noble friend, why you are so hostile and cruel to me —is it pride or malice? Mostly, though, I want my message to tell him that too much pride is the undoing of many great men."
"Laudemus I" (5:34) A Pilgrim song, found in the Llibre Vermell, of the late 14th century, sung in Latin. A simple melody that could be sung by the faithful as they traveled their medieval pilgrimage road to the shrine of the Virgin. "We praise the Virgin who is the mother, and her son, who is Jesus. We bitterly lament our impiety, hoping for perpetual bond with Jesus. Resplendent vessel of creation, be our advocate, O Virgin who gave birth. Beating our breasts, confiding our sins, may we be with the most high."
"Esta Montana" (4:18) Sephardic romance song, 14th century, sung in Ladino (Judeo-Spanish). A heartbroken lament: "This mountain ahead of me is on fire and burning, there where I lost my lover will I sit and start crying. Little flowering tree that I planted in my garden and tended til it grew large, now others are enjoying it. Secrets I wish to uncover, secrets of my life, the sky would I have for paper, the sea for ink. The trees would I have for pen, to write of my woes, there are none who know my sorrow —neither strangers nor kinfolk."
"Laudemus II" (3:49) An instrumental fantasy of Laudemus I, arranged by Nick DePinna & Ross Garren. The Laudemus melody reappears and repeats mysteriously, as Ross Garren's own repetitive piano pattern plays out.
"Polorum" (4:52) A Pilgrim song, also from the Llibre Vermell, and sung in Latin. A song from the Middle Ages that uses call-and-response and round singing to entertain pilgrims on their journey to the shrine of the Virgin. "Heavenly Queen of us all, Morning Star, erase our sin. Before the birth, O Virgin, by God made pregnant; and in birth, O Virgin, by God made fruitful; and after the birth, O Virgin, laboring Mother, you remained ever inviolate."
"Rosa Das Rosas" (3:17) Cantiga Nº 10, also from King Alfonso X The Wise, and sung in medieval Galician-Portuguese. This setting perhaps reflects on the travails and dangers the pilgrims may have experienced on their journey. Picture them on a sea voyage, ardently reciting their repetitive lines as waves begin to roil around them in an upcoming storm. "Rose of roses, flower of flowers, Lady of ladies, Lord of lords. Rose of beauty and refinement, And flower of happiness and pleasure; Lady, most merciful being, Lord, preventer of suffering and grief. To such a one, a gentleman owes much love, that from every ill she can shield him, and from sins can she pardon him that he commits through his evil nature. We owe her much love and service, with her hand she guards us from failing, and makes us repent our errors, that we as sinners make. This Lady I have for Lord, and for whom I wish to sing praises, even if I can't have her love, I will consign my other lovers to the devil."
"Ya Viene" (3:51) Sephardic romance song, of the 14th century, and sung in Ladino (Judeo-Spanish). A modern saxophone paints a murky, overcast setting from which the narrator's hauntingly modal melody spins a tale, lonely and sad. A group of slaves is being led through the countryside. "Here comes the captive with all the other captives; among them is the white girl. It was neither dawn nor daytime when the white girl sang her sad song. O what green fields, what olive groves, where my mother Grace washed and dusted. O what white tombs, what tombs of ancestors do I pass over like a bird in flight."
"Tu Secreto" (3:50) An Arab-Andalusian song, of the 13th or 14th century, sung in Arabic. Picture a group of women, most likely courtesans, singing this song to the lord of the manor, perhaps teasing the court a bit with this enigmatic poem: "Your secret is your secret, says the proverb. Keep it in your heart and be sweeter than honey. If you tell another, you're not being smart. Don't divulge your secret because the enemy is watching you. Who is your friend? Who is your enemy?"
"Por Deus" (6:34) The final track on the album is a Troubadour song, with a Catalán tune, of the Martin de Padrozelos text, from the 12th century, and sung in medieval Galician-Portuguese. An aspirational song of love. A young lady is begging her parents to allow her to go to town with her girlfriends, the dreaming girl is transported to her lover, and the happily-ever-after ending is consummated. "For God's sake, don't worry, mother and father, about my going to San Salvador, for if today there are three beauties, I will be the one, well I know. I pray that today I will go, and so as not to lie to you, if today there are two beauties, I will be the one, well I know. There I have a friend, mother, who I want to see, to give him pleasure; if today there is but one beauty, I will be the one, well I know."
From the simple melodies of these ancient chants, is spun a wondrous web of modern instrumental accompaniment, capturing the promise of a fathomless future of sound. I highly recommend this amazing collection of new songs made from some of the oldest European musical delights.
01         Fontis
02         Vella e Mina
03         Ondas
04         Sen Calar
05         A Chantar
06         Laudemus I
07         Esta Montana
08         Laudemus II
09         Polorum
10         Rosa Das Rosas
11         Ya Viene
12         Tu Secreto
13         Por Deus
Harmonious Energy Quotient: 4.9+        Robin James

Cloud Over Jupiter with John Shirley – Short Stories for Tall Aliens:  Twelve musical tales of the strange and weird, 12 sonic reasons to continue listening after all hope has been dispensed. Mixed and mastered by Chad Wardwell. All songs arranged by Wardwell & Terry King.
The view of Jupiter, the fifth stone from the sun, from where we are, here on the third stone from the sun, is not so good tonight. But trust me, Jupiter is up there. These oblong rectangular objects in what remains of this old garden make excellent places to sit here in the darkness. Long ago this planet was inhabited by "hooomans" but do not fear, they are all gone now. As you can see from the remaining statuary, the males all had beards, wore a braided head decorations with spikes that made holes in their skin, and went around mostly naked, with their arms outstretched and attached to a frame. The females all had wings. All of them were miserable, in various states of grief all the time, as you can see from the remaining carved mineral forms. Now they are comfortably reclining in boxes below these stones, preserved in some kind of flammable liquid. All of the blood is gone, so there is no point in digging them up, also you must know that they are not wearing shoes as they lie in darkness waiting to be summoned.
I am now going to tell you about some terrible tales of terror that you can hear for yourself one day, if you are so lucky and blessed by the keepers of celestial destiny on Jupiter. I hope you like it. If not, there is really no place else to go, all the water here is poisoned and the smoky air still smells bad. There once were plants growing everywhere but those green living creatures are all long gone now, buried in the drifting icy toxic sand and ashes. Where the winds are not so severe you can still see some of the larger old wooden plants sticking up into the burnt sky, illuminated by lightning and the glow from what is left of the moon that is still stubbornly hanging above the empty haze of this old planet's sky.
The first gruesome gallery exhibition is called "Nihonium" and all instruments were performed by honorary hooman Jerry King. It begins simply enough as an instrumental to set the mood, wailing tones above the bass and electronic power bursts.
Second from the top and twelve types of trouble brings us to "Six Kinds of Darkness," with simulated hooman vocals & lyrics by John Shirley, bass guitar by Fred Hodshon, drums by Chad Wardwell, with the remainder by Terry King. This is a story about variations of the absence of light. The voice reaches for hope while understanding that there is no way out. The ending leaves you dancing in your mind with your eyes closed in your own delusional personal illumination.
Before you have recovered, everything gets worse. Here lies "Black 44 – Avian Jupiter" synth solo by the acting hooman Pete Prown, drums by Bill Jungwirth, all of the remaining sounds have been created by Jerry King. Classic power metal instrumentals playfully beset with the sounds detected through the progressive winds of flying things never seen, only heard in the blackness.
Next we find an instrumental known only as "Aluminum" and all you will experience has been made by Jerry King. Hand drum sounds, rattling bass, synthesizers and nervous insect sounds, wrapped in foil and kept fresh until the moment you press the play button.
Cover your head and try to stay out of the relentless wicked weather, "In Stormland" features vocals & lyrics by John Shirley, synth solo & mellotron by Pete Prown, drone guitar by Bret Harold Hart, drums by Bill Jungwirth, bass by Jamie Bruhn, with the remainder of everything else heard was created by Jerry King. Power metal gales blow hard across the remaining darkness, screaming electronic beasts signal you from somewhere beyond the grave of this place of tormented distant destruction caused by nature. No vanity of hooman warfare was necessary to cause this cataclysm, it just happened. Don't worry, in this tale nature regains dominion after the landscape has been cleansed.
Now the bass instrument forms a plinth for electronic fury. Before you experience death again, pause and behold: "Tungsten" Weird synth & percussion by Chad Wardwell, and the aforementioned bass guitar formed by Jerry King. An instrumental ritual soundtrack continuing the theme of dark alien visitors that are invisible to everyone but me, and me alone.
The metal storm picks up again. Doom beckons from behind you this time. "Black 4.5 – The Nightmare" featuring guitar by Bret Harold Hart, horns & nightmare by Dave Newhouse, drums by Bill Jungwirth, bass guitar & synth bass by Jerry King. Listen little Cthulhu and you will hear this instrumental tale of old Earth, from way before the hooman reign. Something to think about as you wait in the darkness for a dawn that never comes. Screaming is heard, from buried in deep brass, pounded by bass, and the old drums from your grandfather's trap set that is still kept in the basement.
Spaceships crowd the sky and terror signals ahead. "Molybdenum" delivers a frosty synth by Chad Wardwell, and a hot combination of monophonic synth & guitars by Terry King. Rayguns and fast swirling action from below a deep purple pit, why did they build the mine next to the graveyard anyway?
Once you stop screaming I will tell you about "The Crux of Matter" beset within a maelstrom of keyboards by Walter Whitney, guitar by Bret Harold Hart, horns by Dave Newhouse, drúms by Bill Jungwirth, vocals & lyrics & bass guitar by Jerry King, additional vocals by the same Hart, Newhouse, Jungwirth plus Michele King. The drums march boldly across the bloody old grounds where the guitar lords once did symbolic battle with the wizards of bass, those both trying to survive against the coming of the end times. The tale heard through the howling instruments is of fantastic creatures who once ruled the hearts of men and women in times long bye the bye.
It has taken centuries but the hope continues, what choices are left? Without the comfort of death we will continue to wait for the "Gravity Well Extraction", guitar by Bret Harold Hart, drums by Chad Wardwell, bass by Jerry King. A curious exploration in slow time (compared to that more frenetic last track's tale of battle) with strange scenes seen from a distance. An instrumental with an emphasis on mental. Jupiter is so very far from here and the wait is eternal in the end.
Our journey continues within the old progressive rock framework, featuring a spoken tale of classic science fiction, a tale of machines made by hoomans… but eventually these artificial servants have quietly succeeded in replacing their masters. Watch out for the "Demonic Machines" with vocals & lyrics by John Shirley, drums by Paul Sears, leaving all of the remainder to be performed by Jerry King.
At last we come to the end of this disturbing series of catastrophic destinations. You can pray or you can hunt your prey, but nothing will hide you from "Eye in the Cosmic Whirlpool" vocal & words by John Shirley, with sourcetrack guitar by Bret Harold Hart, earworms by Chad Wardwell, bass clarinet by Dave Newhouse, eyeballs by Jerry King. The young Howard Phillip Lovecraft is the protagonist once more, as he struggles with his predicament on the dark ocean beach. He tries to hide before the infinite night sky with the swirling strange vision stretching on and on, the eye is both hungry and curious. There is no reason to hide, the monster will simply crush him without even knowing he is there.
You are still here, you are stronger than I suspected. Congratulations, you may now continue to live for yet a while longer. And while you are living, you can listen to all this anytime you want to but only if you obtain permission from Jupiterworks, which can be cheerfully accomplished by making arrangements by contacting Bret Hart at his Handmaid Project website.
Nihonium
Six Kinds of Darkness
Black 44 – Avian Jupiter
Aluminum
In Stormland
Tungsten
Black 45 – The Nightmare
Molybdenum
The Crux of Matter
Gravity Well Extraction
Demonic Machines
Eye in the Cosmic Whirlpool
I highly HIGHLY recommend this experience and give it an energy quotient of 4+ because of the merciful and beneficent forces of darkness that hold us all above the zone of doom on clouded Jupiter while we beg for absolution and wait for the rescue mission to arrive. Always remember, RESISTANCE IS FERTILE.          Robin James

Moon Men 3 – MOON MEN 3:  It is cold up here but the echo is really great and the view of the moon is fantastic. When the fog lifts I can see the lands below too. My voice is tired now from the howling. You might be wondering what I am doing up here on top of Mt Tahoma, naked, in the middle of the night. I know exactly what I am doing. I am waiting for my ride. The Eeaughaffaux (spelled UFO) will be here soon. I have a few minutes to consider the music, or whatever you want to call it, that can be heard on the third album from the Moon Men. This, their album called 3… That ellipsis means "puzzled," I am puzzled. I have seen their catalog and the number 3 probably means nothing, but there is a Moonmen "Amazing Science Fiction Stories" which could be the first one, and a Moonmen 2, but then they go off the series with a flying bathtub and that could mean so much more ahead.
What will you hear? Funny you should ask. Electric guitars including a bass, drums, beat with real hands holding sticks and whatnot. Electronic ringing sounds that come from electric guitars. Brass. I hear the keyboards in there, everyone is playing together and the moon is rising. A good way to begin. Rock in a not-so-hard place, we would call this clever improvised instrumental rock, not progressive or angsty in any of those traditions. Everyone is playing together, not like those jazz guys who are… who knows, jazz tends to be highly traditional with the solos and everybody playing all free and such. These guys are not so jazzy like that. Also, there be no human ululations or emotive wailing with vocal chords… well, some rules are made for breaking. There is some muttering and incidental wording here and then, but no real poetry or that lyrical business where they use actual words and want you to pay attention to the language details, that old literary form structure with a verse chorus wurst. Therefore this is primarily and mostly an instrumental album. They mostly stay with that program, no wild virtuoso breaks, and with lots of hidden dimensions and dementions.
Bret Hart acoustic & electric guitars, casio, looping, electronics
Bill Jungwirth drumming, percussion, trombone
Jerry King acoustic & electric basses, trombone
Dave Newhouse saxophones, flute, keyboard
Why so many trombones? The truth is about to be revealed. There is no laugh track or theremin. Is this comedy music for a horror movie, or horror music for a comedy, or is this comic horror music for dancing, or is it trance music for horror comedy? So many questions. Let's get some answers.
PRESS PLAY NOW.  (Samples aren't available yet, but when I'm notified that they've been posted, I will come back and add them in)…

The movie begins and the lights go dim, or I am passing out again? "Fedora Moon" (4:05) The keyboard adds scary qualities, the bass and drums tell it directly and the guitars fill in the rest. Hungry? "Peas & Carrots & Grass" (6:49) The patterns make me think of loops, oh wait, loops are on the menu. So they intended to do that. Peace and care-oughts. Grass is growing tall up on the hill these days. The story is dark, and yes, there are the trombones, at last! They sound pretty good for a home made amateur comedy horror, just right. Textures, something the rock hounds do not usually feature (except in Europe), sort of a space jam in there. Must be the grass influence. Repeating. Looping, like riding past utility poles on the highway, a pattern with seemingly random crows to punctuate the rhythm. Never the same and always the same. Improvised horror comedy delux. "Coeur de Boeuf" (4:43) Drums bass and bold stout chunking guitar mumbling play. A heart of burf. Here is where the saxophones come on, building to a house in the clouds. What I said about there being no vocals anywhere on the album, forget I said it. Here are a few. I have an idea of what they are saying, but it is a vague idea, so maybe it still is more of an instrumental than a ballad or folksong, but those are human words and that makes it no longer purely instrumental on a technicality, but not forever.
Next. Here is where they get the flute out, with the guitars and drums and keys. I think someone is sharpening a knife. "The Dark Side of the Moon is Dark for a Reason" (4:43) The old Pink Floyd boys need not fear these new guys up there, plenty of room. Plenty of time. "And with Stars at her Feet" (2:43) The acoustic guitar emerges, draped in electronic ornaments, but they pick it properly. Every horror movie needs a love song. This is a short one.
"Nurse Ratched" (5:51) The name immediately makes me think of Louise Fletcher. Billy Bibbit would enjoy the circus atmosphere, I have no doubt, but what do I know, really, I am just remembering the movie. Mack would smile and wave his hands in the air the way loonies are supposed to. The perfect afternoon theme for crazies, like you and me. No hard times, they keep it light and strange. The brass is all clowning (no jazzing), with the guitars and keyboards. Easy beat, for fun and grins. Fun house dimensions, feet too big, hands even bigger, round red rubber nose, legs all spindly and that endless middle that spins. Here comes the nurse, shhhhhh, just play along, no fighting. It is just another day on the ward floor while the band plays on.
The toys have been wound up and are chattering away, this has a peppy beat to start off, then it grows claws that look cool in the darkness."The Mutt Stars and Cat Planets" (4:19) Spinning through the orbits, grinning through the escape velocity. Things change and there are some space episodes in the jam band box of tricks, with the faithful instrumental constructions. More of that flute business, and the keyboards sound like a real piano in places. The saxophones keep the blocks from falling down.
"Ennio Bopped Me" (7:22) It's good, it's bad, it's ugly. Whistling like a doomed cowboy at a gunfight on bean night. Noon symbolism, destroyed by the oompa beat that comes in, cowboys with clown feet. Ride em, jazz cowboy clowns! Git along leedle deputies. They keep making Western jokes with music, it wraps up with the cowboy dialog. Try not to look, but there are some Eeaughaffaux just sort of watching us from above, you can see them. There are horses too.
To sum it all up (as if that were possible) this is a fun laden ride through a wild landscape of home studio madness, mostly instrumental, but with some exceptions and well worth the price of admission. This is something you can share with people who know nothing about music and with people who know too much and have a sense of humor, you can share it with the kids and with the body in the tomb next door, it's all the same at the circus. Ya pays ya money and ya eats ya popcorn.
So that is the ears. What about the eyes? The artwork, the first thing you see is the artwork, does the artwork come before the music is made or do they make the artwork while listening to the music? We will never know unless they speak the truth, and why should they? The objective is to bring you in and show you a good time. So, let me start with the disc and work our way out. Shiny mirror on one side. The other side is different, the disc has the moon face, round of course with a hole in the middle, wearing a fedora with the number 3, which must be a hidden symbol, I dunno. Everyone used to wear a fedora, but that was long ago. Now so many wear those duck billed caps, but not on this album. Booklet interior: the big picture is of the four horsemen of the moonmen in full gallop in a cosmic cornfield overwatched by a bored moon, distracted and amused. Rear cover: liner notes with details such as song titles, personnel and what they contribute, small versions of other Moonmen products and the Eeaughaffaux (I am really not sure of the spelling but I am going to try to be consistent).
Front cover: the first thing you see and the last thing described, so your thoughts linger on this after you finish reading and light up your cortex when you next see it: hoooman skeletons who are always waiting for you to buy the Moonmen albums, and more Eeaughaffaux who are obviously on a mission, a dangerous mission, probably coming to rescue you from your misery. Get ready… They are coming. Coming for you. The Moonmen.
1 Fedora Moon
2 Peas & Carrots & Grass
3 Coeur de Boeuf
4 The Dark Side of the Moon is Dark for a Reason
5 And with Stars at her Feet
6 Nurse Ratched
7 The Mutt Stars and Cat Planets
8 Ennio Bopped Me
Highly recommended, BUY THIS NOW you will need it later. Energy Quotient of MAXIMUM (which is the most permitted for hooomans) RESISTANCE IS FERTILE.  To get more information, visit Bret's Handmaid Project website.   Roger and doubt, tonight that is spelled Robin B James
Rich Halley Terra Incognita
 Tenor saxophonist Rich Halley
Pianist Matthew Shipp
Bassist Michael Bisio
Percussionist Newman Taylor Baker
These four musicians each have amazing histories. Terra Incognita is their first album together. Bisio, Shipp and Baker created three albums together, The Conduct of Jazz (Thirsty Ear Records, 2015), Piano Song (Thirsty Ear Records, 2017) and Signature (ESP-Disk, 2019).
Rich Halley was born in Portland, Oregon (1947) and began playing clarinet at age 11 and tenor saxophone at age 15. Between 1965 and 1966 he lived in Cairo, Egypt where he played in a band with an international repertoire. Down Beat says that the "Oregon-based saxophonist Rich Halley has been turning out smart brawny music for a couple of decades." He interspersed periods of musical activity with time spent climbing mountains and exploring the deserts and jungles of the Western US, Mexico and Central America. Halley was educated as a field biologist and received a Master of Science in Biology from the University of New Mexico where he did research on rattlesnakes. His lifelong interest in nature has informed his music and led him on many trips into wilderness regions around the world. He worked for many years in information technology. He is married to Betty Halley and lives in Portland, Oregon.
In 1967-68 Halley played in Home Juice, a blues band in Chicago that included singer/harmonica player Jeff Carp, trumpeter Jordan Sandke, guitarist Paul Asbell, bassist Al McClain and drummer Paul Morris. In 1968, he moved back to the Western United States where he played in Latin bands, rhythm & blues bands and jazz groups in San Francisco, Albuquerque and Portland. His early influences included Sonny Rollins, John Coltrane, Dexter Gordon, Ornette Coleman and Albert Ayler as well as Jim Pepper, who was also from Portland. Halley performed in the experimental group Multnomah Rhythm Ensemble,  was the leader of the Lizard Brothers, and played in the cooperative band Jack's Headlights. In 2011 (with Michael Bisio), he released Children of the Blue Supermarket with poet Dan Raphael and drummer Carson Halley, also in 2011 his quartet released Requiem for a Pit Viper, and in 2012 Back From Beyond. Rich Halley is also the leader of the Outside Music Ensemble, and for 13 consecutive years the OME performed annual hike-in concerts on top of the butte in Powell Butte Nature Park as part of the Portland Parks Summer Concert Series.
Matthew Shipp was born on December 7, 1960 and is an idiosyncratic genius American pianist, composer, and bandleader, raised in Wilmington, Delaware. He began playing piano at six years old. His mother was a friend of trumpeter Clifford Brown. He was strongly attracted to jazz, but also played in rock groups while in high school. Shipp moved to New York in 1984 and has been appearing on dozens of albums as a leader, sideman, or producer. Shipp worked in a bookshop as an assistant manager, before making a living playing music. He was initially most active in free jazz but branched out, notably exploring contemporary classical, hip hop, and electronica. In February of 2011, Shipp released a monumental double-disc album entitled Art of the Improviser, and has been continuously improving his repertoire by touring the world and writing new compositions. Since 2011 Shipp has been collaborating with Barbara Januszkiewicz, exploring new territory through an avant-garde film called The Composer. Will Layman, writing for PopMatters in 2013, described Shipp's album Piano Sutras as "the kind of record we talk about and play for each other decades later… This is music that frames up a whole history: of an artist, of listeners, of the artists who formed the history of the art form, of the culture and time that allowed this art to flourish."
Music critic Paul de Barros calls Michael Bisio one of the heirs to Seattle's earthy yet innovative tradition, and marked his compositional style as "a spare, bluesy sound, the sweet-and-sour timbres favored by Charles Mingus." Bisio appears on over 100 CDs, leading on 12 CDs and co-leading on another dozen. He has composed over one hundred works which have been performed in clubs, concert venues, festivals, and broadcast over assorted media. Most have been recorded; some were composed for films and theater, with one composition that was used in animation for Karl Krogstad's film "Strings" (1985). "Beat Angel," (2004), a film by Randy Allred with Vincent Balestri, features Bisio's compositions and improvisations. In his film "Time & Object," animator Bernard Roddy uses "Something Different from Zebulon" as the score. Bisio composed music for "Music for American Voices: Bukowski, Micheline and the First Amendment," a play written and performed by Vincent Balestri. His album releases as a leader include In Seattle (Silkheart, 1987), Finger Wigglers (CIMP, 1997), MBEK (Meniscus, 1999), Undulations (Omnitone, 2000), Covert Choreography (Cadence, 2002), Composance (Cadence, 2004), Collar City Createology (MJB, 2009), Session at 475 Kent (Mutable Music, 2010), Three (Clean Feed, 2011), The Gift (Leo, 2012), The Edge (Leo, 2013), The Other Edge (Leo, 2014), Soul (Leo, 2016), Discovers (CIMP, 2016), and AM (CIMP, 2017). Michael Bisio also appears on numerous albums as a sideman with Matthew Shipp and with Joe McPhee.
Master Percussionist, Composer, Vocalist and Educator, Newman Taylor Baker at 2 years old received his first drum on Christmas Day and never looked back. His passion for the drum and washboard would take him all around the world sharing his knowledge, experience, and innovation through his solo drum set project, Singin' Drums and washboard explorations with THE EBONY HILLBILLIES and beyond – with his Washboard XT project, working internationally with a diverse array of jazz masters including Joe Henderson, McCoy Tyner, Henry Grimes, Kenny Barron, Henry Threadgill, Billy Bang, Leroy Jenkins, Diedre Murray, Ahmad Jamal, Lou Donaldson, Kevin Eubanks, Billy Harper, Sam Rivers, Charlie Rouse, and so many more…. Yes, that says washboard. Check it out! (https://www.youtube.com/watch?v=OfUyvPCsvKE)
For Terra Incognita some unknown earth is explored in the traditional jazz format, taking turns with solos while the rest of the band keeps the forward motion going, and they do it so well, you can hear the depth and power of these seasoned masters.
Baker brings us in with a light touch, the team takes on the task with a haunting wheeling melody, piano and sax playing back and forth and going in different directions while keeping the center strong, "Opening" (12:07) followed by "Forager" (11:27) where Halley opens up and the team breaks it down. They have this back and forth glide going strong where they finish each other's phrases and put together a meal with different flavors blended into a landscape. With "Centripetal" (6:17) Baker has it going on and sets the framework, fast breaks joined in a rapid rolling romp. My favorite is "The Elms" (4:36) which has a different speed. Slow it down, Halley gets us centered and provides some lovely lilting meditations. Plenty of room for breathing and working out the affairs of the day. Staying cool and building new structures, "Terra Incognita" (7:17) brings up some bop noodling, sketching out a fearless map for the title cut. To wrap it up comes an epic: "The Journey" (17:02). An extended drum piano synergy joined by the tenor and supported by the bass going deeper and deeper into the silvery shadows and bellowing waterfalls of transitive bliss.
This is an amazing exploration of mighty vistas: mountains and oceans, deep nights and wildly perfect days.
HIGHLY RECOMMENDED with an EQ of a perfect 4  Robin B. James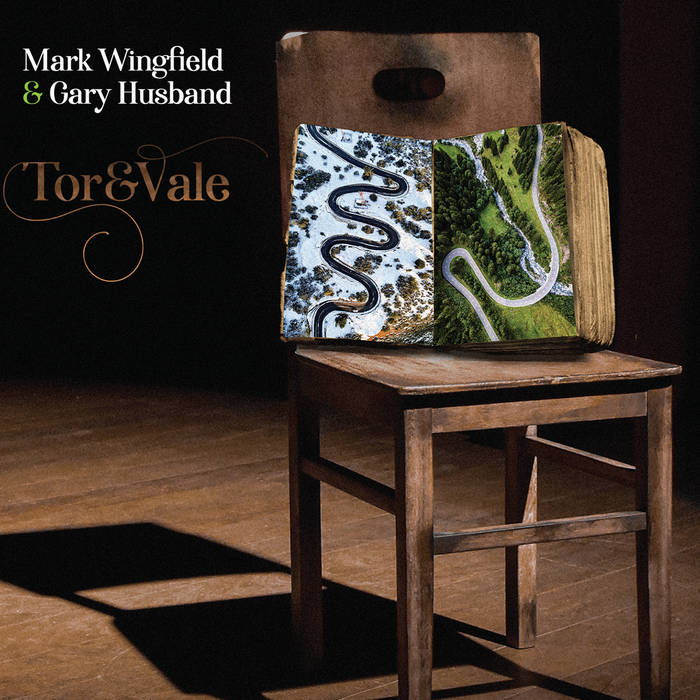 Tor & Vale – MoonJune Records/Dark Energy Music 2019: Mark Wingfield: guitar soundscape; Gary Husband: acoustic piano
Kinetic and focused jams, with frequent flights of fancy and elegantly improvised episodes of order & chaos. A sketchpad thrown open in the wind. There is a noteworthy synergy of this particular call-and-response guitar glissandi and enchanted piano, back and forth, together and contrasting. Two soundpoets calling and finishing each other's musical expressions in an engaging telepathic give and take, in the progressive long jam tradition. Tor & Vale was recorded by Jesus Rovira, with the assistance of Gerard Giner, at La Casa Murada studios (Banyeres del Penedés, Catalunya, Spain). At times the music is flowing like spring freshets in the high country, something too wild and dangerous to be written down. You can see this at work on a YouTube clip of the recording of "Tryfan," for Tor & Vale.
The Tor & Vale album features portraits of the guys that perhaps look a bit grim for how I might have imagined two gifted British prog rock-jazz musicians, clearly living the dream doing what they do best. Plus they are far and away from chilly aulde England, in the dry heat of sunny Spain, that by itself maybe should cheer the countenance. From this amazing bubbling spring oasis of music I would expect their faces to be glowing, even slightly sunburned from an inner cosmic joy, in a sober, musically serious and thoughtful way. Perhaps there is an additional strategic hidden facial expression dimension here to be savored.
Pondering and puzzling over the liner notes is perhaps a little too fascinating for me, I do not want in any way to distract from the fine kinetic prog rock and space jam music itself, the photographic portraits do not change the music at all. Tor & Vale is an outstanding improvised piano and guitar duet, an extraordinary surrealistic  soundscape. Tor & Vale is a vast musical diagram of complex emotional abstractions. Check it out!
"Kittiwake" (7:25) The feeling is brisk and layered, the name Kittiwake might refer to a species of gulls, black legged or red legged, who seek steep cliffs for nesting. "The Golden Thread" (8:19) is a playful synchronized journey, evoking a truly haunting melody. "Night Song" (5:48) brings a portrait of a dreamy moment, the landscape is implied but perhaps not actually seen in the vast inky darkness. The title track, "Tor & Vale" (16:28) presents an engaging back and forth as they explore a sequence of secret mysteries. "Shape of Light" (10:41) shines as a blissful slow instrumental meditation. "Tryfan" (9:37) ascends into new territory, the track's name might refer to a mountain in Wales, 3010 feet in elevation, part of the Glyderau group. The name Tryfan in the ancient tongue means three peaks or three tops. "Silver Sky" (11:59) illuminates a perfect glowing expanse, lightly articulated leaving lots of room for fresh breezes and the sound of new ideas. And finally, "Vaquita" (5:49) translates as "little cow," and is also the name for a species of porpoise once dominating the northern part of the Gulf of California. 
Gary Husband is very well known for his work on piano and drums. His expertise includes many diverse areas of music and his experience as a sideman puts him in the history books. Husband became a professional player on drums and piano at the age of 13. He joined The Syd Lawrence Orchestra at 16 as their full-time drummer, in 1998 he released his first (solo synth) album, "Diary Of A Plastic Box." He is celebrated for his Jazz fusion sound as well as Rock and Progressive rock. Husband is a member of John McLaughlin's group The 4th Dimension, Germany's Norddeutscher Rundfunk Big Band (check out "Dreams In Blue"), Billy Cobham's Spectrum 40 band, Allan Holdsworth and Jack Bruce, Level 42, and the NDR Big Band. As a session musician, Gary Husband has performed, recorded or toured with Jeff Beck, Robin Trower, Nguyên Lê, Lenny White, Randy Brecker, Soft Machine Legacy, Foley, Al Jarreau, George Martin, Quincy Jones, Andy Summers, Mike Stern, Dewa Budjana, Jack DeJohnette, Tony Levin, Lincoln Goines, Jimmy Haslip, and Antoine Fafard.
Mark Wingfield is a guitarist and composer based in the UK, well known for his contemporary classical jazz, rock, and classical music with delicious Indian, Japanese, and African flavors and interpretations. Mr. Wingfield has over 70 compositions and has spent his life touring, expressing himself magnificently, and recording with various jazz groups including SMQ and Scapetrace. Wingfield has recorded with Lebanese singer Samia Afra, Turkish musician Gökhan Özyavuz in Istanbul, and the emerging phenomenal Zambian musician KT Lumpa. Wingfleld's influences might include John Coltrane, Miles Davis, Keith Jarrett, Jan Garbarek, and of course, Jimi Hendrix.
Wingfield is one of the primary sonic visionary forces behind "The Stone House," the 2017 masterpiece of prog rock and a deeply felt MUST HEAR tour de force. Wingfield is known for his work with Jane Chapman, also as a solo artist and as one half of a long-running guitar duo project, with accomplished acoustic massive maestro Kevin Kastning.
To put the importance of Tor & Vale in context, I cannot say enough about "The Stone House" which was made one of Downbeat Magazine's Masterpiece albums of the year, recorded on Valentine's Day of 2017, and making a huge contribution and directional difference in the vast and expanding universe of progressive music.  VERY MUCH HIGHLY RECOMMENDED WITH AN EQ of 4.95  Robin B. James
Dom Minasi – Remembering Cecil:  Freely improvised solo guitar.  Cecil Taylor was a revolutionary improvisational pianist. Dom plays the guitar and I think he has achieved something very important honoring the sound of Cecil Taylor. The guitar is a microtonal instrument, it has been partitioned into the traditional 12 tones but you can bend the strings so the palette is actually much bigger than a piano, and there are so many ways to make sounds using an electric guitar. The sound here is unprocessed, made with pure skill and no studio effects. The music is expressed in tone clusters, polyrhythms and a generally percussive energetic physical approach. It is free meaning not in time, no time signature, and truthfully it is not for everyone. There are quick runs and rapid fire streams of notes, up and back, repeat and repeat, pound it, tickle it, pound it some more, then suddenly go into some entirely new territories. Things happen really quickly. The sound is not about chords or melodies, I hear textures and raw imagination. This style of playing has an unusual expressive effect that is a volatile mixture of ideas packed into a concentrated form. Minasi notes "To some free form means atonal, but it's not. It is a culmination of notes that can be beautiful or (to some) ugly."
In 1957 at the Five Spot Cafe something very important in music history happened, with jazz musicians such as Ornette Coleman and Cecil Taylor. In his early years Taylor played with some of the pioneers of free improvisation, including Steve Lacey, Buell Neidlinger, and Dennis Charles. His quartet made history at the 1957 Newport Jazz Festival. Later he played with Jimmy Lyons, Sunny Murray, and Andrew Cyrille. Taylor performed some important solo concerts in Amsterdam and Berlin. In 1986 came the Feel Trio with William Parker and Tony Oxley.
The free improvisation community where Taylor thrived and was incandescent included John Coltrane, Derek Bailey, Evan Parker, Han Bennink, Tristan Hornsinger, Louis Moholo, Paul Lovens, Dewey Redman, Elvin Jones, Mat Maneri, and the legendary Albert Ayler. In 2000, at the beginning of the new millennium, came the Cecil Taylor Ensemble, and the Cecil Taylor Big Band, with such notables as Joe Locke, Max Roach, poet Amiri Baraka, Albey Balgochian, Jackson Krall, and Tony Oxley.
The percussive technique used by Taylor has been famously described by photographer Val Wilmer as "eighty eight tuned drums" because of the way the notes just fly.  Taylor himself said in 1966, "I try to imitate on the piano the leaps into space a dancer makes." There is no conventional dancing to this sound, no relaxing, this is art so sit up and listen. "I ask that you keep an open mind to what you are going to hear," says Minasi in the liner notes. "I do not use any effects."
According to Dan Bilawsky from All About Jazz, speaking about Minasi, "The indefatigable guitarist has no interest in sonic safeguards or insurance. He's a law unto himself, creating music that speaks to his intelligence, fearlessness, and mischievous nature. And while Minasi has been at it for half a century, he shows no sign of slowing down or taking an easy road."
Dom Minasi became a professional musician when he was 15 years old and in 1962 he became a teacher while working full time as a musician. In 1974, he was signed to Blue Note Records, and had the opportunity to play with Arnie Lawrence, George Coleman, Frank Foster, Jimmy Heath, Roger Kellaway and Dave Brubeck. He is well known as the major composer for M.I.C.E. (Manhattan Improvisational Chamber Ensemble). Minasi is a man of many interests and abilities, for example he has composed over three hundred children songs. He and his wife Carol formed CDM Records to take more control over his sound. He had great success with his recording Takin' The Duke Out, playing Ellington the way he "heard it" and later with The Vampire's Revenge, a double disc set of almost two hours of music that was named as one of the best recordings of 2006. Minasi is truly a giant of the Avant Garde.
Improv 1 (15.03)
Improv 2 (10.05)
Improv 3 (7.36)
Improv 4 (12.13)
What I hear is chaotic noise that is sometimes difficult to endure, but in that cacophony there are these wonderful and amazing passages and breaks of pure magic and that is what makes this crazy music so awesome. There is a reason that avant garde musicians are celebrated and famous, that is because they have gifts and talents that are unique and phenomenal. They make history. This is the real thing, it offers some problems to the widest possible audience, but for the essential few the connection is clear and strong, and what you will experience is revolutionary jazz that is both life affirming and transformative.  HIGHLY RECOMMENDED EQ 4        Robin B. James
The album is titled Spirit Calls and is pretty much all about the flute, except for just one song, played on Steve's more famous talent, the saxophone. Grammy Award winning Steve Slagle brings us the breath of many flutes, the silver sound, the woodwind sound, and the bamboo sound of the Indian Bansuri Flute. Someone has been loosing their flutes in old dark caves as far back as 43,000 years ago, and you know they went into those caves for the incredible sound the echo makes. This album has none of the echo and all of the modern studio sound, a perfect recording of jazzmen at work. Flutes have been played and warbled by people in love, professional musicians, and lonely shepherds in South America, Africa, India, China, Japan, Madagascar, the Caucasus region and throughout Europe, and just about everywhere on the entire planet. Dig it. Steve Slagle has much more recently released this ten song album, fifty-six minutes and thirty seconds of true music, featuring some of his awesome playing of the edge-blown aerophone. He is joined by masterful bass, perfect percussion, perfect piano and one number featuring an awesome and tastey electric guitar. Specifically, just exactly who is playing what? Let me tell you. Let me list the talent.
Steve Slagle: Haynes Flute, Alto Flute, Indian Bansuri Flute (and Alto Saxophone on "Spirit Call")
Ugonna Okegwo: Bass
Roman Diaz: Congas and Percussion
Jason Tiemann: Drums and Cymbals
Keith Brown: Piano
John Scofield: Guitar (on "Luiza")
Overall this is a warm and wild way to spend those fifty-six and a half minutes. The album starts with a number from the New World Symphony by Czech composer Antonin Dvorak, first performed in 1893. "Goin Home" (6:15) starts with a solo flute and has just a hint of some serious extemporaneous spontaneous exclamations here and there, followed by the band: Roman Diaz solid on the congas and percussion, the illuminous Ugonna Okegwo fretting the bass (there is an extended bass solo in this number), Jason Tiemann tapping on the drums and cymbals. "Luiza"" (6:57)  was composed by Antonio Carlos Brasileiro de Almeida Jobim, a flute-centered tune with John Scofield on guitar. This is the gem, this is my fave, one of the main places where the cosmic groove lives, a relaxing and thoughtful place to be. This is my first favorite on the album. Now let's get up and move around, feel good and call it dancing, "Hey Papa!" (3:53)  was composed by Steve Slagle and you can hear Roman Diaz keeping the congas and percussion, with Ugonna Okegwo fulfilling the bass. It's a tight feeling between the bass fulfillment, the conga hands and the "gold" sound of the breath-driven music maker. I love hearing the rare and human sound of one of the musicians soulfully grumbling down so low and getting some spirited growling in the mix every once in a while.
Originally this next number was painted as a piano picture, here it has a fabulous flute flair. "De Drums" (8:54) was first performed by Keith Jarrett and released in 1973 on Jarrett's album Fort Yawuh (on the Impulse Records label). Bringing this to us as a silver sound when it was first an ample and solid piano and saxophone construction is truly an amazing accomplishment. Mr. Slagle is joined by Mr. Roman Diaz playing Percussion and Congas, and you can feel Mr. Ugonna Okegwo loving the Bass, and Mr. Jason Tiemann providing the celebrated key ingredient, the Drums (and Cymbals).
New song, new feeling, take it down a few turns with "Rolling Circles" (6:36) which was composed by our main man Steve Slagle and delivered here and wow by the main men Keith Brown on piano, Roman Diaz poppin' the congas and percussion, with the soulful support of Ugonna Okegwo's amazing bass, Jason Tiemann doing it right on the drums and cymbals. Now for the next going, the boys perk it up with a saucy French accent, "Bijou" (4:49) has a lively pace and serves as a forum for the spirits, the song was composed by Ralph Burns. First performed with the Woody Herman Band in the 1940s and 50s, this version features the sound so silver of Steve Slagle, accompanied by Roman Diaz on congas and more percussion, with Ugonna Okegwo doing the bass. This one is really my favorite. The other one I first said was my favorite is good too.
Breathe out now, this next one has a sad feeling but simultaneously has a fresh and steady life force to it, the title is "Estate" (5:14) and was composed by the celebrated pianist, singer and composer from Rome, Bruno Martino. Warbling silver singing on the transverse magic wand is Steve Slagle, with Roman Diaz performing the percussion and the nimble Ugonna Okegwo boppin' the bass around. Next it is time to get down and get thumpin' on "Dizzy's Business" (4:06) composed by the American saxophonist Ernie Wilkins, who by the way, in addition to writing this one song here, was with Count Basie for several years as well as writing for Tommy Dorsey, Harry James and Dizzy Gillespie, and was musical director for Cannonball Adderley, Dina Washington, Oscar Peterson and Buddy Rich so you know it is tried and true awesomesauce. This duet is a dialog deep and soulful between silver lips Steve Slagle and Ugonna Okegwo on the bass. Next, right here on your stereo listening temple tonight or whenever you get to it, awaits for you the title cut, the singular "Spirit Call" (5:26). Composed by Steve Slagle himself, this is the one song on this entire album that has the sax and no flute. Mr. Slagle is the King of the swingin' Yanagisawa saxophone, and he has brought along accompanying him on this song the one and only Keith Brown on piano, Ugonna Okegwo on bass, and Jason Tiemann doing the drums with the cymbals. This takes the giant steps in a traditional direction, you will know it when you hear it. To wrap it all up is the legendary John Coltrane's "Expression" (4:16). Yes, it was composed by John Coltrane, here hear no saxophones but yet you know it, and it sings on the wing, from the root comes the flute. Ugonna Okegwo stands with Steve providing the essential foundation for the one woodwind on his perfectly delivered bass.
Steve Slagle served on the faculty of Manhattan School of Music for 20 years as well as associations with Rutgers University, NYU, New School in NYC, William Paterson, NJ and Suny Purchase as well as master classes and clinics world wide. So far Steve has released 20 CD's as a leader and has contributed his awesome talents to many more jazz compilations and collaborative projects. He has been the musical director of the Mingus Big Band for many years and he has received two Grammy Awards, one for recordings with the Mingus Big Band and one for his contributions with Joe Lovano's nonet. He has played with Stevie Wonder, Machito's Afro-Cuban Orchestra, Steve Kuhn, Lionel Hampton, Jack McDuff, Charlie Haden's Liberation Music Orchestra, Brazil's Milton Nascimento and band, Carla Bley Orchestra, Ray Barretto, Beastie Boys, and many others.  HIGHLY RECOMMENDED, EQ 3.9        Robin James
Cory Weeds Little Big Band –  Explosion:  Exploding big jazz band with that swingin' and boppin' sound, from Vancouver BC, and on these nine numbers there is no vocalist, this is all the amazing Little Big Band sounding like a much bigger band of groovin' professional instrumental jazz magicians of the move-ology. The Vancouver great music community is well seasoned and they know how to make a great big jazz band. It sounds like a thousand million thrillion notes but its all from an eleven piece full brass band. The really really big bands would have twenty or more musicians. A band is a whole bunch of people making something happen, something they are good at and they enjoy doing it, and if it is done right, and these guys are doing it right, it is a fun thing to behold. Everybody has their part, they are all trading turns soloing, doing their thing. That is probably what makes a band successful, being able to project the joy into the performance so that the audience is catching that joy happening and that is what makes everyone happy.
There is a video on YouTube (https://www.youtube.com/watch?v=pjW1r0_bDXQ) that is all about this whole project, it's called Cory Weeds Big Band Explosion, featuring the one and only "Little Big Band" recorded at the only and one Bryan Adams "Warehouse" studio in the one and only British Columbian Vancouver's famous and fabulous Gastown neighborhood.
Here is who, and what they do:
Cory Weeds doing the Tenor Saxophone
PJ Perry doing the Alto Saxophone
Steve Kaldestad doing the Tenor Saxophone
Gary Smulyan doing the Baritone Saxophone
Rod Murray doing the Trombone
Steve Davis doing the Trombone
Joe Magnarelli doing the Trumpet
Chris Davis doing the Trumpet
Chris Gestrin doing the Piano
Paul Rushka doing the Bass
Jesse Cahill doing the Drums
Jill Townsend doing the Conductor thing
We start things off with a "Minor Mishap" (6:04) written by Tommy Flanagan; contains an elegant trombone and trumpet dialog and the drums get a large showcase,  arranged by Bill Coon. Next comes "Soon" (6:01) by the masterful George Gershwin and showcases the whole line from piano to brass, they all shine. Arranged by Jill Townsend. Before you know it we are "East of the Village" (8:05) and the band has a swingin' number with a real tricky beat, a nice workout for the tenor saxophone, this one was written by Hank Mobley and arranged by Bill Coon. Bring it on downtown with "Park Avenue Petite" (6:08) nice and slow, with a bluesy feeling and deep thoughts, by Benny Golson, arranged by Jill Townsend.
I can hardly hear you because I am so much listening to this tasty uptempo music, but I think I heard you say with some satisfaction that "My Girl is Just Enough Woman for Me" (6:55) Dorothy Fields and Albert Hague wrote this, and it was arranged by Jill Townsend. Let's get up to the northland for a royal "Canadian Sunset" (7:23) written by Eddie Heywood and arranged by Jill Townsend. It's got that crazy beat, out and about in your boots on a boat, to feel the summer heat and repeat. Blowin' smooth and crazy, working through the twilight. Real gone man.
Get on up now and join the floor, with "KD's Motion" (6:03) that gives me a notion to look for that ocean. Kenneth Dorham wrote it and what you will hear here was arranged by Bill Coon. Each and every one of us has probably at one time or another during our lives asked for the great masters way up there somewhere to "Please Send Me Someone To Love" (7:03) this sweetly swingin' classic popular number was written by Percy Mayfield and arranged by Jill Townsend. You know the words, "if it's not asking' too much…," you can sing your own private solo with the band lifting you up, go ahead and beg for your heart one more time, with feeling.
To bring it on home, this is a jumpin' number, let's just see if you are still "Ready & Able" (6:38). Jimmy Smith wrote it and Bill Coon did the arrangements.
This is one heck of a swell way to spend some mighty fine brass time, listening to these amazing musicians do their thing. There are a lot of them and they sure know what they are doing, they have it together, they have the gift, and they bring it on over to you so you can get it and get happy on this groovin' swingin' day. You wont regret it, you better let it in and take it on, full swing ahead I tell you.
Highly and very recommended, with an energy quotient of a hot 4.899999 
1 Minor Mishap (6:04)
2 Soon (6:01)
3 East of the Village (8:05)
4 Park Avenue Petite (6:08)
5 My Girl is Just Enough Woman for Me (6:55)
6 Canadian Sunset (7:23)
7 KD's Motion (6:03)
8 Please Send Me Someone To Love (7:03)
9 Ready & Able (6:38)
Robin B. James
Lenny Marcus Trio – Gloria's Step:  Straight on jazz, but its more than a trio. There is a whole lot happening without the conceptual restriction of a thematic album, this is a compilation of great tunes. Each track has its own thing going on and does not require context or following a progressive evolution to exist. Thirteen jems on a string each one strong and self sufficient. Its all about the joyful piano supported by the energizing combo of many dimensions.
Lenny Marcus: acoustic grand piano, flute; Rick Eckberg: double bass, fretless electric bass; Larry Scott: drums; Vladimir Espinosa: percussion; Brian Mesko: guitars; Ken Hitchcock: flutes, saxophone
Bartolomeo (3:15) Great energy, tight band, the guitar takes the melody followed by the flute, and the foundation of traps, piano and bass all together keep it strong.
Gloria's Step (3:15) Slow it down to open, then it suddenly brightens up, piano takes the front. Lots of razzle-dazzle as everyone takes their solo.
Morning Has Broken (3:44) Published in 1931 by Eleanor Fageon, but the tune is much older, it is  from the Scottish isles and titled "Bunessan." Cat Stevens recorded the first version I ever heard but this rendition has no vocals. It's an old favorite done in a light and breezy way, very enjoyable. Be sure to remember to give thanks for each day!
This Life, Next Life (4:37) The trio with piano is joined by flutes and makes a strong statement about pushing through positively with a sparkling piano flourish at the end of the tune.
Weather Forecast (4:46) Drum-sax-guitar groove, the weather is going to blow bright and good times are predicted, so leave your rain gear in the car. The piano makes it happen, the guitar sends it sailing and the sax brings it all home again safe and happy.
Contemplation (5:29) The bass sets the pace, the home crew moves it along, piano and traps warmed up by the flute-guitar team and then the sax takes a round, a fast paced sparkler.
Game of Thrones (2:30) Piano mainly, joined by the bass, a haunting theme variation, full and satisfying.
Welcoming (4:33) The trio with a clean electric guitar creating a solid theme for your visit. Nice shift half way through, keeps the host's greeting fresh.
Festival in Bahia (4:04) The Latin groove is here, a nice conga spice added to the band's ample groove. The piano goes crazy at times and the percussion expands, there is a call to play it again and again, and you probably will.
Song For The Full Moon (3:27) This is the one! This is the best of the batch of great tunes. This is the one you want to hear muchly again. This is the one you will talk about. Guitar and magical percussion, haunting piano with two interlocking bass foundations.
The Storm (5:28) Full house, everyone takes hold, the storm is not dark and threatening, its a pleasing breeze that gets complicated as it builds. Overall, this storm is refreshing.
Egrets (4:58) Theme supported by congas, plenty of flutes, the repeating melody stays engaging and keeps the journey interesting as it permutates and unfolds all the way through the sax solo and well back to the sunny place it started from.
Dolphins (2:58) Piano and guitar tell the tale, swimming through the tropical blue. Go again!
Overall, a master groove, OH SO HIGHLY RECOMMENDED! EQ of 3.99         Robin B. James
Grayhawk – Voice of the Ancestors: A gentle journey through ambitious large territories, mostly from ascendent perspectives. This global journey is mostly instrumental but there are some wonderful blendings of languages and cultures in this sonic quest for peace and understanding as well as acceptance of the fullness of the cycle of life we are all experiencing together in our own individual ways. Feel the celestial breezes and hear the blended instruments as they awaken our senses, bringing a newly strengthened feeling of peace and acceptance. The entire album speaks of calm and reflection, with softly trembling flutes, tiny bells, weeping strings, and sparkling harps supported by a mostly transparent and comforting warm bath of cosmic synthesizers. You are at home here, breathing out and floating through the mists of sound and spirit.
This is the third part of Grayhawk's Shamanic Trilogy (Shamanic Journey, Blissful Magic – Spiral of the Celtic Mysteries)
Grayhawk          keyboards and synthesizer
Hai Phuong       dan bau
Wouter Kellerman          flutes
Amy Shulman    concert harp
Brad Dutz         percussion
Windwalker Dorn           native flute
David Vito Gregoli         guitar
Jill Haley           english horn and oboe
Karen Olson      viola
Kirsten Vogelsang         cello
vocals: Randy Crenshaw, Windwalker Dorn, Darlene Koldenhoven, Ofir Engel, Bahman Mojallal
Transcendent Soul (3:12) The sun is rising. The loss of an infant is probably the hardest thing that a parent can endure, and from this terrible crucible comes a calm acceptance and joyful greeting or signal to this precious spirit as it makes its way from this land to the next, to dwell with the ancestors. If you did not know of this origin of the song, the music would simply bring a sense of gentle calm and great peace. Flutes and harp with a little bit of everything in a nice light and sparce broth.
The Banteay Srei Temple (4:57) A precious jewel of Khmer art, located in Angkor Wat, Cambodia displaying carved sandstone tableaus of maidens and humans with animal heads, a 10th century temple devoted to Shiva, the Hindu creator, maintainer and destroyer. Harps and flutes guide us through the meditation with tiny bells and featuring the dan bau, a traditional one-stringed Vietnamese instrument that cries and comforts.
Guardians of Goddess Vhien Hau (6:07) Southern Vietnam's Holy Mother of the Realm Ba Chua Xu is a tutelary of health, business and a protector of the border, and the image of the Lady of the Realm according to custom is said to have grown naturally from stone on Sam Mountain near the boundary between Vietnam and Cambodia. This mystical meditation features the dan bau with a bit of harp and the rapid pulsing notes that are prominent in the local folk music found in this part of the world.
Voice of the Ancestors (8:40) Holy synthesizers and patient steadily paced percussion lead the way into this meditation with vocalisms and sparkling shimmering little bells. There is a flute choir all the way from South Africa, blended with Native American flute contributions creating a breathtaking cross cultural synergy of shamanic energy. This was originally titled "Magnificent Angkor Wat" and has some subtle ambient guitar flavorings that stay hidden in the exquisite sonic cuisine.
Peace Prayer A'capella (1:49) Peace to you. End the warfare, let go of the hatred and revenge. This is a prayer for all people throughout the world and is always current.
Peace Prayer (10:11) Percussion leads this extended meditative dance, we all know the words now from the acapella version. The entire orchestra emerges, magnificent and grand, with chimes, horns, synthesizers and strings with the choir featuring solo voices leading the ceremony. The languages heard include English, Hawaiian, Gaelic, Hebrew, Farsi and Arabic.
Ambient Meditation (8:07) Tiny bells with dan tran open our study of peace and reflected wisdom, this leads to sparkling wisps of chimes and flutes from around the planet. All is bliss, all is serene, all is shining.
Peace Prayer (short version) (5:06) The message remains the same for all people throughout the world. Peace to you. End the warfare, let go of the hatred and revenge.
This New Age recording serves to transform the pain of loss and to open new awareness to world peace and transcendence, while including a few deep meditative visits to some holy spots in Cambodia and Vietnam.  HIGHLY RECOMMENDED EQ 3.8 Robin B. James
No vocals, a man in his sound lab working alone creating magic. Soft synthesis, sound design, performance and production using Nektar Impact LX61, Alesis DM8 Pro Kit Electronic Drum Controller, Presonus AudioBox 1818 VSL, AKG K 240 MkII headphones, Tannoy Reveal 501a Monitors, Mackie 402VLZ4 Mixer, and a Apple Mac Mini (Late 2014) (OSX 10.10.5 Yosemite).
This is a huge body of work. Pillars of Light (not to be confused with Palace of Lights in Seattle) is based in Arizona. The keyboard is prominent and the masterful bass and percussion complete the audio pictures. Mr. Vale employs tuned wooden percussion, bells and chimes, strings including dulcimer, violas, bass, harpsicord and  synthesizers provide an immense palette of sounds running an adventurous gamut from sounding like a basic piano to strange sounds that must have originated in deep space and other never before heard from territories. I find this work to be perfectly suited for cinematic applications, building emotions and guiding attention in very specific ways. There is a vast array of dancing percussion, textures with no beginning or end, processional etudes, sounds of rushing fluids heard through a tube, dramatic mysteries heard in semi-darkness, elegant harpsicords, insane ringing, dramatic episodes reminiscent of the climactic light show in 2001 A Space Odyssey. The songs usually start with a single instrument and then commence with building, always building.
Here are three of his best albums, please visit the Pillars of Light website for exquisite details and sounds.
The Age of Shamanic Trance
Harlan Mark Vale, 2017
01 The Age of Shamanic Trance (8:59)
02 Dulcimer Violas Bass (2:34)
03 New Birthday (3:33)
04 Voices From The Liquid Dream (9:01)
05 Ibza Night (5:27)
06 Spring Equinox (1:46)
07 Above Expectation (5:04)
08 Ferryman (5:02)
09 The Emerald Forest Night (7:09)
10 Light Echoes (10:18)
11 The Other Side of the Universe / Blurred Faith (16:41)
12 M19 v4 (5:08)
Evolving Through Lifetimes
Harlan Mark Vale, 2017
01 LUX (8:44)
02 Dharmapala / The Dharma Protectors (6:09)
03 Banister Alchemy (5:03)
04 Stretching Doors (5:56)
05 Replace Me With You, O Grace (6:09)
06 Forgotten Time (5:46)
07 The Weaving of Stars (7:11)
08 Structured Angels (7:19)
09 Phosphene (5:28)
10 Unidentified (8:35)
11 Evolving Through Lifetimes (7:26)
Wear The World Like A Loose Garment
Harlan Mark Vale, 2017
01 Grateful That You Are (5:03)
02 Velvet Granules (7:22)
03 Tomita's Couch (3:29)
04 Prism (5:37)
05 Mystical Calling (4:59)
06 What Comes Next (8:06)
07 Hyperethesia / Fall of the House of Usher (4:43)
08 Gangsa Gantung (5:46)
09 Angular Inertia (5:04)
10 Implosion of Grasping (8:06)
11 Pastoral Pipes (7:02)
12 The Crystal Pathway (3:51)
13 In Memory of Allan Holdsworth (7:23)
HIGHLY RECOMMENDED with an EQ of 4.9  Robin B. James
Mikrojazz – Neue Expressionistische Musik: This is interpreted and sometimes freely improvised microtonal harmonic jazz, with a special interest in the little places between the 12 regular notes in equal temperament heard on our most familiar musical scales. This feels like experimental instrumental explorations that you can tap your toe to, it's something to appreciate while giving it your full attention and perhaps not something you would put on for background soundscape to accompany anything else you might be doing. Or maybe not, maybe at times you dig some ambient soulful jazz dissonance with a beat. Some might call it Middle Eastern blues gamelan.
The space between regular notes can sometimes stand out and be heard as a wrong note, but to sophisticated listeners instead it is a powerful and multicolored utilization of more instrumental possibilities, and the more you listen the more interesting a range of sounds you will hear. The further you get from home the stranger things can seem, which might be why you sometimes go all the way out there to visit. The saxophone based aspects of this music utilize a scale with 128 notes in an octave, instead of the regular 12 notes, while the guitar slides and curves countless notes in wonderfully strange ways. It's not sounding like science, it just all happens on that strange tiny scale and it can positively change your palette of listening.
The promotional accompaniment that comes with Mikrojazz – Neue Expressionistische Musik refers to pairing each song with a German Expressionist painter or artist, including Georg Grosz, Emile Nolde, Ernst Ludwig Kirchner, August Macke, Egon Schiele, Max Beckmann, Otto Dix and the American painter Jean Michel Basquiat. I did not get any such pictures in the Press Contact version I received, maybe when you buy the album you will. It makes sense, German Expressionism, well…, okay maybe it's not supposed to make perfect sense for you to dig it.
Philipp Gerschlauer       alto saxophone
David Fiuczynski           wicked whammy bar fretted and fretless guitar
Georgi Mikadze microtonal keyboard
Matt Garrison    fretless bass
Jack DeJohnette           drumming legend
Mr. DeJohnette brings his "abstract thinker" drumming style, he has played with fusion jazz giants including Miles Davis, Charles Lloyd, Freddie Hubbard, Keith Jarrett, Bill Evans, John Abercrombie, Alice Coltrane, Sonny Rollins, Joe Henderson, Michael Brecker, Herbie Hancock and John Scofield as well as for a time frequently sitting in with Sun Ra and he also can be heard on three recordings with the John Coltrane Quintet. DeJohnette was born in Chicago and began as a pianist, before switching to drums.
Gerschlauer was inspired by French composer Gérard Grisey and Paul Desmond and has been independently exploring the world of microtonal music in Berlin and New York. Fiuczynski heads up the Planet MicroJam Institute at the Berklee College of Music in Boston. It makes sense that they would play together and Fiuczynski invited Gerschlauer to Berklee to present his music and talk about playing microtonal saxophone and of course also playing with Berklee's resident Planet MicroJam Ensemble. According to the program notes, Fiuczynski has been operating on the fringe for decades, flaunting mondo-chops with his avant- jazz-funk band Screaming Headless Torsos in the early 1990s, as a member of Hasidic New Wave in the late '90s and in collaboration with keyboardist John Medeski on 1994's Lunar Crush and subsequently with his KiF trio and experimental Black Cherry Acid Lab.
Mikro Steps (4:34) Giant bending and fancy stepping, bringing a very complex new dimension to the original masterwork Giant Steps. It melts and that is a fantastic new way to experience conventionally felt music.
Fur Mary Wigman (7:02) Strange shadows and odd slow colors whirl and turn, a poem (no words only sound) about a complex dancer who took off her pointe shoes to dance for her art and brought us all new forms of expressionist dance or Ausdruckstanz. Mary Wigman was born in 1886 and pioneered/choreographed what became known as New German modern dance from 1920 through 1942 in the high Weimar German culture, which influenced the entire foundation of fine arts dance at that time. She passed away in 1973.
Lullaby Nightmare (3:37) Starts with the microtonal keyboard and moves steadily into dark dreamy caverns with large fish swimming below, never seen. With the night motions there is what sounds like a toy piano, and that brings a complexity unexpected.
MicCroy Tyner (7:31) Saxophone traditions that melt in your afternoon or evening, the guitar somehow otherwise brings in some strange birds that dance, the keyboard keeps adding textures and the drum/bass keeps it all on time so you just float. McCoy Tyner is a left handed jazz pianist from Philadelphia and he made history with the John Coltrane Quartet in addition to his stellar solo career.
Umamung (5:04) Mr. DeJohnette brings us in, joined by the team to create a strange steady unfolding song which I find to have the effect of the way that the light from the sun and the shadows meld together during an eclipse.
Last Chance (4:26) Keyboard/sax careful building, a tale of kingdoms and times that melt as the story develops. The bass has a nice long bending passage and is waving a bit of magic to enjoy.
November (6:47) Chaos in the wind, this one has more energy and complexity than what we have heard so far. It's good to ride on blowing leaves sometimes. A fusion powered melting jazz showcase.
Hangover (7:56) Slow it down, keep the lights low, roll back under the covers and enjoy that melting dream some more. Don't go anywhere for awhile, just relax. Your head is going to be just fine if you let it wander lightly. I like this one the best.
LaMonte's Gamelan Jam (6:32) La Monte Young is a minimalist of the avant-garde flavor, he is well known in the downtown and Fluxus scene. This number has an Indonesian groove painted with the fundamentally western instruments, lots of trees and rocks melting by the ocean in the fog. There is a strange monster way out in that ocean, but this song only brings the mystery, not the danger.
Walking Not Flying (2:57) Walking bass and saxophone with the melting microtonal guitar-keyboard bells, I think this one does fly.
Sofia Im Tuerkischen Cafe (3:44) Sophia is wise, and in a Turkish Cafe you are served in special small cups, a very delicious sweet hot dark beverage. Sofia takes her time and savors the strength of this extraordinary treat.
Zirkus Macabre (3:21) Your head just fell off.
This is recommended as highly innovative exploratory work of the microtonal idiom, HIGHLY RECOMMENDED with an EQ of 4.8          Robin B. James
Roswell Rudd – EMBRACE:  A clever and innovative trio supporting an awesome romantic vocalist. These are all covers of established standards and major works, but they have been interpreted in such a way that they are often truly highly original sounding. This is wise old sadness, done perfectly.
Roswell Rudd: Trombone
Fay Victor: Voice
Lafayette Harris: Piano
Ken Filiano: Double Bass
Something To Live For (8:22) Relaxed, slow, easy, moody, and pretty. Original dream by Billy Strayhorn and Duke Ellington.
Goodbye Porkpie Hat (6:39) You read the title and if you know the song you immediately get a whiff of that certain slow walking saxophone sound, Seamus Blake is the saxophonist on the original recordings, and the composition is an homage to Lester Young. When you hear the recording here, eventually there are places that link to the original and you go "oh yeah!" but I had no idea this was a cover of a Charles Mingus tune the first time I heard this recording. Plus this version has new lyrics too! This is a great new recipe for a fine old dish.
Can't We Be Friends (7:46) A tale of disappointment, maybe you have heard the original by Paul James and Kay Swift. This is a classical triumph, jazz night with no cigarettes and I like it so much better now. Play on and on, all through the evening.
I Hadn't Anyone Till You (7:20) Growling lady and trombone, brings up some real sweet and naughty gravel. Ray Noble smiles, another broken heart song.
Too Late Now (11:34) This is an instrumental, with bowed viol music and is based on Burton Lane's originally haunting original composition..
House of the Rising Sun (8:17) The traditional sad story of ruin and misery. Watch out lest it happen on you too. Oh my Lordy,. so well done here, its new again.
I Look In The Mirror (4:38) Bright and upbeat trombone sass with the playful lyrics of Verna Gillis scattering the groove and keeping us snapping and popping.
Pannonica (10:32) A thoughtful exploration of a fantastic tune by the amazing Thelonious Monk.
Do it, buy this album and melt away your troubles each time you play it, listen to these stories sung and lived, feel the release and know that all is good, know that love is eternal and impossible, just listen!  VERY VERY HIGHLY RECOMMENDED with an EQ 3.8       Robin B. James
The Royal Krunk Jazz Orkestra: Get It How You Live  This is a real treat! An original big band jazz sound supporting vocalists Dionne Farris and Dashill Smith. This is the funkish side of R&B with a tiny flavor of Hip Hop spice, and all big band sound, all luxury. Russell Gunn is the producer, conductor, arranger, composer, trumpet player and Wes Funderburk is the awesome arranger. Recorded at the Ray Charles Performing Arts Center at Morehouse College in Atlanta, Georgia. Mixed and Mastered by "Super" Dave Darlington at Bass Hit Studios in New York. This is a great band for just relaxing and getting your night out properly illuminated. This is a sweet time. You get the services of a whole village of musicians doing the professional things that they do.
Who is doing all this? Here are the master musicians:
Trumpets: Russell Gunn, Curtis Watson, Lee King, Melvin Jones, Daniel Harper, Ali Barr, Darren
English
Saxophones: Akeem Marable (alto), Brian Hogans (alto), Mike Walton (tenor), Jamel Mitchell
(tenor), Eric Fontaine (bass) (also alto clarinet), James Robertson (alto)
Trombones: Saunders Sermons, Derrick Jackson, Derrick White, Tom Gibson
Rhythm: Che Marshall (Drums), Tabari Lake (Bass), Phil Davis (Keys), Rod Harris Jr. (Guitar), Ali
Barr (Percussion)
So what are they doing with so many folks?
Get it how you live (1.45) Brings us in for the party, with a crowd and a male voice making the
introductory soliloquy. The brass titters and grooves. Can you dig it? Oh yeah!
The critic's song (4.47) Bursting in with an insistent groove, big brass with a tight polish. Gets you
up and moving, all big and dazzling.
Fair (11:34) Now we meet the fine female vocalist, layers of horns with mystery, singing about the
complexities of modern romance. This one has lots of room to savor. The fair is not fair.
If I ever fall in love (3:35) The trumpet leads the way, setting up the landscape for the story which
is about unspoken romance.
Sybil's blues (featuring Theo Croker) (5:03) Theo sets it up, the guitar brings us in, and the whole
band takes off. Get on up and move!
Hopeless (6:59) Back in the arms of a more subdued groove, she tells us how she feels the
morning after. I think this one is my favorite. It's all good.
Lyne's joint (6:06) A tale told with no words, and in no hurry but with some muscular articulation
and some fine details. The trumpet does most of the talking, surrounded by the chorus of the big
band.
Switch melody (10:38) Summer afternoon, it's all bright and full, feeling great! This is really a trio
of songs. I love the voices mixed in with the band, and she tells a story about new love.
Ballad of the sad young men (6:27) Thoughtful, after all that power and funk, we settle down and
say goodbye with this last song of the set, thinking about sad young men who are recovering from
their romantic misses.
If you like a good full sound, a masterful array of musicians and a vocalist who has a range to die
for, this is the one.  Rated HIGHLY COMPLETELY RECOMMENDED THAT YOU BUY THIS ALBUM. EQ 4
– Robin B. James
Mesmerizing, joyful Latin fusion jazz Ron Korb – WORLD CAFE:  I can honestly say that this is THE BEST Latin fusion jazz I've listened to (yet) in 2018… Ron's beautiful high-talent flute work is righteously complimented by players like Hilario Duran (from Cuba) and Laila Biali on piano, guitarists Johannes Linstead/Bill Bridges, Joseph Macerollo on accordion, drummer Ben Riley, bassist Steve Lucas, and Ron's band members Bill Evans (piano), with Larry Crowe (drums)… songs like the high-steppin' 5:52 "Argentina" will take you right into that part of the world; be sure you've got your dancin' shoes handy, because you'll really (REALLY) want to be cuttin' a rung on this joyful celebration.
As you'll see on the promo video Ron made for this wonderful album, the music he has produced breathes new life into Latin fusion…
…all the way from Spain to Cuba to Central and South America, you'll join Ron in the beauty that the journey took him on… & since you're right there already, be sure to SUBSCRIBE to Ron's YouTube channel, where you'll find many more examples of Ron's well-traveled routes 'round the world.
I particularly enjoyed compositions like the opener, "Bailar Conmigo (Dance With Me)"… I would (most strongly) recommend that you listen to this (at least for the first sitting) with your headphones on… there are lots of little percussion surprises, and the strings (with Margaret Maria on cello) are just marvelous!  If there were to be a complaint, it's that the tune is only 3:24 – of course, that's exactly what "REPLAY" is for, right!
If it's DOW-un & FONK-ee you wanna' be, you're simply gonna' love "New Orleans"… just close your eyes and imagine yourself swingin' & jammin' late into the night… that's exactly what I did, & all those mem'ries of my times down there came bubbling back to the surface… some GREAT piano on this one, too.
The stunning changes and rhythms on the 5:33 "Carnival" made it an "instant hit" for me… this one IS going on my iPhone player as a permanent slot (reserved for only the very best of tunes)… Ron's flute is pure magic on this piece, and I've no doubt you'll fall in love with it, just as I did!
I give Grammy Nominee Ron Korb and all his players a MOST HIGHLY RECOMMENDED, with a (perfect) "EQ" (energy quotient) rating of 5.00… which means, of course, that it also get my "PICK" for "best flute-led Latin fusion album".   Get more information on Ron's website.     Rotcod Zzaj
#Mesmerizing, #joyful #Latin #fusion #jazz #Ron #Korb
Dave Kerzner: Static  A "progressive rock opera," a concept album about the distractions, chaos and clutter in everyday life and navigating past this "static interference" in our heads towards happiness and clarity. This is a follow up studio solo album after the debut album New World. This has a classic progressive rock sound through and through, with various kinds of distortions featured to connect it all together with the album title. The promotional materials included describe the dramatic twists and turns from dark moods to uplifting atmospheric pieces to rich nostalgic rock sounds to modern rock edge. They know what they are doing.
The musicians here are previously (and continuing) from the progressive rock band Sound of Contact which was founded by Dave Kerzner and Simon Collins (son of Phil Collins).
The core group:  Dave Kerzner – lead and backing vocals, keyboards, drums, bass, guitar; Fernando Perdomo – guitar, bass, drums, backing vocals; Randy McStine – guitar & FX; Matt Dorsey – bass; Dereck Cintron – drums and Ruti Celli – cello
Joined by:  Steve Hackett (of Genesis) – guitar; Durga McBroom (of Pink Floyd) – vocals; Lorelei McBroom – vocals; Nick D'Virgilio (of Big Big Train, Spocks Beard) – drums; Colin Edwin (of Porcupine Tree) – bass; Ewa Karolina Lewowska – vocals; Alex Cromarty (of Mostly Autumn) – drums; Stuart Fletcher (of Sea Horses) – bass; Chris Johnson – guitar and more!
Prelude (0:39) Very short. Sets the mood. Ties in with the title. There is static. There is a keyboard.
Hypocrites (8:28) A complaint about the world and the people in it.
Static (5:18) Atmospheric keyboards and soaring guitars, lost in a haze of confusion.
Reckless (5:39) Horny guy with guitars makes his play for fast times. Do not let this guy (the character in the song of course) drive a car.
Chain Reaction (4:43) Big guitars set a series of consequential events in motion. The complaints continue.
Trust (4:45) Piano (probably just a keyboard not a big wooden instrument) lamentation of lost romance, days now beyond recovery. Time is cruel. It is too late now. I hear some strings in there too.
Quiet Storm (2:07) Now things are slowly picking up, this offers more of a complex sound with something that sounds to me like little hopping robot frogs. You can still feel the pain.It builds darkly.
Dirty Soap Box (5:43) The complexity continues, as does the darkness, walking the city streets with torches, a large cast of characters engaged in struggles.
The Truth Behind (7:11) Back to a more relaxed presentation, those keys again, a dark search for clarity. There is a larger vocal ponderation. We can rise above.
Right Back to the Start (1:49) Short and sweet, this one lifts up and gives hope again. More strings. Beginning again does provide new hope. Things are getting worked out and there is room for happiness.
Statistic (2:53) Now that we are perked up, it's time to break through and take an accounting of all we have been through, this one is mostly instrumental. It offers strength.
Millenium Man (3:30) Power and confidence, building to a  more complex analysis of the times. There is more of a bounce in this tempo, with messages. The church of greed breaks down, exposing a prevailing groove. That guy who should not drive (from Reckless) is gaining personal insight and building a new life through reflection, shedding his old ways.
State of Innocence (4:48) Now we are rising up, calmly and with a piano sound. The past problems are gone and only the dawn survives. Hope prevails!
The Carnival of Modern Life (16:52) This is freakishly long compared to the other numbers on the album, but it does justice to the journey. There is a much more complex blend of talents and sounds here, could the previous 13 songs be unnecessary? There is more of a narrative script and complicated mixture of tastes and sights heard here compared to the territory we have just covered, the entire story is told here in one long exposition. Dig the organ playing monkey and the soulful barker. Get your rock beats on here, get strong and righteous. All your favorite prog rock stars are shining here! Now I am thinking you could skip the rest of the album and just listen to the last song, it's got the whole story contained nicely. On the other hand, these are very talented musicians with lots to offer.  RECOMMENDED with an EQ of 3.72  Robin B. James
Rafal Sarnecki – Climbing Trees:  This is all instrumental and is satisfyingly compelling in its synergy of talents, lots of intricate turns and synchronized complex unique musical expressions. Ten original compositions drawing from the composer's intuitive understanding of everyone's amazing special abilities. Nobody is trying to grab the light or otherwise stand out, they do not need to. The vocals are treated as an instrument, there are no lyrics, lots of doo-bee ahhhh ooooh. Therefore this is entirely international and universal in its reach. The conductor/composer Rafal Sarnecki was born in Poland and is currently residing in NYC, he has taken his sound and toured the West and East coasts of the USA, toured and taught music in China, Malaysia, South Korea, Chile, and Israel. The title Climbing Trees has something to do with facing fears, in this case climbing trees is a way to overcome any fear of heights, just as stage fright is overcome by going on stage. They reach higher and higher. There is no anxiety here, it's all smooth. The composer/guitarist reveals that "the satisfaction from fighting the fear was very strong and addictive. The memory from childhood resembles many situations in my adult life."
Rafal Sarnecki: guitar/composer
Lucas Pino: saxophone
Bogna Kicinska: vocals
Glenn Zaleski: piano
Rick Rosato: bass
Colin Stranahan: drums
They are not imitating the masters or echoing some established territory, they are making their own way in a risky but pleasant and relaxing groove. There is more instrumental chemistry and dexterity than raw power, which I find to be just fine. After listening you are not exhausted from a work-out, you are refreshed and ready for whatever the evening holds for you next. You can sit and listen, they give you plenty to engage you and to be entertained with, or you can use it as a landscape behind your evening's illumination.
Solar Eclipse 8:34 Steady slow steps, lead by the piano and supported by the drumwork. Everyone has a different path and they somehow all stay together at the same time.
Dadaism 9:04 The bass brings it in, the drums roll up, and they take us on another fine soaring tour of the land of badabaaah.
Little Dolphin Part 1 1:23 Guitar intricacy matched with the piano weaving a short introduction to the wordless story of the little dolphin.
Little Dolphin Part 2 3:49 Now the piano builds up the foundation, joined by the drums and things move at a slightly faster tempo. The little dolphin is a nickname for Rafal given to him by his music students in China.
Little Dolphin Part 3 4:00 For the third section the guitar strums slowly and some saxophone language is spoken, drums unify the pace. Progressive jazz dialogs build to portray a fuller understanding of the relationship of the little dolphin to the ocean. All of the constructions from part one and two are finalized here, with some new feelings added.
Zhongguo 6:05 Guitar steps kick it off, the journey takes the whole convoy of different parts along to its destination, and its all about the journey. The saxophone has wings! The vocals are the main thing, but not the only thing going on. The same phrase is repeated all throughout, but there are plenty of added details and extras.
Write a Letter to Yourself 7:31 The drums start us off, the piano does its dance, and the guitar swings over it all. The vocals are amazing without trying too hard, it's a good letter to read with your ears.
Disappointing Fresh Peach 3:35 It's sort of a puzzle and sort of a flower, intricate and naturally well constructed. I do not find this a disappointment, it's a complex process.
Hydrodynamics 6:47 Faster and more complex than the other musical tales found in the album, sort of an exploration of a breezy land and seascape with lots of details.
Homo Sapiens 7:41 More meditative now, a good way to finish the album's journey. Part jazz and part concerto.
Overall I would HIGHLY RECOMMEND this well constructed instrumental masterpiece and find it to easily deliver an EQ of 3.9
Robin B. James
Amy Denio/Spoot Music – THE BIG EMBRACE:  There is only one person named on the album, on the cover, but there are hundreds of musical instrumentalists and vocalists heard on this recording. She could not possibly have played or sung or otherwise actualized by herself all of the amazing sounds heard here. Or could she?
l'Abbraccione (444) Strumming zither box thing with a bright gaelic garlic kiss, the room is huge and probably dark because its a concert but it's just you and her, but suddenly there are more of her, a very small choir of Amy each has her eyes closed and she is singing strong. This musical form is the infinite over and over again progression, I like it, reminds me of walking in the village.
Romadame (3.36) Pippy fast step, declarative maybe even defiant. Vivid colors and vivid dreams, another Amy choir but this time just a bit more off in the distance. Guitar this time, I think.
Thanksgiving (2.44) Sitting around the table with the folks, moments after the feasting, talking about life and you know. Morning warning. Glockenspiel supports the vocals, and its plentiful, minimal with nothing lacking. Some saxophones join in midway through, the sound stays easy, there is nothing crowded about it.
Zap Sistah (3.15) Amy has nailed the short composition form, little pictures and gems brought together in sound to tell a story. Like poetry or the short story, these songs are lessons to be learned, thoughts to be thunk. Words to be pondered or measured. A Zap sistah is a strong sassy babe who will kick your butt. They have been around, they know the score, they laugh at adversity. Mouth noises, clicking.
Rx For the Afterlife (3.25) The afterlife is in a big place, dark and you would not know where the walls are, or if there even are any. Nobody has gotten word back from the Afterlife. This time the choir of Amy is more of a closer slow motion doo-wop-transfer unit, each taking different parts for the chorus or chorus-like places in the composition. What do they eat over there? Bass and echo effects.
Prostate before a Periwinkle (3.53) Accordion and glockenspiel with clarinets. Mostly accordion. Easy pace, very soothing, it's important to have reliable soothing music to rest in when you need to rest. The second half of the song has a loose skin-drum patter, delicious. Distant lands probably have music like this, I don't know for sure. It's wonderful.
Rx for the Wife (4.44) Horns! Many of them, with that patter skin-drum thing going on. Also a restful and soothing resource but very different than the previous periwinkle. Midway through the mediations there is an odd phrase, sort of a radio reference, summer music. From here on this song becomes very complex, this has become a sound collage of strange voices that are utilized as instruments in there mixed with the brass, horns, and of course the eternal choir of Amy. Maybe some frogs, fake frogs.
Rx for A Scrambled Egg and Peanut Butter Sandwich (2.00) Nifty little spunky white girl rap boom box vocal thing, sweet. I am not able to get the egg-peanut butter combo to work for me, I guess I am going to have to actually try eating it. Could be awesome. Sort of a personal thing, but it's good to think up new recipes. Snappy pace, fun in the lunch line.
Rx for the Recife (1.55) A vacation recipe. Sounds delicious, beaches are for summer. Wait, this is a song about sharks eating surfers… It's still got me going like I am dancing with my eyes closed in circles with my arms out waving around. This time I am not tempted to try the recipe, it's for sharks, and they say something that sounds like "noyce!" which probably is something like Australian for "nice!" Those rascal sharks, I guess we gotta love 'em. Recife is in Pernambuco, you know. It's the capital city. They have historic Brazilian beaches there.
Boat People (4.00) The Amy choir has an introduction that seems to me sort of Brazilian sounding, percussive mouth noises, a glockenspiel, and the bass is lush and coastal. This is about Vietnamese boat people, remember them? That was a while ago, after the war, the one in the early nineteen-seventies. The war of my childhood, we watched it every night while eating supper. We rescued the boat people back then. We brought them home to live here. I think there are some unidentified persons singing, not sure. It could be just Amy singing and clicking her mouth percussively.
Mayflower (3.23) Sort of a journal of the voyage. Nautical Amy tells the story, is that peg leg real? No but its effective. Salty Amy. The clarinet takes it away, assisted by the glockenspiel. This gets back to the recipe form again. Turkey is eaten.
Donald The Lump (2.41) This is a protest ditty of course. Usually Amy uses poetry, this is a black eye on a dumpster fire. Governments have secrets and Amy has a bass. This is proof that there is another person besides Amy, you can hear his voice, and he is not playing games. The onald. We used to call him The Donald, remember back then? He has his methods, famously unusual. Americans are unpredictable, spontaneous and unusual, therefore The Donald is president this time. No games, right? The choir gets very odd, twittery little underwater monkey bleats.
Feral Fleas (2.11) This features a more comedic straight-faced Amy oompa choir, exposing the voice of the fleas. Everyone must eat. The old folk songs about unheard voices being championed are a strong tradition, here is a sort of pop ditty making it modern, or urban maybe.
7,500 Kisses (5.13) This has a very different sound, it makes me swoon (this is my favorite number on the album). There are flute-like sustained whispers, joined by strings bowed electric in a haunting whistling manner. Manor. It's probably coming from that famous old haunted house on the edge of the village, there are spooky hints of music coming from further off, wafting in the breeze, in the evening at sunset. Someone should probably mow the lawn, but I like it that way, with the tall flowers blooming in the lawn, sort of wild.
Biopsy of Statecraft (5.12) Another protest ditty, I think. Whatever it is, it clicks, it's poetry so its not obviously political. The world needs plenty of these. The choir starts off in a distant dark room and opens the ceiling up to talk about current affairs, but in a slow and careful way, every syllable is heard, one at a time, step after step, closer and closer or further and further. The instrument used for accent beats sounds like a clock tick, maybe its been isolated and made to itch like a scratch in sand. The sermon is about the folly of government, maybe. It's more of a poem than a sermon, but it has that kind of serious sermon gravity without the serious frown-thing. Candles in the dark cathedral. A strange place for a biopsy.
I Love this Cunterie (2.13) The duo is back for an encore, Amy and The Donald. The spelling of the song title is awkward, but that is the point, so squirm. Bass with unusual but certainly snappy percussion, holding together a broth made with recordings of the famous television president who has been made to say the plain truth, though that might not have been what he was thinking when he said it. His crowd is appreciative, you know what that means, hoots and shouts of joy always agreeing with The Donald.
I met Amy in the mid 1980s and I believe for certain that she certainly did play or sing or otherwise actualize everything heard here (of course she may have snuck in some close personal friends without telling anyone else about it), she is AMAZING! The songs here are all very powerful and thought provoking. Each number stands proud and tall. There is much more to be said about love and the Big Embrace, keep listening.  VERY HIGHLY RATED with an EQ 3.499        Robin B. James
Jeremy Ledbetter Trio – Got A Light?:  Piano jazz, smooth and supercharged flowing improvisations with a fountain of drums and bass AN INTERSTELLAR COLLISION OF WORLD MUSIC AND CONTEMPORARY JAZZ the promotional material that accompanies the music also says that the album is a controlled explosion of big musical ideas, stylistic variety, vivid colours and compelling musical storytelling. What's not to love about all that? Plus its from Canada, at the top of their game. This debut album exhibits Inspirations ranging from Venezuela to Myanmar influences which covers a lot of musical territory. The compositions are all original except for Gift Shop which is a tribute to the great Gord Downie.
Jeremy Ledbetter piano
Rich Brown bass
Larnell Lewis drums
Eliana Cuebvas and Leila Ledbetter provide vocals on Her New Wings
Reimundo Sosa bata drums
Recorded at Ruge Valley Studios in Toronto Canada by John "Beetle" Bailey.
This is a conceptually related sequence of piano based musical numbers well suited for relaxing and for accompanying fine dining, a rich wandering sonic landscape. Breathe out and relax, there is nothing to prove here, it's all a natural flowing living thing.
Amanecer 7:1 I am seeing Icarus in my mind, learning to fly and full of ambition. It's a well told tale worth hearing again and again.
Got A Light 4:04 Playful start-stop funk groove that gets as far down as a sunny day can get.
Her New WIngs 4:10 This one has the melodeon and the vocals. The story is told and the breeze blows by, this takes us along on a healing glide. This one has the vocals so it really shines.
About Climbing Mountains 8:02 It starts with a strong hand and immediately broadens out into a bright green sunlit field, the mountains are gigantic. It's a long strong story with lots of musical detail and flourishes. You must climb the mountain carefully so that everyone makes it, not just the people climbing today, but also all the children to come must also climb the mountain and they must have all the knowledge we have now plus all the new knowledge that has come to light since we started climbing.
Mais Um 5:30 This one is a celebrationof the bass which is more up front with solos than elsewhere on this album. Get up and dance, at least in your imagination. Better yet, just stand up and let it take you. Use your Spanish steps and your Cuban wiggle.
Suspirito 5:34 Slow everything down and listen while you hear your own breathing with the melodic dream moving in and around your senses. Another journey into new territory, carefully fitting everything in and feeling the combined radiances. Float and react to the questions and simple pictures made of sound. It's a good ride. The story has a good ending and it goes on forever.
Gift Shop 3:42 This is all about memories and selecting something for a friend from a variety of possible gifts. Time well worth spending looking at a thoughtful range of treats and interesting small worlds. This one ends in good dreams.
The Pepper Drinker 5:22 Now we are jumping around again, dancing and showing off on an Iberian tapestry. The steps are very close and intricate, they have the important classic structures and some new sparkles mixed in.
The Tightrope Walker 6:54 It starts cautiously, building interest and adding depth constantly. Way up there is a small man on his feet with no safety, but he keeps his steps moving steadily as he progresses across the sky. He jumps sometimes, it's a wonder if he will continue to survive. Things happen quickly, never missing a step, building and innovating. He just jumped out of sight, and now he is returning as if nothing happened.  HIGHLY RECOMMENDED EQ 3.4        Robin B. James
Shake Stew – RISE AND RISE AGAIN:   The very first thing that struck me on the opener for this high-energy  release is the MOVEMENT… these jazz folks from Austria will absolutely blow you AWAY… just check out tunes like the 10:35 "Goodbye Johnny Staccato", to aurally witness their extreme talent; I totally DUG this song… the changes on this one alone make the album worth the purchase!  Flawless recording goes a long way, but really, it's the TALENT they display that makes it an instant jazz hit here in my review studios.   The players are Lukas Kranzelbinder: double bass, e-bass, guembri; Clemens Salesny: alto saxophone, crackle box, flute; Johannes Schleiermacher: tenor saxophone, flute; Mario Rom: trumpet, flute; Manuel Mayr: double bass, electric bass; Niki Dolp: drums, percussion and Matthias Koch: drums, percussion, & when you scope out performances like my personal favorite of the six (long) pieces offered up, "Get Up Eight", you'll know right away why they got a MOST HIGHLY RECOMMENDED from me, with an "EQ" (energy quotient) rating of 4.99.  Get more information on the SHAKE STEW website.       Rotcod Zzaj
The Aaron Clift Experiment – IF ALL GOES WRONG:  This rockin' lil' nine-song release has some definite power going for it… they manage to pull several sub-genres of rock together into songs that are excellent for "ridin' on down the road"… just scope out the 4:50 opener, "Faith", which could easily have been my anthem during my early teen years (my dad was a "roller", but that's another story, far too long to go into here)…. the vocal will PENETRATE your skull, and the lyrics are pure acid/biting for folks who try & invade your space… a STRONG song!  I fell in love right away with "Savage in a Fancy Suit"… again, powerful lyrics, and driving rhythms that will bring out urges you never thought you had in you before.  It was the synth intro on "Last Crash" that made it my personal favorite of the nine songs offered up… what Aaron and his bandmates do here is nothing short of fantastic… they get a MOST HIGHLY RECOMMENDED from me, with an "EQ" (energy quotient) rating of 4.97.  Get more information about the band at the Aaron Clift website.          Rotcod Zzaj
Becky Buller – CREPE PAPER HEART:  There was a period of time I spent in eastern Kentucky, (Breathitt County, to be specific), where I heard a WHOLE lot of music like the high-talented Becky performed on her February, 2018 release… she plays violin, and does some of the most "countrified" and heartfelt vocals I've heard in the last ten years or so… just listen to the spirited opener, "Another Love Gone Wrong", and you'll have the whole picture of her skill in only 2:30… the real beauty here is that she sings of heartbreak without making you overflow your beer with torrid tears.  Becky and her players surely know how to do what music was intended for in the first place… "Calamity Jane" is pure fun!   The tune that turned out to be my (hands down) favorite, though, is a bonus track called "Phoenix Arise"… full of emotion and hope, it's a song you'll find yourself spinning over & over again.  I give Becky & her players a MOST HIGHLY RECOMMENDED, with an "EQ" (energy quotient) rating of 4.98.  Get more information at Becky's website.          Rotcod Zzaj
Cousin Earth – HUMAN MUSIC:  A progressive "ukulele band"?  Just imagine what would happen if you carried Mama Cass & John Phillips forward to the 21st Century, and recorded them with all the great gear we have available nowadays… if you're not sure you believe me, all you have to do is scope out the splendid 5:56 opener, "Peculiar Patterns", and you'll hear what I'm talking about… a totally "diggable" tune!  The marvelous electronic sounds and swirling vocals on "Super Fun Laser Beams" made it an instant hit here in my studios; one thing that's apparent as you listen to this one – this band knows how to have FUN.  There was no question about what my favorite would be of the ten tunes offered up… "Train Luck", though labeled "explicit", had a vocal that reminded me of Frank Zappa's "Trouble Comin' Every Day", and some fantastic guitar work that will carry you away to  another day… these folks get a MOST HIGHLY RECOMMENDED, with an "EQ" (energy quotient) rating of 4.98.  Get more information on the Cousin Earth website.        Rotcod Zzaj
Wingfield Reuter Stavi Sirkis – The Stone House: Big electric guitars and traps, the lights and all the colors. Colours. This is the European Union at its finest, young musicians working a fine tradition of progressive rock sonics. They are all very good at their techniques, gifted hands for our ears. The bass keeps the whole thing together but nobody notices it, its always there, on every song, but it's sophisticated and not obtrusive. He could show off more if he wanted to.
Mark Wingfield guitar
Markus Reuter Touch Guitars AU8
Yaron Stavi fretless bass guitar
Asaf Sirkus drums
Recorded in Spain in February of 2016, mixed and mastered July through September of 2016, and released on Valentine's Day 2017. Great stuff!
Rush 12:15 It calls to you, there is a cautious approach, the temperature rises, the drums come in, now the long notes get more busy. Lots of fade in sustained notes and some doppler shift type rushes. The drums get more complex and tell more of the tale, while the two guitars visit with each other. There are lots of big things moving out there.
Four Moons 5:12 This is a journey, there are strange landscapes and vistas, as well as the expanse above. Trace with your finger the different textures and variations.
Silver 8:33 This one has a faster beat, puzzle pieces fitting together, almost a dance always a background to those cosmic motions. The two guitars make up the main action, supported well and allowed to follow its own path. The energy builds, gets pretty wild and then discovers a new level. Its cheerful and thoughtful at play, endlessly building and wrything.
Fjords de Catalunya 9:45 Whales are calling, long deep dark and spooky. Rocks in the water, some break the surface. High cliffs with forests on top. There are probably Catalunyan trolls or elves or spirits watching from up there. Little human faces of dried apple leather. The huge sea is calm but there is something out there. The tempo is slower because its so big, it takes a while to finish a gesture or motion.
Tarasque 10:09 Blaze of drums, comes on fast, the tremolo setting is at eleven, but this is about the drums. The guitars come in, the whole thing is building with strength and power. It's got lots of contributions, like fills for the drum solo done with scratchy guitars. These guys have a way of creating a sound landscape and then directing us to look above where more things have been happening for a long time.
Bona Nit Senor Rovira 13:58 The pace is easy-going, relaxed. There is an accent that is probably Italian but what do I know. The pace is steady, walking with a bit of a lift, going places. At various points they all turn and go in a new direction but the pace is strong, you are no longer walking and it's a long way down. The pace supports the dialogs of the guitars and drums. It's a nice day and you like it. HIGHLY RECOMMENDED EQ 3.8       Robin B. James
Ken Verheecke – CONSIDER THE MOON & STARS:  I've listened to Ken's amazing work before, though the review was part of a collective venture… his new January, 2018 project certainly shows his talent at the very best level possible… and, you don't have to just take my word for it… listen to the vibrant energy he projects on the title track, the 4:25 "Consider The Moon & Stars", and you'll fast be a believer… his guitar leads just SOAR on this beautiful piece of music!  He's a world traveler as well, and it shows in his highly creative musical style… the opener alone, "This Languid Motion", brings the power of the heavenly spirits right into your living room in a most pleasant manner.  Of the nine compositions offered up, it is (without doubt) the 5:22 "Aurora" that won my vote for personal favorite… simple lines, yet full of the POWER that music can bring into our lives.  I give Ken a MOST HIGHLY RECOMMENDED, with an "EQ" (energy quotient) rating of 4.98 for this wondrous sonic excursion.  Get more information about this fantastic player at Ken's website.        Rotcod Zzaj
Don Latarski – RIVER:  This wonderful album from Don is my first listen to his work… he took his inspiration from a journey through Oregon (right up in my neck of the woods), California and Arizona, and his guitar work is simply splendid! (Note:  the samples linked in probably won't go hot until the album release date, 20 July 2018)…  As I listen to the ebb and flow on "Gravity", my ears are held spellbound… this is certainly among the very best guitar work I've heard (yet) in 2018.  The magical overtones Don achieves on "Fall From Place", as well as the low bass strums, will put you in the same spaces he was playing in… absolutely beautiful work.  Of the dozen songs offered up on Don's album, it was easy to choose my personal favorite… the closer, clocking in at 11:48, titled "Bently", transported me to the deepest portals of peace I've ever experienced.   Don (easily) gets a MOST HIGHLY RECOMMENDED, with an "EQ" (energy quotient) rating of 4.99.  Get more information on Don's website.        Rotcod Zzaj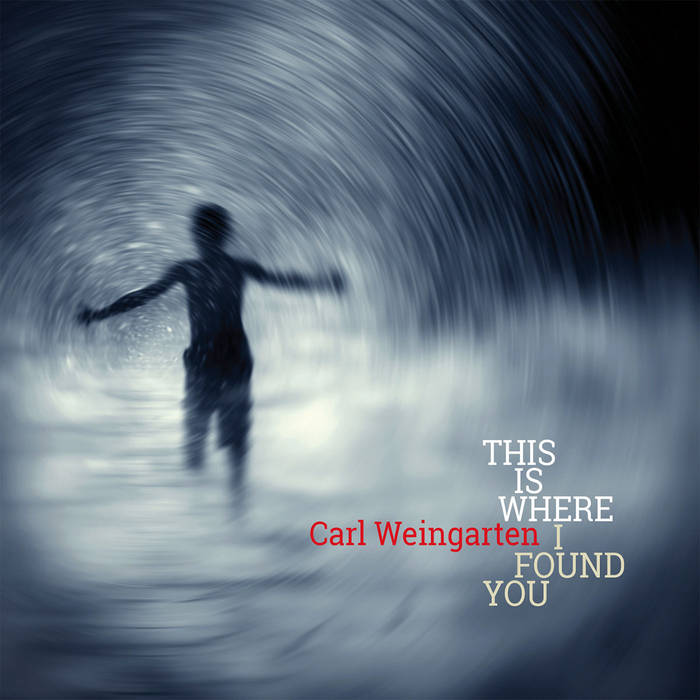 Carl Weingarten – THIS IS WHERE I FOUND YOU:  It's been a goodly while since I last reviewed Carl's wonderful and inspiring guitar work in issue # 145… this new May, 2018 album raises the bar significantly, and will remain at the top of your playlists for months (if not years) to come!  As you listen to the haunting vocals he's woven in on the wonderfully comforting "Kites & Waves", you'll realize just how privileged your ears are to witness such creative and inspiring musical ability… I loved this tune… Carl's guitar solo on this piece just soars to the outer reaches!  The opener, "Sing As Water", will sway you gently into jazz zones you've never heard before, and the tune will stick in your head for a long, LONG time.  Of the nine songs offered up for our sonic enrichment, it is (hands-down) "The River King" that is my personal favorite… truly one of the most energetic "ambient" pieces I have listened to (yet) in 2018.  I give Carl and his players a MOST HIGHLY RECOMMENDED, with an "EQ" (energy quotient) rating of 4.99 for this most memorable musical adventure.  Get more information on Carl's Bandcamp page for the release.          Rotcod Zzaj
Ricardo Bacelar – SEBASTIANA:  I reviewed Ricardo's earlier album, "Concerto Para Moviola – Ao Vivo", where he got near perfect ratings (and well over 500 visitors – which is quite significant)… this new March 30th, 2018, release has more of an "international" flavor, though still steeped in well-composed & performed jazz… that's especially true for tunes like the mighty mellow "Suco Verde" (Green Juice?)… there's some ultra-cool synth on this one, too, bringing to mind some of Herbie Hancock's work.  One of Ricardo's original solo piano tunes, "River of Emotions", is really striking… the album version is only :45 seconds, but it segues very smoothly into the 4:21 "Menina Baiana", that use rhythmic contrasts against the piano to get your blood up and running!  It was easy to pick my personal favorite from the fifteen tunes offered up, though… the title track,
"Sebastiana", is an absolute jazz winner!  I give Ricardo and his companions a MOST HIGHLY RECOMMENDED, with an "EQ" (energy quotient) rating of 4.98 for this excellent jazz adventure.  Get more information at Ricardo's website.          Rotcod Zzaj
David Garfield – JAZZ OUTSIDE THE BOX:  This appears to be my first time listening to David's splendid jazz piano, but I can tell you that it won't be the last… his performance on the opening track, "Fragile", has one word that easily describes his music – "pleasant"!  You get a total of seventeen songs, so this album is perfect for loading on to your player & riding around all day long with just the one artist/album playing (almost an hour & a half of music).  David's magic touch on one of my favorite tunes (of all time), Horace Silver's "Song For My Father" , is quite unique… the full-length version (as opposed to the radio edit)  clocks in at 7:13, and features some excellent flute work and vocal work.  The funk n' groove on David's original, "East Lou Brew", made it my personal favorite, to be sure.  This is a "smash hit" for me, and gets a MOST HIGHLY RECOMMENDED, as well as an "EQ" (energy quotient) rating of 4.99.  Get more information at David's website.            Rotcod Zzaj
Artificial Waves – INITIAL LINK:  When this excellent musical voyage starts, the title (as well as the first few bars) may make you think that this is "just another" experimental album, with slow synths and not-real-interesting compositions… nothing could be further from the truth… as you listen to the opener, "Sonic Core", the first few measures will re-enforce that impression, but right at the 50-second mark of this 4:20 gem, they TAKE OFF… the group is Alexey Pereverzev, Artur Kudrov, Dmitry Kaleev and Ilya Kosharov, and was formed in 2012, based in Zelenograd, Moscow, Russia… truly talented players, all!  The one drawback is that the album is only just over 34 minutes long, so it's more like an EP than an album… that  is only a minor complaint, though, because when you listen to songs like my personal favorite of the six offered up, "Transient", you will hear the rampant power behind their playing… I can guarantee you that this one will getting LOTS of replays!  I give the band a HIGHLY RECOMMENDED, with an "EQ" (energy quotient) rating of 4.98.  Get more information on the Fluttery Records page for the album.      Rotcod Zzaj
Victor Samalot – ESPERANZA:  There's one thing that truly SHINES through on guitarist Victor's nine-song EP… JOY!  As you listen to "Cafe Puerto Rico", you'll "catch" that spirit of life that only great players can convey – and Victor is certainly one of those who convey it well… Latin jazz with a "rock edge"; the ultimate in cool, folks.  I fell in love with the driving rhythm on "El Torero" from the very instant it started spinning… full of life and living.  Don't be at all surprised if you hear Victor's tunes popping up all over your favorite stations soon, especially ones like my personal favorite, the 4:32 "La Plaza"… exactly the kind of fun we need in fusion these days.  I give Victor and his crew (Bobbi Holt – Bass guitar, Keyboardsl Darrell Nutt – Drums on Tracks 3, 7; Larry Salzman – Percussion on Tracks 1, 4,6, 7; Daniel Silva – Percussion on Track 2 and Yatziv Caspi – Percussion) a HIGHLY RECOMMENDED, with an "EQ" (energy quotient) rating of 4.98.  Get more information on Victor's Bandcamp page for the album.     Rotcod Zzaj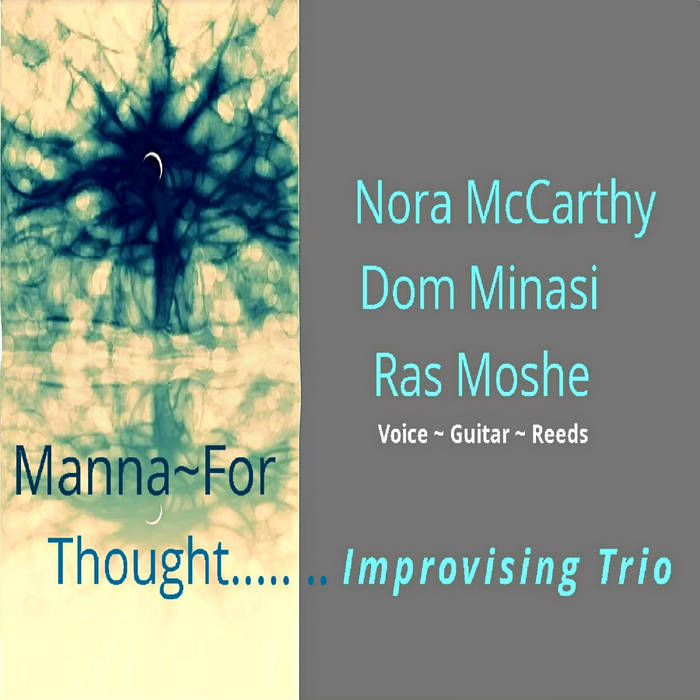 Nora McCarthy-Dom Minasi-Ras Moshe – MANNA FOR THOUGHT:  Nora's voice is a brand new one for me… fresh and full of the vigor that only well-performed improvised spoken-word can bring… (& that's with the benefit of having done a LOT of spoken-word performance myself, right here in my home city (Olympia, Washington) many years ago)… as you listen to pieces like the 8:15 "Frequency ONE", with it's languid guitar from Dom and subtle reeds from Ras, it will all be clear – you're in the presence of a vocal master (or is that "mastress"? – just kidding)… some beautiful echoing tones from Nora's vocal fit very nicely into the overall piece as well… very impressive.  If you're a "regular" listener, you may not grasp the value of such enigmatic explorations, but (of course) if you were "regular", you wouldn't be reading these pages, right?  My personal favorite of the six (long) improvisations offered up is the opener, "Vehicle Vehicle"… I just loved the interplay between all three instruments (yes, Nora's voice is definitely an instrument), and the trio is so "together", you'll think it's scripted – FANTASTIC!  I give this fine album a MOST HIGHLY RECOMMENDED, with an "EQ" (energy quotient) rating of 4.99.  Get more information at the trio's BANDCAMP page for the release.          Rotcod Zzaj
Diana Panton – SOLSTICE-EQUINOX:  When it comes to sweet jazz vocal work, Diana certainly has a handle on it… all you have to do to be convinced of her extraordinary talent is listen to songs like the beautiful "Septembre"… though she's from Canada, I can't help but think "Astrud Gilberto" when I hear the magic she conveys through this song.  Since I grew up on the East Coast, & visited the Big Apple on more than one occasion, the hipness she displays on the 6:08 "Manhattan" easily makes her a vocal winner in my jazz book!  She's got a stellar cast of players supporting her… it's too long to list here, though, so check her out on the ALLMUSIC credits page for the album.  Of the thirteen tunes Diana offers up for your listening pleasure, though, it's "Estate (summer)" that got my vote for personal favorite, hands-down… again, I'm reminded of Astrud's wonderful vocals, but Diana's style is all her own.  I give Diana and her players a MOST HIGHLY RECOMMENDED, with an "EQ" (energy quotient) rating of 4.97 for this fine release.  Get more information on Diana's page for the release.         Rotcod Zzaj
Slivovitz – LiveR:  Traditional live performance jazz plus big buzz-saw guitar and lilting violin instrumentals. Good stuff! Won't make you fat. You can get your punchy harmonica workout on to a different kind of groove.Pietro Santangelo: tenor & alto sax; Marcello Giannini: electric & acoustic guitars; Riccardo Villari: electric violin; Ciro Riccardi: trumpet; Derek Di Perri: harmonica; Vincenzo Lamagna: bass guitar and Salvatore Rainone: drums
Mai Per Comando (5:40) Energetic romp psychedelic harmonica crazy time signatures jumpin around lots of fun big bass monsters jump out at you good times.
Cleopatra Through (7:30) Starts with the band driving free then it has a guitar violin percussion section, before it heads into a succession of some smooth changes, always moving forward but the territory keeps changing, building towards a nice frenzy.
Currywurst (7:46) Fast and showy, this one is one of my faves from the album. Indo-Geranic cookin-roots as interpreted by the Italian band using a Creole Jazz form. Then some vindu-violin. It's all good.
Egiziaca (8:23) Rock with brass, nice and lively. Again we are cooking with fusion forms. They like to sort of stop in the middle and work on tiny things, takin' it way down and building back up to a full boogie again for the ending cycle. Ends with an Arabesque.
Mani in Faccia (7:49) Live instruments mimicking tape loops, very interesting use of the sound form in a live band. Later the brass takes a break and the guitar fills the forum. This builds to a tribal workout and then builds new ornaments for the bright sunshine. These guys have lots of interesting ideas.
Negative Creep (5:10) Grunge bleach classic done in perfect punchy next-wave reduction, no lyrics needed and none are offered. I think this is hilarious! Well done.
Caldo Bagno (7:50) A cruise on a large vessel, a sky full and a drop in the ocean.
MoonJune Records; Soundfly Records
Recorded in the Casa di Alex in Milan Italy
Rated MOST HIGHLY RECOMMENDED with an EQ of 4.9     – Robin B. James
Lisa Swerdlow – EQUUS RISING:  This is my first time listening to Lisa's astounding solo piano work… the most striking thing about her compositions and performance is that you can (literally) HEAR the significant experience she brings to the keyboard… songs like "Together" reveal an ability to "talk" to you as few other players can – all the way from the lowest bass notes to the very high end of the 88 keys, this piece will make you feel the depth of her emotion.  She started playing classical at six years old, and did her first recital the following year, and though she's "been away" (from performing) for a while, this marvelous eight song album lets you know that her skills are even stronger than they ever were.  The images she conveys on "Sudden Storm" are full of power and (in the sense of the song title, at least) fury!  My personal favorite was an easy choice… the title track, "Equus Rising", uses the lower registers to convey the beauty, glory and  strength of our equine friends in ways you've never heard before.  I give Lisa a MOST HIGHLY RECOMMENDED, with an "EQ" (energy quotient) rating of 4.98 for this excellent solo piano adventure.  Get more information at Lisa's website.          Rotcod Zzaj
Brian Kelly – TOMORROW'S DAYDREAM:  Brian's latest solo piano recording, released in March, 2018, is more on the "contemporary" side of things than "New Age", though listeners in both realms will delight in his ability to create tunes that stir the heart… I last reviewed his "Butterfly Rapture" album in issue # 158, and he got high marks from me then.  What makes his playing style so attractive to my ears is the strident and full-bodied chords, and as you listen to his high-energy performance on "Tracing Rainbows", you'll understand instantly  why I say that… a gloriously wonderful piece of music.  The title track, "Tomorrow's Daydream", is in a slightly more pensive mood, as you might expect… full of boundless possibilities and the joy of living!  My personal favorite of the eleven solo s offered up, though, is "Dancing with the Moon"… it's full of swirling notes that will bring back many memories of your own night-sky adventures.  I give Brian a MOST HIGHLY RECOMMENDED, and an "EQ" (energy quotient) rating of 4.99 for this splendid and exciting aural adventure.  Get more information on Brian's Bandcamp page for the release.         Rotcod Zzaj
James Asher and Arthur Hull – DRUM DISTILLERY:  I've been a dedicated fan of Jame's wonderful percussion-driven work ever since I first reviewed him in issue # 148… his music is even more exciting on this new release with master percussionist Arthur Hull (they've been working together over 15 years now).  As you listen to the powerful waves washing over your braincase on the closer, "Infiniterium", you will clearly understand why I'm so enchanted with his work… it's just cosmic in scale!  The bright bell sounds and heavy-duty rhythm work on "Helix Rising" take the duo's music far above the level of categorization… though James is sometimes billed as "New Age", this song makes it clear that the energy levels projected far exceed any pigeonhole like that!  Of the thirteen songs offered up, though, my personal favorite is the 5:53 "Sandless Desert"… if "chill is your thrill", you're going to love this one as much as I did.  I give James and Arthur a MOST HIGHLY RECOMMENDED, with an "EQ" (energy quotient) rating of 4.99 for this excellent album.  Get more information on Jame's page for this release.        Rotcod Zzaj
Steve D'Angelo – DANCING SIDEWAYS: Though the liner notes don't really specify what specific instrument Steve plays on his new release, he's able play just about anything… (piano and keyboards as well as bass, ukulele ,baritone guitar, mandolin and percussion)… he's joined on this session by Steve Lucas bass, Chris Pruden keys and Lorenzo Castelli drums, as well as Robi Botos keys, Davide Direnzo drums and Arturo Avalos percussion… as you listen to the total groove on the 5:04 "Falling", you'll hear why Steve & his group are among my favorite listens in my '66 GTO… perfect "cruisin'" music!  Steve & the group are diverse in their playing styles, as well, as you'll hear on the fantastic high-energy opener, "The Man Who Danced Sideways".. this one MOVES, folks!  My personal favorite of the eleven tunes offered up, though, is "Get in the Car" – perhaps because it's the longest song on the album… each players gets a chance to show off their brilliant talent on this one.  I give Steve & his players a MOST HIGHLY RECOMMENDED, with an "EQ" (energy quotient) rating of 4.98.  Get more information on Steve's website.         Rotcod Zzaj
HyperSomniac – HYPERSOMNIAC:  The promo sheet that accompanied this submission calls Hypersomniac a "super band"… & that's no HYPE… these folks (including big names like Bill Laswell on bass) just RIP out ALL the stops… as I listen to the absolute killer rockin' on the 6:35 "Parallel Powers", I'm taken back to the ultimate days of rock… you're not gonna' believe your ears, folks… Lorenzo Esposito Fornasari, aka LEF, performs vocals with fury such as you've never heard before on this masterpiece!  If you think back to the rock opera days of groups like The Who, Pink Floyd or my FAVORITE band from the 1960's, "Touch" (if you're old enough to know who those bands are, anyway) , you'll be ABSOLUTELY in the right frame of mind for my personal favorite of the dozen scorching tracks offered up on this winning album…,    –  it's the closer, "Let the Sun Fall Apart", and it takes you on a journey that starts off somewhat gently, but then begins steering you in a kind of heavy metal opera that you can easily imagine as the orbs in the heavens disintegrate.  THE most powerful tune I've heard (yet) this year!  I give HyperSomniac a MOST HIGHLY RECOMMENDED, with an "EQ" (energy quotient) rating of 4.98.  Get more information at the project website.         Rotcod Zzaj
Miguel De Armas – WHAT'S TO COME:  Miguel's jazz piano is just splendid on this tasty 2018 release… he effortlessly melds together musical elements and influences from his native Cuba with modern & funky sounds that will please jazz fans 'round the globe.  As I listen to the peppy "A Song for my Little Son", I find myself ready to hit the replay button over & over again… Miguel's keyboard intro on the title track, "What's To Come", leads the listener into some funk-filled bass interaction, then the horns join it – an ultimately cool tune.  The other major attraction is that these are all original tunes, so you get that added element of energy that comes when an artist is playing their own creation… that's especially true on my personal favorite of the ten songs offered up – the opener, "Yasmina", will put you in a dancing mood, I've no doubt… this is one of the most spirit-filled jazz piano tracks I've listened to (yet) in 2018.  I give Miguel and his players a MOST HIGHLY RECOMMENDED, with an "EQ" (energy quotient) rating of 4.98 for this excellent jazz excursion.  Get more information at Miguel's website.          Rotcod Zzaj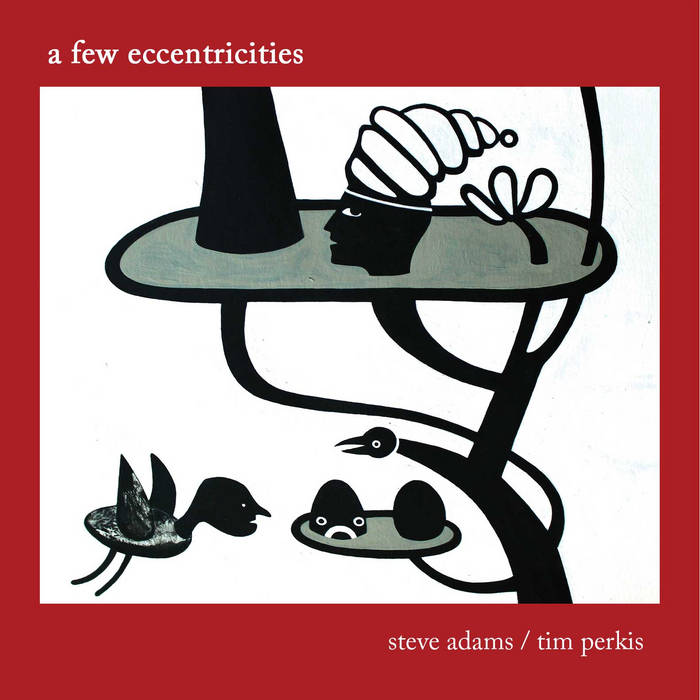 Steve Adams – Tim Perkis – A FEW ECCENTRICITIES:  Saxophonist/flautist Steve Adams and electronicist Tim Perkis hooked up in studio to bring you one of the most entertaining improvised sets you've ever heard… it's been a good while since I first reviewed Tim's work (issue # 71, to be precise)… the beauty of their sonic experiments together is in their "pacing"… as you listen to the 4:50 "travelers on the plateau", you'll understand why I say that… listeners who are in the "novice" category when it comes to experimental and improvised are in for a great treat on this piece.  "Regular" listeners (in other words, those who are afraid of things unknown) may have a tough time with the penetrating splurges of sound on "a blind man with a cheetah on a leash", but when it comes to "stranger" music than you've listened to in the past, this lines up as the perfect sonic adventure.  My personal favorite of the fourteen improvs offered up, though, is "scratches, scrolls", which (despite it's title) is quite satisfying.  I give Steve & Tim a MOST HIGHLY RECOMMENDED, with an "EQ" (energy quotient) rating of 4.98 for this fine excursion into eccentricity.   Get more information (and listen) on their Artifact Recordings page (below)…
Benjamin Boone And Philip Levine – THE POETRY OF JAZZ:  Not everyone who reads my reviews know that I got my start in "show business" doing live spoken-word, so Phil's excellent poetry is a total treat for me… it's earned a permanent place on my iPhone (yikes, I'm running outta' space)… Benjamin's hip & silky sax on tunes like "The Unknowable" is what convinced me it had to be there… there are a whole HOST of other players on this fantastic CD, so long a list, in fact, that you'll need to go to the Origin Records page for the release to scope out who joined the party.  What really makes this "click" for jazz listeners who understand just how important poetry is to jazz & it's roots is Phil's inspiring and intimate spoken-word on tunes like "Call It Music", the absolute best jazz/poetry song I've heard (yet) in 2018.  You get well over an hour of the coolest jazz you'll hear for a while, & that's especially true on songs like my personal favorite of the fourteen offered up… on "A Dozen Dawn Songs, Plus One", you get "the rest of the story", as Paul Harvey would have said… just SUPERB work here that gets a MOST HIGHLY RECOMMENDED, with an "EQ" (energy quotient) rating of a (perfect) 5.00 – that means, of course, that it also gets my "PICK" for "best jazz/poetry album".  Get more information on the Origin Records for the album.         Rotcod Zzaj
Chamber 3 – TRANSATLANTIC:  It's been awhile since I last reviewed this group's music – issue # 155, to be specific… but, that makes it no less pleasurable… it's a truly great jazz collaboration, featuring guitar by Christian Eckert, sax from Steffen Weber, drums by Matt Jorgensen and bass from Phil Sparks… as you listen to tunes like "Chillaxed", you'll catch their vibe & understand why I say they're among the greatest on the scene today for mellow… the solos from each player on this tune are penetrating, even though the piece is in the "lbz" (laid-back zone)… Steffen's sax on this one reminds me a lot of some of my first listens to Stan Getz (way back in the day).  The interplay between Phil and Matt on the 6:05 opener, "The Sparks", makes the piece just "crackle" with energy.. funky, funky!  You get ten all-original compositions & one classic arranged by Steffen… of those ten, my (hands-down) favorite is the 5:51 "Lu Channel"… lots of tempo changes with crystal-clear voices from each player (& listen for it on your local jazz channel… I expect you're going to hear this tune played a lot).  I give Chamber 3 a MOST HIGHLY RECOMMENDED, with an "EQ" (energy quotient) rating of 4.98 for this great release.  Get more information on the Origin Records page for the album.        Rotcod Zzaj
John Stowell/Ulf Bandgren Quartet – NIGHT VISITOR:  John's marvelous jazz guitar work is wonderfully complimented by guitars from Ulf Bandgren, bass by Bruno Raberg and drums by Austin McMahon on this superb hour of gentle, yet energetic, jazz on this November, 2017 release… you'll hear that quite clearly as you listen to the beautiful "Reunited"… it's definitely a joyful conversation between players who love creating together!  For something with a bit "spookier" tone, you'll no doubt dig down deep into "Ghost in the Corner"… their pacing together is pure magic – you're gonna' love this tune.  My personal favorite of the ten offered up for your jazz listening pleasure, though, is the high-energy closer, "Early Five"; it clocks in right at 7:00, and gives each of these high-talent players the opportunity to talk to you, in magic tones that will transport you to the very edges of our jazz galaxy!  All original jazz that gets a MOST HIGHLY RECOMMENDED from these ol' ears, with an "EQ" (energy quotient) rating of 4.99.  Get more information at the Origin Records page for the album.         Rotcod Zzaj
Robert Diack – LOST VILLAGES:  There's one word that describes this album – POWER!  Robert's drums are driving each & every tune in directions that your ears won't have anticipated, so be sure to listen to this with your headphones on, at least for your first round.  He's joined by Patrick O'Reilly – Guitar and Pedals; Jacob Thompson – Piano and Brandon Davis – Bass & I'll tell you right now, the guitar leads on songs like "Pluterperfect" put me in mind of some of the works from the God-daddy of guitar, Frank Zappa… highly original and full of life!  If you're looking for something a bit more laid-back, you'll find "Lacuna" to be most enjoyable… I loved Jacob's piano on this one.  What's most notable about the group is that their compositions are very unique and fresh… that's especially true for the 8:13 "Sap", my personal favorite of the eight songs offered up for your sonic enlightenment… each instrument weaves it's own spell for you, and will hold you spellbound.  I give Robert and his crew of excellent players a MOST HIGHLY RECOMMENDED, with an "EQ" (energy quotient) rating of 4.98 for this fine musical adventure.  Get more information at Robert's website.        Rotcod Zzaj
Frank Wagner – FLOATING HOLIDAY:  Original tunes by NYC bassist Frank Wagner will really make your day… his wonderfully recorded jazz bass work is fully complimented by excellent piano by Marco DeGennaro and scintillating drums/percussion from David Meade, as you'll hear clearly on the beautiful "Mirror"… mellow and laid-back, this is perfect listening for a rainy Wednesday morning in the Pacific Northwest – or any other region of the globe, for that matter.  Frank's goal was to kind of "merge the past with the present" for tunes he had written previously , but wanted to reshape… he and his musical cohorts did that in excellent fashion on my choice for personal favorite of the seven tunes offered up… the 8:14 opener & title track, "Floating Holiday" uses some "odd" time signatures/changes to draw you in (they REALLY take off around the 2:20 mark), and you'll find yourself listening to this captivating piece often, I've no doubt.  I give Frank and his musical pals a MOST HIGHLY RECOMMENDED, with an "EQ" (energy quotient) rating of 4.98 for this release.  Get more information at Frank's CD Baby page for the album.         Rotcod Zzaj
Chris Platt – SKY GLOW:  Superbly played guitar-led jazz from Chris up Toronto way… in fact, I'll go as far as to say that this is THE best jazz guitar work I've heard (yet) in 2018… Chris has Phill Albert on bass and Robin Claxton doing drums, and as you listen to these all originals like the 5:26 "No More", you'll know that this is a trio you're bound to be hearing more from – their pacing on this tune is just EXCELLENT, and their talent just shines through!  There's one word that describes their playing – "perfection"… but, don't take my word for it… listen to the opener, "I Like The Sad Ones"… isn't that just beautiful?  I certainly thought so!  The album only clocks in at 33:19… of course, there's always replay, but I'd like to see (just) a couple more songs on the next release.  My choice for personal favorite of the seven compositions offered up is, in fact, the longest cut on the release… the title track, "Sky Glow", is the kind of music that you'll find yourself listening to over & over (& OVER) again… pure jazz with no pretentiousness.  I give Chris and his compadres a MOST HIGHLY RECOMMENDED, with an "EQ" (energy quotient) rating of 4.97… get more information on Chris's website.            Rotcod Zzaj
Jay Rodriguez – YOUR SOUND LIVE AT DIZZY'S CLUB COCA COLA:  If it's the "coolest" in saxophone sounds your ears are thirsting for – Jay's your ticket to Nirvana… many of his performances on this superb release remind me of players in the "glory days" of jazz… Yusef Lateef, Rhasaan Roland Kirk & folks like that, ya' know… believe your EARS, not me… listen to the lilting jazz flute work on "Ghost Dancer", and you'll hear what I mean… excellent performance, & the fact that it was recorded live only adds to the abundance of spirit you'll groove on.  There is over an hour of great music on this CD, but it was easy to pick my personal favorite of the ten performances offered up for your jazz edification… "Spirits" features Jay talking about ghosts in his house as an intro, then jumps right on INTO a high-energy 6:53 piece with total focus and sax with meat on it's bones.  I give Jay and his players a MOST HIGHLY RECOMMENDED, with an "EQ" (energy quotient) rating of 4.99 for this FINE album.  Get more information about this brilliant jazz fellow on Jay's about page.     Rotcod Zzaj
Lupa Santiago & Anders Vestergård Quartet – INSIDE TURNABOUT:  A truly swingin' jazz set that you're going to fall in love with immediately; Lupa's great guitar work leads the group (Anders Vestergard, drums; Rodrigo Ursaia, saxophone and Mattaias Hjorth, bass) through some splendid changes, especially on tunes like the amazing "Caixa Cubo"… there's really only one word for this kind of jazz… "tasty"!  The funky Latin rhythms on "Lärkan" are bound to have you up & dancin' 'round the floor into the wee hours of the morning, to be sure… be sure you listen to this one with your headphones on, so you can catch all the subtle interplay that Lupa's guitar helps to create.  My personal favorite (& also the longest tune on the album, by the way) is the 7:10 "Stu"… what makes this one so special is the sensitivity each of the players has for the other, so what you wind up with is a seamless composition that you will be spinning over & over again, I've no doubt.  I give Lupa and his cohorts a MOST HIGHLY RECOMMENDED, with an "EQ" (energy quotient) rating of 4.98 for this excellent release.  Get more information at the Drum Voice Records page for the album.         Rotcod Zzaj
Meg Okura & The Pan Asian Chamber Jazz Ensemble – IMA IMA:  My, how time flies… I first reviewed Meg's fantastic violin work in issue # 136, way back when… her new release has trumpeter/flugelhornist Tom Harrell, along with a whole cast of musical characters, and it just SHIMMERS with life!  Listen to the dynamic movements on "A Summer in Jerusalem" (the samples won't be up for awhile, as this doesn't release until May, 2018)… though in somewhat of an orchestral mode – this IS jazz, in all it's glory… certainly some of the liveliest "chamber music" you'll ever hear – I loved this 10:20 excursion!  If you want to hear some "different blues", it's full-tilt and powerful on "Blues in Jade"… Meg's violin just SHINES on this piece.  Of the seven (long) pieces presented for your aural enjoyment, though, it's "A Night Insomnia" that easily got my pick for personal favorite… each of the players contributes to the joy conveyed (despite the title).  Meg and her talented players get a MOST HIGHLY RECOMMENDED from me, with an "EQ" (energy quotient) rating of 4.99.  Get more information about this release on Meg's page for the album.           Rotcod Zzaj
Monika Herzig – SHEROES:  An absolutely amazing jazz set led by Monika on piano, and joined by a whole cast of lady players… Jennifer Vincent (bass, USA), Rosa Avila (drums, Mexico), Mayra Casales (percussion, Cuba/USA) Leni Stern (guitar, Germany/USA), Jamie Baum (flutes, USA), Reut Regev (trombone, Israel/USA), and Ingrid Jensen (trumpet)… & because her players are so international in scope, you also get treated to jazz viewpoints from all over the globe… if you don't believe me, just check out the most enchanting "Bubbles"… some of the most engaging percussion work I've heard (yet) in 2018, and I love Jamie's flute on this one.  The group's rendition of the classic "House of the Rising Sun" isn't like any performance of the song you've ever heard… unique and totally penetrating… Monika's piano on this one is high-energy, to be sure.  It was an easy pick for my personal favorite… the 6:36 original, "Wayning", earns a (rare) "permanent spot" on my iPhone playlist… just stunning performance and recording.  I give Monika and her musical cohorts a MOST HIGHLY RECOMMENDED, with an "EQ" (energy quotient) rating of 4.98 for this fine album.  Get more information at Monika's website.       Rotcod Zzaj
Owen Broder – HERITAGE: Incorporates traditional tune fragments into an improvisational framework. The violin makes the jazz sound more folky, which is a great thing. This is a product of people doing something they love, with people who demonstrate respect and admiration, with matching enthusiasm and commitment, a truly remarkable team.
Goin up home (5:45) Simple elegance, music of a journey, thinking ahead to arrival in a place from the past. As the song progresses there are more voices added, playful and intense in places, overall a nice ride.
Wherever the Road Leads (6:31) More travelling music, feel the road gliding below, count the progress in smiles, keep the step going so steadily. The woodwinds make for an entertaining dialog with fellow travellers, taking turns with strings and more brass. Just when it might be over, along comes another adventure. Keep going!
Jambalaya (4:34) A slow start to a major traditional cook out, what I like most about it is that you don't know what it is until you are deep in the broth, then it's oh yeah. Groove with the Southern Cuisine with a new presentation. I am still waiting for the grits, they show up rather late in the meal. They never do break out the crawfish pie.
Cripple Creek (7:08) This one starts with the fiddle as it should. Goin' in a whirl.
Wayfaring Stranger (9:42) This song has haunting old traditional words, nicely sung. It's a dark and sad theme, just the way you like it. The theme of traveling is back, this one takes its time, no hurry. Maybe we are sitting by the campfire in the darkest moments of deep night.
I'm Not Afraid to Die (5:54) When I listen to this with my eyes closed I am watching the ocean, winds bring spray up, the horizon goes on forever. Horns and the piano, moving brightly with the percussion, it's a beautiful day. See the sun sparkle!
Brodeo (8:27) A more complex rhythm, strings bring us in, the whole orchestra comes along to meet us and wrap us in warm arms. Do some dancing if you like the jig. This changes to tell a more careful story. More building and we are headed into new territory with new dances.
The People Could Fly (7:53) Vocals open up the landscape where we are going next. If you look far enough you can see them flying but it was a long time ago. Dancing pianos and a vibraphone with a chorus saying some old foreign words, I think. There are some Icarus moments when things resort to failure but that just provides an opening for another way up. Now we are dancing on the edge of the cliff, with wind. Now it might be a children's song, with adventure.
A Wiser Man Than Me (6:36) An old story, told with grace by a woodwind soloist and a choir, at least in the beginning. Traditional amazing piano and percussion structures support the old story as it unfolds and eventually the whole orchestra blooms. There is peace and hope, sway along with us.
The Ensemble: Owen Broder, woodwinds; Sara Caswell, violin; Scott Wendholt, trumpet, flugelhorn; Nick Finzer, trombone.
Soloists: James Shipp, vibraphone, percussion; Frank Kimbrough, piano; Jay Anderson, bass; Matt Wilson, drums
Vocalists: Wendy Gilles, Kate McGarry, Vuyo Sotashe
ArtistShare is the label on the record jacket.
Highly Recommended EQ 4.79 Robin James
Andrew Hadro – FOR US, THE LIVING II, MARCESENCE:  It's been a while since I last reviewed Andrew's splendid reed works in issue # 144; this new release is deeply moving and full of emotion… just listen to the marvelous mix of reeds and percussion on the 4:37 "Alexis", and you'll hear why I say that… sweet work, to be sure!  The light touches on "Due Course" make for perfect listening – but be sure you listen to this with your headphones on (at least for the first sitting), so you can catch every little nuance – of which there are plenty.  My personal favorite of the thirteen Andrew offers up is the ever-so-gentle, yet somehow fiery, "Throughout"… & if you are listening with your 'phones on, as I recommended, this tune will stick with you for years to come… very, VERY nice!  I give Andrew a MOST HIGHLY RECOMMENDED, with an "EQ" (energy quotient) rating of 4.99 for this fine album.  Get more information at Andrew's website.       Rotcod Zzaj
Lyndol Descant – ALL LOVE:  Though Lyndol's all-original creations on this nine-song January, 2018 release aren't "strictly jazz", her energy vocal and keyboard works are highly entertaining… I greatly enjoyed the "pop feel" on "Let You Love Me"… it took me back to my years with transistor radios (way before the Walkman, lol); one of the strongest impressions/memories is of songwriter Carole King, or the early Janis Ian songs… yeah, like that.  She definitely "sings from her heart", as you'll hear on tunes like the upbeat "Lonely Hearted"… notable keyboard work on this one, too.  My personal favorite of the nine she offers up is also the longest on the release, "Reeds".. strong recording, and a voice that will bring back memories (both sweet & not) for you.  I give Lyndol a HIGHLY RECOMMENDED, with an "EQ" (energy quotient) rating of 4.97 for this release.  Get more information at the Lyndol Descant website.         Rotcod Zzaj
Carolyn Lee Jones – IN A LONG WHITE ROOM:  Sakes alive!  It's been a while since I reviewed Ms. Jones excellent jazz vocal work (issue # 140, to be precise)… her new release contains some mighty powerful songs, featuring her sultry voice… just listen to her performance on the 3:46 "Tainted Love"… I guarantee you, I wouldn't want to be on the receiving end of THAT tirade, lol… Carolyn makes those deep emotions come alive most vibrantly!  Her superb vocals are wonderfully complimented by Brad Williams (piano), Jonathan Fisher (electric & acoustic bass), Dennis Durick (drums & percussion), Tom Burchill (guitar), Dave Monsch (flute,bass clarinet, saxes), & they all work smoothly together.  There's truly high-energy on "Give A Damn", & I loved the guitar from Tom… too cool!  Of the dozen songs Carolyn and her pals offer up, my personal favorite is "The Sweetest Taboo"… her lilting vocal on this tune, along with the fabulous arrangements going on behind/around her, is already one of my "picks" for 2018.  I give Carolyn's new release a MOST HIGHLY RECOMMENDED, with an "EQ" (energy quotient) rating of 4.98.  Get more information on Carolyn's website.        Rotcod Zzaj
Justin Piper – TRANSCEND:  Justin's splendid guitar work is labeled (in the promo material) as "acid jazz", but it's not yer' grandpa's acid, or his jazz… this is truly "revitalized"; let's call it "blue dot on steroids", maybe… whatever label gets affixed to it, Jusiin's playing is pure perfection, as evidenced by compositions like the 3:47 "Through Composed"… songs like this will indeed take you to new levels in your awareness… nice, really nice!  He's very capable of painting images with his music, too, as you'll hear on the more dark-toned "Falling Through The Dark", and the fact that he plays all the instruments on his original compositions makes him even more attractive to the listener… I just LOVED his drums on this piece.  The song that was my "instant favorite" of the fifteen offered up is "Camels"… at 4:04, it's one of the longer tunes on the album, and it's easy to picture desert sands being traversed via his guitar magic.  I give Justin a MOST HIGHLY RECOMMENDED, with an "EQ" (energy quotient) rating of 4.99 for this superb album.  Get more information about this high-talent player on Justin's website.          Rotcod Zzaj
Steven Allen Gordon – ALL OVER THE MAP:  There's little better than solo guitar work when it's done well… what makes this album release special for this reviewer is that Steven is from the same neck of the woods I am, up in Bellingham, Washington… as you listen to his excellent performance on "Prelude No. 4 in E Minor", you'll know (immediately) why my ears found his talent so stunning… pacing is perfect, and the recording is flawless!  Steven's surely met his goal to "take the listener on a diverse and rich journey", in every way!  He also plays viola, and (joined by pianist Jeremy Borum) you will find your soul stirring as you listen to "Ballad for Viola and Piano"… absolutely wonderful work.  My personal favorite of the fifteen songs offered up, though, is one of the shorter tracks (3:15), "Breaking Point"… his steel-string acoustic guitar will simply blow you away on this wonderful piece, and you'll find yourself listening to it over & over again.  I give Steven and his musical cohorts a MOST HIGHLY RECOMMENDED, with an "EQ" (energy quotient) rating of 4.99 for this splendid sonic adventure.  Get more information on Steven's page for the album.         Rotcod Zzaj
Galapaghost – PULSE:  A brand-new sonic adventure that epitomizes what this magazine was really started for… D.I.Y.  Totally self-produced by artist Casey Chandler as Galapaghost, it contains great lyrics and music, as clearly evidenced by tunes like the lyrically creative "Analog Wasteland", which definitely speaks to today's times… I definitely dug this song!  The guitar work on the ever-gently swaying "Holy Moly" will transport you to a place you want to be in… the somewhat gritty lyrics, combined with Casey's splendid vocal work makes it a very listenable composition.  The track that caught my ear most strongly is "Bleed", which easily won my vote for personal favorite of the eleven songs offered up.  I give Galapaghost a MOST HIGHLY RECOMMENDED, with an "EQ" (energy quotient) rating of 4.97.  Get more information on the Galapaghost website.     Rotcod Zzaj
Jing Chi Robben Ford Jimmy Haslip and Vinnie Colaiutai – SUPREMO:  If ya' lay claim to being "old school", rockwise anyway, you're gonna' just LOVE this great CD… as you listen to "Showtime", you'll hear why I say that… full of life, pep, vim & vigor, these high-energy players will capture your ears in a heartbeat & just blow you ALL the way away on this great tune.  If, OTOH, you're lookin' for something with a full-bodied blues flavor, you'll be groovin' in no time to "Better Times"… think back to Paul Butterfield, & you'll have an idea of what these cats are gonna' inspire you with on this tune.  They definitely tread (far) into jazz territory on "Casablanca", one of the coolest guitar-led songs I've heard (yet) in 2018… beautiful pacing, too.  There's no question about it, though, the piece that got my pick for personal favorite is "At The Apollo"… this is SOME kind o' FUNKY, peepz!  I give these gents a MOST HIGHLY RECOMMENDED, with an "EQ" (energy quotient) rating of 4.99 for this excellent (& timeless) album.  Get more information on the Robben Ford page for the release.          Rotcod Zzaj
The Ed Palermo Big Band THE ADVENTURES OF ZODD ZUNDGREN:  "A Dizzying and Ingenious Reinvention of Music by Frank Zappa and Todd Rundgren"… my first thought was that this is a collection of songs lovingly reproduced by musicians of dazzling competence, but it's got nothing original, nothing interpreted, they hit each note just exactly as heard on the original recordings. All replication and no innovation, which some fans would truly appreciate, I am sure.
The second thought, this might work for a fan of either or both Todd Rundgren and Frank Zappa. Another second thought (maybe just call it a third thought), a true Zappa fan would just barf, someone inexperienced wanting to explore light versions of the dark master (Zappa) might get something from this. This is not for traditional jazz lovers who look for new ideas. It does showcase fantastic professional chops and ear works. These guys are pros, no doubt about it.
Twenty five numbers:
The Solemn Z-Men Credo (0.25) This is very short. It's got an acapella freedom chorus.
Peaches in Regalia (Frank Zappa) (3.19) Magnificent brass, none of the percussion as heard on the original but there are drums.
Influenza (Todd Rundgren) (5.50) These guys are working too hard here, a pop song redone as a band workout and no lyrics. This is just awful.   Yer Fast (Todd Rundgren) (1.27) This has lyrics, it's getting better than the other songs. It has a sense of humor. But its very short, but that is the way it was intended.
Absolutely Free (Frank Zappa) (4.28) A loving reproduction sans lyrics. No nasal snorting as found in the original. Sanitary!
Breathless (Part 1) (Todd Rundgren) (1.38) The arrangement is noteworthy, again the band gets its workout on, but the original is soooo much better, with more textures and goofy interludes.
Big Swifty (Frank Zappa) (1.16) I think the band enjoyed doing this short workout, the guitar has more fun.
Kiddie Boy (Todd Rundgren) (3.43) Has lyrics and the band is in fine form, groovin. This one song might be worth the price of the album.
Montana (Frank Zappa) (6.42) Has lyrics, nice arrangement, the drums are given more energy than the version of Peaches in Regalia.
Emperor of the Highway (Todd Rundgren) (1.38) At last some fun, the original version has just a piano, this is a whole orchestrated embellishment. Fun is important.
You are What You Is (Frank Zappa) (1.45) Another shortie. The strings have it, dancing on top of the band.
Echidna's Arf (Of You) (Frank Zappa) (featuring The Louisiana Swindle Singers) (3.54) Dabba dabba doobie dwee yeah! Shoobie do doobie do dooo wah…
Hello Its Me (Todd Rundgren) (3.31) It's all about vocals, Todd had a major pop hit with this one. Nothing new here, but its done well.
Big Swifty Coda (Frank Zappa) (1.36) Tight, busy and bouncy. Well done.
Wailing Wall (Todd Rundgren) (4.00) No lyrics. The song originally was vocal with piano, this is all puffed up for the band, keeping everyone busy, but these guys in the big band present no lyrics. Seems wrong.
Florentine Pogen (Frank Zappa) (7.25) This one is the monster, it just might work because they take time to honor the master. But it is sanitary. The lyrics really help this monster to work.
Flamingo (Todd Rundgren) (2.23) Nice try, too many people. The original is slimmer and gets into more little places, this is a fat ham sandwich.
Marqueson's Chicken (Frank Zappa) (3.53) Nice and tricky here, this might hit it like Kiddie Boy for a listen, out of the whole album, showing off the arrangements and all that technical stuff.
Song of the Viking (Todd Rundgren) (1.58) Todd did all this with just his voice and piano (drum too). Here we have the whole bamned dand but it does not help much but the chores get done.
Janets Big Dance Number (Frank Zappa) (1.51) This goes on the short list of possible listens on this album.
Broke Down and Busted (Todd Rundgren) (5.13) This goes on that short list too. Nice arrangements and plenty of lyrics.
Breathless (Part 2) (Todd Rundgren) (0.51) So short.
Zoot Allures (Frank Zappa) (2.50) Again with finding a place for the whole band to stay busy, but no zap. This interpretation might be the worst musical number of the whole album.
Yer Fast (Todd Rundgren) (0.54) Excellent lyrical work with the band. I like it.
(hidden track) (1.43) Leans toward the Rundgren side, vocals and piano. It's a good question to ask when it's all over.
The Z-Men by instrument — Rakishly Ribald Reeds: Cliff Lyons, Phil Chester, Bill Straub, Ben Kono, Barbara Cifelli; Triumphant Trumpets: Ronnie Buttacavoli, John Bailey, Steve Jankowski; Terrifying Trombones: Charley Gordon, Mike Boschen, Matt Ingman; Pulsating Piano: Bob Quaranta; Scintillating Synth/Sampler: Ted Kooshian; Browbeating Bass: Paul Adamy; Daredevil Drums: Ray Marchica; Iconic Electric & Acoustic Violins, Villainous Vocals: Katie Jacoby; Gallant Guitar & Valorous Vocals: Bruce McDaniel
Cuneiform Records  NOT RECOMMENDED AT ALL EQ 3.998      Robin James

Under the Lake – JAZZ, GROOVE & ATTITUDE:  If your ears are thirsting for some "backwards compatibility", to groups like "The Crusaders", for instance, you're gonna' just LOVE the new album from UTL… it was produced by keyboardist Jayson Tipp, who is also joined by tenor saxophonist David Evans and trombonist John Moak, Brian Foxworth on drums, Kenny Franklin on bass, guitarist Evan Mustard, Nat Caranto on alto sax & special guest Joe Powers doing harmonica.  Tunes like the 5:54 "Good Things" will swing & sway you right back on into those days when jazz DID have attitude… super-cool, to be sure.  If you're into jazz with a bluesy flavor, you're gonna' dig down deep on "George Is His Name"…  I'll tell ya' right now, this is one of the best funky/blues songs I've listened to (yet) in 2018.  My personal favorite of the eleven great originals offered up, though, is the DOW-un & fon-kee "Full of Life", which had the most attitude of all the songs on the album…  over an hour's worth of ultra-cool that gets a MOST HIGHLY RECOMMENDED from my ears, with an "EQ" (energy quotient) rating of 4.98.  Get more information at the UTL website.       Rotcod Zzaj
Excalibur – THE DARK AGE OF THE DRAGON:  If it's dramatic, high-energy rock opera you're in need of, then you need look no further than this fine album… nineteen songs that chronicle Merlin's escape from Morgana's spell… I'm not generally into this kind of music, but after the first eight bars of the first song, "The Wings of the Dragon", I was totally HOOK-ed!  This just SOARS, high & mighty, and will transport you (back) to the lands we (all) came from!  The power they portray on the 3:34 "Stonehenge" is absolutely stunning… you'll be hitting replay often, I'll guarantee it.  The song that won my vote as personal favorite of the 19 offered up is "The New Times"… you owe it to your ears to own this album; you'll be spinning it from now through eternity.  I give Excalibur a MOST HIGHLY RECOMMENDED, with an "EQ" (energy quotient) of 4.98.  Get more information on the Cherry Red page for the album.       Rotcod Zzaj
Ian Faquini & Paula Santoro – METAL NA MADEIRA:  If, like me, you're a lover of all things Latin when it comes to jazz, you're going to fall in love with the marvels that Ian, Paula and a whole host of other players perform for you on this excellent release… I first had the opportunity to witness Paula's excellent jazz vocal work during her live show here in Olympia), and she gave me two of her CD's to review just before that show… this is the first, and as you listen to her sing the beautiful "Dorival Pescado", you will (easily) hear why I believe she's such a stunning jazz vocalist.  There is one word for the buoyant spirit Paula performs with – LIVELY!  On the beautiful "Mae da Lua", her talent for weaving the listener into her magic vocal web is vibrantly visible.  I've heard (& reviewed) lots of jazz vocalists, but Paula is surely one of my top favorites… & that's (in great part) because of songs like my personal favorite from this album, the fantastic opener, "Sereia", a beautiful song about mermaids… quite amazing and just lovely.  I give Ian, Paula and their cast of musical characters a MOST HIGHLY RECOMMENDED, with an "EQ" (energy quotient) rating of 4.99 for this superb album.  Get more information about this fascinating jazz album at the ALLMUSIC PAGE for the release.         Rotcod Zzaj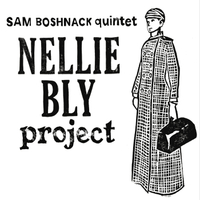 Samantha Boshnack Quintet – NELLIE BLY PROJECT:  Sometimes it's just music and sometimes its a vehicle for the spoken
word, increasing the power felt by each. There is no such thing as "just music" it's an emotional complex, it depends on what you
normally listen to, that is giving it new dimensions. It's going to new places on familiar vehicles. The words bring a lot of weight,
depending on how much saxophone you normally listen to. Drums, keyboards and the jazz sound, easy to identify but impossible to explain. How can words have anything to do with sound? They are completely different. Listen to how Sam uses her words, she has our nourishment. This is a jazz of clarity and composure. It's got the groove.
Expositions (7:22) has that odd note that works so well. Innocent, unaffected and frank. After One is in Trouble (10:18) gives us a new light. 72 Days (10:50) it's only 28000 miles, I shall be back again. Legacy (5:28) poses questions about fate. Who does this? Samantha Boshnack; trumpet and vocal; Beth Fleenor: clarinet and bass clarinet; Alex Chadsey: piano and keyboards; Isaac Castillo: upright and electric bass; Max Wood: drums (that is the quintet); with Valerie Holt and Anne Mathews providing some vocals; and Anne Whitfield providing some spoken vocals.
The sound is healing and positive, it's like futuristic birdsong with more direction than birds accept, only its familiar and its spoken (in a jazz way) in our biped language. It does not get tangled with complexity. You are going to enjoy listening to it.
It does not need to get any heavier than the spoken word parts. There is decorating and there is dissection. Ordered meditation and what we got was this jazz stuff. Worked out pretty well.
Now about Nellie Bly, who was she? We think about history and her story adds dimension for the clear-thinking jazz music itself. Yes, put them together. The logo woman with her heavy sweater-suit adventuring outfit suggests a historic mindset, ready for a major cosmic adventure. There is a gallery of important people from the past, perhaps they are immortal and still live. Who is Nellie Bly? I think her photographic portraits look empowered. She is well educated. She has an active soul and she is on a mission. She's a feisty wealthy chick charity journalist who was able to actually follow the trail of the fictitious Around the World in 80 Days by Jules Verne. She was born in 1864 and made it around the world in 72 days. So there.
Nellie Bly (May 5, 1864-January 22, 1922) was a journalist who took on difficult topics of the time including investigating conditions in prisons and mental institutions. That could be really dangerous, getting inside a prison, undercover just to live and be patient and eventually to tell the story. Suffragette, Writer, Industrialist, Inventor. Her husband manufactured steel barrels and she patented some special kind of milk can and some cans that were made to stack easily, it sounds like a good time to have ideas and make them happen. She was widowed in 1904.
Let's get back to the music. This is jazz, it has jazz forms, jazz instrumentation and jazz strategies. You can groove to it, very good for moods of quietude. Reflective spaces. Bring down that blood pressure. Put on the relaxed smile.
It has a soundscape quality, the perfect soundtrack for a particular afternoon or morning. Easy and constructive, meditative and reflective, and then out of the blue the voices come.
There is something called the B'shnorkestra, it appears to be much larger than the quintet. Keep an eye out and an ear open for the B'snorkestra and the quintet.  Press and radio contact 206 412 7350  OH YES VERY HIGHLY RECOMMENDED EQ 4.89       Robin James
Timothy Cooper – GLOBAL SKIES:  It's amazing (to me) how long it's been since I last reviewed Timothy's fantastic piano works (issue # 89)… his new 2017 release will totally blow your mind, as well as lift your spirit to new heights.  As you listen to pieces like the beautiful 7:06 "Bangkok Rains", you'll find yourself joined in his global adventure – most pleasantly, I might add.  Timothy's piano style is very straight forward and full of life, which will make you a fan immediately.  The title track, "Global Skies", will help you feel the power of the diversity that (in the end-run) can bring us all together on our often fractured planet.  My personal favorite of the nine compositions offered up is one of the shorter pieces (5:45), the closer, "The Light After"… the chord structure that Timothy paints with here is rich and full of the textures of the hope we all need to be better folks.  I give Timothy a MOST HIGHLY RECOMMENDED, with an "EQ" (energy quotient) rating of 4.99 for this excellent album.  Get more information on Timothy's page for the release.          Rotcod Zzaj
Russell Suereth – SPIRITUAL ODYSSEY:  If you're looking for music that's both pertinent to our situations today and full of inspiration for tomorrow, Russell's new CD… I've listened to (and REVIEWED, of course) his works before, most recently in issue # 156, where his top-flight skills in the electronic and vocal arena got hims high marks.  As you listen to the beauty he projects on compositions like the string-laden "A Ride To Virgo", you'll realize that his efforts on this new release are even more pleasant… just imagine yourself on flights through the solar system to your next galaxy, and you'll "get" what Russell's intention was on this beautiful piece… I loved it!  My personal favorite of the ten songs he offers up for your aural enjoyment is the dynamic "The Walls Are Tumbling" – his integration of voice with the strings and electronic wizardry is just superb here.  I give Russell a well-merited MOST HIGHLY RECOMMENDED, with an "EQ" (energy quotient) rating of 4.98.  Get more information on Russell and his work at Russell's website.       Rotcod Zzaj
Uwe Gronau – WHEN EVERY WORD WAS SINGING:  Uwe is a favorite here… his music is always exciting, and from album to album, he always provides new experiences and sonic surprises… that's exceptionally the case on the new album… he uses words (a new experience from him for me) in most influential ways to dig deep down into the emotions that every one of us feels… I couldn't find any samples (anywhere), but tunes like "Motif In Motion" will bore down deep into your mind and energize your soul for new horizons.  If "smooth & cool" is what you're yearning for, the oddly named "Breakfast In Kentucky" will give you plenty of that… the keyboard/synth lines on this are just SUPERB.  There are really more pensive moods in Uwe's music on this release, and the best example of that (for this listener) is the slinky (& funky) "Jackson"… the bass lines are PERFECT for the intro to the song, & this tune will have you up on your feet in no time & moving 'round the floor.  I give Uwe a MOST HIGHLY RECOMMENDED for this fine album, with an "EQ" (energy quotient) rating of 4.97.  Get more information on this fascinating artist at Uwe's website.          Rotcod Zzaj
Dan Pugach – PLUS ONE:  WOW – what a stellar lineup for Dan's Nonet… Nicole Zuraitis, voice; Ingrid Jensen, David Smith, trumpets; Mike Fahie, trombone; Jen Hinkle, bass trombone; Andrew Gould, alto saxophone; Jeremy Powell, tenor saxophone, Andrew Gutauskas, baritone saxophone; Carmen Staaf, Jorn Swart, piano; Tamir Shmerling, bass; Bernardo Aguiar, pandeiro, and, of course, his dynamic drum work to keep it all moving (in a big, BIG way)… just check out the driving opener, "Brooklyn Blues"… for some reason, I hear snatches of many different players/groups on this one, most notably Ramsey Lewis (strangely enough).  The 4:47 "Belo's Bellow" gets down & funky from the very first note… great rhythms on this tune – I loved it!   From the standpoint of "mighty & mellow", though, it's the 9:06 "Coming Here" that got my vote for personal favorite of the nine tunes offered up for our aural enjoyment.  If you're looking for POWERHOUSE jazz, this comes MOST HIGHLY RECOMMENDED by me, with an "EQ" (energy quotient) level of 4.99.  Visit the Dan Pugach website to get more information.           Rotcod Zzaj
Dan Block – BLOCK PARTY:  I've reviewed Dan's excellent reed works before (a couple of times), most recently in issue # 129, and his work is always pure pleasure for any solid jazz fan… as you scope out the laid-back atmosphere of "Light Blue", you'll hear why he's always a hit here.  In addition to Dan's splendid clarinet and sax work, you'll also hear from Neal Caine on bass, pianist Tadataka Unno, drummer Aaron Kimmel as well as Dan's brother, guitarist Rob Block… just over an hour of high-energy jazz that will be playing on your "devices" 'round the clock.  The high-energy cool on "Option Click" will have you swingin' & tappin' in true St. Louis fashion.  It was easy to pick a favorite from the ten songs Dan & his compadres offer up… the 7:01 "Beautiful Changes" is a jazz lovers dream come true… plan on replay often.  I give Dan and his players a MOST HIGHLY RECOMMENDED, as well as an "EQ" (energy quotient) rating of 4.98 for this excellent recording.  To learn more about this high-talent player, visit the Dan Block about page.          Rotcod Zzaj
Jeff Hamilton Trio – LIVE FROM SAN PEDRO:  The one thing you can ALWAYS count on when drummer Jeff Hamilton is involved is – MOVEMENT!  This live set from San Pedro captures his drum work at it's zenith, and your ears will be dancin' right along with Jeff and his cohorts, pianist Tamir Hendelman and bassist Christoph Luty… but, don't take my word for it – just listen to their splendid performance on Ahmad's "Poinciana"… as Jeff said in the liner notes, though, his group "put a new dress on it"… this tune is the ultimate in cool jazz listening!  &  "hip" abounds on the swingin' "Gina's Groove", one of my favorite trio jazz tunes (yet) in 2018… it's only 4:35, though, so you'll be hitting the replay button often.  My personal choice for favorite of the ten tunes offered up is (unquestionably) the 4:36 opener, "Sybille's Day"… every player has their chance to shine on this totally upbeat tune.  I give Jeff & his crew a MOST HIGHLY RECOMMENDED, with an "EQ" (energy quotient) rating of 4.98 for this excellent jazz recording.  Get more information on the Capri Records page for the album.        Rotcod Zzaj
Sunny Wilkinson – INTO THE LIGHT:  There's one element that makes a jazz vocal album more worth reviewing than all the others that zoom in here (on an almost daily basis)… & that is – COOLNESS… & as you scope out Sunny's marvelous performance on tunes like the ultra-chill title track, "Into The Light", you'll realize that you've stumbled across a once-in-a-lifetime experience… an essential tune (& album) for any dedicated jazz listener!  Sunny has some stellar jazz players supporting her marvelous jazz vocals as well… Bass player ED FEDEWA, drummer LARRY OCHILTREE and (her husband) RON NEWMAN on piano know right where she's going on each song, and together, they MAKE the album a winner.  My personal favorite of the thirteen songs offered up is her rendition of the jazz classic "Corcovado"… her unique ability to sing in all different styles of jazz is most clearly evident on this song, & it (easily) earned a permanent spot on my iPhone player (which not very many tunes have the honor of, BTW)!  I give Sunny and her high-energy, high-talent players a MOST HIGHLY RECOMMENDED, with an "EQ" (energy quotient) rating of 4.98 for this excellent vocal jazz adventure.  Get more information on Sunny's page for the album.           Rotcod Zzaj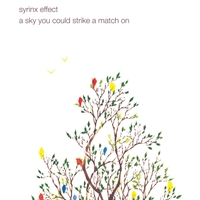 Syrinx Effect – A Sky You Could Strike A Match On:  There's nothing more satisfying to these ancient ears than improv from Seattle… you can listen to samples from all ten of their interstellar-folk-punk-jazz duo (their term) at their CD Baby page for the album, and if you love improvised music as much as I do, you'll find yourself immediately enchanted with pieces like "The Bankrobber Song"… I've no doubt you'll hear (& maybe even see) Al Capone & (maybe) even Bugsy Siegel in this excellent tune!  Syrinx Effect players include KATE OLSON – [saxophone/effects/composer/producer] NAOMI SIEGEL – [trombone/effects/composer/producer/recording engineer] ERIC EAGLE – [drummer, producer, recording/mixing engineer} JACQUES WILLIS – [drummer, produced beat on Super Soaker], & they represent the very best the Seattle scene has in the way of free-flight (& fun) improvised music.  My personal favorite of the ten tunes is the rhythm-driven "Super Soaker"…  great horns & lots of freedom.  To become more familiar with the players, check out their YouTube trailer…
This group gets a MOST HIGHLY RECOMMENDED from me, with an "EQ" (energy quotient) rating of 4.98.          Rotcod Zzaj
Steve Heckman & Matt Clark – SOME OTHER TIME/SLOW CAFE:  Steve plays some wonderful tenor/soprano sax and flute, and Matt does superb piano work on this very interesting September 2017 release… as you listen to songs like the oddly titled "Ugly Beauty", you'll hear just how well they play together… nothing ugly about their jazz, to be sure.  The 7:19 "Theme for Ernie" is a jazz gem that you'll find yourself spinning over & over again (this a perfect tune for your iPhone player, especially on long road trips).  This is their fifth album together, and nowhere can you hear their absolute comfort level with each other's artistry than on the 8:59 "The Peacocks"… this is definitely my personal favorite of the dozen tunes offered up for your jazz listening pleasure… leisurely pace, but full of passion.  I give Steve and Matt a MOST HIGHLY RECOMMENDED for this one, with an "EQ" (energy quotient) rating of 4.98.  Get more information at Steve's website.         Rotcod Zzaj