Our latest reviews for your reading and listening pleasure!!!
Carter Calvert – CARTER CALVERT AND THE ROGER COHEN TRIO:  Man, Carter is one powerfully-voiced jazzer… the opener, "The Best Is Yet To Come", will make you a fan right away, & when she slinks/slides right into "Fever", you'll go "Ooohhh"!  This is all helped (greatly) by her chosen players, Jim West on piano, Brian Glassman on acoustic bass & Roger Cohen on drums/percussion; but it's clear on all 13 tracks that this is Carter's show, through & through!  The Latin style on "You Belong To Me" is just the kind of vocal jazz that turned me on to this music so many years ago.  It's the kickin' pace of the upbeat & bluesy "Please Don't Stop Him" that got my (immediate) vote for favorite… absolute killer song & performance by Calvert.  I'm highly impressed, & (as many of you know), that takes some doing…. Carter/crew get a MOST HIGHLY RECOMMENDED, with an "EQ" (energy quotient) rating of 4.98.  Get more information at her FB page.     Rotcod Zzaj
Ro Sham Beaux – RO SHAM BEAUX:  This Boston quartet can't be "pinned down" with any sort of "label"… yes, it's not exactly rock… & yes, it's not exactly jazz, either.  What the 11 originals present for you is a new paradigm for jazz/rock lovers of any stripe.  That's especially true on cute lil' tunes like the opener, "Bearblade"; it's clear from the first note that Zac Shaiman's sax is right out in front of the four, but Luke Marantz' piano/keyboard, Oliver Watkinson's bass & Jacob Cole's drums will have your ears at attention on every little twist/turn they walk you through.  If mellow is more your style, you'll certainly enjoy the laid-back pace of the oddly titled "Slave To The Cube"… it was the power projection in the aptly titled "Soul Crusher" that captured my vote for favorite, though.  Lots to like here – I give it a MOST HIGHLY RECOMMENDED & predict that you'll be hearing much more from these cats… "EQ" (energy quotient) rating is 4.97.  Get more information at their site (& be sure to tell them we sent you).    Rotcod Zzaj
Karen Johns & Company – PEACH:  Just think about the CD title… smooth, sensual & mighty tasty when you wrap your lips (or your mind, in this case) 'round it.  Tunes like the bluesy/jazzy "Rocket City" will whet your appetite for jazz vocals that just won't quit, & when you scope out Karen's unique rendition of "Chattanooga Choo Choo", you'll know you're going to be sated (for sure).  I was first exposed to Karen's silky style in issue # 89, where she got a great rating from my ears.  Karen's husband James kicks out some great guitar work in support of the 5 other players… the other way-cool thing about her work is that she wrote both words & music on  9 of the 13 tunes… not "just another jazz singer" by any stretch of the imagination.  My personal favorite was the closer (another Karen original), "Red Bird"… total talent and synch on display here!  I give Karen & her crew a MOST HIGHLY RECOMMENDED, with an "EQ" (energy quotient) rating of 4.97.  Get more information at Karen's site.    Rotcod Zzaj
Bob Ardern – WIRES, ROSEWOOD & ROOTS:  I continue to be (pleasantly) amazed at how cyclic these review stacks can be… this is (at least) the third guitar-based CD in this month's stack… Bob has a masterful touch and a full sense of what the listener will enjoy, particularly on tunes like the beautiful & calming "Tea Rose"; orb-viously, if you're a die-hard reed or brass fan, you may not typically listen to a 12-song guitar journey, but I can tell you right now – you'd be cheating your ears if you passed on the chance to scope out "Skating" – the guitar & piano mesh together perfectly.  The string-bending and bluesy tone of the closer, "Windrush", made it my favorite track, but you're bound to find others that please you as well.  I give Bob a MOST HIGHLY RECOMMENDED for listeners inclined to spend their afternoons being soothed by guitar strings.  "EQ" (energy quotient) rating is 4.97.  Get more information at Bob's pages.     Rotcod Zzaj
Alan Rosenthal – JUST SAYIN':  Some mighty fine jazz piano played by Alan (joined by Cameron Brown's bass & Steve John's drums)… "Loco Motion" is a high energy tune that I particularly enjoyed (probably because it's one of the 8 original compositions on the 9-song CD).  These cats play really well together, and the recording quality is flawless; each of the instruments gets a solo section on most of the tracks.  If you're looking for a tune with a more laid-back approach, you'll love "Nocturne"; especially if you love solo jazz piano as the main attraction of a tune.  My personal favorite was "Time The Traitor" – very smooth interaction between all three players here, with a jazz style that's reminiscent of the "good ol' days" I grew up with, yet with a fresh & modern approach that keeps it attractive to jazz listeners of all styles.  I give Alan & his pals my MOST HIGHLY RECOMMENDED, with an "EQ" (energy quotient) rating of 4.99.  Get more information at Alan's page.      Rotcod Zzaj
Philip Gayle – BABANCO TOTAL:  If improvised mayhem is what you're after – Phillip has got it – in SPADES!  Voice snippets embedded with various overdubs (on all 15 tracks) make for a truly novel/unique experience, especially on pieces like the opener, "sleep rain".  Unfortunately, I couldn't find any sound samples on the net, so you'll want to visit the LABEL page to get more information.  I will say that the listener must be interested in experimental music, or they won't find this attractive… in other words, if you're expecting "straight ahead" jazz or blues, you won't find it here.  Another very attractive sonic adventure was the closer, "pajama turtles"… funny cartoon-like voices layered over a chorale make for a very deep 5:44 tune.  I give Phillip a HIGHLY RECOMMENDED on this outing, with an "EQ" (energy quotient) rating of 4.96.  Get more information at the page marked above.      Rotcod Zzaj
Ernesto Diaz-Infante, 99 Hooker, Rotcod Zzaj:: THE FUTURE HAS ALREADY BEEN DONE:   The Future Has Already Been Done retains Diaz-Infantes guitar and Zzajs ambient computer noises, but strikingly adds 99 Hookers samples to the mix. This record is completely about these samples, which are not just samples of sounds or instruments but also samples of popular culture itself. They include snippets of other musicians familiar songs or vocals (both The First Song and Allright contain many different samples of Beastie Boys songs), classical chamber music, television/radio commercials (one for Blockbuster video is especially prominent), movie dialogue, and even sports play-by-play announcers (the baseball announcing duo of Jack Buck and Tim McCarver stand out). These samples are spliced together, repeated, and distorted assembled into a giant collage of sound. The result is a much more aggressive, dynamic record that the casual listener more easily would be able to appreciate.
I enjoyed both of these records, but in doing so, I had to bring a lot to the table of my own. Sirius Intrigues is not a record I will find myself listening to much ever again its more a record that you hear, appreciate the great degree of creativity that went into making it, and then put it away for a very long time. You understand and appreciate the entire concept from just a few tracks and do not need the entire 70-minute plus running time to have those same concepts repeated over and over. The Future Has Already Been Done, with its entertaining sampling and more in-your-face approach, is definitely the more accessible album and the one I enjoyed more. If you are looking for an art concept record that utilizes the sounds of popular culture (and aren't we all?), this is your answer.   Matt Sherman, LEFT OFF THE DIAL
Hristo Vitchev Quintet – THE PERPERIKON SUITE:  My first exposure to Hristo's wonderful guitar work was reviewed in issue # 123; he and his partner Weber Iago were highly impressive on that CD, and this quintet formation (Hristo's guitar and Weber's piano are joined by vibes from Christian Tamburr, drums from Joe De Rose and bass by Dan Robbins) is even better.  There is a definite element of fantasy (ancient-like) on the opener, "The Stone Passage", and the high energy on "The Acropolis" is exciting (with a hint of danger).  From a jazz guitar perspective, this is among the best I've heard this year, especially on tracks like my favorite (of the 8 offered), "The Great Hall"… this 9:25 marvel has stayed at the top of my playlists for the last 3 weeks!  If you're looking for adventurous jazz with crystal-clear imagery, this is MOST HIGHLY RECOMMENDED; "EQ" (energy quotient) rating is 4.99.  Get more information at Hristo's site.     Rotcod Zzaj
Richard Osborn – GIVING VOICE/GUITAR EXPLORATIONS:  There's no question that this is exploratory… solo guitar like you seldom hear these days… listen to one of my favorites, "Joelle's Song", to get a taste & you'll find yourself totally spellbound.  As you investigate the sonic pathways he walks for you, you will be gentled into a state of mind that we need to absorb more of these days – calm instead of fear, live/love instead of loathing.  A friend of mine in the magickland of Olywa (one Paul Gowins) used to play similar solo guitar works, and Richard is a true master at the form.  My personal favorite of the 8 tunes offered is the 7:27 "A Song of New Beginnings", which clearly shows Richard's talent for using the space between the notes to tell his story in ways you will re-discover each time you listen to the song.  I give him a MOST HIGHLY RECOMMENDED, with an "EQ" (energy quotient) rating of 4.99.  In fact, he gets the "PICK" of this issue for "best improvised guitar".  Get more information on Richard's page.      Rotcod Zzaj
Eric Wallack and Rotcod Zzaj – ARMCHAIR CARPET RIDES:  Around these parts, Rotcod Zzaj is the unquestionable king of DIY experimentation. Zzaj's seemingly endless flow of self-released experimental music regularly teams him with a variety of avant-garde musicians. Such is the case on Armchair Carpet Rides: Zzaj mans the Kurzweil while Eric Wallack incorporates his unique brand of acoustic guitar-work into the mix.
As the title suggests, Carpet Rides has a Middle Eastern vibe. Zzaj confidently lays down unstructured but consistent keyboard jams that smack of jazz, avant-garde and Eastern musical theory. "Ali Baba's Urban Vistas" and "Oriental Ghostriders" stay true to form, including a variety of non-Western influences in a free-flowing experimental composition. Wallack's detuned guitar makes its most prominent appearance on "London Fogway": dissonant notes clash with Zzaj's winding chord structures, creating a cacophony of jumbled notes. "Wayward Wind and Wires" is the most unusual piece of the batch; Zzaj's keys imitate whispering flutes while Wallack sporadically plucks through a curious combination of tones.
Armchair's pieces bring to mind everyone from Jimmy Smith to Frank Zappa as they tunnel through a hallucinogenic '60s vibe into the new century. It's still a far cry from rock 'n' roll or traditional jazz — and frankly, let's hope Zzaj keeps it that way! It was a terribly drugged-out Jerry Garcia who said, "What a long, strange trip it's been"; If Rotcod Zzaj is your musical travel agent, the journey is far from over.   Andrew Magilow, SPLENDID EZINE
Judith Miller Band – I AM WHAT I AM:  Well over 1/2 of the battle when it comes to jazz vocals is ensuring that the energy levels stay up at the top (at all times).  Judith, a net friend for a long time now, has no problem in that department – just scope out the opener, "New Mistakes"… though she's perfectly capable of "lilting" through a tune, she approaches it with the same volcanic movement that (I'd imagine) Popeye's Olive Oyl would… definitely an "up" tune!  For somethin' a bit more bluesy & laid-back, you'll enjoy "I Won't Care" – groovin' right along.  My favorite piece of the 9 tracks offered is "Dance"; if you aren't swingin' after this one, you've got a foot (or two) in the grave already.  I give Judith & her band a HIGHLY RECOMMENDED, with an "EQ" (energy quotient) of 4.98.  Get more information at Judith's pages on REVERBNATION.       Rotcod Zzaj
Peter Sterling – PATTERNS OF REFLECTION:  I sincerely doubt there is any music more relaxing and inspiring than that of a well-played harp (there's got to be a reason that Angels are portrayed playing this instrument so frequently).  You will have no doubt of the beauty as you listen to "The Emerald Forest"… images abound!  That's probably the strongest impression I have on the 16 trax that Peter paints for you – these aren't "just songs", they are sonic paintings.  Peter speaks of communication with many muses, and I don't believe that's just hype – compositions like "Transmission 333" verify that, to be sure.  No, it's not "jazz" in the strictest sense, but it's simple and beautiful.  Peter lives in Ojai (Oh-hi) California, & since I've visited there before, I know it's a perfect location for communicating with magic beings.  I give Peter a HIGHLY RECOMMENDED, particularly for listeners who live for the discovery of new sounds.  "EQ" (energy quotient) rating is 4.97.  Get more information at Peter's site.      Rotcod Zzaj
Thea Neumann – LADY & THE TRAMPS:  As often happens here at I.N., a certain type of jazz winds up "right in a row" in the review stack… today it's lady vocalists, & Thea is right up there at the top, to be sure.  You'll definitely groove to her sultry vocal on "My Heart Belongs To Daddy", as did I.  Thea knows how to pick her players, too; she's joined by Chris Andrew on piano, Kodi Hutchinson on bass & Sandro Dominelli on drums… (Kent Sangster joins them on sax for some mighty mellow reeds for this track) they work/play together very smoothly.  Lots of other guest artists here, too, & it really works on "jumpers" like "In Walked Bud"… I'm highly impressed & all the jazz vocal fans out there in jazzland will be too.  I give this one a HIGHLY RECOMMENDED, with an "EQ" (energy quotient) rating of 4.97.  Get more information at Thea's page.     Rotcod Zzaj
Ellynne Plotnick – I WILL:  I have a lot of good fortune, and a large part of that is being able to renew old musical acquaintances frequently – I first reviewed Ellynne in issue # 97, where I gave her talent high marks, to be sure.  Her lilting tones on the opener, "Falling", will hold you in the enchanted vocal spell she weaves, and the intimacy she projects on "Rosa Lee" will have you kickin' back & relaxing in no time.  Her original, "Anywhere But Here", is a timeless jazz tune that you'll find yourself spinning over & over again!  The whole production on these 10 tunes is excellent, and her choice in musical partners is top of the line… bass from Harvie S and guitar by John Tropea.  Ellynne is one of the most talented vocalists on the jazz scene these days, borne out by my personal favorite tune on the album, the laid-back "Sonar Es", one of the coolest jazz vocals I've heard in 2012.  I give her a MOST HIGHLY RECOMMENDED, with an "EQ" (energy quotient) rating of 4.99.  In fact, she gets the "PICK" of this issue for "best jazz vocal CD".     Rotcod Zzaj
Marshall Gilkes – SOUND STORIES:  & wow, what sonic tales Marshall & his cohorts (saxophonist Donny McCaslin, pianist Adam Birnbaum, bassist Yasushi Nakamura, and drummer Eric Doob) have to tell your ears!  Adam's piano is superb on the opener, "Presence – Part 1"… a 6:32 gem that goes all the way from woe to "woah"! When Yasushi's bass kicks in on the intro to "Presence – Part 2", joined by Donny's splendid reeds and Marshall's trombone, you know the full extent of the yarn they're spinning for you.  Eric's drums hold all of it together rhythmically, and the recording quality is top-flite all the way through.  You get over an hour's worth of high-talent and most memorable tuneage that keeps you wrapped up for the whole time, especially if you do it with headphones.  My personal favorite of the 11 tracks was the beautiful "Downtime"… a totally together story, no doubt.  I give these folks a MOST HIGHLY RECOMMENDED, especially for listeners who want music that lasts!  "EQ" (energy quotient) rating is 4.99.  Get more information at Marshall's page.      Rotcod Zzaj
Ernesto Diaz-Infante and Rotcod Zzaj – SIRIUS INTRIGUES: Futuristic free music from the Bay Area. A member of W.O.O. Revelator and The Abstractions, Ernesto Diaz-Infante is one of San Francisco's most promising young improvisers. Rotcod Zzaj (you figure it out), aka Dick Metcalf, is a veteran experimenter and head of Zzaj Productions. They explore a wide variety of soundscapes and textures on this blissfully noisy and utterly fascinating release.
On occasion Diaz-Infante is reminiscent of fellow Bay resident Henry Kaiser, avoiding all hints of melody in favor of texture and effect. Some tracks are great pieces of engineering, with Diaz-Infante hammering out low, techno-sounding rhythmic figures or freely improvising while his cohort blasts urgent, fast-tempoed lines and samples alongside him. Other tracks are more haunting and spacy, with scattered harmonics and vocal snippets bubbling in and out of the mix, or ecstatically trippy, with fun drum-machine rattlings and disembodied voices. The rhythmic matrix seamlessly connects the next few tracks, weaving an abrasive continuum of fascinating noise. Aqueous burbles, scrapes, grindings and ominous chords abound throughout the whole project, constantly drawing one's ears in new directions.
Fans of AMM and Erstwhile Records would find much to appreciate in this disc and other Zzaj releases. Diaz-Infante and Rotcod Zzaj are at the cutting edge of modern electronic improvisation and making their contributions notably more accessible to the virgin listener than many of their compatriots. Especially recommended for aficionados of extended guitar technique, who should keep a definite ear open for Diaz-Infante.   Todd S. Jenkins @ ALL ABOUT JAZZ
Romain Collin – THE CALLING:  It really doesn't take but four bars of the opener, "Storm", to realize that you are listening to a composer whose primary asset on his keyboard is – POWER!  Many pianist/composer(s) these days (even jazzers) come across as though they were "reading" the whole way through, but Romain makes it ultimately clear that this music is coming from inside him – spontaneous and charged with high energy through and through.  You will grasp that right away on one of my favorite of the even dozen tracks, "Runner's High"… moving is the message!  Romain is joined by bassist Luques Curtis and drummer Kendrick Scott, and they are right in synch from the opening note to the closing bar…. as on the tune I picked as my absolute favorite, "Airborne"…. the piano build on this one merits the price of the whole CD.  I give Romain a MOST HIGHLY RECOMMENDED & predict that you'll be hearing much more from him.  "EQ" (energy quotient) rating is 4.98.  Get more information at Romain's site (be sure to tell him we steered you there, too, please).      Rotcod Zzaj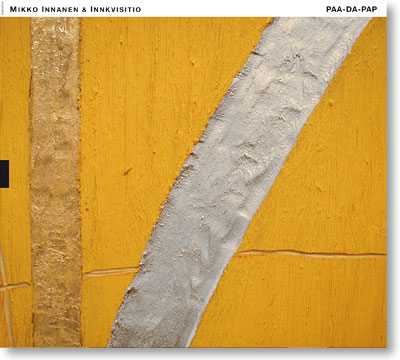 Mikko Innanen & Innkvisitio – PAA DA DAP:  There is ABSOLUTELY no doubt in this jaded ol' mind o' mine that if you're looking for rollicking improvised jazz, you'll fall in love with these 10 tunes from Mikko in only moments… I reviewed their second CD in an earlier issue (issue # 119) without realizing that there was a previous release.  As you listen to the (9:12) opener, "Attac", you'll realize that you're in the presence of pure, raw musical genius (read the PLAYER PAGE to get all the detail you want)… Mikko sent a whole package of CD's from before (after I asked him to send his whole catalog).  The title track, "Paa-Da-Dap", is indeed "therapeutic", as Mikko claimed in the liner notes for the songs.  This is my favorite track (yet) in 2012… totally moves & never stops churning out dreams (or nitemares, whichever the case is for you tonite… lol).  The thing these folks have going for them (more than anything), in my opinion anyway, is sheer joy in the playing.  I give Mikko & his crew my MOST HIGHLY RECOMMENDED… "EQ" (energy quotient) rating is 5.00 (that's the TOP rating, by the way)…. & they get the "PICK" of this issue for "best improvised jazz".  Get more information at the TUM RECORDS page for this CD.      Rotcod Zzaj
The Clarinet Trio – 4:  Another very interesting woodwind trio from Gebhard Ullman, albeit with different players this time (Gebhard on bass clarinet, Jürgen Kupke on clarinet and Michael Thieke doing altoclarinet and clarinet.  I mentioned in my last review of Gebhard's trio (issue # 123) that it's the diehard improvised jazz fans who will savor these 11 tracks the most heartily… as you listen to "Bluaes Viertel", you'll get a taste for how intricate these players get (this one gets kicked down a notch, though, because this is the second CD for which samples weren't readily available on the net).  My personal favorite track on this CD was "Waters", more than likely because the pace the trio plays at is most comfortable for the listener, especially if it's a first listen.  I give Gebhard/crew a HIGHLY RECOMMENDED (it would have been higher, except for not having samples up for listening, other than the one that's linked in here).  "EQ" (energy quotient) rating is 4.97.  Get more information at Gebhard's page for this CD.      Rotcod Zzaj 
Rick Drumm & Fatty Necroses – RETURN FROM THE UNKNOWN:  The CD title will probably give you an indication that Rick created this album at the height of crisis (lymphoma)… as so often happens in those situations, the music is highly creative and ultimately energetic!  Just listen to th' down/dirty phonkiness of "Indi Funk" to get a glimmering of the power these cats (drums by Rick, guitars by Fred Hamilton & Corey Christiansen, bass from John Benitez, pinao by Axel Tosca Laugart, tenor sax from Frank Catalano, trombone from Mike Brumbaugh & trumpet from Pete Grimaldi) can project – superb!  8 other stellar jazz tunes that you won't stop (anytime soon) spinnin' on your playlists… my personal favorite (odd as it may seem) was "Pulled Pork Sandwich"… this brings back a whole heckuvva' lot of pleasant jazz mem'ries, I'll tell ya' & every instrument gets their shot at excellence!  If any CD I've reviewed (yet) this year is deserving of my MOST HIGHLY RECOMMENDED rating – this one is!  "EQ" (energy quotient) rating is 4.98.  Get more information at the band's FB page (& be sure to tell them Zzaj sent ya'!).      Rotcod Zzaj
Ava Lemert – 12WELVE:  I'd listened to Ava's soulful saxophone work on her REVERBNATION page some time back & was quite suitably impressed with her energetic & (often) humorous approach to playing… on this new self-released CD, though, she's downright KILLAH'… her one-sheet notes that it's a "crossover" move into R&B turf, & she proves her merit well on tunes like "Workin' On A Groovy Thing"… it's very clear on powerful pieces like "Ain't No Turning Back Now" that her vocals are worth their weight… in fact, this one's my favorite of the dozen originals she presents here!  I loved the percussion & electronic keyboard work on "Impress Me"… Ava will impress you, too, I've no doubt.  Since I'm from "that generation", songs like the closer, "Junior's Jam", took me all th' way back to "Lickin' Stick" (most of ya' prolly won't remember that one, but it was a mainstay when I was runnin' th' alleyways & James Brown was at the top of his form).  Some "hardcore" jazz purists will skip out on a few of these tracks, but I give it my MOST HIGHLY RECOMMENDED, with an "EQ" (energy quotient) rating of 4.99!  Get more information at Ava's main site!     Rotcod Zzaj
The Michael Treni Big Band – BOY'S NIGHT OUT:  & let me tell you, big band lovers, when Michael & his 16-piece jazz orchestra "tie one on", they do it up RIGHT!  Listen to the opener, "Something's Coming", to get a taste for how largely they play on their night out!  This CD's only being released this month, on 17 April, 2012… so get right out there & get your copy (before they run out).  Michael kind of "laid off" jazz for several years (in the late '80's), & he's back in full force; this is some of the most pleasant big band jazz you'll listen to (not just this year, but for many to come).  Treni's arrangement of th' jumpin' "Boy's Night Out", one of his own original tunes, "Boy's Night Out", is full of the kind of vim/vigor that first attracted me to jazz; it's my favorite piece of the 8 tunes on the CD.  Though this is my first listen to Michael's work, I've no doubt we'll all be hearing much more from him now that he's back on the scene.  He gets a MOST HIGHLY RECOMMENDED from me, with an "EQ" (energy quotient) rating of 4.97.  Get more information at the Bell Productions page for this CD.     Rotcod Zzaj
Pablo Gordy – MR SLIM & HIS LOST SOULS:  Just over an hour's worth of VERY high energy music from Pablo… I've heard some folks saying that this cat's able to "channel" folks like "Prince", "Stevie" & others… when you hear pieces like "There's Nothing Wrong, But Something Ain't Right", you'll know (right away) what I'm talkin' 'bout (some kickazz rhythm guitar on this one, too)!  You'll have to listen closely to "Parking Lot Blues", but I've no doubt you'll dig DOW-un on it as much as I did… peppy, peppy, peepz!  My absolute favorite, though, was the 7:53 "Drifter"… when Pablo kickz over into that badazz bass backbeat, you'll be UP & dancin' on th' flo' – I KNOW ('coz I wuz) & those LEAD guitars are simply SCREAMIN'.  High production values, excellent energy & genuine musical/performing talent make this 16 tune CD an easy for MOST HIGHLY RECOMMENDED (especially if you like music that comes back in your head after a coupla' days).  "EQ" (energy quotient) rating is 4.98.  Pablo also gets "PICK" of this issue for "best new talent discovery".  Get more information at Pablo's bio page!      Rotcod Zzaj
Georg Breinschmid – FIRE:  Georg is an absolute compositional (& playing) genius… he's been reviewed quite a bit here, and the new release promotes the same humorous (though well-studied) approach to music (& life in general, I'd imagine)… as you groove to "Little Samba", you'll realize you're being exposed to music that's truly timeless!  The other 13 tracks (+ a bonus 4-song CD) are filled with jazz variety and tasteful high-energy, through & through.  All the way from polka through gypsy and improvised even… scope out the 5:49 "Herbert Schnitzler" if it's Gasthaus fun you're in search of – lol!  If it's tuneage with a bit more substance you're after, you'll love "Spring" (as did I – it's actually my favorite piece on the CD).  This is a colossal effort that completely merits my MOST HIGHLY RECOMMENDED, for jazz lovers of all stripes.  "EQ" (energy quotient) rating is 4.98.  Get more information at Georg's site.     Rotcod Zzaj
Katie Guthorn – WHY NOT SMILE:  The liner note writer makes note of the fact that Katie is one of those jazz singers who can "do anything"… as you listen to her soaring on "Black Crow", or her totally unique rendition of "You Don't Know Me", you'll know it's true.  Though this is my first listen to her fully engaging jazz vocal style, I feel like I've been listening to her for the last 20 years… no doubt that if you were catching her act live in San Francisco, you'd feel even more that way.  It doesn't hurt (at all) that she has an excellent quartet of high-energy players backing her, but in the end run, it's clear that Katie is the lead (as it should be on a jazz vocal CD).  My personal favorite of the dozen spirited tunes she performs is the opener, "Call Me"… definitely at the top of my playlists, & it will stay there for a while – a definite keeper!  I give Katie & crew a MOST HIGHLY RECOMMENDED, with an "EQ" (energy quotient) rating of 4.98 (very high for a vocal performance).  Get more information on her FB page or at her page on THE VOICE STUDIO.     Rotcod Zzaj