Our latest reviews for your reading and listening pleasure!!
Mac Gollehon – LA FAMA:  Mac's fine jazz horn work is no stranger in our pages… I first reviewed him in   This new CD features pieces like "New Mac City", which will twist your ears 'round th' bend & back again!  It's Latin-flavored, though with unique sonic textures that will ensure you remember where you heard the tune.  Pieces like "Voices" mix all the instruments together into a whole that will enthrall all who love jazz horns.  My personal favorite of the 11 tracks offered up, though, was the strangely titled "Fried Neck Bones"… this is something you have NOT heard before, & that alone makes it enjoyable (to listeners like me, at least).  Mac gets a HIGHLY RECOMMENDED from me on this one, with an "EQ" (energy quotient) rating of 4.97.  Get more information at Mac's website.       Rotcod Zzaj      
Eric Vaughn – MINOR RELOCATION:  For those who have been looking for the "ultimate jazz piano player", you need look (or listen) no further than Eric's splendid new CD.  Well over 60 minutes worth of tuneage that will take you to the height of the jazz plateau & leave you reaching for the clouds.  You can listen to samples of all three tracks at Eric's website store, so you get an idea of the piano joy your ears are in for.  One track I enjoyed in particular was "Alone Together"… high-energy abounds, and the playing is reminiscent of those jazz heydays I spent (early '60's) in Frankfurt, Germany & other "hot" locations around Europe.  My personal favorite track, though, was an original from Eric, "Tune For Trane"… jazz just doesn't get any better than this.  I give Eric & crew a MOST HIGHLY RECOMMENDED for this stunning jazz CD, with an "EQ" (energy quotient) rating of 4.98.  Get more information at Eric's website.        Rotcod Zzaj
Tara Linda – TORCH AND SASS:  In addition to looking very pretty on that CD cover, this young lady treats you to 13 high-spirit jazz songs that will catch & hold you in the spell she weaves with her voice.  That's especially true on cuts like the bouncy "Restless"… you'll get impressions (sort of) of Rickie Lee Jones & other vocalists with that tasty singing style… but Tara is doin' her OWN thing, & you'll know that, too, as you listen to this song!  For a more mellow mood, you'll dig "Rain Rain"…. nothing (at all) cliche here… flawless recording & energy all the way through.  The jazziest track (& my favorite on the CD) is "Rumor Mill Swing"… this tune has spun some hundreds of times already on my player!  Mark my words – you'll be hearing much more from Tara… I give her a MOST HIGHLY RECOMMENDED, with an "EQ" (energy quotient) rating of 4.99.  Get more information at Tara's page for the CD.         Rotcod Zzaj   
Michael Dulin – THESE ARE THE MOMENTS:  If you get as energized as we do by great piano work, you will be like the "energizer bunny" – always on – when you listen to this one.  "Simply Satie" is a fine example of why I like Michael's piano work so much… it totally wraps you in its' mystique and will stay in your head for days… months… perhaps even years.  My last review of his work was in issue # 116, where he got a fine recommendation… tunes like my favorite on this 16-song CD, "Night Rhythms", make it easy to upgrade my opinion to make this one MOST HIGHLY RECOMMENDED, especially for those who are in love with piano artistry!  "EQ" (energy quotient) rating is up one notch to 4.98.  Get more information about Michael and his music at  his website (& tell him we sent you, ok?).        Rotcod Zzaj
Nancy Osborne – SONGS IN THE KEY OF LOVE:  13 smokin' hot songs about one our favorite subjects, to be sure.  When Nancy spins her tale on "Tenderly", you'll be wondering where she's been all your (musical) life (if you didn't know her already.  She'll make you feel like she's right there in your living room singing her heart out for you.  The relaxed pace & whispery vocal on "Moonglow" will jazz ya' right to slumberland with most pleasant dreams!  It was the slink-along back-alley-cat posture on "Speak Low" that captured my vote as favorite… super tune.  I give Nancy & crew a HIGHLY RECOMMENDED, with an "EQ" (energy quotient) rating of 4.97.  Get more information at Nancy's website.       Rotcod Zzaj    . 
Peter Kater – LIGHT BODY:  Let it never be said that the music we get in for review here is "ordinary", or "regular".  Peter's production on this CD just shines with energy & will have you looking for higher ground after the first couple of bars.  I was particularly impressed with the opener, "Root Chakra", a 9-minute gem that explores the inner regions of your heart and mind.  The most intriguing piece (in great part because of Trisha Bowden's vocals), my favorite of the 7 offered up, was "Heart Chakra"…  no, it's not jazz, but it is exactly the kind of music you need if you are in need of inspiration & healing in your life…. I'll listen to it often, & have no doubt you will too.  I give this a HIGHLY RECOMMENDED, with an "EQ" (energy quotient) rating of 4.97.  Get more information at Peter's website.      Rotcod Zzaj
Mike Goyvaerts, Jeffrey Morgan, Willy Von Buggenhout – WHITE SMOKE:  One of the best things about having started out with improvised music (back in the '70's, up in Olympia, Washington) is having made the acquaintance of one of the most prolific & talented reed players on the planet today, namely Jeffrey Morgan…. that, of course, is the reason why I'm in receipt of this most formidable sonic experiment… you can catch a few samples of the twists & turns these three take at the SQUIDCO label (4 samples to be exact).  Don't get me wrong – this is NOT "music for the masses"… it's strange, different & "out there"… but those who peruse our pages on a regular basis will be looking for just such mayhem.  Mr. Morgan has been reviewed here many, MANY times, & I can say that this is one of the best-produced CD's I've heard him on yet.  I give them a MOST HIGHLY RECOMMENDED for listeners who are adventurous in spirit (others need not apply).  "EQ" (energy quotient) rating is 4.98.  Check the SQUIDCO site above for more information.      Rotcod Zzaj  
The Lewis Nash Quintet – THE HIGHEST MOUNTAIN:  With Lewis on drums & his four pals (PETER WASHINGTON bass; RENEE ROSNES piano; JEREMY PELT trumpet; JIMMY GREENE saxophones), you'll find yourself rocketed right to the very top of that jazz mountain on the opener, "Teddy", an 8-minute scorcher that will have you on the edge of your seat!  If you're fancying something a bit more laid-back, you'll dig "Goodbye"… just loved the piano intro on this one.  It was the title track, "The Highest Mountain", that got my vote as favorite track, though… another high-energy affair that has driving drums from Lewis (& the whole band, for that matter).  I give this a MOST HIGHLY RECOMMENDED, with an "EQ" (energy quotient) rating of 5.00 – & the "PICK" of this issue for "best drum-led jazz quintet".   Get more information at Lewis's official site.      Rotcod Zzaj  
Fado Em Si Bemol – QB:  Kick off yer' shoes, lean back & settle in for a jazz groove from Portugal.  This isn't like anything I've listened to lately… very nice tunes, every note is right on time, especially on tunes like "Matilde"… if this doesn't give you a more laid-back perspective on whatever stress has been bugging you, I don't know what will.  I just loved "Armando's Rumba"; it is, in fact, my favorite of the 10 tunes offered up on the CD… too cool stuff that will put you in a lively Latin mood & keep you there for the duration of the album.  I give the players a HIGHLY RECOMMENDED, with an "EQ" (energy quotient) rating of 4.96.  Get more information at the band's website.        Rotcod Zzaj   
Masha Campagne – LIKE WATER, LIKE AIR:  Lots of players we know here (because they've been reviewed in our pages many times), like Weber Iago & Hendrik Muerkens, but it's Masha's splendid jazz vocals that are at the forefront this time.  When she breezes through wonderful tunes like "Outra Vez", you'll hear what heaven must sound like!  Masha studied piano & cello, too, & I think (as I always do) that has much to do with her superb ability to "bring the tune to life", as opposed to others who just "sing the song".  My personal favorite was the lovely "Invitation"… you'll feel like Masha is singing this for you… excellent!  I give her a MOST HIGHLY RECOMMENDED, with an "EQ" (energy quotient) rating of 4.97.  Get more information about this talented jazz singer at Masha's website.      Rotcod Zzaj
Joey Stuckey – MIXTURE:  Man, where has this guitar player been all my life (or yours, for that matter)…. supercharged & ready for prime time from the first note, this is high-energy jazz, to be sure!  After a smashing guitar intro on the opener, "We'll See", there are snatches of vocals that are purely psychedelic!  You'll be able to clearly see every sonic image Joey paints; all the more amazing since he's a blind player – or perhaps that's part of what makes him sound so great – either way, you'll love the "jump" on "Too Pooped To Bop"… you'll know exactly how that feels after you listen to this, my favorite track of the 10 on the CD.  Joey not only gets a MOST HIGHLY RECOMMENDED, with an "EQ" (energy quotient) of 5.00, he gets the "PICK" of this issue for "best jazz guitar"!   Get more information at Joey's website.      Rotcod Zzaj 
Zohar's Nigun – THE FOUR QUESTIONS:  This certainly isn't my first exposure to "Jewish experimental jazz", as the players term it in the liner notes, but this is among the highest quality I've heard in the last five years or so. That's especially true on pieces like the lively "Hallel"… a winner without a doubt.  Distinct flavors of gypsy jazz permeate many of the tunes, and the violin work is superb – that's most evident on tunes like "Ahava Raba", which is a "natural" for those sad-sounding strings.  It was the deep piano tones on "The Wanderer" that captured my ears for favorite track, though… great song – timeless!  I give these folks a HIGHLY RECOMMENDED, with an "EQ" (energy quotient) rating of 4.97.  Get more information at the Rectify Records page.       Rotcod Zzaj

The Greg Abate Quintet – THE GREG ABATE QUINTET FEATURING PHIL WOODS:   If super reed work is your idea of what jazz is all about, you won't want to miss this fantastic 10-song CD from Greg's quintet.  As they open with "Roger Over and Out", you know you've scored yet again!  I suspect part of the reason I loved the music on these 10 tunes so much is because they're all originals, which always catches (& holds) my ears more vibrantly.  Phil's "Goodbye, Mr. Pepper" is one of the richest jazz sax tunes I've heard in 2012!  It was the great "Special K" that got my vote for favorite, though… if this doesn't invigorate you, I don't think anything can.  I give Greg & crew a MOST HIGHLY RECOMMENDED, especially for listeners who want some serious sax in their jazz listening experience.  "EQ" (energy quotient) rating is 4.98.  Get more information at the Rhombus Records label site for this CD.       Rotcod Zzaj  
Dan Block – DUALITY:  Issue # 111 was my first encounter with Dan's splendid reeds… this new outing is just as tasty… he's joined by a host of players we've reviewed (many times) in these pages, so that makes full-throated jazz voice even more attractive on "Duality".  I particularly enjoyed pieces like "I'm Bringing A Red Red Rose" – definitely back-alley bliss for listeners who love "sax on the corner"…. 2 cool!  Of the 11 tracks, though, the one that got my vote as favorite tune was the jazzified-country vibe on "Out Of Touch"…  if you think "stills" & "speakeasy" in the same thought, you'll "get it" as you listen to this one!  A very pleasant listen that merits a MOST HIGHLY RECOMMENDED for all listeners who crave a bit of reeds in their listening experience.  "EQ" (energy quotient) rating is 4.97.  Get more information on Dan's web pages.      Rotcod Zzaj

Accidental Tourists – Markus Burger, Joe LaBarbera, Bob Magnusson: THE L.A. SESSIONS:  Another even-dozen tunes of jazz beauty that will amaze and excite you… piano from Markus, with stellar bass from Bob and most timely drums from Joe!  The recording is absolutely flawless, capturing every note, twist & turn, particularly on tunes like the opener, "Grolnicks" – it's not rocket science, very simple tuneage, but it will blow your mind, I guarantee you!  If you're looking for something with high-energy to awaken your spirit, you'll love the surging "Rodeo Drive Hustler"… this trio is "together" on every note.  My personal favorite, though, was "Inspektor Bauton" – everything about this tune says "jumpin' jazz".  I give Accidental Tourists my MOST HIGHLY RECOMMENDED, especially for listeners who want raw/passionate jazz now!  "EQ" (energy quotient) rating is 4.99.  Get more information at the Challenge Records label site.      Rotcod Zzaj
Arzathon – THE FOX AND THE FLIES:  If it's psych/funk you're thirsting for, come & visit Arzathon, with his fox & his flies!  You can listen to a lot of the Arzathon tuneage at the MIXPOSURE page… or visit his partially completed "Rodent Tapes" label site (suggest you Google that… you'll find hundreds of other references for the label).  I was particularly attracted to this CD, as it had a funkier feel than the others submitted (yes, there are more reviews coming).  If you take all the '60's trips you cruised through, add in all the splendid sounds you heard & then stomp 'em like a grape pod, you'll have one fine wine at the end – particularly on pieces like "Smokin' Enhances Your Experience"… you'll surely come away with a "new perspective"!  I give Ralf Bevis (aka Gypsy) a MOST HIGHLY RECOMMENDED, particularly if your mind is ready for "tripping".  "EQ" (energy quotient) level is 4.96.  Get more information at the MIXPOSURE page linked in above.     Rotcod Zzaj
Harry Allen; Scott Hamilton – 'ROUND MIDNIGHT:  If swing is th' thing that gets your motor runnin', you're gonna' love this tenor sax duo, I can tell you right now!  If you're not totally in the groove after the first 8 bars of "My Melancholy Baby", you'll need to find a new hobby, 'coz you sure ain't a jazz fan!  It's like these two pros are having a conversation for your benefit, & tunes like "Great Scott" will have you hitting "replay" millions of times (I know I did)… if energy is your key ingredient for a jazz listening session, this is the track to focus on!  My personal favorite was the jumpin' "Hey Lock!", 7:50 of pure jazz bliss…  they get a MOST HIGHLY RECOMMENDED from me, with an "EQ" (energy quotient) rating of 4.99.  Get more information on Harry & Scott at the Concord label site.      Rotcod Zzaj  
Christopher Boscole – FLOATING ON A MELODY:  Christopher's solid keyboards were reviewed most positively in issue # 96… this new CD is full of the same great solo piano work, an even 12 tracks that will play over & over again on your playlists.  Just listen to the beautiful chords and solid touch on "A Country Dawn" to see how well he paints his sonic imagery for you.  I just loved "Collage In Dreams"… images of your sweetest dreams come to life as you listen to this… it's my personal favorite on the CD, but with a dozen to choose from, you may find something you like better.  Christopher gets another MOST HIGHLY RECOMMENDED from me, especially for listeners who can't do without a bit of solo piano in their listening experience… "EQ" (energy quotient) rating is 4.97.  Get more information at Christopher's website.     Rotcod Zzaj     
Louis Durra – ROCKET SCIENCE:  As we discovered in an earlier issue, Louis keyboard work may be rocket science – but it's clearly from another PLANET… lol!  I'm lovin' what he does with pieces like "Black Horse and the Cherry Tree"… & if you love a lil' "strange", a little "different", you'll hear why I like his tuneage so much – sorta' like a 21st Century version o' Monk!  There are an even dozen gems like this one that will have you imagining flights to the outer reaches of this galaxy (& maybe a few others).  At first listen, you'll think Louis is going to "ape" Stevie's wonderful tune, "Living For The City", but then it spins out into a very recognizable free-form groove that made it my favorite on the CD.  Louis is one of the most creative pianists I've heard in this decade & gets a MOST HIGHLY RECOMMENDED, with an "EQ" (energy quotient) rating of 4.98 for this great CD.  Get more information at Louis' pages.      Rotcod Zzaj
Wave Mechanics Union – FURTHER TO FLY:  These folks got a good rating from me back in issue # 87, but on this round of 14 heavy & full-bodied jazz tunes, they have impressed me mightily.  Tunes like their rendition of Thomas Dolby's "The Ability To Swing" are what "does it" for me… a "sneaky, down under" bass leading what I call an "alley-cat vocal set" make you feel like you OWN that danged alley!  Everything about this group screams TOO COOL… 'course, if you want chamber, or something more "standard", you might find yourself disagreeing with me (& that's OK, too).. but I truly DIG what they've created here!  My personal favorite was "Swordfishtrombone", probably because it was originally done by Tom Waits, & Lydia McAdams just KICKS IT on this one!  I give WMU a MOST HIGHLY RECOMMENDED, with an "EQ" (energy quotient) rating of 4.99.  Get more information at the WMU website – be sure & tell 'em that Zzaj sent you, too, please!      Rotcod Zzaj
Nicholl And Farquharson – DELLA BY MOONLIGHT:  As those who read this magazine frequently know, I'm always most attracted to original jazz than covers – that's not to say that covers are "bad", because they're not…. but it just seems to me that when the music is written by the performers, there's an extra quotient of energy served up in the playing, & nowhere could that be more true than the git-down/fonk-ee "Nine Toes" from bassist Michael Farquharson & keyboardist Matthew Nicholl – what a bouncy tune!  This is just th' kind of jazz I "grew up" on way back in th' day!  If mellow is more your mood right now, you'll groove from now to forever on "Cleo and Joan"…  total enchantment will be your sonic reward as you listen to these 12 gems over & over again.  Michael & Matthew get a MOST HIGHLY RECOMMENDED from me, with an "EQ" (energy quotient) rating of 4.97.  Get more information at Michael's site.      Rotcod Zzaj
Elizabeth Shepherd – REWIND:  There (absolutely) isn't ANYTHING more exciting to me than musical discovery…. & Elizabeth's wonderful jazz vocal (& keyboard) work is less like "nuggets" than it is like finding a whole "seam" of ore!  Listen to her playing the Rhodes on "Feeling Good", & you'll know why I love her songs so strongly!  The ability to play superbly on songs an artist is (also) singing on is rarely done so well – I'm just super impressed & will be asking for any & all of her works.  Elizabeth is the strongest vocal/player talent I've heard in 2012, as evidenced by my favorite track of the dozen offered up, "When You Are Near"… all I can say for this one is "Wow"!!!  I give Elizabeth & her crew my MOST HIGHLY RECOMMENDED, with an "EQ" (energy quotient) rating of (the very top) 5.00.  She also gets the "PICK" of 2012 for "best female jazz vocalist"!   Get more information at Elizabeth's website.       Rotcod Zzaj 
Jill Haley – ZION AND BRYCE CANYON SOUNDSCAPES:  Some of the most beautiful music we have in this country is inspired by the natural wonders we have in abundance.  Jill's oboe & English horn performances are woven skillfully into the sonic images painted here for your mind… an overall smashing success that will have many of you listening over & over & over. My personal favorite of the dozen tracks was "Queen's Garden"… totally majestic!  If you're "strictly hardcore jazz", you may not find this to be your favorite, but if you're willing to try something with both verve & highly inspiring passages – this is it!  I give it a HIGHLY RECOMMENDED, with an "EQ" (energy quotient) rating of 4.97.  Get more information at Jill's web pages.       Rotcod Zzaj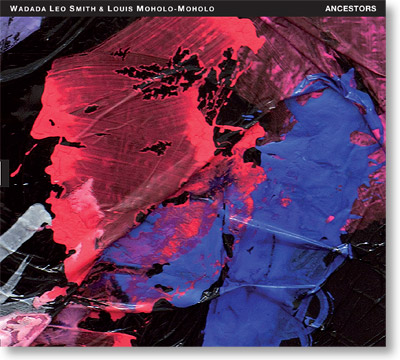 Wadada Leo Smith & Louis Moholo-Moholo – ANCESTORS:  The folks at one of our favorite labels (TUM records) continually put out music that is both challenging and entertaining… this latest opus from Wadada & Louis is no letdown, I'll tell you…. listen to my favorite track on the CD, "Golden Spirit" & you'll know why I'm always hepped up when I listen to their releases!  7 more stunning tracks for you to groove to…. Smith's trumpet will penetrate your mind (as well as your soul) & you won't come away from this listen with any semblance of "MOR" remaining!  The percussion from Louis is equally piercing & will leave you with a heavy "wow factor".  Super POWER is the keyword here – true masters at work!  Gets a MOST HIGHLY RECOMMENDED from my ears, with an "EQ" (energy quotient) rating of 4.99.  Get more information at the TUM Records site for this CD.       Rotcod Zzaj
Stefano Pastor, George Haslam, Claudio Lugo, Giorgio Dini – FREEDOM:  The CD/album title on this one is like an understatement… in point of fact, you'll probably wonder as you listen to the title track, "Freedom", if this one shouldn't be titled "Near Pandemonium" – lol!  For lovers of improvised, wild & crazy, yet somehow well-hung-together jazz, this is the absolute ticket!  The players truly have it together & create mood after mood, with well-developed themes that are designed to take you on that ride down the trail – freedom trail, that is (Baritone Saxophone, Tárogató – George Haslam; Double Bass – Giorgio Dini; Soprano Saxophone – Claudio Lugo & Violin – Stefano Pastor).  My personal favorite of the 8 sessions offered was "Dance"… if your mind ain't swingin' by the time this one is over, you're beyond recovery anyway.  For those who dig down deep into improvised music, this gets my MOST HIGHLY RECOMMENDED, with an "EQ" (energy quotient) rating of 4.98.  Get more information at Stefano Pastor's pages.       Rotcod Zzaj 
Michaela Rabitsch & Robert Pawlik Quartet – VOYAGERS:  This fantastic duo was interviewed in our last issue – because they are some of the HOTTEST players on the world jazz scene today – & songs like the opener, "Seven Ways To Fez" are absolute proof of that; Michaela's stunning vocal will blow you away!  If it's scorching jazz guitar (as well as smokin' trumpet) that you're seeking, you'll also love "Varna"… per my interview with them, they will be hitting our shores before long – & you will WANT to check them OUT when they hit yer' ville!  My absolute favorite track on this 10-song wonder was "Unique"… this one PUTS th' funk down!  I give Michaela & Robert a MOST HIGHLY RECOMMENDED, with an "EQ" (energy quotient) rating of 4.99.  Get more information at their website.     Rotcod Zzaj
Roger Davidson Trio – WE REMEMBER HELEN:  Roger's wonderful jazz piano work has been gracing our pages for so long that he might as well be considered a "co-founder"; my most recent review of his trio work was in issue # 81; I've no doubt that we'll be hearing from him (as will you) for eons to come!  I was most impressed with the super-solid trio "togetherness" on pieces like "Whisper Not"… you'll find 14 other tunes to hit the "repeat button" for on your playlists, so you're in for a wealth of music that will ring in your ears for days (if not months) to come on this great CD.  My personal favorite piece, though, was the gospel-sounding "Dance Of Faith"… it doesn't get any better than this for high spirit!  I give Roger & crew a MOST HIGHLY RECOMMENDED, particularly for those who are in love with piano jazz.  "EQ" (energy quotient) rating is 4.99.    Get more information at Roger's website.      Rotcod Zzaj
Michael Brant DeMaria – THE MAIDEN OF STONEHENGE:  A CD from Michael is always a pleasure… and, unfortunately, takes a bit more time to get reviewed than a "normal" CD.  That's because on every musical ad.venture I've reviewed by him thus far, the music is deeper and more "involved" than so many other artists.  This particular adventure is, in Michael's own words, a "departure from my healing sound series, being the second full length Soundtrack to a play I co-wrote".  As you listen to the beautiful "Enchanted Forest", you will hear why he puts it that way.  Again in Dr. DeMaria's words, you'll hear "a young female protagonist, Teagan, who comes of age in ancient Britain and learns her own healing gift of music, this time not with a flute, but with her own voice" on "Chantress".  You will fall in love right away with the tales told and the music realized, I've no doubt… I give this one a MOST HIGHLY RECOMMENDED for listeners willing to experiment with something "different" to listen to; "EQ" (energy quotient) rating is 4.98.  Get more information about Michael and his various projects at his website.      Rotcod Zzaj
Danny Green – A THOUSAND WAYS HOME:  Danny's piano is just excellent on all 13 tracks… if you're like me, you love jazz (especially piano jazz) that hearkens back to the old jazz masters… "Unwind" does just that, albeit with a 21st Century energy that is evidenced by pure talent and raw energy!  His touch on the keys is firm, yet not harsh… he's picked an outstanding lineup to support him, & they are all "right on time" on every note, every bar, every phrase.  If laid-back is more your style, you'll just love "Over Too Soon"; beautiful piano intro, too.  It was the volcanic energy on the closer, "Running Out Of Time", that made it my favorite on the CD.  If superbly crafted tuneage with high energy is your "pick" in jazz listening, you'll agree when I declare this MOST HIGHLY RECOMMENDED – "EQ" (energy quotient) rating is 4.98.  Get more information at Danny's site.       Rotcod Zzaj
Kayle Brecher – SPIRALS AND LINES:  This certainly isn't the first time I've heard a vocalist mesh talent with brass, but Kayle has put together a set that's most interesting & fresh in perspective!  Scope out the Latin-flavors on "High Flying Bird", one of my favorite pieces – especially for "energy"… this tune MOVES!  One thing she has down pat is the idea that music must be FUN… & that shines through in her vocals through all 8 tunes!  You'll enjoy the sense of adventure on "Paths Of Victory"… & it's definitely "different" than you're used to hearing, with that tuba kickin' out th' jamz!  My personal favorite, though, was "Noddin' Ya' Head Blues"… some cool guitar lines, & Kayle has that blues thang down!  I give her my MOST HIGHLY RECOMMENDED, especially for lovers of female vocal jazz!  "EQ" (energy quotient) rating is 4.97.  Get more information at Kayle's site.        Rotcod Zzaj