Our latest reviews for your reading and listening pleasure!!

Zen Widow featuring Wadada Leo Smith – SCREAMING IN DAYTIME MAKES MEN FORGET:  Wadada's music has been reviewed here many times… and the more I listen to pieces like the opener, "Gifts We Have Forgotten", the more convinced I am that he is one of those "forever" artists!  "Zen Widow" is Gianni Gebbia (alto saxophone); Matthew Goodheart (grand piano, electro-acoustic gongs and cymbals); Garth Powell (drums and percussion)… & when you join in Wadada's cosmically-inclined trumpet, you have free jazz that will NOT quit!  The beauty in this particular session is in the pacing… nothing rushed, even on the more intricate pieces like "Black On White Paper"… of course, this kind of music will really freakout those inclined to the dreaded "smoove" – smoove it ain't!  For those who enjoy some freedom in their jazz listening experience, though, this gets a MOST HIGHLY RECOMMENDED, with an "EQ" (energy quotient) rating of 4.98.  Get more information at the label site for PFmentum (& be sure to tel them you read about the CD here, please)!       Rotcod Zzaj
Timothy Wenzel – A COALESCENCE OF DREAMS:  Timothy's keyboard work on this one is excellent, and when the strings, guitars and other high-energy weaves are added, it's a deeply moving sonic experience… there are places where it's almost psychedelic, albeit not as "in yer' face", perhaps, as some of the early/late '60's psych albums were.  I especially enjoyed pieces like the beautiful "Miles From Nowhere"… I can definitely hear that in a pleasant dream!  From an "energy" perspective, my personal favorite of the 12 tunes on the CD was "The River Niger"… flowing and moving you on through your dream until you wake up in glory-land!  I give this one a MOST HIGHLY RECOMMENDED for listeners who want substance to their listening experience… "EQ" (energy quotient) rating is 4.97.  Get more information at Timothy's website.       Rotcod Zzaj
Asuka Kakitani Jazz Orchestra – BLOOM:  Debut CD's are always interesting… they are either stellar successes (like this one), or total flops (that's my opinion, of course, others may disagree).  Asuka's not a player (on this CD, anyway), but she surely knows how to compose music… the first of the 9 songs, the title track, "Bloom", is without a doubt the freshest big-band (18-piece, to be exact) tune I've heard (yet) in 2013.  She's got some stellar players as well – John O'Gallagher on sax, Jacob Garchik on trombone, Pete McCann on guitar, pianist Mike Eckroth, drummer Mark Ferber & vocalist Sara Serpa (who is also reviewed in this issue with Ran Blake).  The intimate "Bumblebee Garden" (my favorite track, by the way) starts off as you might think it would… serene and sunny… but builds quite rapidly to a horn swirling adventure with some very pretty vocal stretches by Sara!  This one gets a MOST HIGHLY RECOMMENDED from me, with an "EQ" (energy quotient) rating of 4.99.  Get more information at Asuka's website.        Rotcod Zzaj
AOMusic – HOKULEA:  Receiving a new CD from this fabulous group is always pleasant and an adventure… when you listen to the opener, "Kuimba", you'll realize (right away) what I mean… though the rhythms are similar to previous tunes, the "aura" they create on this beautiful tune is fresh and new.  That's always true on the AOMusic albums, too… they got a "PICK" in issue # 117, and songs like "Yaka Matai" (my favorite on the CD), with the children's choirs singing the songs, you'll realize that you're in the presence of music that is both eternal and enlightening for all listeners!  What is projected on these 9 tunes is the POWER that music can bring to the world, especially as a detractor for the purely political nonsense that those of "words" bring to the forum.  Hokulea is not only MOST HIGHLY RECOMMENDED, it also gets an "EQ" (energy quotient) rating (the very top of the scale) of 5.00… and, finally, it gets the "PICK" of this issue for "best high-energy music"!  GET this one, folks.    More information is available at the AOMusic blog.    Rotcod Zzaj   
Troy Roberts – NU-JIVE 5:  What's abundantly clear from the 1st note on the opener, "Convertible Burt", is that each of the players (Troy Roberts, sax; Tim Jago, guitar; Silvano Monasterios, keys; Eric England, bass; David Chiverton, drums) speaks (musically) with a voice of their own – & Troy's blending of their unique talents on this great 10-song CD makes it a monstah'!  He easily walked away with a high rating on his earlier CD in issue # 114, and with high-intensity (NOT smoove & NOT fusion) tunes like "One Day Wonder", he stays right at the top of the jazz stack.  These ten tunes will stay right at the top of your playlists, I guarantee it.  I give Troy & crew a MOST HIGHLY RECOMMENDED, with an "EQ" (energy quotient) rating of 4.99.  Get more information from the NU-JIVE 5 press kit!       Rotcod Zzaj
North American Jazz Alliance (NAJA) – THE MONTREAL SESSIONS:  If your ideal jazz session includes the prime ingredient (i.e. FUN), then this even-dozen-track CD will be pure joy for your ears… the opener alone, "Just One Of Those Things", makes the entire album worth the purchase price!  Vibes, accordion and guitar join together in a true celebration of what the spirit of jazz is all about.  You'll find yourself slippin' & slidin' through the groove-laden vocals on "Oblivion",no doubt in my mind; & the time-signature changes on this tune are quite amazing.  It was the uptown swing vibe on "Dancing In The Dark" that got my vote for favorite, but there's so much energy here that you may find another that's yours.  Any way you listen to it, you'll agree that it's MOST HIGHLY RECOMMENDED… "EQ" (energy quotient) rating is 4.98.  Get more information at the NAJA Facebook page.        Rotcod Zzaj. 
The Dave Lalama Big Band – THE HOFSTRA PROJECT:  This is one heckuvva' big band experience, let me tell you… you won't believe your ears as you listen to the raw energy pouring out on tunes like the aptly named "Inner Urge"… as you might expect, horns are at the forefront, in between & all over the sonic landscape!  For something a bit more laid-back in approach, you'll enjoy "The Peacocks" – mighty mellow sax on that one, to be sure.  Of the 13 tracks, my favorite was "No Evidence", featuring Dave's piano & Ralph Lalama on tenor sax – just imagine Mickey Spillane on steroids in one of those '40's dime novels & you'll have the right image!  I give this one a MOST HIGHLY RECOMMENDED, with an "EQ" (energy quotient) rating of 4.98.  Get more information at the Press Kit for this CD.      Rotcod Zzaj   
Patty Peterson – THE VERY THOUGHT OF YOU:  Patty's jazz vocals have that one ingredient that just can't be imitated – PIZZAZZ!  As I listen to her rendition of "The Shadow Of Your Smile", I'm reminded once again that songs "belong" to those who perform them – 'coz she is surely OWNING this tune!  The superb musicians who are backing her make you feel right at home, as though they were performing right there in your living room.  Her timing is flawless – every note is right where it's supposed to go, & if you listen to as much jazz as I do, you'll know that's important.  The stone-soul on "Higher Ground", & Patty's stellar performance of Stevie's tune… I'm no doubt he'd be groovin' to this one if he hears it… it's my favorite tune on the CD.  I give Patty & her (extensive) crew a MOST HIGHLY RECOMMENDED, with an "EQ" (energy quotient) rating at the top of scale – 5.00… in fact, she gets the "PICK" of this issue for "best female jazz vocals"!    Get more information at the Patty Peterson website.       Rotcod Zzaj
David Arkenstone & Charlee Brooks – LOVEREN:  This is one of the most operatically-inclined adventures I've heard (yet) from David…  I reviewed a live CD from him back in issue # 83… this is a totally different sonic scape, and I'm loving it (as much as you will if you seek out music that's both epic and inspirational).  I particularly enjoyed the string builds on "Lumaria", one of the most intricate orchestral journeys I've ever been on – influences from many cultures on this one, too!  It was the (very) percussive "Jamboree" that got my pick as favorite of the 9 tracks offered up, though… it's short, but full-bodied and most representative of life & the living of it – especially Charlee's wonderful vocal work!  I give these folks another MOST HIGHLY RECOMMENDED, though with a caution that "straight-up jazzheads" may move to another rack.  "EQ" (energy quotient) rating is 4.98.  Get more information at David's page for this CD.       Rotcod Zzaj
Arun Shenoy – RUMABADOODLE:  I've been rating musicians on their "energy" for nearly all the years I've been reviewing music, & Arun comes in at the top of the "EQ" (energy quotient) heap with a top-o'-th'-line 5.00.  He says he's highly inspired (& always has been) by Flamenco, even though his roots are in R&R… as I listen to the joy conveyed on the opening (title track) "Rumabadoodle", it was easy to hear how deeply the style affected him & his music – very nice tune that will stay on your player for a long time.  The high-spirited "Fireflies" was my favorite of the 11 tunes offered up… I give Arun & his crew a HIGHLY RECOMMENDED, with the aforementioned high-end "EQ" rating.  Get more information on this CD and Arun's other projects at the Arun Shenoy website.  (& be sure to tell him you read about his work here).  Rotcod Zzaj
Nancy Stearns – A WISH:  If, like me, you grew up with jazz/show singers like Dinah Shore, or Barbara Streisand, you'll love what she's doing on this wonderful jazz vocal CD!  The laid back groove on "Take A Chance" will totally wrap you into her strong jazz aura, & the (sorta') rebellious "I Won't Grow Up" will find many of us oldsters relating to Nancy right away.  Her voice is totally enchanting, & even if you're not a "strict" jazz fan, you'll find something to love in the 17 songs she offers up for your ears.  I especially enjoyed the closer (it's my favorite on the CD) is "Sweet Happy Life"… if you can't enjoy a few moments of pure pleasure in the anticipation of your days left on this globe, you're (not only) a curmudgeon, but half-dead anyway… ha! ha!  Nancy knows exactly what she's doing, & it's easy to tell from listening to her that she loves it… I give her a MOST HIGHLY RECOMMENDED, with an "EQ" (energy quotient) rating of 4.97.  Get more information at Nancy's website.       Rotcod Zzaj     
Isaac Shepard – KNIGHTS AND DAMSELS:  My first encounter with Isaac's totally engaging piano artistry was reviewed in issue # 100, where he got a good rating to be sure.  This newest excursion tells the tales of a lady in distress, with dragons & knights in armor involved.  The key thing, though, is that his keyboard talent is even more strongly reflected through the 13 tunes offered up for your aural pleasure!  I particularly liked pieces like "A Knight To The Rescue" – full of life, high drama and movement! I give Isaac a HIGHLY RECOMMENDED, with an "EQ" (energy quotient) rating of 4.96. I can guarantee that you'll find something to love here.  Get more information on Isaac's page for this CD.        Rotcod Zzaj
Sara Serpa and Ran Blake – AURORA:  One thing you can always count on when a CD has Ran Blake on it… it will be different than the others… no less true on this 'round than so many of the other pairings my ears have witnessed his wonderful & unique piano work on!  Just listen to the intriguing interplay between his keyboards and Sara's highly talented vocals on "Dr. Mabuse" to get a taste of that difference! I also loved the story the duo tells on "Moonride".. almost like an adult nursery rhyme, eh?  I give Sara & Ran a HIGHLY RECOMMENDED for jazz listeners who love exploring new turf, with an "EQ" (energy quotient) of 4.97.  Get more information at their MYSPACE page.        Rotcod Zzaj  
Trine Opsahl – SOMEWHERE IN A HIDDEN MEMORY:  You don't have to be totally in love with harp music to enjoy Trine's great music… but if you are, you'll be even more in love with the instrument after you listen to the 15 wonderful songs she plays for your enjoyment on this CD.  I particularly enjoyed pieces like "The Light Dances My Love"… nice steady pace and full of the spirit of angels.  Music like this will be recommended by music therapists the globe over, and one of their recommendations will surely be my favorite, "Ripples in Water"… we've all been there, watching them & wondering what they feel like – you'll know after you hear Trine speak of them through her harp!  I give this a HIGHLY RECOMMENDED, with an "EQ" (energy quotient) rating of 4.97.  Get more information at Trine's web pages.       Rotcod Zzaj
Arzathon – THE  CULT OF REASON:  It's a strange trip, no doubt, & Arzathon takes you up, down, 'round & through & through, especially on trax like "Ms Deux Les Seintiles" (my favorite on the CD, by the way)… call it what you will, it's definitely in the "psych-zone", and will paint images of class war, meandering through a dream conversation with the Gourds (i.e., Gods) of ancient history as they try and let you know what's comin' down the pike.  Guitar-based, but with lots of other tasty instrumental work wound into the seams, this is quite interesting.  Those who are into psych/trip will certainly agree when I say it comes HIGHLY RECOMMENDED… "EQ" (energy quotient) rating is 4.96.  Get more information at the Internet Archive page for this CD (full stream or direct download).    Rotcod Zzaj
Beata Pater – RED:  Beata got definite high marks from me in issue # 116, and she's exceeded even that upbeat standard on this new one… the rousing start on the opener, "Butterfly" (a Herbie Hancock tune), is full of life's energy & will have you listening over & over again!  I surely dug the funky beat on "Big Red", & have no doubt you'll be tappin' yer' toes as well!  As I noted in my previous review of her work, it's easy to get addicted to her unique "Euro-scat", especially on tracks like (my favorite) her rendition of Freddie Hubbard's "Red Clay"…  I give Beata & crew another MOST HIGHLY RECOMMENDED, especially for those who must have some vocal in their jazz diet!  "EQ" (energy quotient) rating is 4.98.  Get more information at Beata's website.      Rotcod Zzaj  
Christopher Alpiar Quartet – THE JAZZ EXPRESSION:  Lots of remembrances of Coltrane on here… the quartet is a "reunion" of sorts, with the band having done their last album in '95.  Christopher's tenor sax is right-on, especially on pieces like the opener, "Welcome (Peace For The World"… strong tone & intensity throughout!  The other players are on-target on each of the pieces, too… Pete Rende on piano, Matt Pavolka on bass & Bob Meyer doing drums.  One of the best jazz pieces I've heard in years is also my favorite on this CD… "Utsukushi" is laid-back of the best kind, yet courses with high-energy from each of the players.  I give Christoper & crew a MOST HIGHLY RECOMMENDED for this splendid reunion outing, with an "EQ" (energy quotient) rating of 4.98.  Get more information at Chris's website.        Rotcod Zzaj  
Marbin – LAST CHAPTER OF DREAMING:  There's really only one good word to describe what this fantastic band has that others don't – BALLS!  One thing's for certain – their music can't be "pigeonholed" – it's pure & unadulterated Marbin.  Danny Markovitch on sax/keyboards, Dani Rabin on guitar, Justyn Lawrence on drums, Jae Gentile on bass (+ several guests) paint a totally different sonic picture than you might expect… yes, it's a "rocker", but carries more jazz weight than many groups that claim to be jazz these days.  Just listen to the rockin' vibe that bores down into your skull in "On The Square"… but whatever you do, make sure the volume is KRANKIN' at full throttle!  My last review of their music was in issue # 121, & I can say they've exceeded (even) their own goals with this great CD.  For a taste of rockin' jazz/funk, be sure & check out my favorite track, "Redline"… best playing I've heard (yet) in 2013!  Not only do they get my MOST HIGHLY RECOMMENDED for listeners with a real sense of adventure, & an "EQ" (energy quotient) rating of 5.00 (the top), but they also get my "PICK" of this issue for "most high-talent original band"!   Get more information about them at the MOONJUNE Records page for this CD.         Rotcod Zzaj 
Jawanza Kobie – FEELS BETTER THAN IT SOUNDS:  This would sound sort of like (the dreaded) "smooth", except that Jawanza packs it (like, totally, man) full of POWER – scope out the 6:25 opener, simply titled "Monk"… what's most evident in Jawanza's compositions is LIFE – high-energy, intellligent – but JAMMIN'!!!!  He's a master at mood-change, too… I just loved "Webb T's Blues"… & not just the total bluesy aura he projects through the tune, but the fact that it comes across from his heart – blues don't get no better!  My personal favorite of the 10 tracks was the closer, though – "Carnival De La Samba"… full-body & high spirit in a track that will stick in your mind for all time.  This gets a HIGHLY RECOMMENDED for jazz lovers of all stripes, with an "EQ" (energy quotient) rating of 4.98.  Get more information at Jawanza's pages.      Rotcod Zzaj 
Isadar – RED:  As Isadar starts off his new piano CD, you're lulled into thinking that it's just going to be a few new variations on themes you've heard before… but by the time 30 seconds are up on the opener, "Broken Valentine", you know you've lucked into one of the best piano albums of the past 10 years!  I've enjoyed his work ever since I first reviewed him (several issues back), but can say that this is Isadar's best work to date.  Of the 7 power-filled tunes offered up for your ears, my personal favorite was the emotion-filled "Letting Go"; full-bore talent, & for piano lovers, this gets a MOST HIGHLY RECOMMENDED from my ears… "EQ" (energy quotient) rating is 4.99.  Get more information at Isadar's page for "Red".        Rotcod Zzaj
Barry Romberg's Random Access – CRAB PEOPLE:  There's an instant when I can tell if a new CD is going to "make it" to my review queue, & Barry's slow-crawl opener (on the 2nd CD of the 2-CD set, which I mistakenly queued up first), "End Of An Era, Part I", made the cut after the first 15 seconds; I would imagine that's partly because of the great electric piano that weaves in & through the entire set!  When contrasted back against the opener on the first CD, "Mecca Pecca", it's a decidedly different mood that's working there.  Any way you hear it, you've got one heckuvva jazz listening experience to enjoy here.  My personal favorite from both CD's was the hypnotics on "The Furthest Realm"… you really don't have to work to "grok" what's being said here!  I give Barry & crew a MOST HIGHLY RECOMMENDED, particularly for listeners who want intrigue.  "EQ" (energy quotient) rating is 4.97.  Get more information about Barry's work at the Barry Romberg website.    Rotcod Zzaj
Anthony Branker & Ascent – TOGETHER:  I fell in love with Anthony's high-energy music the first time I reviewed his work in issue # 77.  If it's done anything over the follow-on CD's, it's gotten better… just scope out the superb grooves on "Saaremaa" to know what I'm talking about.  The CD title tells it in so many ways – this is "truly together" jazz that falls in the "timeless" zone… you'll listen to the 6 energy-packed tunes on this album over & over, especially those like my personal favorite, "Little Rascal"… whether you're a veteran jazz listener or a total newbie, you'll love every composition on this wonderful CD.  I give Anthony & crew a MOST HIGHLY RECOMMENDED, with an "EQ" (energy quotient) rating of 4.99.  Get more information about Anthony & all his music at the Anthony Branker website (& be sure to tell him you read about his music here).    Rotcod Zzaj
Free Form Funky Freqs – URBAN MYTHOLOGY, VOLUME 1:  There's truly only one word that describes what the players (Vernon Reid on guitar; Jamaaledeen Tacuma on bass; G. Calvin Weston on drums) are doing here – HEAVY!  You've probably not heard "funk" like this before, as the music is so rich in the tones of its' stories that you must (actually) listen to each & every note to grok it… as it moves on to the second track, "Don Cheadle", you'll feel the funkiness of their presence in full form – no doubt!  This isn't some rehash of yesterday; not at all…  as you stride by the players chanting their "Street Corner Prophecy" (my favorite of the 10 tracks), you'll know you're in the presence of the players of tomorrow's music – they just got here a little early!  I give this fine CD my MOST HIGHLY RECOMMENDED, unless your listening habits run towards "regular"… "EQ" (energy quotient) rating is 5.00 – & they get the "PICK" of this issue for "most futuristic jazz".    Check them out on their FB pages! Rotcod Zzaj
Sora – SCORPION MOON:  If you haven't listened to any new age music lately, Sora's full-bodied vocal/instrument songs would be a wonderful place to visit.  "City" is a full-bodied tune that I fell in love with right away; it will carry you to new heights as you soar over rooftops you never even knew were there!  Lots of harp and string sounds to help you keep the dream alive & well, no matter what your current trials & tribulations may be.  The tune that was most attractive for my ears was "Piper"… there's no doubt as you listen to Sora on this one that she is drawing you into her spell and will keep you there for the long term.  Is it jazz?  Definitely not – but the energy levels Sora achieves through her magical performance make it transcend all "genre boundaries".  I give it a HIGHLY RECOMMENDED, with an "EQ" (energy quotient) rating of 4.97.  Get more information about each of the songs at Sora's page for this CD.    Rotcod Zzaj
In Flight – SOUTH OF AMERICA:  Our friend JL Holmes, from my turf up Seattle way, has put together a totally solid CD (JL Holmes-guitar & synth, Ken Wilson-tenor & soprano sax, flute, vocals, keyboard, Glenn Ayers-drums & percussion, Dave Glenn-trombone, Steve Kim-bass) that gives you a taste of what the Latino-side of life must be.  Just scope out the groove on the opener (& title track), "South of America"…  if that doesn't make you hanker after a coupla' cuba libres, I don't know what will. Of the nine tracks offered, it's actually John's guitar on "Island Time" that caught my vote as favorite track, though… especially appropriate for me (here on Oahu).  I give John & crew a MOST HIGHLY RECOMMENDED for listeners who want to experience something new & different.  They get an "EQ" (energy quotient) rating of 4.98.  Get more information & listen to samples at John's pages on Artist Farmer.      Rotcod Zzaj
Izzy Chait – STRAIGHT FROM THE HEART:  Izzy certainly has "cool" down… though from Germany, he grew up in L.A., so th' cool definitely rubbed off.  Scope him out on on "Blues In The Night"… high energy here, even though it's a laid-back tune.  This is my first listen to his work, & I'm impressed, to be sure.  There's a bit of "lounge lizard" throughout the 15 tracks, but it comes across as "genuine" – as opposed to so many singers we've heard here who are only "trying" to be in the groove.  Some great jumpin' stuff, too – check out Izzy's rendition of "Don't Get Around Much Any More"… the Vegas crowd would have held this in high honor back in Sammy Davis' day (this was my favorite track on the CD, maybe because of the organ).  I give Izzy a HIGHLY RECOMMENDED for jazz listeners of all stripes.  "EQ" (energy quotient) rating is 4.97.  Get more information at Izzy's website.       Rotcod Zzaj
Remus Glaude – JASS & COCO'S:  One of the absolutely greatest things about doing this magazine is that (quite often) friends I've played with (& in Remus' case, this was both live & studio) send something my way for review.  The opener on this 9-tune CD, "Eilidh" is gentle & relaxing… as the tunes move right along, we're treated to some of Remus' stellar horn (not to mention his bass) on "Juju Bee"… nice movement & high-energy display of total talent!  It was the total (good) ambiance & funky feel on "Deep In Love" that got my vote as favorite, though… 6:45 minutes of pure jazz pleasure!  I give Remus a MOST HIGHLY RECOMMENDED, with an "EQ" (energy quotient) rating of 4.98.  Get more information at Remus' pages.   Rotcod Zzaj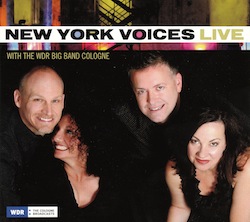 New York Voices – NEW YORK VOICES LIVE:  The jazz vocal work on this CD is among the best I've heard in the last 25 years… when you scope out pieces like the opener, "Baby Driver", you'll hear what I mean right away – no better energy & talent than what you'll hear here!  If you dig sets that appeal to the Vegas nightclub crowd, you'll totally fall in love with "Love Me Or Leave Me"; & you won't be leaving this CD anytime soon.  The 10 tracks have been spinning ever since I got the CD in the review stack.  There's some killer organ on my favorite track, "Cold" – jazz/blues/vocal just doesn't get any better than this!   I give New York Voices a MOST HIGHLY RECOMMENDED for jazz lovers of all stripes.  "EQ" (energy quotient) rating is 4.97.  Get more information at the NEW YORK VOICES page.      Rotcod Zzaj

Stockton Helbing – CRAZY AQUARIUS: The immediate word that comes to mind on Stockton's splendid CD is "fun"… his drums keep the motion going (in the right directions) on all ten tracks… he's joined by longtime friends Paul Tynan on trumpet, David Lown on tenor sax, David Braid on piano, Noel Johnston on guitar & James Driscoll on bass.  Just scope out the high-energy "Orbital" – this one is so hot it's got smoke comin' off the player, I'll tell you!  All original tunes drive the frenzy to fever pitch, which (as anyone who reads my words on a regular basis knows) makes it an "automatic" MOST HIGHLY RECOMMENDED.  Combine that with my favorite track, the "back-alley-crawl" mood "Cool Man Jack", & you've got a jazz winner to be sure!  "EQ" (energy quotient) is a very high 4.99.  Get more information at the Armored Records site.         Rotcod Zzaj
Jussi Reijonen – UN: Jussi Reijonen – UN:  You won't find music like the 6 songs on this splendid CD anywhere else in the world today… a unique blend featuring guitar and oud from Jussi with piano from Utar Artun, bass by Bruno Raberg & percussion from Tareq Rantisi and Sergio Martinez.  The opener, "Serpentine", sets the stage for the rest of the album, and it will blow you away!  The players are all from different countries, bringing their own unique perspective to the finished compositions… I particularly enjoyed the spirit-filled "Nuku Sie"… tasty and absorbing in a totally unique way, with all the twists and turns you might expect from a jazzer – my favorite on the CD!  I give Jussi & his compatriots a MOST HIGHLY RECOMMENDED, with an "EQ" (energy quotient) rating of 4.98.  Get more information at Jussi's site.         Rotcod Zzaj