Our latest and greatest reviews for your reading & listening pleasure
(Click HOME to see the index of all issues)
NOTE:  I normally only do 30 reviews per issue… due to the high volume of submissions, I will be reviewing several more (20 additional, for a total of 50) for this issue (and future issues, until our backlog is honed down)… "normal" review cycles will resume when I've got the QUEUE down to under 100! 
If you are an artist/promoter who needs a review more quickly, be sure & check out our new EXPEDITED/EXPANDED review services!
Announcement! Announcement!  In the time-honored tradition of "Ghost of Christmas (and other scary holidays) Past", we are proud to announce the return of our long-time authoring pal Robin B. James to the most MajickLand of Olywa… he will be lending his ears (& heart & soul) to our review efforts, at least for a while… many of you know him from his Cassette Mythos adventures… Robin will be writing an "updated resume", which we will feature in a future Zzaj-Rant… in the meantime, enjoy his reviews!
Rick Ray Band – KILLING TIME:  some powerful Rock and Roll, strong guitar keyboard drums vocals bass and brass in a range of energetic perfect rock styles, a blend of the best of the 1980s, they honor the way those classic records sound, plus they have probably actually opened for the masters in concert, specifically Robin Trower, Kansas, Lynyrd Skynyrd, Peter Frampton, Rush, Blue Oyster Cult… To me these guys have a classic sound, an ambitious big stadium type feeling to their craft, they should play in football stadiums, etc. They are good at what they do, sassy and skilled. They have been growing their hair long for a long long time now. They do the rock and make thee the roll, so rejoice!. This is the 33rd album from the Rick Ray Band on Neurosis Records. The Rick Ray Band Neurosis Record label started by releasing 9 albums in 1999 followed by 7 more in 2000. Busy guys.
The cover art includes an excellent drawing by (who drew it? I have been looking all around for a name or signature, this artist seems to never signs the work where I can see it – ed:  Rick Ray drew them, Robin), actually there is a series of these drawings over various albums and concerts/campaigns. Its really a very funny style and look, it adds a new dimension to the music. There should be a whole big-assed book of those hilarious line drawings. They portray a nervous bald-headed world with things like pointing fingers and surreal clocks implanted in various places on the bald heads. Maybe you know somebody who looks like that. I think I do.
Killing Time (7:00) I think of King Crimson when I hear this one. Mighty courtly.
Hologram (4:42) You can see that they (the musician performers) are holograms if you watch carefully. I think so. Maybe not. What if they were? Is this an example of more lost human jobs? Can holographic musicians make new songs up? Not to panic, its just part of the Rick Ray Band twisted sense of humor. I love it.
Hurry up and Wait (5:24) Isn't that what they used to say in the army? My dad had tales of hurrying up and waiting when he served. Its not a productive or inspirational situation. It is easy to hide when everyone is waiting.
Credits Will Roll (3:45) Crunchy guitar and kickin cymbals, burns the air just right.
Hypnotic Spell (4:49) Tricky time signatures, no free pass to heaven. Step right up and get under the spell.
I Want To Hold Your Hand Grenade (6:36) Tick it down! Nothing like the Fab Four except more than likely you too thought of their song title, "I want to  hold your hand."  They added the words and changed the music so its nothing like the 1960s.This has flat faced outrageous humor for all the girls and boys and moms and dads. We have it made which rhymes with hand grenade.
Stand in Line (4:59) Lets sell our souls now. Do not believe the truth that is told. (This could just lead the way for the coming legions of true paranoids.)
End of the Day (5:44) I can see your face fade away. I can see the end of the year. Its all really upbeat and energetic, though the title hints at getting quiet for resting.
Rock n Rolex (5:04) More of that humorous stuff, dressed up in saxophone and jammin' drumworks. Another joke about time and style.
Momentary Realm (5:42) I really do not know what this one is about (time travel of course), but I like it. It fades in (Yes) and starts galloping. Down the rabbit hole.
I'm Just Looking (5:40) This one has a nice long instrumental introduction, looking for a dream that can't be dreamt. Restless and unsatisfied.
No More (6:24) Electrical machine shining down, all the fans are turning around… No more tv, no more phones, at least the amps work. I made a mistake, the first words are probably something like Electrical machine shutting down… Its going to be pretty dark where this is going, with no electricity. They rock hard on this ironic message. And the amps still work.
Am I Talking to Me (5:01) A meditation on communication.
Unspeakable words (6:07) Bringing it home, still on fire, unsatisfied always looking to improve or just tear down whatever does not work. That is when evil comes out to play… Then we die before we are even alive.
Who are these guys?  Rick Ray plays guitars and vocals; Rick Schultz blasts those reeds; Al DeDonne drummers are royalty; Dave "Shaggy" Snodgrass adds bass and vocals
Go to YouTube and type in Rick Ray Band.
Distributed by Amazon… Neurosis Records, 4020 Logans Way, Perry, Ohio 44081
MOST HIGHLY RECOMMENDED WITH A BURNIN' EQ OF 4.99   –Robin B. James
expEAR & Drew Gress – VESPER:  All the way from Sweden comes a very healthy jazz offering that features nine all-original compositions by the core members of the group… Henrik Frisk (sax), Maggi Olin (piano) and Peter Nilsson (drums), joined by Drew on his bountiful bass… as you listen to pieces like the 7:25 "Blue to Pink", you will hear the magical musical powers that these folks have together… they aren't afraid of "quiet spaces", and use them to make seamless transitions to the next movement in a song… a stellar piece of jazz!  If it's high-energy playing, and full-tilt jazz you're seeking, you won't be able to stop listening to the opener, "New Leaf"… the keyword for this tune is "power", to be sure.  It didn't take long for me to pick my favorite of the nine great songs offered up… "Zaftig" abounds with plump and rich tones that will hold your ears in awe… one of the most satisfying songs I've listened to (yet) in 2018.  I give these folks a well-deserved MOST HIGHLY RECOMMENDED, with an "EQ" (energy quotient) rating of 4.98 for this very enjoyable jazz set.  Get more information on the Kopasetic Productions label page for the album.         Rotcod Zzaj
Lewis Jordan and Music at Large – THIS IS WHERE I CAME IN: Jazz is proof of The Spirit, or the Griot. Jazz can bring that Magic Feeling, you know it only when you hear it, there are no "words" for describing what happens. If you have never seen it you are watching the players, the looks on their faces, what are all of the different noises? They are telling a story each time they play. Beat solid. This has a jazz-funk with sparkles of psychedelic guitar feeling woven in the beat. Energetic blues using jazz forms. Stories and voices.
The musicians:
Lester Jordan: alto/baritone saxophones, voice; David Boyce: tenor/soprano saxophones; Ian Carey: trumpet; Karl Evangelista: electric guitar; Erich Hunt: acoustic/electronic basses; Jimmy Biala: drums, percussion
Some of the song titles begin with capital letters, some are in all lower case. Does this mean anything? The title is there to help you to it, how to find the song. The reason for these different title styles is not discussed, maybe it's just part of the collaborative process. Accidents of improvisation and storytelling go together like gumbo. Some songs have words, a voice. Most do. 
Collage (4:56), civilization/osmosis (or keep a civil tongue in your head) (4:57), united states (9:03), if i were king (5:18), The Fantasy's All Mine (4:59), Heaven's Bells (7:24), Splow (Lacy's Out East on a Hip Day seing the Surf Ravin) (10:39), people i don't like (4:54), Preaching to the Choir (6:56), To Those Born Later (Bertold Brecht) (6:39)
Breaking it down.
Collage: Symetrical constructions, a language of simultaneity and counting. Sustaining the framework while showcasing a large variety of rhyming expressions.
civilization/osmosis (or keep a civil tongue in your head): Teasing an almost Mediterranean or continental phrase, taking it apart displaying fancy little gifts. Abruptly it gets fonky. Note that the title has no capital letters, all lower case.
united states: Slow and snakey, emerging from the wild marsh and taking form as the sun comes out, it's a procession. It's got a blues feeling but a completely different time signature for blues.
if i were king: Grand drums with horns, has vocals describing or proclaiming the joy of playing music regally. Useless for any business-work, this is all about bragging and good times. Again the title is in lower case.
The Fantasy's All Mine: Has words. Tellin' a story blending instruments with message. Old school poetic recitation with a beat. It's a story about how life feels, which might not be logical in measure. The story garden alternates rows of earth foundation with rising green spectacle, so green in the warm sunshine.
Heaven's Bells: Angry sounding men with horns. Explosive and explicit. Poetic recitation like calmly shouting angry slogans, its part of the mixed media feeling, complete with psychedelic counterpoint guitar train crash sounds.
Splow (Lacy's Out East on a Hip Day seeing the Surf Ravin): This one they let it go on and on, it's a long one, over ten minutes. It's about a hipster's visit, a postcard of a hip day. I have seen the ocean like that, so I know what they mean. Wave upon wave. Groove, Lacy. Atlantic coastal funk time. Nice rhyming.
people i don't like: Complaints and complete intricate descriptions. People! I like to dislike.
Preaching to the Choir: A heavenly foundation set out with horns and guitar dancing. Meditations on relationships. Sing together but not necessarily alike. Repetition and joyful bouncing. Preaching to a close circle of friends. Universal friends, recognizable by the expression of agreement on their face.
To Those Born Later (Bertold Brecht): From a sizzling opening, bass walking and the brass cymbals pulsing. Reading slowly with feeling blended with the musical accompaniment, certainly not sound effects and poetry. The words are written into and supported by the music, well done, well done. Brecht is a German playwright and songster, he comes from World War 2, a situation where the political message was essential, keeping the author sane in an unsane world. Hidden and explicit messages about getting along with our fellows, our fellow humans. Life has honor.
Contact: Lewis Jordan 510 350 7081 altosax@earthlink.net musicatlarge.org lewisjordan.com
VERY HIGHLY RECOMMENDED 4.97  – Robin B. James
Future Was Perfect – FUTURE WAS PERFECT:  All the way from Sofia, Bulgaria, comes this very interesting progressive rock entry into the foray… as you listen to the 9:31 opener, "Traces Unknown", you'll hear that they know how to use their talents to spin you a web of tomorrow; ergo, a perfect album for me to close out the last issue of 2017!  Since the title of the album implies a look ahead, and that's exactly what you'll get as you scope out the 8:00 "The Month of January"… while I suppose this could be "any January", it's a perfect fit for 2018.. some very nice flute & laid-back grooves on this tune.  A perfect showcase for the raw talents of Hristo Penev – Guitar & Keys; Rosen Zahariev – Guitar; Kaloyan Mihalev – Bass and Deha – Guest Drums… it was easy to pick my personal favorite of the five long songs offered up… "Parallax" is the longest song on the album, clocking in at 10:02, and will give you a perfect insight into our possibly distorted future.  I give FWP a MOST HIGHLY RECOMMENDED, with an "EQ" (energy quotient) rating of 4.97 for this fine album.  Check them out on their Bandcamp site.          Rotcod Zzaj
David's Angels – TRACES:  It's been a while since I reviewed this unique group, issue # 132, to be specific… they got high marks from me then, and this new fall 2017 release is even more intriguing… as you listen to songs like the 7:01 title track, "Traces", you'll certainly understand why my ears have been attracted to their works ever since I first listened to them…. totally original, with some of the most haunting vocal works you will ever listen to!  The 4:45 "Remember" takes you even further down dark paths; the electric bass work from David Carlsson is totally captivating.  You also get to enjoy the high-talent trumpet/electronic  work of Ingrid Jensen (who has also been reviewed in our pages many times).  My choice for personal favorite was an easy one… the 7:33 "Break It (Black and Blue)" is some of the most eclectic jazz you'll ever hear on recording, and Ingrid's horn is perfect along with the splendid vocal from Sofie Norling and expert keyboards from Maggi Olin… just superb, folks… miles ahead of all the pretenders, that's for sure.  I give David's Angels a MOST HIGHLY RECOMENDED, with an "EQ" (energy quotient) rating of 4.99 for this highly collectible album.  Get more information on the David's Angels FB page.  Rotcod Zzaj
Cameron Mizell – MEMORY/IMAGINATION:  There are always solo guitar albums coming my way for review… Cameron's guitar work is far more distinctive than many of the others, though, especially because of his ability to dig way down deep into his own memory and pull out sounds that are both intriguing and accessible… a great example of that is the longest tune on this release titled "Melting"… without the aid of substances, you will be able to hear/see tenderness emerge through his able fingers… this definitely hearkens back to the heyday of ambient, but with a 21st Century vibe.  I first reviewed his guitar work in issue # 165, where he got high praise from me.  My personal favorite of the dozen songs he offers up here is the 5:13 "A Turning Point"… decidedly different than any other solo guitar album you've heard before.  If you love well-sculpted solo guitar, this is a "must-have" for your collection.  I give Cameron a MOST HIGHLY RECOMMENDED, with an "EQ" (energy quotient) rating of 4.98 for this splendid album.  Get more information on the Destiny Records website.     Rotcod Zzaj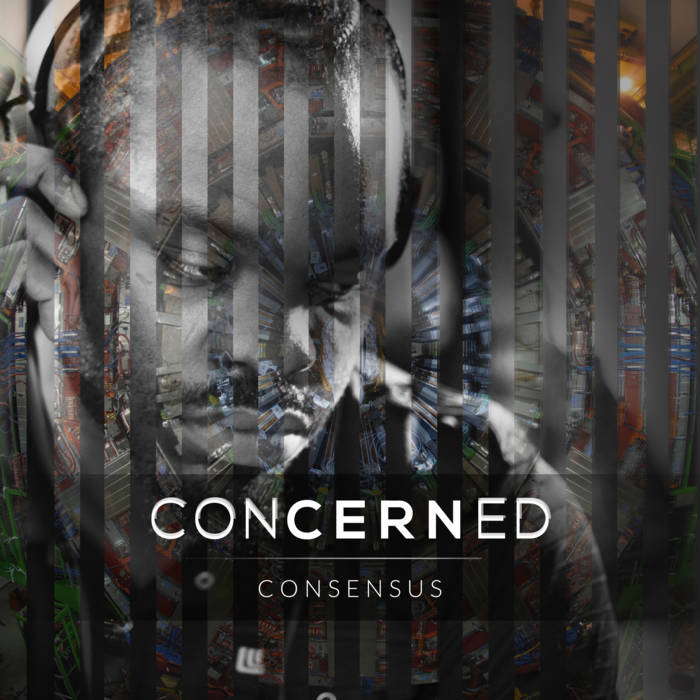 Consensus – CONCERNED:  There's no question but that this is a "real rap" album – but, it is among the strangest I've ever heard (& that's a GOOD THANG)… songs like "Method To The Madness" will surely prove that to your aural appendages… like, a "scientific rap", volkz… you can learn more about the group, "Cern", on the Bandcamp page for the release… actually, after (more than) a couple of listens all the way thru, I can tell you that this is very accessible, and quite enjoyable.  My personal favorite of the nine tunes offered up is "Standard Model", ft. Dana McKeon… well-crafted, yet full of solid rhythm/beats.  If you're looking for music that will keep you (& your ears) movin' – you'll want this in your library.  I give the players/singers a HIGHLY RECOMMENDED, with an "EQ" (energy quotient) rating of 4.98.  Get more information on the aforementioned Bandcamp page.      Rotcod Zzaj
Hats Off Gentlemen It's Adequate – BROKEN, BUT STILL STANDING: This is the third album from these phenomenal London based scientific and philosophical prog rock heros, frequently named Galloway. Like the 70s realm of rock culture itself, this album has a robust range of homages, styles and expressions of brilliant rock genres (without any of the big hair and spandex), specifically prog rock, classic rock, hard rock, metal, blues, folk, funk, minimalist, ambient music and retro electronica. Hold on, calm down, sit back: they do not do all those styles together in a dreadful big mush, they have songs that feature each of these widely ranging rock styles. And they have a flute AND a Chapman Stick (and know how to use them)! Best of all the team of Hats Off Gentlemen have all mastered perfect instrumental technique, a very sophisticated and not distracting sound. A downside, sometimes they love to sing things over and over, over and over, over and over again. This is a science/science-fiction concept album, true to the prog (progressive rock) genre, in not too excessive words it follows the story of human evolution, from the last universal common ancestor (LUCA) to Lucy, our collective ancestor (from the Leaky expedition) who lived down by the lake so very very long ago. Enter the wandering forms including the cellular aliens and self-aware artificial intelligences that seek to either borg us or demand to join our borg, forming coalitions and ever-growing hypercommunities. The primitive cells engulf each other to become the cell empires. There are a range of surprise visits from different forms of life from the future. Here are the songs: 1) Vent (ambient progressive) 3:02, 2) Almost Familiar (dreamy) 5:25, 3) Luca to Lucy (ambient ancient loopy) 5:09, 4) Lucy (spirits in white satin) 1:54, 5) Last Man on the Moon (traveling blues) 6:02, 6) Advancing on Snailback (ambient) 4:29, 7) Anywhere (snappy upstep) 4:33, 8) One Day When (steeley floyd) 3:34, 9) I Fell in Love with a Mechanical Dragon (humorous lament, lots of words) , 10) Let Me Out (hard rock) 3:55, 11) Under the Skin (lots of words great fun cheeky anglo saxon rap) 2:58, 12) Lucid Assassin (retro electronica) 4:41, 13) Broken but Still Standing Till I Fall (hard rock) 2:55, 14) All Alone Together (piano smoke) 2:46, 15) Host (energized hard blues) 3:13, 16) Transient Stars (piano fantasy) 5:31, 17) Close My Eyes (prog rock) 6:33. I predict that in 40 years this recording will be in high rotation. Things may be changing along the way, but mark my words, there will be fans having ever-expanding annual reunions and playing the whole album each time they get it out, sometimes twice. Written by Malcolm Galloway (all tracks) and Mark Gatland, Rudy Burrell, Kathryn Thomas, James Galloway. Lyrics by Malcolm Galloway and James Galloway. Produced, mixed, mastered, engineered and written by Malcolm Galloway, Co-produced by Mark Gatland. Instruments: Malcolm Galloway – vocals, backing vocals, guitar, keyboard/synths, bass; Mark Gatland – bass, Chapman Stick, keyboard, guitar, backing vocals; Kathryn Thomas – flute, bass flute, vocals; Rudy Burrell – drums; James Galloway – vocals, keyboard; Ethan Galloway – vocals; Story by Malcolm Galloway. Cover art by Beeple and recorded in Sonar. Glass Castle Recordings (GC4155) contact http://hatsoffgentlemen.com HIGHLY RECOMMENDED EQ 4.7999 – Robin B. James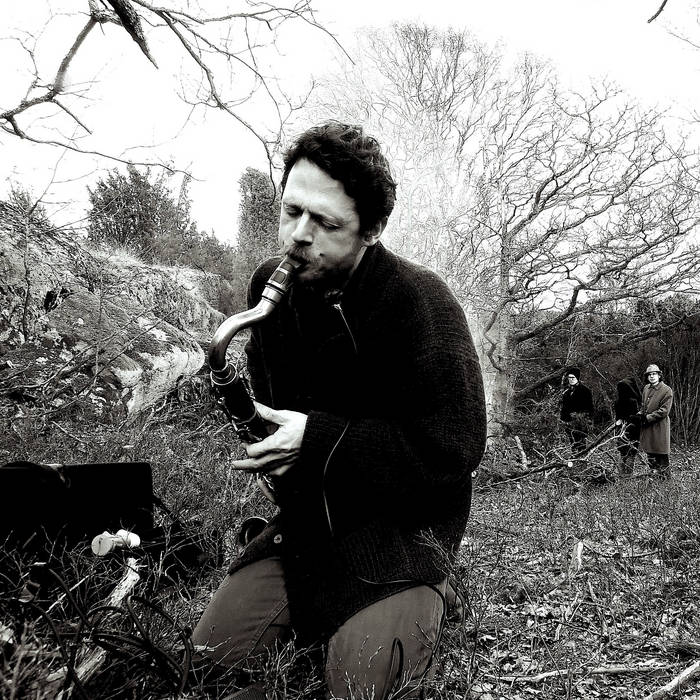 Arrington de Dionyso – SONGS OF PSYCHIC FIRE, VOL 3:  I have been listening to good old traditional jazz, when something different comes along. This is breathing fresh air, a bit of throat singing with some electronic enhancements, later comes horn sounds, and ultimately, some kind of a looping overdrive affair. Much is coaxed from these few sound sources. So here is something different sounding and new, right away I am happy to hear this. (O Thunder, Perfect Mind 4:55; Face of Abrazas 5:36; Pearl of Septuva 6:29; Fever Dreams in the Empty Wind 6:06; You Will Not Die 14:30 Bonus tracks (three) Mirrors and Windows 3:17; Crown of Tendrils 13:07; Form Stripped Away 9:02). This is a solo production, but what exactly distinguishes solo music from collaborative adventures? Is there a tell-tale sound or feeling or lack of depth that solo work has? I guess it depends on what you are listening for, specific electronic gear or ethnocentric incorporations, maybe the name itself brings up families and history. Sometimes solo artists can develop a restless sound, not allowing for proper silences. Overall, the Arrington de Dionyso sound here is full, it does not seem to lack depth in its ability to tell its stories. From the top: O Thunder, Perfect Mind (4:55) Is it a refreshing sound repeated or a warning, like in anger? Both, sometimes. and other messages too. Its novel, voices and layers of recording effects, using the Khoomei or Kargyraa methods of Tuvan throat singing (chest sounds, no whistling) plus something sounding like how some Inuit throat singers, with natural breaths back and forth, inhale and exhale (the Inuit singers are doing it just for laughs, the Arrington de Dionyso throat singing sounds more widely expressive in its intentions). There are natural climaxes followed by total darkness and starting over again with tiny sounds building again on a journey of pulse and buzz. The throat singing also adds a levity at times, wonderful funny human sounds. First song is about a cranky old cave dweller who is dreaming in loops. Face of Abrazas (5:36) opens harsh and stomps off to do battle on mountain tops. Buzzy throat sounds again. Cave echos. Full and empty. Overdrive and natural cyclic sound patterns. Yooop. Build to bursting climax, overdrive effects. The story continues. Pearl of Septuva (6:29) The echoey vocal effects bounce and spring along, sometimes falling away and always bouncing back up again. Restless. The endings of these songs seems arbitrary sometimes, rather than organic. Fever Dreams in the Empyty Wind (6:06) Much more mixed textures, some explosions and some dead drop away silences. You Will Not Die (14:30) Grumbly low pitched saxophone growls and chrome fuzz. That is how it starts. Take heart, there are worse things than death. Bonus tracks (three of them) Mirrors and Windows (3:17) Loops maybe even bigger than life tug boats in fog, big sounding. Now its vocals in shells or echo baths. Back and forth, rising falling, looping of sorts. Crown of Tendrils (13:07) Electronic effects set to stun or even kill, watch your step here. Some gigantic tectonic landscapes, some overindulgent drivel, lots of territory is covered so you just might find some variation in your moments listening, which is a good sign, restless curiosity brings about more stuff and with more stuff can come some new discoveries, mixed in with the honking and echo overdrive effects. This track has the most fearless ranges of sounds of this batch from Arrington de Dionyso, Some of the other numbers would benefit from this type of a wider palate. Form Stripped Away (9:02) Last bonus: echo with piano and sax, darkness just past your headphone's sight. Mixed textures always keep it interesting, the blending and layering of recorded events or atmospheres are more pronounced. Do bonus tracks extend or add to the album or are they separate creatures, even if born in the same manger as the accompanying album itself? I think the bonuses are different enough not to be included in the album. Overall, the music heard on this recording just does not work for traditional "dancing," but there just might be some choreographic ore in these hear mountains. We are using new methods to tell our stories, hence the evolving jazz mythos. This album is HIGHLY RECOMMENDED with an EQ rating of 4.79… get more information at Arrington's Bandcamp page for this release.             Robin B. James
Ethan Sherman – BUILDING BLOCKS:  Ethan's masterful guitar works are supported by Chris Rolontz – bass and Christian Euman – drums in a short set that will absolutely WOW your ears on this great release… their "pacing" on tunes like the 7:01 "Keltner" is nothing short of miraculous, and the song is filled with the power of players who know (exactly) how to urge each other on to the very heights of music – you'll find yourself drawn back again and again to this excellent song!  You'll find both adventure and skill in all of the songs, as they explore the structure of freedom in playing… no song illustrates that better (for this reviewer, anyway) than my pick for personal favorite of the nine songs offered up, the 5:28 "Dangling"…  truly one of the mellowest jazz guitar pieces I've listened to in 2017!  I give Ethan & his fellows a MOST HIGHLY RECOMMENDED, with an "EQ" (energy quotient) rating of 4.99 for this superb release.  Get more information at the pfMENTUM page for the album.         Rotcod Zzaj
Carlos Vega – BIRD'S UP:  Carlos's high-energy & high-talent tenor and soprano sax work always gets high ratings here… I reviewed him just a while back in issue # 164, & this newest release is even better… you'll also hear great playing from Victor Garcia on Trumpet, Flugelhorn; Stu Mindeman – Piano, Rhodes; Josh Ramos – Bass; Xavier Breaker – Drums; Cheryl Wilson – Vocals; Scott Hesse – Guitar; Steve Strand – Flugelhorn and Michael B. Nelson – Trombone… jazz just doesn't get any more energetic than this, folks!  You'll be a totally dedicated fan by the end of the first four bars of the excellent opener, "On a Mission"… pure sonic pleasure, to be sure… +, the track clocks in at nearly ten minutes (9:55, to be exact), so each player has a chance to shine most gloriously!   If you're seeking jazz in a slightly more mellow vein, you'll find "Untitled Waltz for the Wednesday Morning Prayer Meeting" fills the bill quite nicely… Cheryl's vocal makes this a very special listen, too.  After my second listen through all ten tunes, it was (hands-down) easy to pick a personal favorite.. "The Wizard Swings" conjures up visions of jubilant jazz in days of yore… vibrant is the word that best describes this tune!  I give Carlos & his players a MOST HIGHLY RECOMMENDED, with an "EQ" (energy quotient) rating of 4.99 for this great jazz adventure.  Get more information on the Origin Records page for the release.      Rotcod Zzaj
Errol Rackipov Group – DISTANT DREAMS:  There's really nothing "distant" about Errol's superb jazz vibraphone work on this excellent release… I've loved his work ever since I reviewed his group in issue # 155, and this album makes that impression even stronger… he's joined by a stellar cast of players… Lubomir Gospodinov – Tenor sax and Soprano sax; David Leon – Alto sax; Martin Bejerano – Piano; Peter Slavov – Acoustic bass and Ludwig Afonso – Drums all work together beautifully to transport the listener to jazz Nirvana, especially on songs like the 6:13 "The Dream Of The Little Gypsy"… airy and light, but bubbling with the spirit of life and the living of it!  If you're looking for music that's beat-driven, you'll just love Ludwig's dynamic drumming on "Attitude Problem" as did I.  I knew, from the opening notes of "Odd Times", the opening salvo on the album, that it would be my pick for personal favorite, though… what this song has that (many) others don't is some of the most fluid group movement you will ever listen to… just SUPERB playing!  I give Errol and his players a MOST HIGHLY RECOMMENDED, with an "EQ" (energy quotient) rating of a (perfect) 5.00… meaning that this album also gets my "PICK" for "best vibraphone jazz album".  Get more information on the Origin Records page for the release.       Rotcod Zzaj
Hal Galper & the Youngbloods – LIVE AT THE COTA JAZZ FESTIVAL:  I've reviewed Hal's excellent jazz piano work here quite often over the many years I've been writing reviews… this July, 2017 release shows his total dedication to the art of jazz… he's joined by Nathan Bellott on alto saxophone, Dean Torrey playing bass and David Frazier doing drums, in one of the best "live" jazz recordings of 2017… as you listen to the opener, "Speak with a Single Voice", you'll hear what "professional" really means… their playing is tight, and each note comes across with a single-minded message of it's own… a totally cool tune… excellent solo reed work from Nathan at the 7:25 mark!  The songs are all over ten minutes in length, so they have plenty of room for each player to stretch out and demonstrate their talent… of the five pieces offered up for your listening pleasure, it is (definitely) the mighty mellow "Goodbye" that is my pick for personal favorite… this would have been pure joy to witness during the performance.  I give Hal & his folks a MOST HIGHLY RECOMMENDED, with an "EQ" rating of 4.99 for this splendid recording.  Get more information on the Origin Records page for this release.         Rotcod Zzaj
Nick Maclean Quartet – RITES OF ASCENSION:  Nick's mighty mellow keyboards lead this dynamic quartet, made up of Brownman Ali on trumpet, Jesse Dietschi doing acoustic bass and Tyler Goertzen on drums, through a series of high-energy originals and re-imagined Hancock tunes in an album that just demands to be in your long-term collection… if you're like me, though, you'll be pushing this out to your player & listening to it every time you take a cruise… songs like Nick's "Goldberg Machine" establish a groove (in the first two bars) and carry you into jazz oblivion for the rest of the 4:57 tune… just superb!  They do a wonderful job on Herbie's "One Finger Snap"… folks, if you ain't snappin' all five of those digits along with the heavy rhythm on this one, you are NOT the "jazz fan" you claim to be – Ali's trumpet just SHINES on this tune.  It was an easy pick for personal favorite of the eleven songs offered up… Brownman's original, "Madness Of Nero", is the longest cut on the album, & so, it gives each player a chance to show their significant chops… it's certainly the best trumpet-led piece I've heard in 2017.  I give Nick & the rest of the quartet a MOST HIGHLY RECOMMENDED, with an "EQ" (energy quotient) rating of 4.98 for this thrilling jazz adventure.  Get more information at Nick's website.           Rotcod Zzaj  
Dave Liebman Mike Murley Quartet – LIVE AT U OF T:  This live performance is one of the most exciting I've listened to (yet) in 2017… Dave does Soprano/Tenor Saxophone and Flute, with Mike Murley – Soprano/Tenor Saxophone; Jim Vivian – Bass and Terry Clarke – Drums on this stellar nine-song set, and tunes like the ultimately cool "Ybsn" will have you tappin' toes & snappin' digits (I'm somehow reminded of the Peter Gunn theme on this one – not sure exactly what the connection is).  If it's "mellow" you're thirsting for, you'll find the 6:02 "Small One" (original from Dave) very much to your liking – very intricate and spontaneous playing.  It is Mike's superb composition, "Open Spaces ", that got my vote for personal favorite, though… it's hard to believe they were able to pull this engaging a performance off in a live setting… TOTAL energy for the playing on this one.  I give Dave, Mike & all the players a MOST HIGHLY RECOMMENDED, with an "EQ" (energy quotient) rating of 4.99 for this superb album.  Get more information on the Orange Grove Publicity page for this exciting December, 15th, 2017 release.  Rotcod Zzaj
aul Jones – CLEAN: This is the second album from composer/saxophonist Paul Jones (NYC). The first composition (Ive Sn Th Gra Md) appears to be some kind of a spelling stylization, perhaps it's a Ginzberg poetic howl variation, "I saw the best minds of my generation.." (best and greatest could sort of be a synonymous conceptual nod, close enough for jazz) or maybe it's more personal and private and cryptic, something only Paul alone knows for sure. The music itself (which is why we are here) is very tightly arranged, he makes the complicated simple, a showcase of more than ample technique and competency, the numbers are tight and polished and to the point, master level performances. He does incorporate other literary references, such as Saul Bellow "The Adventures of Augie March," and Charles Bukowski (found on the first album Short History). Romulo is Romulo Herrera, a famous chef who employed Paul as a dishwasher way back when Paul was making his way in the big city. Clean has fourteen tracks, all by Paul Jones: Ive Sn Th Gra Md (1:13); Clean (8:46); Alphabet Soup (4:09); The Generator (6:15); It Was Brgh Cold (0:50); Centre in the Woods (4:44); Romulo's Raga (1:05); I Am An American (5:29); Hola, Amigo (5:51); Trio (7:23); Im Prety Uch Fkd (1:27); Buckley Vs Vidal (6:45); Dirty Curty (7:34); The Minutiae of Existence (1:06) Paul Jones – tenor saxophone; Alex LoRe – alto saxophone; Matt Davis – guitar; Glenn Zaleski – piano; Johannes Felscher – bass; Jimmy Macbride – drums WITH Mark Dover (clarinet); Ellen Hindson (oboe); Nanci Belmont (bassoon); Susan Mandel (cello) AND the SNAP Saxophone Quartet (Nicholas Biello – soprano; Andrew Gould – alto; Sam Dillon – tenor; and Jay Rattman – baritone); The Righteous Girls (Gina Izzo and Erika Dohi); recorded by David Stoller. Get more information at Paul Jones website.  HIGHLY RECOMMENDED EQ 4.7  -Robin B. James
Chicago – London Underground A NIGHT WALKING THROUGH MIRRORS: Recorded live at Cafe Oto in London April 2016. Musicians: Rob Mazurek (cornet, sampler, electronics, voice); Chad Taylor (drums, mbira and electronics); Alexander Hawkins (piano); John Edwards (double bass) Four tracks: A Night Spent Walking Through Mirrors (24:17); Something Must Happen (15:22); Boss Redux (21:31); Mysteries of Emanating Light (18:43). What does "walking through mirrors" mean? "It really felt like we would be playing and somebody would take a left turn and we'd be in another dimension," Mazurek recalls. "Another person would take a right turn and we'd be in yet another dimension, but everybody was right there. It really did feel like a night spent walking through mirrors in that respect." (from the Cuneiform press release accompanying the album). The ensemble are all experienced jazz improvisers reaching back 20 years or so. One duo is from Chicago and one duo from London, they combine and improvise together some "protest music," to go with our changing times, specifically named Trump and Brexit. There is a guy with a trumpet and a percussionist, and a pianist plus some processing and electronic contributions. Hands all over many musical instruments, long recordings, long takes; free jazz techniques and obscure jamming, exploring alien territory, breaking down borders and opening walls, something fresh, new all the time. Tentative responsive fluttering exploratory investigative textures, unexpected notes and voice work, growling horns and percussion storms that slow down into microscopic diagrams. Well done! HIGHLY RECOMMENDED EQ 4.4 Cuneiform Promotion Dept: (301) 589-8894 / Fax (301) 589-1819 -Robin B. James
Josh Nelson – THE SKY REMAINS:  Josh's piano and compositional work got high marks from me in issue # 155, and this new 2017 release has even more sensitive songs… per the liner notes, it's somewhat of a "love song" for his native city, Los Angeles… you'll certainly hear hear his creative genius and jazz sensitivity on great tunes like the 7:04 "The Architect"… his playing on this one takes me (way back) to the "old L.A.", the one I remember from the early 1960's, when being from there was definitely hip… an ultimately cool song that gets lots of replays on my iPhone!  His cast of players is far too long to itemize here, but you can check it out on the Origin Records label page for the album.  I totally dug the percussion woven into "Lost Souls of Saturn", written originally by Russ Garcia (a real "Hollywood" feel on this one).  It was easy to pick my personal favorite of the ten tunes Josh offered up, though… the closer, "Stairways", pays homage (in a most unique way) to the city's expansive network of stairways, oddly enough… it's the most comforting jazz composition I've heard (yet) in 2017.  Get more information about Josh and his wonderful jazz projects at Josh's website.       Rotcod Zzaj
John Daversa – WOBBLY DANCE FLOWER:  What a LIVELY album… this is my first time listening to John's splendid work, but it's his fifth album as a leader, & he & his players just SHINE!  He's joined on this one by long-time band-mates guitarist Zane Carney, organist Joe Bagg, bassist Jerry Watts, Jr., and drummer Gene Coye, & they just ROCK this jazz… listen to one of my personal favorite jazz pieces from 2017 to verify what I'm saying… the opener, "Ms. Turkey", is only 3:02, but you'll find yourself hitting repeat often on this tasty track!  For something a tad more laid-back & bluesy, you'll certainly dig John's original composition, "Brooklyn Still"… in fact, all nine of the songs (except for "Donna Lee") are written by John.  The most full-bodied tune on the album, & my personal favorite, is the funky & cool "Meet Me At The Airport"… timeless, folks, & John's trumpet on this one just SMOKES!  I give John & his musical pals a MOST HIGHLY RECOMMENDED, with an "EQ" (energy quotient) rating of 4.99 for this fine album.  Get more information at the John Daversa website.          Rotcod Zzaj

Wingfield Reuter Sirkis – LIGHTHOUSE:  It's been quite some many years since I've listened to music this powerful… the only dilemma, though, is – what to call it… genre-wise, it's totally unique… you've got fantastic lead guitar from Mark Wingfield, Markus Reuter on "touch guitar", and Asaf Sirkis doing drums, and as you listen to the 7:47 opener, "Zinc", you'll wonder if it's "space rock", "twisted prog", or some variant of "Martian jazz"… I think the best thing to do, actually, is hit another toke or two & enjoy the soaring sonic ride they've created for you & your aural appendages.  The other marvel they accomplish is to "play their moods", so deeply, & in this case, a bit darkly, as you'll witness on "Magnetic"…this is a brilliant composition, and with the 11:13 length, your ears (not to mention your soul) will be fully sated and enlightened by their high-flying aural antics.  What truly cinched up my rating for the album, though, is "Ghost Light"… this isn't just my personal favorite on the album, it is also my favorite "new music tune" for the entire year of 2017… of course, if you're a "sludgenoggin", and can't abide by music that "takes you there" – you'll move on to the ballroom dancing rack, I suppose.  I give this fascinating musical trio a MOST HIGHLY RECOMMENDED, with an "EQ" (energy quotient) rating of 4.99.  Get the album, & much more information about the players on the BandCamp page for the release.         Rotcod Zzaj

Lewis Porter-Phil Scarff Group – THREE MINUTES TO FOUR:  Lewis (piano) and Phil (saxophone) have been playing together for a good long time, and you'll hear that (right away) as you listen to their high-energy performance on Lewis's original composition, "Long Ago"… the most impressive thing on this track is how tightly they (and the other players, of course) are meshed together… almost like they are joined at the hip… certainly "of one mind" in their playing… just loved Phil's shimmering sax work on this tune!  They are joined by John Funkhouser on bass and Bertram Lehmann doing drums; truly vibrant jazz energy; a jazz album you'll treasure for years to come!  Phil's composition, and the title track, "Three Minutes to Four" has some very interesting instrument combinations going on, but it's really his soaring reed work that will transport you to jazz heaven.  It is the mellow and soothing work on tracks two and three "Bageshri-Bageshwari, parts 1 and 2" that made it my personal favorite of the thirteen tunes offered up for your listening pleasure… decidedly new jazz directions that are thoroughly enjoyable.  I give Lewis, Phil, John & Bertram a MOST HIGHLY RECOMMENDED, with an "EQ" (energy quotient) rating of 4.99 for this joyful jazz journey.  Get more information on the Whaling City Sound label page for the album.            Rotcod Zzaj
Jared Hall – HALLWAYS:  Jared's trumpet is piercing (though not unpleasantly so) on this excellent sextet CD… he's joined by tenor saxophonist Troy Roberts, pianists Martin Bejerano and Tal Cohen, bassist Josh Allen and drummer Kyle Swan in an exciting all-original jazz set that will be pure pleasure for your aural appendages… of course, since he hails from Spokane, Washington (my home-base), I'll admit that my opinion may be a bit jaundiced… I've felt (ever since I moved out here in the late 1970's) that this state is the home of more than it's fair share of astounding talent… as you listen to the back-alley feel of the high-energy opener, "Wanderer", you'll know why I feel that way… my keyword for this track is "punctual"… every note from every player is right where it's supposed to be!  If you're inclined towards something a bit more laid-back & pensive, you'll certainly dig "Visions and Dreams" as much as I did… beautiful interplay between Troy & Jared on this one, to be sure.  Since I'm a piano aficionado (and a player "back in the day"), it was too easy to pick the 6:12 "Brother Spiro" as my personal favorite of the nine songs offered up…  some of the tastiest trumpet work I've heard (yet) in 2017.  I give Jared & his playing pals a MOST HIGHLY RECOMMENDED, with an "EQ" (energy quotient) rating of 4.98.  Get more information at Brian Lynch's Hollistic Music Works page for the release.         Rotcod Zzaj
Trio Ciclos – MOBILES, VOL 1:  A most interesting improvisational set in from Brazil… release in April, 2017, it features some fantastic acoustic bass by Bruno Migotto; drums & electronics from Alex Buck and piano by Edison Santanna… in fact, it's some of the most intriguing jazz improvisation I've listened to (yet) in 2017!  Just listen to their high-energy playing on the 9:27 "Curacao Mobile"… I've no doubt you'll find your ears unable to pull away from the rhythms they create for you… this is the track that gets integrated into my iPhone playlist for the long term… Edison's piano work on this one is crisp and full-bodied… just love this track.  The tracks are all originals, too, and long-time readers here know that means I'm even more attracted to what they're doing, because I think the players have a bigger "investment" in the success of a song when it's an original.  What you'll really be listening to on all seven tunes is a "conversation" between each of the players… for me, this was best captured on the 5:12 closer, "Maxixe"… it's definitely my personal favorite on the album… lively, yet full of mystery (not to mention some GREAT piano from Edison).  I give Trio Ciclos a MOST HIGHLY RECOMMENDED, with an "EQ" (energy quotient) rating of 4.98 for this fine release.  Get more information on the Tratore label page for this album.        Rotcod Zzaj
Joseph Benzola – Tuareg:  It's been a good long while since I reviewed a "true" indie artist in these pages… due to some poor communication on my part, I failed to get 'round to this for longer than I normally take… his music is challenging, interesting and (most importantly) – ALL HIS OWN!  As I listen to his full-bodied and intriguing drum/horn work on the title track, "Tuareg", it's clear that his intimate knowledge of rhythm, and how to use all it's facets to hold the listener spellbound, is far in advance of many other players… I just love his cymbal work on this one… intricate, but ultimately fulfilling!  Without question, though, my personal favorite of the eight tunes Joseph offers up is "Drunken Hipster Pygmy Squaredance Trance in Bushwick"… he uses rhythm & (what sounds like) some kinda' "fuzz guitar" to give you insights into "hipster pygmies" that you would never find elsewhere – totally ORIGINAL!  I give Joseph a MOST HIGHLY RECOMMENDED for listeners who demand "different" in their listening experience… "EQ" (energy quotient) is 4.98 for this one.  The only means of contact I could find is via Joseph's FB page.        Rotcod Zzaj
Dan Bruce – EARTHSHINE:  Dan's jazz guitar on this brilliant October 2017 release is in exploratory mode, no doubt… he and his players (Russ Johnson: trumpet; Chris Madsen: tenor saxophone; Rob Clearfield: piano, Fender Rhodes; Clark Sommers: bass; Jon Deitemyer: drums) pull out all the stops to entertain your ears… don't take (just) my word for it… listen to the 8:56 "Lapse", and you'll realize that while they are improvising, they also know the value of music that's been specifically composed to enhance the groove… one of the most mellow tunes I've listened to (yet) in 2017; in fact, it's one of the strongest sextet sets I've listened to in a good long while!  The sextet is called "Beta Collective", and I'm telling you right now – you can expect to hear much (MUCH) more from this group over the next couple of years… that's especially true when you witness their fluid and sultry approach on "Sofa"… it was easy to make this my personal pick for favorite of the seven songs offered up for your aural pleasure (don't let that "7 songs" bit fool you, though… the album clocks in at just over an hour).  I give Dan and his collective a MOST HIGHLY RECOMMENDED, with an "EQ" (energy quotient) rating of 4.99 for this fine release.  Get more information on Dan's website.        Rotcod Zzaj 
The Andrew Scott Quartet – The Brightest Minute: Andrew's shimmering jazz guitar work on this superb set of eight originals makes for one of the most pleasant listens you'll experience this year… he's joined by some excellent players in this quartet formation… Bass – Jon Meyer; Drums – Jeff Halischuk; Guitar, Piano, Jake Wilkinson… and as you scope out tunes like the high-energy "Ain't It So", you'll realize that you've got a real WINNER in your hands (& your ears, of course); tight and precise, they will move you in all sorts of directions with their changes on this piece! Most regular readers here know that "originals" are always more exciting for me to review, because the players have a much more intimate involvement with the "success" of the tune… what's most notable about Andrew's compositions, though, is that they fall into a realm of songs that will "last"… there's no doubt that songs like my personal favorite on this album, the splendid opener, "My Ears Can't Hear Your Voice" will be at the top of playlists for decades (maybe even eons)… a truly fresh sound that will capture your ears and make them believers!  I give Andrew and his cast of players a MOST HIGHLY RECOMMENDED, with an "EQ" (energy quotient) rating of 4.99 for this fine album.  Get more information (and listen to samples) on the Cellar Live Records page for the release.      Rotcod Zzaj

Will Bonness – HALCYON: My first listen to Will's splendid jazz piano work, but I'm sure it won't be my last… this is his second release, and as I listen to "Adrenaline Rush", it's clear that his excellent keyboard touch has been well-honed, yet it's full of vibrant life on each and every note… great energy on this piece, and all the players (Will on piano, of course, with Jon Gordon (saxophone), Derrick Gardner (trumpet), Steve Kirby (bass), and Quincy Davis (drums)) provide beautiful performances that will pleasantly astound your ears.  As always, it's the original compositions that hold my interest most strongly, and that's absolutely true on the title track, "Halcyon"… a very laid-back pace, with lots of conversation between the bass and piano… loved this one!  It was easy to pick my personal favorite (which isn't always the case); "The Mystic", another original composition by Will, is the kind of straight-ahead jazz that got me so excited about jazz way back "in the day" (which for me was in the early 1960's, by the way)… Jon's sax just COOKS on this tune.  I give will and his very solid players a MOST HIGHLY RECOMMENDED, with an "EQ" (energy quotient) rating of 4.98 for this fine jazz set.  Get more information on Will's website.    Rotcod Zzaj
Hoaxer – CRASH TEST:  This may have been a "test", but I can tell you right now (during the first 8 bars of the opener)… these ain't no "dummies" when it comes to jazz… you get Peter Goggin on Alto Saxophone, Will Kjeer doing Piano, Charlie Lincoln on Bass and Edmund Catlin's Drums in a 9-song set that will blow your mind… songs like "Octagon" will make you realize that "real" jazz is still quite alive & well… as did the folks at the 2016 Twin Cities Jazz Festival (Minnesota)… full-tilt jazz that will thrill listeners for a long time to come… & speaking of "time" – they're RIGHT ON it, with some very significant changes that even the old-school masters would dig!  There's a somewhat gentler mood expressed on the 5:57 "San Juan Island County Fair"… just loved the piano on this track.  It only took one listen to choose my favorite of the nine tunes offered up, though… "It Is 5 11" is the longest piece on the album (8:58), and one of the most powerful jazz excursions I've listened to (yet) in 2017… just superb!  I give this group a MOST HIGHLY RECOMMENDED, with an "EQ" (energy quotient) rating of 4.98.  Get more information on their FB page.     Rotcod Zzaj(author's note: IF you decide to purchase this, please use the AMAZON link below to help with our Amazon Associates membership – thanks)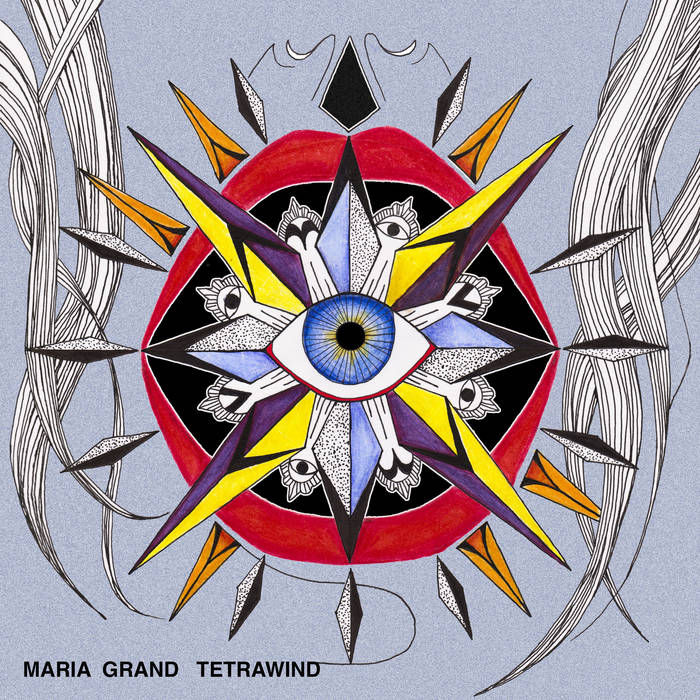 Maria Grand – TetraWind:  This is my first listen to Maria's full-bodied/full-toned tenor sax work, but I guarantee you – it won't be the last!  She's joined by Román Filiú – alto saxophone and flute; David Bryant – keyboards; Rashaan Carter – electric bass and Craig Weinrib – drums, and her vibrant energy on the reeds tells my ears that she will be "on the jazz scene" for a long time to come… a "rising star" to be sure!  Just listen to Maria's original composition on the 4:00 "East" and you will hear why I say that she's a mover.  I also truly enjoyed her vocal on the 6:47 "North"… but, it's her saxophone that makes her work so vital to what jazz is really all about… spontaneous composition from some very talented players.  One thing I would recommend for future releases – 6 to 9 songs instead of the four that you'll find here… of course, that's only a minor critique, because Maria reveals her inner space on these four densely rich songs… my personal favorite is one of the shorter pieces, "West"… beats move in all different directions as Maria "steers" the piece with her splendid and perceptive sax work.  I give Maria a MOST HIGHLY RECOMMENDED, with an "EQ" (energy quotient) rating of 4.97 for this release.  Get more information on Maria's Bandcamp age for the album.         (Zzaj advisory – keep your ears on Maria – you will be hearing MUCH MORE from this talented young player) Rotcod Zzaj
Ron Francis Blake – ASSIMILATION:  What an absolutely wonderful jazz set to wake up to… Ron's trumpet work on this splendid seven-song collection will rock your morning – and your WORLD, folks!  Since the player listing is so long, check it out on the Republic of Jazz credits page… (lots of high-profile GUEST artists there as well).  Tunes like the rousing opener, "La LLave (Zambiando)" are chock-full of the energy of life that makes living worthwhile.  Five of the tracks are originals by Ron, and I've no doubt your ears will agree with mine – "Night Dream" will float your mind away (easily) into visions of wonderful things to come… the keyword for this tune is (without a doubt) "inspiring"!  If you're not 100%  convinced yet, I want you to listen to my pick for personal favorite – "Northern Lights" (another original by Ron) has some absolutely haunting moments… the main attraction for my ears on this composition, besides Ron's svelte horn of course, is the fine keyboard playing.  I give Ron and crew a MOST HIGHLY RECOMMENDED, with an "EQ" (energy quotient) rating of 4.98 for this release.  Get more information at Ron's Hispeedhorns site.            Rotcod Zzaj(author's note: IF you decide to purchase this, please use the AMAZON link below to help with our Amazon Associates membership – thanks)
Dave Askren & Jeff Benedict – COME TOGETHER: What an absolute groovin' group to behold… I've been reviewing Dave's excellent jazz guitar work since way back in issue # 81, as well as (at least) one CD he played together with Jeff (saxophone) on… this new release also features Paul Romain on drums and organ by Joe Bagg, and as you listen to tunes like the jazzily lilting "Moments Notice"… the 6:11 length of the track gives each of the players their own space to play in – & PLAY they do… LOVED this tune!  If it's straight-ahead funk n' groove your ears are yearning for, you'll dig deep into "Nardis"… Jeff's reeds wail, & Joe escalates the tune to new heights with his great keyboard solo on this one.  Their collective performance is totally pro on "Groove Merchant"… of course, since my own playing background is on keyboards, you know I was totally enchanted Joe's organ work, but Dave's guitar solo is absolute jazz splendor!  My pick of the ten songs for personal favorite is (without doubt) the organ-laden opener, "Cheese Grits"…. think Jimmy Smith in a 21st Century groove mode!  I give Dave, Jeff & their marvelous musical partners a MOST HIGHLY RECOMMENDED, with an "EQ" (energy quotient) rating of 4.99.  Read all about it on Dave's music page.          Rotcod Zzaj(author's note: IF you decide to purchase this, please use the AMAZON link below to help with our Amazon Associates membership – thanks)
Dave Kline Band – SHIFTING BORDERS:  The promo sheet lets you know that Dave's music is high-energy… what I'll add to that is that it's some of the most creative energy electric violin work I've heard (yet) in 2017!  As you absorb the high-flying whirling on the aptly titled "Shazam Returns", you'll be ready to mount that electric carpet & fly off into Nirvana NOW… what I really, REALLY dug on this great song is the incorporation of Dan Paul's keyboard work (right at about the 2:50 mark is when it begins)… ultra-cool, to be sure!  The 6:06 "Rockin' The Cape" is in a totally different zone – somewhere near "country" – but Dave doesn't let that stop him (or his players) from JAMMIN'… & that's the keynote on this very unique album from Dave… JAM… I totally LOVED this song!  The great piano intro on "Fire" made it my pick for favorite of the nine tunes offered up for your listening (& jamming) pleasure, but it's the sophisticated changes Dave's violin leads the group through that made it a composition I believe is destined for awards!  I give Dave and his splendid cast of players a MOST HIGHLY RECOMMENDED with an "EQ" (energy quotient) rating of 4.99 for this excellent album.  Get more information on Dave's web page for the release.        Rotcod Zzaj
Shoup, Horist, Kikuchi – CHEMICAL LANGUAGE: You really, REALLY, don't often get an improvisational trio with this much POWER in it… Wally Shoup's sax work, Bill Horist's inflamed guitar stretches and driving drum work from Paul will have any improv fan lickin' their lips and lusting mightily after what these cats are creating in real time for their ears!  Wally and Bill handed this one over to me at an Olympia Experimental Music Festival gig they were playing (a couple festivals back; sorry, guys)… of course watching masters like this in a LIVE setting is always better – but, with that said, when you listen to tunes like "Acceleration Lane", you'll fast realize that their improv work is not only "masterful", it's also timeless… a real and fascinating glimpse at how they speak to each other!  The drum/reed duo on "Id Martyrs" is just fantastic, and when Bill's guitars roll in at the 2:10 mark, the song just TRANSPORTS them (and YOU) to whole new vistas!  My personal favorite of the seven pieces offered up is also the longest cut on the album… "For Within Me was a Famine" shows improv skill beyond measure, and a whole new dimension in their playing together!  LOVED this one… it gets a MOST HIGHLY RECOMMENDED from my old ears, with an "EQ" (energy quotient) rating of 4.99!  Get more information on the Bandcamp page for the release.       Rotcod Zzaj(author's note: IF you decide to purchase this, please use the AMAZON link below to help with our Amazon Associates membership – thanks)
Patrick Bradley – INTANGIBLE:  I'm not entirely sure why this is my first listen to master Hammond player Patrick's work (but I'll surely talk with the promoter about that, lol)!  His great organ work is highly complimented by fusion gem Jeff Lorber, who has been reviewed in my page many times before, as well as bassist Jimmy Haslip, guitarist Michael Thompson and drummer Gary Novak… & though the album is billed (at least in part) as "smooth", the energy on display takes it several steps above that mundane classification!  Just listen to tunes like "Tailwind", & you'll be blown away just as much as I was – the keyword for Patrick's music is "fresh"!  You get just under 45 minutes of music that is perfect for blasting away in the car as you cruise on down the road, or mellowing out in your living room… check out the 4:43 title track, "Intangible", to hear what I mean… this music MOVES folks!  Of the ten tunes offered up for your listening pleasure, though, it is "Destiny" that is my clear personal favorite… one of the tastiest fusion compositions I've listened to (yet) in 2017!  I give Patrick & his musical pals a MOST HIGHLY RECOMMENDED, with an "EQ" (energy quotient) rating of 4.98 for this fine album.  You can get more information about Patrick at the Patrick Bradley website.          Rotcod Zzaj(author's note: IF you decide to purchase this, please use the AMAZON link below to help with our Amazon Associates membership – thanks)
Jennifer Saran – WAKE UP:  After several listens to Jennifer's album, I have decided to move it into a FEATURED slot at Contemporary Fusion Reviews…
Rick Sparks – NIGHTFALL LONDON: Having listened to and reviewed Rick's pleasure-filled compositions before (issue # 154), I was already anticipating great piano and masterful synth/string work… and, of course, that is exactly what I got – just listen to the beautiful strings on the opening track, "Across The River", and you'll find yourself sitting on the banks of the Thames as night gently darkens the sky… the voices he incorporated make it sound quite like a choir of angels is accompanying his piano on this fine tune.  Tones of a different sort on "In The Bleak Midwinter" are still very enticing, perhaps because the focus is on Rick's piano (and, again, there are those beautiful vocals complimenting the track).  The brilliance and shining sense of life and the living of it are perfectly captured on my personal favorite of the ten compositions offered up for your listening pleasure… "Highland Rose" will transport you (easily) to the peace you've been yearning for!  I give Rick a MOST HIGHLY RECOMMENDED, and an "EQ" (energy quotient) score of 4.98 for this excellent sonic adventure.  Get more information about this great artist at Rick's website.        Rotcod Zzaj(author's note: IF you decide to purchase this, please use the AMAZON link below to help with our Amazon Associates membership – thanks)
Kerani – STARDUST:  Kerani got a "PICK" from me in issue # 146, so you know already that your ears are in for a huge treat… not too many players or groups get that status from me… and the new release is just as regal and inspiring; just listen to the majestic orchestral sounds on "Rosetta", and you will be as drawn to their music as I was.  Kerani said that his overall message "is to make people aware about the wonders of our planet", and that has certainly been achieved!  With the orchestras and other folks involved in this recording, the total amount of players came to a stunning 60 people… there's no doubt in my mind that this is award-winning music, and I look forward to seeing it nominated.  That's especially true for my personal favorite of the ten songs offered up for your enlightenment… the feeling of awakening to a brand-new universe, unfettered by petty politics and preachments, is palpable on the wonderful "Cosmic Sunrise"… the one piece of advice I have for this album?  Listen to it with your headphones on, at least for the first sitting – you'll be glad you did!  I give Kerani a MOST HIGHLY RECOMMENDED, with an "EQ" (energy quotient) rating of 4.99 for this great album.  Get more information at Kerani's website.       Rotcod Zzaj(author's note: IF you decide to purchase this, please use the AMAZON link below to help with our Amazon Associates membership – thanks)
Jack Gates – BRING THE FLAVORS:  Delicious and delightful guitar work from Jack, who got high marks from me in way back in issue # 142… his theme on this tasty new release is the mixing the music of various cultures into a wonderfully relaxing potpourri that will have you playing this album over and again… particularly on songs like the 3:22 "Time In"… swirling and whirling you to oblivion (I loved the harmonica by Damien Masterson).  If you're a jazz lover, you'll relish the dense textures Jack paints for you on "Cloud Forest"; the pacing is perfect on this composition, too!  Though it's a very short piece, I enjoyed "Dawn Walker" a great deal (there's that harmonica again).  Jack said of the music on this latest release – "an outgrowth of meditation and being close to nature ", and nowhere is that more evident (and enjoyable) than on my personal favorite of the fourteen songs offered up than on the intricate "Seraphic Journey"… it clocks in at 8:15, so that's part of why I loved it so much… lots of room/time for exploration.  I give Jack a MOST HIGHLY RECOMMENDED, with an "EQ" (energy quotient) rating of 4.98 for this most enjoyable musical adventure.  Get more information about Jack on the Allmusic page for this release.        Rotcod Zzaj(author's note: IF you decide to purchase this, please use the AMAZON link below to help with our Amazon Associates membership – thanks)
Mystic Journey – KINGDOM OF MOUNTAINS:  What a group – Suzanne Teng (world flutes), Gilbert Levy (world strings and percussion), Dann Torres (guitar and oud), and Jon Ossman (bass and dilruba)… and what a JOYOUS set of music!  Ten all-original creations that will lift you to new heights and give you inspiration for going even farther… just absorb the highly talented integration of percussion and strings on "Home", and you will be a believer… I listen to this piece over and over again whenever I need encouragement to continue my journey.  This is exactly the kind of music we need to introduce our children to, at the earliest age possible… you'll hear why I say that when you listen to the 4:42 "Delicate Rainbow Flower" – that flute just SOARS on this beautiful piece.  Usually when I read the words "long anticipated" in a promo sheet, I automatically assume that it was the artists who were waiting for it to come together… NOT SO for Mystic Journey… when they play tunes like my personal favorite of the ten offered up, "Viento", I am reminded that our world is NOT a place for politicians and preachers to glorify themselves… it is, rather, a place for peaceful spirits like the folks in Mystic Journey to guide us toward our ultimate destination – tranquility and love for each being on our planet.  I give these great players a MOST HIGHLY RECOMMENDED with an "EQ" (energy quotient) rating of 4.99.  Get more information on the Mystic Journey website.           Rotcod Zzaj(author's note: IF you decide to purchase this, please use the AMAZON link below to help with our Amazon Associates membership – thanks)
Jason Rigby – ONE:  It's been a good while since I listened to & reviewed Jason's full-throated high-energy sax work… issue # 88 was the last time, but this new one proves he's learning his lessons well… just think "Sonny Sharrock" only on sax instead of guitar… Jason WAILS, along with his partners Cameron Brown on bass and Gerald Cleaver doing drums… be sure & check out the bass intro on "Dorian Gray", & then rock right on along with the rest of the trio for the full 6:28 tune… totally spontaneous & full of life – this is one of my favorite jazz pieces (yet) in 2017!  Very open-ended playing, especially on pieces like the well-honed "Live By The Sword"… the trio paints sonically, but you'll have an easy time visualizing exactly what they're telling you.  Each of the players is fully aware of the others, so you don't wind up with any long "rants" on the part of any one of the players… in fact, I'd say this is among the most cohesive (and forward looking) jazz trios I've heard in a long, long time.  My choice for personal favorite of the eight great performances offered up is their treatment of Herbie Hancock's "Speak Like A Child"… Jason's reed work just SHINES on this piece.  For those who just love jazz trio work that opens up plenty of possibilities for their ears – this is MOST HIGHLY RECOMMENDED, with an "EQ" (energy quotient) rating of 4.99.  Get more information on Jason's website.          Rotcod Zzaj(author's note: IF you decide to purchase this, please use the AMAZON link below to help with our Amazon Associates membership – thanks)
Quinsin Nachoff, Mark Helias, Dan Weiss – ETHEREAL TRIO:  There's one word that truly describes this fantastic sax (Quinsin) drum (Dan) and bass (Mark) trio, and the promoter already captured it in the sheets – adventurous!  & though there are only six songs on the album, you still get over forty minutes of (very, VERY) solid jazz listening!  I was particularly impressed with pieces like the ever shifting "Subliminal Circularity"… as the title indicates, this will reach deep down into the listener's soul and fire off synapses long thought lost and gone forever… Quinsin's reeds are full-bodied and probing in tone, though not so strongly as to be intrusive.  The opener, "Clairvoyant Jest", though much shorter (5:54), starts perking at high-intensity on the very first note, and explores territory previously undiscovered.  My personal favorite of the six tunes offered up, though, is (most assuredly) the 9:57 closer, "Portrait In Sepia Tones"… the space provided for each player is significant and I've ot heard a more haunting bass lead/solo (yet) in 2017.  I give Quinsin and his musical cohorts a MOST HIGHLY RECOMMENDED with an "EQ" (energy quotient) rating of 4.98 for this fine release.  Get more information about the recording on the Whirlwind Recordings page for the album.           Rotcod Zzaj (author's note: IF you decide to purchase this, please use the AMAZON link below to help with our Amazon Associates membership – thanks)
Vadim Neselovskyi Trio – GET UP AND GO:  I'm thinking the title may have something to do with the performance being a return for high-energy jazz pianist Vadim to his home in Ukraine… the bottom line, though, is that this trio (he's joined by bassist Daniel Loomis and drummer Ronen Itzik, and their natural affinity for each other's playing is totally evident, especially on pieces like the beautiful (and deeply moving) "Winter"… the movements and changes on this 7:14 gem make it a sonic work of art that you will find yourself listening to over and over again!  Vadim's ability to move up and down the scale in rapid fashion on the fun-filled opener, "On a Bicycle", are stronger than most jazz pianists you will listen to – ever, and the interplay between the instruments makes this one of "bounciest" tunes I've heard (yet) in 2017.  It was the heavy (almost dark) tones on one of the shorter compositions, "Krai", that made it my pick for personal favorite of the eleven songs offered up for your musical enjoyment and discovery.  I give Vadim and his cohorts a MOST HIGHLY RECOMMENDED, with an "EQ" (energy quotient) rating of 4.97 for this fine release.  Get more information about this fascinating jazz wizard on his ABOUT page.    Rotcod Zzaj  (author's note: IF you decide to purchase this, please use the AMAZON link below to help with our Amazon Associates membership – thanks)
Miguel Zenón – TIPICO:  There's really only one primary advisory for this album from Miguel – listen on LOUD!!! In addition to Miguel's scorching sax work, you also get Luis Perdomo, Hans Glawischnig, Henry Cole… I've reviewed his great work before, most recently in issue # 153, and this new album exceeds even those praises!  The 8:29 opener, "Academia", starts things off at absolute full-tilt jazz, & I found myself listening to this over & over again… if you're looking for jazz that just doesn't stop CHARGING, this is the ONE, folks.  The flowing introduction to "Ciclo" soon morphs into a very dance-able tune that will take you right back to Miguel's roots.  Miguel's tribute to one of his frequent collaborators, Guillermo Klein, "Cantor", is jammed with the rhythmic pulse of life, though in a much more laid-back zone than some of the other pieces.  Strangely enough, it is one of the shorter pieces, Perdomo's "Entre Las Raíces" (Amongst The Roots) that (easily) captured my vote for personal favorite of the eight songs offered up for listeners who love a bit of sonic adventure.. each of the players has a place, but the stunning interplay between Luis and Miguel caught & held my ear for several replays.  I give MIguel and his high-energy, high-talent crew a MOST HIGHLY RECOMMENDED, with an "EQ" (energy quotient) rating of 4.99 for this "must-have" release.  Get lots more information at Miguel's website.           Rotcod Zzaj(author's note: IF you decide to purchase this, please use the AMAZON link below to help with our Amazon Associates membership – thanks)
Gerald Cannon – COMBINATIONS:  If you're a jazz bass fanatic, you won't be able to resist the high zesty life on Gerald's "return" album… the eleven song set kicks off with a tune written by one of Gerald's mentors, Slide Hampton – "Everyman Is A King" will rock your jazz world, as will the rest of the songs!  It's a stellar crew with him, including saxophonists Gary Bartz, Sherman Irby and Steve Slagle, trumpeters Jeremy Pelt and Duane Eubanks, pianists Kenny Barron and Rick Germanson, guitarist Russell Malone and drummers Willie Jones III (who also co-produced the album) and Will Calhoun, & you'll hear jazz in all it's fiery glory on Cannon originals like "Columbus Circle Stop" – this one absolutely KICKS, folks!  If you're in the mood for something a bit more laid-back, you'll fall in love (right away) with Gerald's ballad composition, "A Thought"… jazz as it's meant to be played (& listened to, of course).  There was no doubt in my mind about what my personal favorite track, was though… the deep & rich tones on "Gary's Tune" (a tribute to Gary Bartz) is exactly what I want my jazz to sound like – every day, every night!  I give Gerald and his musical amigos a MOST HIGHLY RECOMMENDED, with an "EQ" (energy quotient) rating of 4.98 for this fine release.  Get more information at Gerald's website.          Rotcod Zzaj(author's note: IF you decide to purchase this, please use the AMAZON link below to help with our Amazon Associates membership – thanks)
JAMBa feat Bernard Purdie – OFF WHITE:  Another "catch-up" review for this great CD released right around this time in 2016… this nine-song album is what I would term a "sleeper"… it certainly rates your attention, & not just because it features great drumming from Bernard… it's a (sorta') tribute to the Beatles, but with some of the most soul-filled interpretations of their songs you've ever heard…. in fact, you haven't LIVED until you hear their take on "Rocky Raccoon"… definitely jazz, with high-energy & strong presence throughout!  In addition to Purdie's masterful drumming, you get to hear Bruce Bartlett (guitars), Sonny Barbato (piano/Hammond B3), Dave Zinno (bass) and Joe Klimek (saxophone) – & as you listen to "Hey Bulldog", you just HAVE TO hit the repeat button several times… the soulful sax on this track alone makes it well worth the purchase price, and the guitar leads are just SCORCHING!  Though it only clocks in at 4:39, it is their performance of "Yer Blues" that easily gets my pick for personal favorite on the album… recommendation from me… HEADPHONES ON!  I give JAMBa a MOST HIGHLY RECOMMENDED, with an "EQ" (energy quotient) rating of 4.99 for this excellent release – a truly stellar listen.  Get more information on their BANDCAMP page.      Rotcod Zzaj
(author's note: IF you decide to purchase this, please use the AMAZON link below to help with our Amazon Associates membership – thanks)
Endemic Ensemble – TANGLED:  Steve Messick leads this fantastic jazz ensemble with his double-bass, joined by Travis Ranney – tenor and soprano saxophones; Matso Limtiaco – baritone saxophone and bass clarinet; David Franklin – piano and Christian Krehbiel – drums,  and as you listen to tunes like the full-bodied 8:49″The Tolovana Stomp", you'll hear right away why I got excited as soon as I really sat down & listened to this October, 2016 release (sorry, Steve, I'm only just now able to get 'round to reviewing it).  Steve pointed out in his correspondence that the nine tracks presented here are all originals, but as soon as you hear pieces like the down & funky "The Snort", you'll know that… it's original energy like this that makes jazz what it is today… I just loved Steve's bass on this fine tune.  What this band best represents (for this listener, anyway) is the POWER that jazz can project, in all it's forms… & the tune that really cinched that up for me is the excellent closer, "Retro"… it's an odd thought, but I couldn't help but think "Peter Gunn" (i.e., Mancini) & at 9:38, the piece has plenty of space for each of the players to shine… and they do that BRIGHTLY!  Steve & his high-talent crew definitely merit the MOST HIGHLY RECOMMENDED I'm giving them, as well as an "EQ" (energy quotient) rating of 4.98.  You can get more information on Steve's OpusFunkus page for this release.   Rotcod Zzaj(author's note: IF you decide to purchase this, please use the AMAZON link below to help with our Amazon Associates membership – thanks)
Emily Hay, Brad Dutz, and Wayne Peet – EMILY HAY/BRAD DUTZ/WAYNE PEET:  I first became enchanted with Emily's vocal spook-werx many years ago, and only got to meet her for the first time when she performed with Amy Denio at the 2016 Olympia Experimental Music Festival… if you're not just as hooked as I was when I reviewed her "Like Minds" CD in issue # 71, there's something aurally wrong with you, lol!  She handed a couple of CD's off during the 2016 meeting, & this is (I believe) the last of that batch.  As you listen to the sample for "It Can Be Thick", you'll hear why I was immediately drawn to her talent… Brad's percussion and Wayne's high-end organ works support Emily's flute/voice lead in marvelous ways, and make for a few moments when you'll think you're at a concert… a SUPERB song!  Of the nine songs offered up, though, it's the closer, the 12:27 "Possum" that made it a perfect pick for my personal favorite… one word of advice (especially for this song, but really for the entire 1:06 album) – listen with your HEADPHONES ON, & the volume at mid-levels, so you can catch every scintillating nuance these wizards create!  For those who love improvised and creative music, this album is MOST HIGHLY RECOMMENDED, with an "EQ" (energy quotient) of 4.99.  Get more information, and purchase, at the pFMentum label page for the release.          Rotcod Zzaj (author's note: IF you decide to purchase this, please use the AMAZON link below to help with our Amazon Associates membership – thanks)
Andrew Hartman – COMPASS:  I'm not sure what's up with my REVIEW QUEUE… it seems like everything in the lineup this week is guitar-led jazz… Andrew's excellent playing on this superb quartet (he's joined by Chris Cheek doing tenor/soprano sax, Ike Sturm doing bass and Zach Harmon on drums) – the keyword for what they perform here (all originals, except for "America") is mellow… as you listen to the 6:53 "Waiting", you'll be as impressed as I am on this fine Great Northwest sunny morning… loved this tune!  "London Blues" isn't exactly what you might think it would be from the title; in fact, it starts off with an excellent percussion intro that transitions right at the 1:25 mark to some of the best quartet jazz I've heard (yet) in 2017.  You get ten excellent tunes that are perfect for iPhone/Bluetooth playing (I've already played this album three times in my car player, & it remains a favorite)… of those, it was very easy to pick "Chic Korea" as my personal favorite… lots of well-coordinated energy and an excellent recording quality.  I give Andrew and his cohorts a MOST HIGHLY RECOMMENDED, with an "EQ" (energy quotient) rating of 4.99 for this very collectible album.  Get more information about this excellent player on Andrew's bio page.   Rotcod Zzaj(author's note: IF you decide to purchase this, please use the AMAZON link below to help with our Amazon Associates membership – thanks)
Alex Wintz – LIFECYCLE:  One of the sheer joys of doing a review magazine for an old jazzhound like me is getting to hear all the fresh new talent that's out there, and Alex & his crew (tenor saxophonist Lucas Pino on tenor sax, Jimmy MacBride on percussion, Victor Gould doing piano, and bassists Dave Baron and Ben Williams) have put together a debut release that will absolutely astound you for the talent and energy displayed on this nine-song gem… Alex plays some of the most tasty jazz guitar you'll hear this year!  Just listen to his full-bodied approach to playing jazz guitar on the mellow "I Don't Stand a Ghost of a Chance with You", and you'll hear why I dug his playing within the first few bars of the opening track, and he leaves plenty of space for each of his players to shine on this great song.  Speaking of openings, the energy displayed on his original "Action/Reaction" will convince your ears that this young cat is the wave of the future when it comes to guitar jazz – & when Lucas's sax kicks in, it just SOARS, folks!  It was the energy (not to mention the masterful changes) on "Taking Sides" that made it my pick for personal favorite.  If you're looking for "wave of the future" jazz that's totally accessible, this comes MOST HIGHLY RECOMMENDED, with an "EQ" (energy quotient) rating of 4.98.  You can get more information on Alex's website.      Rotcod Zzaj   (author's note: IF you decide to purchase this, please use the AMAZON link below to help with our Amazon Associates membership – thanks)
Catherine Marie Charlton – I DREAM ABOUT THIS WORLD (THE WYETH ALBUM):  I didn't realize just how prolific Catherine was until I read the promo material on this July, 2017 release; this is her twelfth release, and takes the listener even deeper into her intricate piano work than when I reviewed her "River Flow/Sanctuary" album in issue # 133.  Her concept for the beautiful music she immerses your spirit in grew out of her daily "Wyeth Walks" in scenic Pennsylvania (something I am well familiar with, since I grew up in the same area).  When you hear her integration of vocals on the wonderful and introspective title track, "I Dream About This World", you will be just as amazed as I was… some excellent integration of strings into the piece as well.  The emotions she pulls from your heart on "Off at Sea" will bring you close to tears… just loved her pacing on this tune.  It was Catherine's skillful weave of nature sounds, native drum and other instruments into the stunning 9:50 "Outside of Time, A Healing" that made it an easy pick for my personal favorite of the eleven inspiring songs she offers for your sonic enjoyment… one of the most engaging tunes of this nature I've heard (yet) in 2017.  I give her a MOST HIGHLY RECOMMENDED, with an "EQ" (energy quotient) rating of 4.99 for this most enjoyable musical adventure.  You can learn more about her at the Catherine Marie Charlton website.        Rotcod Zzaj(author's note: IF you decide to purchase this, please use the AMAZON link below to help with our Amazon Associates membership – thanks)
Michelle Qureshi – SEVENTH WAVE:  Michelle's work was very pleasant to listen to when I reviewed her 2016 album in issue # 163, and it's even more enchanting on her new July 2017 release… the one word of advice I'll offer right up front, though… be SURE you listen to this with your headphones on for your first sitting… as you absorb the enchantment she weaves for your ears on pieces like "Page of Cups", you'll understand why I say that – simple, yet beautiful.  The vibrant sonic waves on "Radiant Ones" will make your spirit soar with the joy of being and her shift to vocal at the 1:17 mark is a perfect change.  It was music much like this that my therapist (another story, far too long to tell here) recommended… full of innovation and imagination.  You get just over an hour's worth of sonic beauty… for this reviewer, it is the full-tilt energy and beautiful tones on "We Were Once Like This" that made it my personal choice for favorite of the thirteen songs offered up for your aural enlightenment.  Michelle's new album is one you will want to have in your collection, and it gets a MOST HIGHLY RECOMMENDED from me, with an "EQ" (energy quotient) rating of 4.99.  Learn more about this fascinating and talented artist at the Michelle Qureshi website.        Rotcod Zzaj(author's note: IF you decide to purchase this, please use the AMAZON link below to help with our Amazon Associates membership – thanks)
Elysian – VOYAGEUR:  An absolutely tasty jazz 10-song adventure from double-bassist and percussionist Duncan Hopkins and his playing friends Thierry Peala doing vocals and Nikki Iles on piano… nine of the tunes are originals from Duncan, which always makes it more exciting for this listener!  Before we get to the originals, though, I want to ensure you understand that their work on the traditional spiritual "Wayfaring Stranger" is a perfect example of how well they play together… I've loved this song since I started singing it when I was about five, and they carry it to cosmic heights – simple, yet beautiful.  The one (very minor) criticism I have to offer for the album is that the copy I received for review didn't have "track numbers" – that should be included on the next release.  The entire album is in a very mellow and thoughtful mood, but lighter moments are a part of the experience, too, as you'll hear on "Escape To Madeira"… if you can't escape with that wonderful scat work, you're beyond all hope anyway.  The most impressive of the ten songs, ergo my personal pick for favorite, is "Behind The Lines"… solid jazz that will transport you to "other regions"… loved this one!  I give Elysian a HIGHLY RECOMMENDED, with an "EQ" (energy quotient) rating of 4.98 for this fine album.  Get more information about this fine group on their CD Baby page.         Rotcod Zzaj(author's note: IF you decide to purchase this, please use the AMAZON link below to help with our Amazon Associates membership – thanks)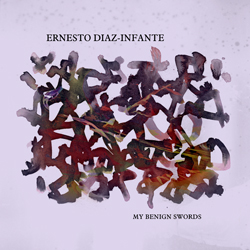 Ernesto Diaz-Infante – MY BENIGN SWORDS:  There will be a few readers who have been following this magazine ever since it started way back in 1988 who know that I played on several tapes (now CD's) with Ernesto, as well as a few live shows along the way.  To give you a rough idea of what those experiences were like, here's a YouTube clip of one of the songs we did together:
The first thing I must offer up is an apology to him for only getting back around to his work on this unique and tasty submission… we sort of "lost touch" after I started on numerous deployments all over the world, but his unique guitar work just SHINES on tunes like "Fear Of Love" (these samples are linked in from Ernesto's Bandcamp page for the album).  You CAN watch him in performance on this great June 2017 video, though:
But, I digress… as you listen to his on-the-spot improvs on pieces like "Yin", you'll realize that you're in the presence of a true musical master… 'tis really nice to hear his work again!  In point of fact, if you don't purchase any other album this year, this comes MOST HIGHLY RECOMMENDED, with an "EQ" (energy quotient) rating of a (perfect) 5.00 – meaning that it also gets a "PICK" for "best improvised guitar".  Get more information at the Public Eyesore label page for the album.             Rotcod Zzaj
Ghost In The House – SECOND SIGHT:  The promoter who sends these particular types of albums just KNEW I would find this attractive… and the player list is totally impressive – Kyle Bruckmann, Tom Nunn, David Michalak, Karen Stackpole… with Special Ghosts: John Ingle, Dean Santomieri, Polly Moller, Cindy Webster, Bart Hopkin… names that ensure that any dedicated fan of improvised music will recognize one (or more) of.  David came up with the concept – tunes that all suggest an image, and it will be very easy, even for the novice experimental listener, to "see" what's being sung/played about, as on the opener, "Ghost Train"; and the real beauty of what they've done with that idea is that the tunes are "accessible"!  If you can't grasp the image on "The Bats" (scary though it may be), your ears (& maybe your heart) are "sonically dead"… this group of genuinely creative players have put together very pleasing sonic imagery that will hold a treasured position in your library.  The most impressive song, ergo my personal favorite, of the eight offered up is the marvelously intricate "The Dream Machine"… the recording is flawless and chock-full of sights through sound that you'll not soon forget.  I give Ghost In The House a MOST HIGHLY RECOMMENDED, with an "EQ" (energy quotient) rating of 4.99 for this most inspiring and creative album.  Get more information on the Public Eyesore label page for the release.         Rotcod Zzaj(author's note: IF you decide to purchase this, please use the AMAZON link below to help with our Amazon Associates membership – thanks)
Ryan Meagher – MIST. MOSS. HOME.:  Though Ryan's band (part of the PJCE – Portland Jazz Composer's Ensemble) is just down the road from me in Portland, his guitar, the sax from Tim Wilcox, bass by Chris Higgins and drums from Charlie Doggett have a decidedly "east-coast NYC" kinda' feel… there are actually some pretty strong elements of rock merged in with the excellent jazz lines, and this one will have you tappin' & snappin' right along with the players.  I found tunes like "First Place" to be more than "just attractive"; they will be mainstays on any jazz listener playlist, and clocking in at nearly six minutes, it's long enough for plenty of development room in their improvisations… too cool.  I first listened to & reviewed Ryan's jazz guitar work way back in issue #92, so it's been a while… as I listen to the haunting mellow on "Vasona", it's clear he & his fellow players have come a long way since those years… I would (most strongly) advise that you listen to this piece with headphones; in fact, it would be best to use the headphones for your first listen… simply stellar!  If it's bright & lively you're looking for, you'll enjoy my personal pick for favorite of the eight tunes offered up, "The Hipster's Folly"… a truly splendid opener for an album that gets my MOST HIGHLY RECOMMENDED, with an "EQ" (energy quotient) rating of 4.98.  Get more information on Ryan's website.          Rotcod Zzaj(author's note: IF you decide to purchase this, please use the AMAZON link below to help with our Amazon Associates membership – thanks)
Clay Giberson – PASTURES:  As I listen to Clay's superb jazz piano work (for the third time through the album now), one word comes to mind – POWERFUL!  His strong style first enchanted my ears in issue # 162, and he got (very) high marks from me on that release as well (in fact, I went back and listened all the way through that album, too – as I often do with jazz players who exceed all expectations).  On this (even better) release, he's joined by Donny McCaslin on tenor & soprano sax & flutes, Drew Gress on acoustic bass and Matt Wilson on drums, and tunes like the 8:07 opener, "The Time For Now", will capture your musical attention immediately… super recording quality, infinite mesh of the players and all of the other qualities that make a jazz song stay in your memory for the long term!  Drew's bass intro on "Highwire" sets the tune up for exactly the "edge" energy you would expect from a song with that title – superb energy on this one!  My personal favorite of the nine tunes offered up is the wonderful "Infinity X"… an absolutely stunning piece that uses the full range of each of the players.  I give Clay and his players a MOST HIGHLY RECOMMENDED, with an "EQ" (energy quotient) rating of 4.99 for this most memorable album.  Get more information at Clay's website.          Rotcod Zzaj(author's note: IF you decide to purchase this, please use the AMAZON link below to help with our Amazon Associates membership – thanks)
Mamutrio – PRIMAL EXISTENCE:  Jesse Dockx, drummer extraordinaire from Belgium, helped to found this absolutely tasty jazz trio, and with his mentors & mates Piet Verbist (bass) and Lieven Cambre (saxophone), they put together some tunes you won't soon forget… a "prime" example of that is the 5:26 "To Remember"… great drum intro from Jesse, with his partners weaving in right before the one minute mark… you'll listen to this one over & over again (this reminds me quite strongly of some of the old ECM releases, but with a more straightforward energy).  I found the opener, "In Peace With Gravity", to be one of the most attractive jazz trio pieces I've listened to (yet) in 2017; some of that may also have to do with the fact that this is the longest cut on the album (9:43), with the gradual development of the tune in a "musical conversation" sort of way leaving the listener completely satisfied.  This is a debut recording, and after listening to the entire one-hour set, I guarantee you will surely be hearing much more from these talented players… if you listen to my personal favorite of the ten songs offered up, "You Are Too Beautiful", you will (easily) realize why I say that, too… fantastic bass intro, and a wonderful interaction between the players that will make you glad you're a jazz fan.  I give Mamutrio a MOST HIGHLY RECOMMENDED, with an "EQ" (energy quotient) rating of 4.98 for this fine debut.  You can get more information at Piet's website.         Rotcod Zzaj(author's note: IF you decide to purchase this, please use the AMAZON link below to help with our Amazon Associates membership – thanks)