Our latest and greatest reviews for your reading & listening pleasure
(Click HOME to see the index of all issues)
The links below are to REVIEWS I've written for Cadence Jazz World!!!
Michael Jefry Stevens – Angel's Dance
Dom Minasi/Blaise Siwula – The Sunshine Don't Mind My Singing
Dom Minasi/Hans Tammen – Alluvium Sun 
Dario Chiazzolino and Nico Di Battista – Rewriting Song
Dario Chiazzolino – Paint Your Life
NOTE:  I normally only do 30 reviews per issue… due to the high volume of submissions, & the long recovery period for my recent surgery, I will be reviewing several more (20 additional, for a total of 50) for this issue (and future issues, until our backlog is honed down)… "normal" review cycles will resume when I've got the QUEUE down to under 100!
Before I start writing reviews, I want to personally THANK all of you who made donations to keep this fine magazine sustained for the next year and a half!  I truly appreciate your support; if you haven't donated, feel free to do so at any time via Paypal – once there, use my account, rotcod@rotcodzzaj.com to make your donation.  Again, thanks to all who have already contributed!
Uwe Gronau – MYSTICAL MORNING:  This latest sonic romp from Uwe, who we have reviewed many (MANY) times in our pages, is further proof that his driving force in the universe is something we all enjoy (I last reviewed him in issue # 139)!  Whether it's his fantastic electronic keyboard on pieces like "Light BehInd the Door", or the nature (with organ) sounds that abound on the high-energy "A Day In Sri Lanka", you'll find yourself awakening to the pure joy that life can be.  What most distinguishes his artistry, at least for this reviewer, is that he plays some of the funkiest new-age you will ever hear… to witness that, scope out his high-energy & git-down organ playing on my personal favorite of the fifteen songs offered up, the opener, "Turn it On"; if you aren't up & sliding 'round your living room by the second measure, you are already a resident of dead-zombie land.  I give Uwe a MOST HIGHLY RECOMMENDED, with an "EQ" rating of (a perfect) 5.00 for this awesome musical adventure.  That means, of course, that he also gets the "PICK" of this issue for "most inspiring music"!   Get more information at the CD Universe page for this wonderful album.        Rotcod Zzaj
Deuter – ILLUMINATION OF THE HEART:  My most recent review of Deuter's music was in issue # 155, where he got very high marks… on this new release, described in his own words, "the constant dance on the edge of silence — moving into the silence and moving out of the silence", is a very apt way of putting what he's able to do for the listener… "new age" with only chanting, but no inner sensitivity for what is needed to soothe and make the music a true experience isn't "new" at all… but the creativity with which Deuter approaches his craft definitely is!  The deep and rich tones on compositions like "Stern an Stern" will provide you what you're seeking in your listening experience… be sure you do your first listen with your headphones on, though!  Of the eight splendid tunes offered up, it is the beautiful 9:47 opener, "Matamua", that captured my vote for personal favorite.  The joy you will experience with this wonderful musical journey certainly merits my MOST HIGHLY RECOMMENDED, as well as an "EQ" (energy quotient) rating of 4.99.  Get more information at the New Earth Records page for this album.        Rotcod Zzaj
Manish Vyas – ATMA BHAKTI:  There are so many "new age" artists out there 'round the globe today that it's often difficult to tell who the "pretenders" are.  Suffice it to say that as you listen to the 30 minute opener, "Atma", you will know beyond all shadow of doubt that Manish's studies and performances have made him a genuine master of music that transcends all "labels"… that he truly understands that chanting does not have to be at some certain measured pulse, and that when the vocal is woven peacefully into the flute and other instruments, a state of peace becomes reality for both the player and the listener – truly soul-touching!  Don't come to this album with any expectations, just rest the headphones gently on your cranium and let the magic of pieces like my personal favorite of the tunes offered up, "Bhakti", is (for sure, my friends) what you need to help you on your journey!  I give Manish a MOST HIGHLY RECOMMENDED, with a (perfect) "EQ" (energy quotient) rating of 5.00 – that means, of course, that the album gets a "PICK" for "best devotional music".  Get more information at the New Earth Records label page for this excellent artist.        Rotcod Zzaj
Devin Gray – RELATIVE RESONANCE:  Devin's high-end drumming is complimented nicely by saxophonist-clarinetist Chris Speed, pianist Kris Davis and bassist Chris Tordini on this highly engaging all-original release.  As the "real jazz" fans listen to the rhythmic switchbacks and chordal curve-balls on "In the Cut", it will be immediately apparent that this is some of the freshest work of the year!  The call/response and architectural fluidity between the drums and Chris's reeds on the daringly different lead-in to "Undo the Redo" – and as the other instruments join in, you know that this is some of the most together work you've ever heard.  It was the longest composition on the album (10:28), "Jungle Design", that snagged my vote for personal favorite of the eight highly creative songs offered up for the serious jazz listener.  I love the press release description of these players as "a band of New York Individualists" – a perfect way to describe their musical creations as well.  I give Devin & his friends a MOST HIGHLY RECOMMENDED, with an "EQ" (energy quotient) rating of 4.99.  Get more information on the Skirl Records page for this release.          Rotcod Zzaj
David Berkman – OLD AND NEW FRIENDS:  David's stellar piano skills are aided by saxophonist Dayna Stephens and bassist Linda Oh, as well as drummer Brian Blade along with saxophonists Adam Kolker and Billy Drewes on this musical adventure that uses the talent of folks he has played with before.  The unique rhythm and lines on "No Blues No Really No Blues" distinguish it from all the "other blues" you've heard before.  The unique styles of each of the players is evident, too, especially on winners like the wonderfully fresh lines/tones of "Deep High Wide Sky"… I absolutely loved this track!  For "spin-ability", though, it was the tasty rounds on "Up Jumped Ming" that made it my personal favorite of the nine all-original compositions on this stand-out album.  I give David and friends a MOST HIGHLY RECOMMENDED, with an "EQ" rating of (a perfect) 5.00 for this truly fine jazz experience.  That means, of course, that it also gets the "PICK" of this issue for "most original jazz".  Get more information at the Palmetto Records page for this release.       Rotcod Zzaj
Ryan Truesdell – LINES OF COLOR:  Ryan's clear insight and skill in interpreting the music of Gil Evans (first reviewed here in issue # 130) continues to impress on this March 2015 release… tunes like the stunning opener, "Time Of The Barracudas", allow plenty of time for the theme to be explored by all the players, and will thrill true jazz fans 'round the globe.  The high steppin' on "Gypsy Jump" will have you gliding 'round the ballroom all night ('til dawn rises, I suspect).  If you're inclined towards something with a bit o' blues, you'll totally dig down deep into "Davenport Blues" (I just loved those horn arrangements)!  It was (decidedly) the funky undertones on the 7:49 "Concorde" that got my vote for personal favorite of the eleven high-energy tunes offered up, though… splendid jazz for any generation!  I give Ryan a MOST HIGHLY RECOMMENDED, with an "EQ" (energy quotient) rating of 4.98 for this great album.  Get more information the G.E. Project page for this release.        Rotcod Zzaj
Secret Lie – PANDORA:  No question but what your ears will be opened up to new experiences as you listen to this superb & (very) rockin' band from Portugal!  The high-energy "Another Chance" provides immediate connection with their talent, and the lady on the vocal lead takes me all the way back to my cube-filled days with early Jefferson Airplane & Ms. Slick!  The band also is able to travel in different directions… they aren't "stuck in one rut", so to speak, as you will hear on the beautiful "Black Butterflies".  The most striking quality of their performance is that it comes across as fresh and new, even though many of the tunes cover turf that has been trod by many different bands all the way from the 1970's!  Of the eleven songs offered up, I found my personal favorite in the straight-ahead rocker "Spinning Around"… beat driven with a soaring vocal that will touch you for sure.  The only drawback was that I couldn't find a populated home page for the group, but you can check them out on DISCOGS.  I give them a HIGHLY RECOMMENDED (which might have been higher if they had a web site already), with an "EQ" (energy quotient) rating of 4.98.          Rotcod Zzaj
Raphael Groten – JOURNEY HOME:  A brand-new guitar talent (for our ears, anyway) on his debut release (after waiting about 30 years or so).  As you listen to the splendid execution and languid pacing on  "Black River", your ears will be totally captivated, as were mine.  The songs, as you can see from the title, are based on his long personal journey to where he is right now… not just in Vermont, where he was able to connect with Imaginary Road studio owner/producer Will Ackerman – and of course, anything coming out under Will's guidance is always welcome here.  I just loved the emotional imagery Raphael paints with tunes like the 3:58 "Grandpa's Hands", and have little doubt that you will be as enchanted as I am by his unique (and very personal) style of playing/performing.  Of the fourteen solo guitar tracks offered up, it is the life-filled "Journey Home Arrival" that got my vote for personal favorite (though with that many songs, you may wind up picking something different).  This is certainly one of the most beautiful solo guitar works I've listened to (yet) this year.  Get more information about this energetic player at Raphael's music page.         Rotcod Zzaj
Jeff Bjorck – KEEPSAKES IN THE ATTIC:  Like a favorite novel you've been reunited with, the piano works Jeff does will fill you with pleasant (and maybe even some sad) memories that may help you to understand what you're really all about.  His keyboard style allows you to listen with ease and enjoy every note and nuance, especially on pieces like "Returning Home"… truly one of the prettiest piano pieces I've listened to (yet) in 2016!  "Mother's Hymnal" puts me in mind of my own mother plugging away at the church keyboard with both love and dignity.  It is the magical overtones on "Hope in the Heartache" that made it my personal favorite of the thirteen pieces offered up for piano lovers to feast upon.  I give Jeff a HIGHLY RECOMMENDED, with an "EQ" (energy quotient) rating of 4.97 for this fine music.  You can get more information at Jeff at his Pure Piano website page for this release.        Rotcod Zzaj
Mark Etheredge – CONNECTED:  This 2016 release from Mark features his great keyboard work… tunes like the stunning "Lost In The Shuffle", with Grammy-award producer Paul Brown, touch the groove in all the right spots, to be sure!  With just enough funkiness so it can't be lumped in with the dreaded "smoove jazz" pigeonhole, Mark will help you connect again on pieces like the 3:37 "Be Who You Are"… there are spots in this tune that remind my ears (an awfully lot) Ramsey Lewis style compositions.  Of the ten pieces offered up, it is the closer, "Soul Clap Honey", that got my vote for favorite… if you aren't able to groove to this, you need to move to the back of the line & don your spotless side-saddle shoes until you can feel what Mark is telling you!  I give Mark a HIGHLY RECOMMENDED for this high-energy piano jazz celebration, with an "EQ" (energy quotient) rating of 4.98.  Get more information at Mark's website.          Rotcod Zzaj
Jaki Byard and Howard Riley – R&B:  There are times when my nostalgia for the "good old days" of jazz needs feeding… and with on this re-issue of a 1984/5 performance/set from the Pendley Manor Jazz Festival, Jaki's piano and alto sax join keyboard master Howard in some of the celebratory joy that's just inherent in great jazz!  Their duet on "Round Midnight/Space" will have you remembering those great jazz days with high affection!  It's only five tracks, but all are over five minutes in length, so that you wind up with nearly fifty minutes of jazz your ears will treasure for a long time to come!  I was most impressed by the closer, "Lady Bird"… my personal favorite of the tunes on the album!  If you love classic jazz players, you'll agree with my declaration that this is MOST HIGHLY RECOMMENDED; "EQ" (energy quotient) rating is 4.98.  Get more information at the SLAM Productions page for this classic jazz release.        Rotcod Zzaj
Lucia Ianniello – MAINTENANT:  Lucia's debut release as a leader features here stunning abilities on brass (Bb and C trumpet, flugelhorn, effects and objects), and she's joined by some other great players, too… Diana Torti on voice; Giuseppe La Spina playing guitars and Paolo Tombolesi  keyboards, acoustic bass and percussion… I absolutely loved Paolo's Rhodes/electric piano sounds on the opening title track, "Maintenant"… subtle, yet full of the essence of life in definitive movement!  If you're looking for "modern" in your jazz listening experience, you  will find "Peyote Song No. III" quite to your liking, as did I; Lucia has an innate sense of timing on her horn, and is chock-full of the kind of talent/style that players like Miles evoked in their musical imagery.  My favorite of the eight songs offered up is the beautiful "Desert Fairy Princess"… your ears won't believe what they're hearing, and Diana's vocal is simply superb!  I give Lucia and her high-energy players a MOST HIGHLY RECOMMENDED, with an "EQ" (energy quotient) rating of 4.99 for this fine jazz release.  Get more information at the Slam Productions page for this album.        Rotcod Zzaj
Clifford Lamb – BRIDGES:  This great new release from Clifford Lamb features his intimate piano works, of course, as well as Cindy Blackman Santana on drums and Buster Williams doing bass… it's been a while since I've reviewed him (last time was in issue # 101).  What struck me on that first CD was Clifford's high-talent approach to pacing… there's plenty of "room" for the listener to interpret the spaces between notes any way their ear wishes to do so, particularly on tunes like the lovely and laid-back "Martita"!  The trio's high-energy playing on the old standard "Summertime" will reward your ears solidly, and merits repeated listens, to be sure (this is different than most of the artists I've heard doing the song).  It was the splendid opening title track, "Bridges", that got my vote for personal favorite of the seven tracks offered up.  I give Clifford and his crew a MOST HIGHLY RECOMMENDED, with an "EQ" (energy quotient) rating of 4.99 for this fine album.  You can get more information at Clifford's page for the CD.         Rotcod Zzaj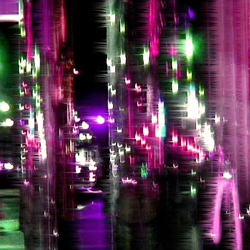 Venison Whirled – TETRAGRAMMATONES:  Venison Whirled (aka Lisa Cameron) is a true master at drawing "deeper" sounds out of her instrumental array (Snare Drums, Amplifiers, Contact Mics, Berimbau)… many artists who try these sonic stunts wind up with nothing more than disjointed noises, but she establishes totally smooth flow from the very beginning of the opening tune, "Jump Inn"… if you're a "stuck-in-the-mud" listener who can't abide anything "different", you won't enjoy this as much as I did, but for those who WANT something new in their listening adventures, this will be one of your most enjoyable, no doubt in my mind.  It was the longest track of the four offered up, "Sea of Air" (22:10), that got my vote for "most headphone listenable" – you will be totally entranced!  I give V.W. a MOST HIGHLY RECOMMENDED, as well as an "EQ" (energy quotient) rating of 4.98 for this release.  You can get more at the PUBLIC EYESORE Records label page for this release.        Rotcod Zzaj
Tom Collier – ACROSS THE BRIDGE:  Tom's stellar vibraphone work leads the pack here, with electric guitar from Bill Frisell, electric/acoustic guitar frm Larry Coryell, electric bass & electric guitar by Dan Dean, drums from John Bishop and (also) drums by Ted Poor… he got high marks from me in issue # 159, and totally solidified my impression of his mastery with this new all-original release.  No question I'll be slidin' up to Seattle to watch him play live (since he's "just up the block" from me, so to speak).  Tunes like "Beach Drive" give the listener an alternative to all the jazz "schlock" that's out there on the market today.  The total mellow that shines through on "Genesee" will put your ears right in the groove they need; the "pacing" is superb on this tune.   It is the vibe lead on "Gold N' Blues" that gets my vote for personal favorite of the nine songs offered up, though… only 4:45, but this one will "stick in your head", and you'll be hitting the "replay" button on your playlist over & over again.  I give Tom & his musical cohorts a MOST HIGHLY RECOMMENDED, with an "EQ" (energy quotient) rating of 4.99 for this great jazz album.  Get more information at Tom's website.       Rotcod Zzaj
Adam Shulman Sextet – HERE/THERE:  Adam's high-flying piano leads one of those jazz experiences where once the first note is played, the music charges ahead (with vigor) and never stops!  He's joined by Mike Olmos (trumpet), Patrick Wolff (alto sax), Rob Roth (tenor sax), John Wiltala (bass) and Smith Dobson (drums), and they just KICK on the splendid 6:19 opener, "Grant and Green"… if yer' not toe-tappin' & groovin' along to this by the second bar, you are NOT the jazz fan you claim to be.  "Pearl and Bruno" will swing you right into that cool place you want to be at… the horns on this tune are totally "on-time", and if you love trumpet, Mike will provide you with all the satisfaction you need on this great piece.  From the perspective of "listenable" jazz, it was the the nearly nine minute "Shelby's Sojourn" that got my vote for personal favorite of the eight (long) tunes offered up for your pleasure.  A very full-bodied and totally talented jazz listen that gets a MOST HIGHLY RECOMMENDED from me… "EQ" (energy quotient) rating is 4.98.  Get more information at the Origin Records label page for this all-original release.     Rotcod Zzaj
Rich Brown – ABENG:  Rich will truly impress you with his electric bass talent on this October 2015 release… he's joined by Luis Deniz on alto saxophone, Kevin Turcotte on trumpet, Chris Donnelly & Robi Botos playing piano and keys, Larnell Lewis on drums, with special guests Chendy Leon on percussion, & Kelly Jefferson on tenor saxophone, and the energy is as furious as you would experience at a windmill farm!  The keyboard work on "Mahishmatish" will have you hitting "replay" often for this tune.  I found the pacing on the 8:00 "This Lotus Ascension" to be an absolute guage of how well (or not) my day was going to go…. simple, yet beautiful, piano on this great song.   In the end-run, though, it was the oddly titled "The Etymology of Ouch" that got my vote for personal favorite of the eight aural adventures offered up for your enjoyment… the rhythmic changes (alone) make the CD worth the purchase.  I declare this one as MOST HIGHLY RECOMMENDED, with an "EQ" (energy quotient) rating of 4.98.  You can get more information at Rich's BANDCAMP page for this CD.        Rotcod Zzaj
Socrates Garcia – BACK HOME:  To simply state that this is "tasty Latin jazz" would not do justice to the vibrant energy that Mr. Garcia is able to project through his masterful compositions on tunes like the fabulous opener, the 8:39 "Vantage Point"… the liner notes say that his music is "tinged" with the colors of the Caribbean – more like "fully applied"… I just loved the way this tune expresses such vigor for life and the living of it!  He also plays guitar on the title track, "Back Home"… one of the liveliest tunes I've listened to (yet) in 2016!  It was the percussion and total integration of all the players/instruments on "Celebration of the Butterflies" that made it my personal favorite of the seven extended compositions.. it's a tribute to three sisters who rebelled against the tyranny of the Trujillo regime (back in the day), and expresses just the right amount of "forward-looking" with "attitude" that's needed to make a tune most memorable.  I give Socrates and his players a MOST HIGHLY RECOMMENDED for this great jazz release; "EQ" (energy quotient) rating is 4.98.  Get more information at the Summit Records page for this album.  Rotcod Zzaj
Beledo – DREAMLAND MECHANISM:  One of the most amazing things about the Moonjune Records label is their ability to pull in artists from all 'round the globe that are able to STUN your aural appendages, even on the debut release.  Beledo's multi-instrument foray into dreamland on this supreme jazz/fusion release is no exception to that high standard!  For some strange reason, I'm hearing strains of Jean-Luc Ponty via Beledo's violin work on the superb opener, "Mechanism"… and the scintillating percussion on the intro to "Lucila" will absolutely (yet comfortably) suck you in to Beledo's vortex.  The player lineup is stellar, with high-talent like Gary Husband (drums), Dewa Budjana (guitar) and Lincoln Goines (bass), will make your heart and mind soar higher than ever you've been before!  Of the ten jazz-infused and all-original compositions, it is the full orchestral feel of the 8:43 "Marilyn's Escapade" that got my vote for personal favorite.  I give Beledo and crew a MOST HIGHLY RECOMMENDED, with an "EQ" (energy quotient) rating of 4.99.  Get more information at the Moonjune Bandcamp page for this release.        Rotcod Zzaj
Yoron Israel and High Standards – THIS MOMENT:  As always, Yoron's high-talent, high-energy playing drum skills are welcomed by my jaded old ears on this great live (in Boston) recording!  My last review of his excellent jazz was in issue # 128, and this 2015 release brings him even higher marks!  I just loved the gutsy style on Stevie Wonder's "Creepin'"; superb energy with some of the strongest jazz expression I've heard in the last two years or so.  If what your ears are searching for is total creativity in jazz in live performance mode, you will agree with me when I declare the performance of the 12:08 "Contusion" will satisfy your every urge… it is my personal favorite of the nine songs on this dynamic album.  I give Yoron and crew a MOST HIGHLY RECOMMENDED, with an "EQ" (energy quotient) rating of 4.99 for this one!  Get more information about this great jazz at Yoron's page for the CD.        Rotcod Zzaj
Anthony Dixon – UP ON THE ROOF:  I remember just how excited I was when I first listened to Lou Rawls (way back "in the day", of course)… when I scope out Anthony's marvelous scat on the splendid opener, "A Night In Tunisia", I can feel my (old) blood surging with fresh 21st Century energy!  On one of the best blues I've heard (yet) this year, "Book Of Faces Blues", Anthony's voice is backed by some stellar organ that any real jazz fan will love… even if you're not on FB, lol.  All the way from his birthday in Arizona to the sunny climes of Florida, young Mr. Dixon belts those tunes out with the best of them.  I was particularly impressed with one of the shorter tunes, the 4:47 "Jazz Ain't Nothin' But Soul"… it's definitely my personal favorite of the eleven high-energy tracks on the album!  If you're looking for fresh and genuine jazz energy, you'll find this release to your liking… I'm giving it a MOST HIGHLY RECOMMENDED, with an "EQ' (energy quotient) rating of 4.97.  Get more information at Anthony's website.         Rotcod Zzaj
Steven Halpern – AMONG FRIENDS:  Having listened to and reviewed Steven's excellent keyboard work so many times before, I can say, without qualification, that this 40-year retrospective is the best musical experience I've ever heard him perform on.  Having creative folks who play wonderful music like Paul Horn, Paul McCandless, Michael Manring, David Darling, Georgia Kelly, Jorge Alfano and Jai Uttal to play with is totally priceless, especially when they can perform as magically as on the beautiful "Shared Secrets"… and you're right there, "among them".  The wonderful vocal on "Deja-Blues", as well as the gentle vibrations and most effective percussion, make it one of the most enjoyable songs you'll ever listen to.  One of the most notable things about Steven's talent is that he doesn't get "stuck" in any of the ruts that many do… whereby they allow themselves to be "pigeonholed" into one genre… he is equally adept at jazz as he is at new age composition… and you'll surely hear that when you listen to my personal favorite of the fifteen songs offered up for your listening adventure and enjoyment, "Afro-Desia"… I'm lovin' it!  I give Steven and his marvelous cast of players a MOST HIGHLY RECOMMENDED, with an "EQ" (energy quotient) rating of 4.99 for this fine music.  Get more information at Steven's page for this release.       Rotcod Zzaj
Lisa Hilton – HORIZONS:  As always happens when listening to Lisa's wonderful keyboard work, the "horizons" she paints so masterfully captivate the listeners imagination and sweep them into spaces they've never heard before!  I've been reviewing her albums since issue # 126, and this 2015 release is absolutely killer, especially on pieces like the bouncy "Nocturnal", on which she's joined by J.D. ALLEN (tenor sax) SEAN JONES (trumpet/flugelhorn),  GREGG AUGUST (bass) and RUDY ROYSTON (drums) in gleeful (albeit short) celebration!  On "Surfer Blues", things start off in "alley-cat sneak" mode, but turn joyful enough for the listener to be dancing in only a few bars.  It was the beautiful 4:12 opener, "Vapors And Shadows" that got my vote as personal favorite of the dozen splendid tunes… players are SO together on this one, folks!  I give Lisa and her playing pals a MOST HIGHLY RECOMMENDED for this one, with an "EQ" (energy quotient) rating of 4.98.  Get more information at Lisa's page for this release.       Rotcod Zzaj
Takeshi Asai – FRENCH TRIO, VOL 2:  There are days when jazz piano is the only cure for the gray Pacific Northwest skies… & when dispensed with such skill, it's easy to feel better on lovely pieces like the lively "Beginning Again"… this is far more than just "fingers flying" 'round a keyboard… Takeshi clearly knows whereof he plays!  He will easily entice your ears and put you under the spell of his fine talent on the mysterious "Hircam", one of my favorite pieces on this release (and, in fact, one of my favorite piano works for the year)!  Pascal Combeau (bass) and Maxime Legrand (drums) were exactly the right players to pick for tunes like my personal favorite of the eight (long) tunes on this release, the opener, "653"… gentle, yet somehow full of power that emanates from players who have an innate sense of how powerful an influence music can be on their own lives (as well as the lives of others).  I give Takeshi and his mates a MOST HIGHLY RECOMMENDED, with an "EQ" (energy quotient) rating of 4.99 for this stellar and highly impressive release!  Get more information at Takeshi's website.         Rotcod Zzaj
Art Lillard's Heavenly Big Band – CERTAIN RELATIONSHIPS:  It's been a while since I reviewed Art's high-talent music (issue # 144), and also a while since I originally received this one for review… my apologies to all, of course.  You'll hear the sonic joy he's able to project via his big band (he actually used 3 different groups of players) on the jaunty "Happy Blues"… unquestionably an oxymoron, but it kicks & will have you up & jumpin' 'round the ballroom in only moments.  I just loved the back-alley cat feel of "You Bluesed Me"… definitely one swingin' piece.  You'll actually get more notes than you bargained for on this album… a total of fifteen high-spirited tracks that literally "define" what jazz was (as well as what it should be).  My personal favorite of all those performances is the 7:59 "Brusheeze"… some splendid drums, and I loved the flutes on this one.  I give Art & his spirited players a MOST HIGHLY RECOMMENDED for this great jazz!  "EQ" (energy quotient) rating is 4.99.  Get more information at Art's website.         Rotcod Zzaj
Carol Saboya, Antonio Adolfo, Hendrik Meurkens – COPA VILLAGE:  Carol's vocals on this oh-so-lovely Latin-influenced jazz release are so tasty you'll never want to hear another version of that classic "The Girl From Ipanema (Garota de Ipanema)"… a perfect opening track!  If it's "lively" you're looking for, you'll fall in love (like, totally, man) with "Show de Bola"… just like I did.  The ultimate balance of instruments and vocals is achieved easily by these high-talent masters on "Two Kites"!  It was the piano/harp duets on the 5:13 closer, "Visao", that got my vote for personal favorite of the eleven energy-filled tracks, though.  Listening take me way, WAY back… to my first listens to Getz/Gilberto/Jobim – yes, it is truly that good; I give Carol & her fellow players a MOST HIGHLY RECOMMENDED on this one… "EQ" (energy quotient) rating is 4.98.  Listen to samples of all the tracks & purchase this sweet release at Hendrik's page for the album.        Rotcod Zzaj
George Gee Swing Orchestra – SWING MAKES YOU HAPPY!:  Wow!  Talk about "getting stuck in line"… my sincere apologies to George & his ultra-cool orchestra!  As you do your toe-tappin' to the rousing opener, "Comin' Home", you'll definitely hear that an apology was merited… George & his folks will definitely fill you with glee!  & if you aren't happy after listening to the high-energy "Lindyhopper's Delight" – you must have your saddle-shoes on sideways… lol… absolute FUN!  You get almost 20 songs that will take you right on back to those gin-fueled flapper days, especially on tracks like my personal favorite of the nineteen offered up, the full-bodied "A Tribute to Someone"… maybe to you and those blues you've been nursing for way too long, who knows?  I give this one a MOST HIGHLY RECOMMENDED, with an "EQ" (energy quotient) rating of 4.98.  You can get more information at Georges' website.        Rotcod Zzaj
Midwest Soul Xchange – NEW AMERICAN CENTURY:  Whether you're a "boomer" (like me) who can't do without a taste of CSNY every once-in-a-while, or psych-strains of Pink Floyd, you'll enjoy these players on tunes like the opener, "Set A Course For Common Worlds"… great musical work from Ryan Summers (vocals, guitar, piano, b3, synthesizers, mandolin, lap steel, accordion) and Nate Cherrier (vocals, guitar, percussion, bass guitar, harmonica) – spirited playing, to say the least!  I'm pretty selective about the Americana bands – they've got to display the "energy" levels that set them apart from all the other clones, & this music definitely displays that… especially true on tracks like my favorite, the high-spirited story/song/tale, "Has Anybody Seen Bob"… very cool stuff that gets a HIGHLY RECOMMENDED from me, with an "EQ" (energy quotient) rating of 4.97.  You can get more information about MSX at the Midwest Soul Exchange site.         Rotcod Zzaj
Kyrbgrinder – CHRONICLES OF A DARK MACHINE:  If you're thirsting for some "power-rock", you'll just HAVE to get these guys in your collection!  Heck, just the cover art makes it worth the purchase!  I'm not a stolid fan of "metal" music, especially with titles like "Kill Them All"… but, surprisingly enough, it's the energy and talent that's clearly audible on the trio's (Johanne Jameson drums; Aaron Waddingham – Guitars & Dave Lugay – Bass) make this one well worth the time & investment!  The 5:25 "Oxygen" starts of with a fine guitar intro, then jumps right into some powerfully funky riffin' vocal work.  Of the ten excellent pieces offered up for some fine Harley-ridin', it's "I Feel Blue" that got my vote for favorite!  For the most part, these gents do it without offensive language – only their playing skill… & that makes it a rare bird in & of itself.  I give the album a MOST HIGHLY RECOMMENDED, especially for listeners who demand fresh energy in their sonic experiences.  "EQ" (energy quotient) rating is 4.98.  Get more information at the U.K. Cherry Records label page for this rockin' release.         Rotcod Zzaj
Landmarq – ROADSKILL, LIVE IN THE NETHERLANDS:  I'll tell you one thing up front (like those Kenny Rogers memes on FB, eh)… "I don't always listen to rock music – but, when I do, it's gotta' be GOOD & LOUD"!  On their 25th anniversary, this great UK prog-rock band recorded their 2013 live show at De Boerderij (Netherlands), and as you listen to tunes like the 9:14 "Personal Universe", you'll realize right away why they've been around for a quarter of a century… the kind of progressive rock that is truly universal and timeless!  This is my first listen to them, but I've no doubt the promoter will be sending me more of their releases… as you scope out the 14:02 "Thunderstruck", with it's slow-build to stellar sequences you've never heard before, you'll realize why it's my favorite of the eight tunes offered up (the organ work on this one is just killer).  I give this great high-energy band a MOST HIGHLY RECOMMENDED, with an "EQ" (energy quotient) rating of 4.99.  Get more information at the Landmarq site (where you'll be able to see all their releases).        Rotcod Zzaj
Iván Muela – UNSOUND:  This young multi-instrumentalist composer uses his innate awareness of how sonic environment can influence and inspire listeners to create some truly beautiful excursions for you!  It was very easy to be impressed with tunes like the 4.19 "Unlimned"… just loved the even-paced strings on this one.  If your musical tastes run toward compositions that are a bit "stranger", then you'll love "Bitter" just as much as I did; intimate sonics that implant themselves in your head and won't let go anytime soon.  The musical pacing on the piano-based "Carlo" made it my personal favorite of the even dozen tracks offered up for your aural enjoyment!  I give this fine artist a HIGHLY RECOMMENDED, with an "EQ" (energy quotient) rating of 4.97.  I've been reviewing more and more albums from the Fluttery Records label of late, and strongly advise you to check them out if you enjoy music that's not "just the norm".  Get more information at the Fluttery Records page for this very interesting release.         Rotcod Zzaj
Raoul Björkenheim – OUT OF THE BLUE:  It was (sometime in) 2014 when I first heard Raoul's superb guitar work & reviewed it in issue # 143, he got high marks, and on this new release, it's even better.  The promo sheet describes it as "high-flight and soaring", and nothing could be closer to nailing it!  Tunes like the (very) jazzy feeling "Quintrille" will make your soul fly away as drummer Markku Ounaskari, with stellar bassist Jori Huhtala and saxophonist Pauli Lyytinen join in for some of the coolest guitar-driven work you've ever heard!  Cool, cooler & too-cool… high-energy and highly impressive, especially on tunes like my personal favorite of the eight tracks offered up, the back-alley cat- creep "OLJ"… just loved this one & listen to it over & over again!  If you're a listener who loves "different" in your sonic experience, you'll agree when I declare this as MOST HIGHLY RECOMMENDED, with an "EQ" (energy quotient) rating of 4.99.  Get more information on this musical trendsetter at Raoul's website.       Rotcod Zzaj
Michael Gibbs & the NDR Bigband – IN MY VIEW:  Composer/Arranger Michael has worked with the NDR band since the 1970's, and this June 2015 recording brings home just how talented Michael is… not to mention the band, of course… on tunes like the percussive-laden and most powerful "Spanish Sketch", a forthright sonic celebration of life lived to its' fullest!  You get nine full-length solid jazz excursions that will fan the flames for any listener who demands quality in their jazz listening experience.  My ears were most impressed by the band performance of Ornette Coleman's "Ramblin'"… if your not up & dancin' by the second measure – you've already got both feet in the grave.  This is a big-band power projection that will stay spinning on your playlists for years to come.  I give Michael & the band a MOST HIGHLY RECOMMENDED, with an "EQ" (energy quotient) rating of 4.99 for this great jazz release.  You can get more information by reading the Cuneiform Records press release.        Rotcod Zzaj
Adam Andrews – A THOUSAND SPRINGS:  There is nothing more comforting (for this reviewer, anyway) than well-played solo piano… I gave good marks to Adam in issue # 148, and this new dozen-song release merits kudos as well!  There are some keyboardists who have little sense of pacing, but as you'll hear on the beautiful "Finding Free", it is, in fact, Adam's style to keep the pace at a very natural stride… I totally loved this piece!  If it's a bit more "playful" vista you're seeking sonic comfort from, you'll definitely like "Just Gotta Be".  Of the twelve compositions offered up, it was the gentle beauty on "A New Dawn Rising" that got my vote for personal favorite.  Once again, I'm highly impressed with Adam's high-talent & high-energy playing… this release gets a MOST HIGHLY RECOMMENDED for anyone who can't go a day without some ivory keys shining their day up; "EQ" (energy quotient) rating is 4.98 on this one.  Get more information about him at Adam's website.       Rotcod Zzaj
Milford Graves & Bill Laswell – SPACE/TIME, REDEMPTION:  It's always a pleasure to get a new TUM Records release in for review (& we get quite a few of them)… when they feature stellar improvisations by high talent masters like Milford Graves (drums and percussion) & Bill Laswell (basses), it's spontaneous compositions like "Sonny Sharrock" that make you realize your sonic life won't get any better than this; the true beauty here is that they aren't playing "complex" or "inaccessible" improv – this is the REAL deal for listeners who love improvisation!  As the liner notes say, Milford and Bill have created a "sound world all of their own", and you'll agree without doubt as you listen to my personal favorite of the five extended tracks, the longest track on the CD (17:30), "Another Space"… if this doesn't transport you to other galaxies, nothing will… in fact, it's the best duo improvisation I've heard in many years of listening.   One of the most competent and inspiring works of improvised music I've ever heard, and certainly merits my MOST HIGHLY RECOMMENDED, as well as an "EQ" (energy quotient) rating of (a perfect) 5.00 – meaning it also gets the "PICK" (of 2015/2016) for "best improvised duo".  Get more information at the TUM Records page for this fantastic sonic adventure.       Rotcod Zzaj
Natsuki Tamura and  Alexander Frangenheim – NAX:  Longtime readers of this magazine know that I've reviewed many hours of Natsuki's horn work (especially when paired with his wife, Satoko Fujii)… most of the improvisational jazz I've heard from him has been in a more "structured" environment than this totally free-based excursion with bassist Alexander.  The odd interplay on "Acun02" reveals some of the most intriguing improvisation you've ever heard… of course, you can't listen to this kind of music without your headphones on; as the one-sheet that accompanied it says, this is truly "new musical territory"… so, if you're not an adventurous listener, you may opt out of this (nearly 60-minute) sonic experiment.  For this listener/reviewer, it was the deep, dark and mysterious tones of "Acun06" that made it my personal favorite of the ten realizations offered up… the two masters are almost psychic in their pursuit of each others' musical ideas on this fantastic track.  I give Natsuki & Alexander a MOST HIGHLY RECOMMENDED, with an "EQ" (energy quotient) rating of 4.99 for this fine example of collaborative genius.  Get more information at the ALLMUSIC page for this release.       Rotcod Zzaj
Steve Luceno – LUIGI LACROSS:  For this reviewer, there's nothing better than "local talent"… I've been listening to Steve's bass playing ever since the late 1970's (when I first moved out here), and can say without qualification that the songs on this album are among the best I've ever heard him do.  A part of that is the great cast of players he has in this band… John Croarkin (flute, bass flute, harmonica, alto & soprano saxophones), Drew Gibbs (piano, hand percussion, drum kit), and Phil Lawson (guitar); they are all definitely into jazz, and the creation of superb sonic works.  They are also joined by high-talent vocalist Lizzy Boyer, as you'll see in this YOUTUBE vid from a performance here in Olympia:
I wasn't able to find any song samples (other than YOUTUBE), so if you have links to them, please send them to me.  This is one of the best jazz bands in Olympia, with players who know the scene here and bring new life to jazz in the area.  I give Steve & crew a MOST HIGHLY RECOMMENDED, with an "EQ" (energy quotient) rating of 4.99 for this release.  They don't have a site, but you can learn more at this Traditions Cafe announcement page.       Rotcod Zzaj
Emily Ann Laliotis – SINGLE STEP:  Emily's music is well-crafted and full of the life we live each day.  She's also local (Tacoma, Washington), so I'll have to go & scope out her performance at some point.  On tunes like "Big Mouth", she tells the story well – and reminds me of some of my early folk heroes here in the Pacific Northwest (loved those vocals on this tune).  No, it's not jazz, but as I've said many times, my criteria for a review is that the player is ENGAGED (to the point that the listener will fully fall under their spell).  The guitar work on the closer, "I'm Alive", is just that… great energy on this one.  Very nicely recorded, with a full panorama of tones & overtones.  My personal favorite of the thirteen tunes offered up is the enchanting "To Dance Again"… 5:13 minutes that will stay in your mind and heart.  I give Emily a HIGHLY RECOMMENDED, with an "EQ" (energy quotient) rating of 4.98 for this fine release.  Get more information at Emily's website.        Rotcod Zzaj
Harlan Mark Vale – STILLNESS OF LIGHT:  Over these last 20 years, one musical friendship/constant has remained for this reviewer – the solid creativity of one of my closest musical pals.  As you'll hear on this December 2015 release, Mark has exceeded his own goals; tunes like the opener, "Abbey Road", will elevate your spirit to the outer reaches of your perception, as it did for me!  Due to some personal circumstances, he's had time to devote himself to sonic expressions more and more, especially during this last eight or ten months.  Mark's tasty keyboard/synth realizations will reach right down to your inner core, and thrill you… his piano work on "Our Desires Are Too Small" illustrate an ever-clearer vision of why our struggle towards the light is so important – beautiful!  Mark and I performed together (a LOT) back in the '90's, and I can tell you unequivocally that he has ascended to his most creative levels on compositions like my personal favorite on this release, "Steam From The Crater"… a magic sound-weave that will transport you ever closer to the shining streams we all evolved from.  I give Mark a MOST HIGHLY RECOMMENDED, with an "EQ" (energy quotient) rating of 4.99 for this stellar release.  Get more information about this great album at Mark's BANDCAMP page for the release.       Rotcod Zzaj
Mariea Antionette – STRAIGHT FROM THE HARP:  I'll be straight-up on this one (as I am on every album/song I review); first listen to Mariea's harp compositions made me feel like I was at one of the old '70's soul concerts, & would have been easy to pigeonhole as "poppy"… but as I listened on through her downright grasp of funk on tunes like the spirit-filled "Special Treasures", it was easy to hear that she knows how to project her visions (and her soul) into the mind of the beholder!  She's played for the Obamas, and it's easy to hear why when you listen to smooth-as-silk pieces like her take on "Boogie Nights"… she really nails it on this 5:36 gem. My personal favorite of the eleven high-energy performances was "Rock Wit Cha"… the orchestral backing alone made it something worth listening to over & over (& over) again.  I give Mariea a MOST HIGHLY RECOMMENDED, with an "EQ" (energy quotient) rating of 4.98 for this special edition release.  Get more information and check out her music at Mariea's site.        Rotcod Zzaj
Adam Ben Ezra – CAN'T STOP RUNNING:  This all original dozen-song debut from Adam is totally stunning… Adam's double-bass (as well as Vocals, Piano and Clarinet) is full of life, and his other players (Percussion: Gilad Dobrecky; Electric and Classical Guitar, Adam Ben Amitai; Violin and Viola in "The Busker" and "Openland", Chen Shenhar | Vocals in "Can't Stop Running" and "Openland", Gilad Dobrecky | Additional Vocals and Claps in "Garcia" and Guy Dayan | Coin drop in "The Busker": Udi Koomran) truly hit the "jazz mark" that all of us dedicated jazz listeners love.  Rather than label Adam & crew in the "jazz genre", I think it's important to point out that they are more inclined to the "creative music" genre… songs like the 4:09 "The Busker" demonstrate a love for playing and expression of inner emotions that you've never heard before.  One word of advice… be SURE you have your headphones on with the volume up at top levels as you listen to my personal favorite of the twelve tracks, the 4:27 "Open Sesame"… what this song will do, in fact, is open your mind to new musical vistas.  I give Adam and crew a MOST HIGHLY RECOMMENDED, with an "EQ" (energy quotient) rating of (a perfect) 5.00 for this great release – which means it also gets the "PICK" of this issue for "most creative music".  You can learn more about this highly talented artist at Adam's bio page.          Rotcod Zzaj
Paolo Porta – BEGINNER'S STATE OF MIND:  As you'll hear, this splendid trio (Paolo Porta : tenor sax; Alessandro Maiorino:   bass; Alessandro Minetto:  drums) is anything BUT in that state of mind… they've been playing together for over 20 years, so what you'll be listening to is seasoned jazz veterans with both high talent and high energy!  Mr. Minetto's drums & percussion on the most appropriately titled "Soulful Drums" will get your blood flowing & put you right on in there with the rhythm of life!  "Peace Keeping" gives you a wonderful sax intro from Alessandro's tenor, then right after the one minute mark, the energy from the other players kicks in.  My personal favorite of the ten tunes offered up is the down & funky "Round Trip"… these folks know how to wrap you up in their solid grooves & keep you there.  I give this one a MOST HIGHLY RECOMMENDED, with an "EQ" (energy quotient) rating of 4.98.  Get more information at the SLAM PRODUCTIONS label page for this release.        Rotcod Zzaj
Many Arms & Toshimaru Nakamura – PHILADELPHIA/TOKYO:  This wild sonic ride isn't something you'd take yer' gramma' out to hear… as "wall of noise", though, it near perfectly fits the bill, so unless you already downed a whole bottle of white crosses, you won't need to take anything, 'coz tunes like the opener, "I", will take you all th' way 'cross town & right up to the edge of the pyromaniacs handy-work… (over) eleven minutes of pure sonics that will leave you – ah, well, it will probably NEVER leave you; ha! ha!  There's nearly an hour's worth of edgy tonal bliss that will leave you stunned (like, as in an electronic stun gun); on the other hand, tunes like my personal favorite, the 18:50 closer, "IV", will carry you right on out to the very edge of your reality – and, unless you're quite "experienced" (as Jimi might have said), you may not be able to return.  I give this release a HIGHLY RECOMMENDED, with an "EQ" (energy quotient) rating of 4.97.  Get more information at the Public Eyesore page for this release.        Rotcod Zzaj
Scott Cossu – SAFE IN YOUR ARMS:  …and there's no doubt that's exactly how you'll feel as you listen to Scott's enchanting piano work on this release… songs like "Purple Mountain", with Scott's playing friends – guitarist Van Manakas, and alto flutists Ann Lindquist and John Croarkin – joining him in the swirling joy they create.  The deep flute intro to the 4:36 "Gwenlaise" and the transitions to other instruments and mood is a perfect example of just how timeless (and flawless) a piece of music can be.  One thing you'll carry away from this listening experience is how unique it is… no one else has Scott's playing style, and those he's chosen to play with on this great album understand that (intimately enough) to compliment his work to the fullest.  It is the 5:29 closer, "Sanctuary", that gets my vote for personal favorite of the dozen songs offered up… you'll be awash in the protection it offers from the mundane and day-to-day.  I give Scott and his friends a MOST HIGHLY RECOMMENDED, with an "EQ" (energy quotient) rating of 4.98 for this fine music. Get more information about Scott on his website. Rotcod Zzaj
Michael Vlatkovich Septet – ASK 7:  This is definitely a different dynamic that Michael has goin' on with this release… the player list (alone) is humongous!  I've been reviewing his music for a long time, with the latest being in issue # 153; this release is the closest I've heard him to "big band", though his trombone pierces through his arrangements on tunes like the splendid opener, "Mementos"… this one is also an excellent recording, easily accessible by the more "normal" jazz listener or the rabid improvised fan of jazz – lol.  The bouncy energy on "Supremacy of Reason" will capture your aural fancy & hold right on for the full 5:01; I just loved the lead sax lines on this one, too!  It was the stilted marching-band, and smooth/rapid changes of "Chair Red Blue Medley" that got my vote for personal favorite of the seven compositions offered up, though… I give Michael & his crew a MOST HIGHLY RECOMMENDED, with an "EQ" (energy quotient) rating of 4.99 for this great release.  Get more information & order this splendid CD at the pFmentum page for this release.         Rotcod Zzaj
Barney McClure – SHOW ME:  Long-time readers of this 'zine will know that nothing gets me more excited than great organ playing, & Barney's Hammond B3 is certainly among the best I've heard in the last decade, especially when paired with the Central Washington University Big Band… it's not a combination I hear often (most organ-related submissions here are quartets or quintets), but as you listen to the stellar (& smokin') energy on "Hookin' It", you'll hear right away why I fell in love with this album as soon as it started spinning!  Even stalwart traditional songs like "Willow Weep For Me" are different than you've ever heard before… this is one of the best arrangements of that song I've ever heard.  Of the ten songs offered up, it was the closer, "SchizoBlues" that got my vote for personal favorite… this one just COOKS, and Barney's B3 is full of life!  I give Barney & the whole big band behind him a MOST HIGHLY RECOMMENDED, with an "EQ" (energy quotient) rating of 4.99 for this fine album.  Get more information at the Origin Records page for this stellar release.         Rotcod Zzaj
Hugo Fernandez – COSMOGRAM:  You need look no further if it's passion-filled guitar jazz your ears are thirsting for!  Hugo and his pals (antonio Sanchez on drums, Antonio Miguel on acoustic bass and Ariel Bringuez on tenor & soprano sax) play with all the gusto you'd expect for their all-original release.  Though this is my first listen (as well as yours, since it's a debut), tunes like the 8:24 "Reconciliation" blend the players' talents together for a spectacular & very groovy sonic result.  The only critique is that only seven tunes left me wanting more… maybe (at least) nine tunes on the next release?  The recording is ultra-clean, and the energy literally shines with messages (as the title implies) from the cosmos… the joy comes alive on pieces like my personal favorite of the eight tunes offered up, the energy just flying on the 5:45 "Sublime"… Hugo's guitar is hangin' right in that groove all jazz listeners love!  I give Hugo & his compatriots a MOST HIGHLY RECOMMENDED, with an "EQ" (energy quotient) rating of 4.98 for this first release.  Get more information at the Origin Records page for the album.       Rotcod Zzaj
Allison Au Quartet – FOREST GROVE:  It's been (just) a bit since I reviewed Allison's excellent alto sax work (issue # 152), where she got high marks with her quartet… she's back with new energy and a player list filled with high talent (Todd Pentney on Piano, Hammond B3, Rhodes, Wurlitzer, Synths; Jon Maharaj doing Bass, Electric Bass, Fabio Ragnelli playing Drums and guest Felicity Williams, Voice on Tracks 2,4,9).  The keyboards on the high-energy "Aureole" were a true thriller for this reviewer, and the players were SO together on this great 4:34 tune.  At a slightly slower pace, "Deluge" will overwhelm your aural appendages with emotion and make you a true believer in this band ( totally dug Todd's keyboards on this one).  A great second release for Allison and her crew; it was the closer, "They Say We Are Not Here", that got my vote for personal favorite of the nine tracks offered up… simple, but totally stunning talent on this one.  I give Allison and her band a MOST HIGHLY RECOMMENDED for this one, with an "EQ" (energy quotient) rating of 4.98.  You can learn more about this high-talent artist at Allison's website.        Rotcod Zzaj
Marbin – AGGRESSIVE HIPPIES:  If you're looking for music that combines the raw unadulterated rock of Frank Zappa's "Hot Rats" with the down/dirty funk of The Funkadelics "Hardcore Jollies", you need look no further than the opener on this great release, "Just Music"!  The title track, "Aggressive Hippies", certainly sounds like The Dead on some of that "bad" acid that was getting passed 'round on Mr. Yasgur's farm; the beauty, though, is that you'll survive the flashbacks, lol!  I've reviewed them before, most recently in issue # 131, where they got very high marks.  The players (Dani Rabin on guitar, Danny Markovitch on sax, Greg Essig on drums & John W. Lauter on bass) are among the best high-energy players in the 21st century, especially on tunes like my personal favorite of the nine rockers offered up for yer' slammin' pleasure, "Y'all Are Good"… if you can't supernova on Dani's stellar guitar leads on this tune, you're forever abandoned to the "No-Topia" of the Lawrence Welk show.  I give these folks a MOST HIGHLY RECOMMENDED, with an "EQ" (energy quotient) rating of (a perfect) 5.00 – which means, of course, that they also get the "PICK" of this issue for "best high-energy rock".  Get more information at the MOONJUNE BANDCAMP page for this release.        Rotcod Zzaj
Gerry Gibbs Thrasher Dream Trio – LIVE IN STUDIO:  As on my previous reviews for this great group (last one was issue # 149), I can't say enough about their solid jazz talent!  Their take on "The Look Of Love" is unique, with superb full-bodied vocals from Cassandra Wilson that will capture your heart & soul in only moments.  Since this was recorded in a studio with a live audience, you get to hear their enthusiasm for the trio's version of "Watch What Happens"… the recording is flawless, too, and you'll feel like you're right there with the rest of the crowd.  Roy Hargrove's trumpet on the lively closer, "Charade", is total jazz & captures energy you won't soon forget.  It was the great percussion and the integrated feel of all the players being so together on "Music To Watch The Girls Go By" that made it my personal favorite of the sixteen songs offered up.  If you're a true jazz fan, you won't be able to complete your collection until you've gotten this great album!  I give the trio and their guests a MOST HIGHLY RECOMMENDED, with an "EQ" (energy quotient) rating of 4.99 for this stellar release.  To get more information, visit the Whaling City Sound page for this excellent album.        Rotcod Zzaj